Skype update for Xbox One improves Snap mode and more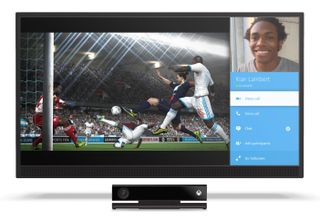 Skype on the Xbox One has just been updated. Fire up Skype on your Xbox One and you'll be prompted to grab the latest version. Today's update introduces a few new features like an enhanced Snap experience and photo viewing.
Here's all what you get with Skype version 1.8 on the Xbox One:
Photo viewing
You can now answer a call in Snap mode while using other apps using voice controls. This means, if you're watching TV or playing a game and you get a Skype call, when you say "Xbox answer," the call will automatically Snap, and won't interrupt your TV or gaming experience. Or, if you prefer, you can also change your Skype settings to answer a call in full screen.
Now, you can view your recent and favorite contacts and make calls directly from Skype in Snap mode instead of having to go into the full screen Skype experience.
You'll also see previews of messages you may have received while Skype is Snapped, and easily go to full screen to respond.
We're looking forward to finally being able to view photos sent on Skype from our friends using their mobile phones. This update allows folks using Skype on Windows Phone, Android and iOS to share pictures with those on Skype for Xbox One in either a 1:1 or group chat.
Let us know what you think of the updated Skype for your Xbox One
Source: Skype Blog (opens in new tab)
Windows Central Newsletter
Get the best of Windows Central in in your inbox, every day!
Indeed that was the whole purpose of the article

Skype on windows phone is a total crap.

Is not so bad, but yeah... Needs improvement

I like it :) it gets me by for what I use it for: Video stream calls, texts, and phone calls. Skype RULES!!

Yup and MS deleted the feature of recording a video and send it to group chat...

they should just make the app open faster. rest works smooth inside.

It doesn't actually take that long to open, it's just that it doesn't have a splash screen, therefore in it's place is a 'loading' screen. If they added a splash screen, it would *actually* seem faster.

These features should have been there from day 1. Seriously MS

You have improved since day one so let Skype improve as well. ;)

Exactly my thoughts. Being able to see messages in snap view should have been a standard feature.

"One" step closer to taking over that living room? Happy football and Skyping folks!

They should make Skype the Sync mechanism for Party Mode video watching. That way it wouldn't matter which video service you are using, whether its Netflix, Hulu, Amazon, HBO GO, Crunchy Roll or any other, it will sync the on demand videos. They just need to make an extensible framework for any video service to include in their software.

That would be AWESOME, but wouldn't there be legal issues with that?

Used to be able to watch Netflix with friends at the same time on 360. Then that feature was mysteriously removed.

It would also be really cool to share your game stream with a call (group or individual) like you can with Skype on Desktop. Like a private Twitch stream with video chat combined.

Now please update Netflix

It's not up to Microsoft, its up to Netflix...

The official Instagram app needs more work than the official Netflix app. After almost a year, it is STILL in beta, and is still VERY bad. But yeah, that's not up to MSFT either. :-/

only option is 6 tsg I know it should get updated but better to use that.

Photo viewing? Sounds more functional than the windows phone app! :D

You can send and receive pics from WP too.

Hello guys... You plz help me last night I updated my Lumia 630 and now its become very slow...it takes a long time in unlocking and shows resuming before the lock screen appears :(

Do a hard reset, or a factory reset if the hard reset doesn't work

Didnt you install the animated lockscreen stuff, did you ? that thing is awful and makes your phone lagg in the lockscreen

No I didn't install that :(

Sweet. XB just gets better and better. PS4.... Not so much...

Xperia z3 can connect to ps4 and ps4 controller. Idk why anyone would hardcore game on a phone, even if it is 6 inches, but i guess that's cool? Posted via Windows Phone Central App

It is cool! I like it. :)

Lol always such positivity from you Posted via Windows Phone Central App

not cool. touch is not better than controller obviously. that's a waste of time.

It connects directly to a ps4 controller. Posted via Windows Phone Central App

Xbox will stream its games to *any* device via SmartGlass before long, trumping PS4 again. It's not rumoured yet, but considering you can stream TV to SmartGlass already, gaming is the very logical next step.

I'll believe it when I see it.

Awesome cant wait to try this out when I get my x1

I thought I remembered one of the things that was said in '13, was that Skype on the One would have something like the PS4 remote play where you hand over control of your game to a friend's console so they can help you with a level you're stuck on. Now that Sony has this implemented before the One.... I just don't know anymore. :/

Yeah that would be very cool. Even just private game streaming to a group video call would be awesome.

MS don't improve skype for Windows phone. -_-

Haha exactly these Skype features is what I've sent feedback about. Awesome that they're added :D

Skype on XB1... Why can't I use the dial pad while in a call?
Windows Central Newsletter
Thank you for signing up to Windows Central. You will receive a verification email shortly.
There was a problem. Please refresh the page and try again.