Skype for Windows Phone updated, now requires a Microsoft account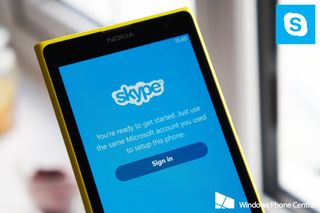 Skype for Windows Phone has been updated to version 2.16, which includes a number of improvements. The major change in this latest release is the removal of Skype usernames for login, previously utilised by consumers before Microsoft began to implement its account system across products and services. Now Windows Phone owners can keep things simple and login through their Microsoft account.
Prior to this update, consumers had a choice of two ways to login to Skype: either by Skype username or Microsoft account. The former could be viewed as redundant, especially if you're using a Windows Phone – chances are you already have a Microsoft account and have it tied to your mobile device.
The Skype team have since removed the ability to sign in with a Skype ID, and instead users are greeted with a welcome splash screen and a button to proceed through Microsoft account login wizard.
What does this mean for consumers? If you already have your Skype and Microsoft accounts linked up and ready to go, simply login once the app has been updated and you're good to go. If you were using your Skype login and wish to connect it with your Microsoft account, hit this link (opens in new tab) to get started. Once everything is tied up, load up Skype for Windows Phone.
Version 2.16.0.266 didn't just include changes to the login system. The Skype team have also added the feature for users to see when someone is typing. Just like on the Windows 8 client, you'll be able to see when your contact is writing a response to help prevent the conversation form overlapping. The 'Mark as Read' option for new messages is also easier to find – you can now find the option in the recents list view.
Lastly, there are general fixes and improvements. We can see why the Microsoft account requirement has come into effect for Windows Phone, and while we welcome the addition of minor features like seeing when someone is typing, the Skype service as a whole leaves much to be desired when used across Windows platforms.
You can grab Skype from the Windows Phone Store. Source: Skype (opens in new tab); thanks to everyone who tipped us!
Windows Central Newsletter
Get the best of Windows Central in in your inbox, every day!
Rich Edmonds was formerly a Senior Editor of PC hardware at Windows Central, covering everything related to PC components and NAS. He's been involved in technology for more than a decade and knows a thing or two about the magic inside a PC chassis. You can follow him on Twitter at @RichEdmonds.
Unifying the logins, calm down

no...he's saying he stepped in it.

Actually a good step in the right direction.

I agree! This is going to freaking ruin one month of Skype for me. Want to know why? I just had a chat with Skype support this Sunday. I am happy to make that transcript public. What I was told was I quote "Microsoft Messenger on Windows Phone is not compatible with Skype services. This is why unless you log in with Skype username, you won't be able to have real Skype experience on mobile device." - I had contacted them about an issue when my Skype calls had issues connecting at times for hours on WiFi when the friend I was calling, was sitting right next to me. I was demonstrating him how "cool" Skype HD is on Windows Phone. He purchased Lumia 1520 last Sunday.

You can link your username to your MSAccount

I have been asked by Skype support not to do that just 2 days ago because that will not give me the best Skype experience.

Can you please explain what you mean by "the best Skype experience", sounds like something very subjective.

1) Not getting multiple toasts for a call that was made 3 days ago 2) Being able to call someone when they are online, connected, sitting right next to you logged into their Skype over WiFi. 3) Being able to remove your Skype contacts from WP and having it exactly like that 2 days later when you log back into Skype on WP.

That was a very poor choice of app to demonstrate the coolness of WP8 on the Lumia 1520 :), could have showed him 6tag or Weave or Rayman Fiesta Run, basically anything but Skype.

It was more about demonstrating "Skype HD" than coolness of WP8.

How could he have purchased a 1520 in the future?

Jep, I have another skype-account linked to my main ms-account. I could link the skype account to another ms account I guess, but that is sure to bring be trouble later on.

I also want to login Windows 8 without Microsoft account because I am tired of typing the Microsoft username and password now, so I change the account to local account, but a few days later, I forgot local login password. At last, thanks to SmartKey Windows Password Recovery, to remove my password, and now I can login Windows 8 without any password.

Glad they did this. Push to a unified login for all services.

I think it's bad. Should be a linked login, so I can link my Skype ID to an MS ID, and then can use either to sign in with, and people can use either to contact me through Skype. Then it all works seamlessly. Ditto my hotmail and outlook.com accounts (maybe with just separate inboxes), and my Xbox account.

FINALLY!!! About time! It was always a stupid idea to have multiple login options for so long. Glad to see it being unified. Now on the desktop version, PLEASE remove the stupid Facebook login! It just confuses theidea of having one account for Microsoft services. I don't see why MS should try and integrate Facebook with Skype, considering Facebook are the ones responsible for taking out the integrated Facebook features in Windows and WP.

Hmm well this is good, but how about getting up to par to the other versions including what likely will be the Skype on the crap x.

What are we missing? (serious question)

File transfers for one thing =/ And being able to join group calls in progress without having to end and restart the call for everyone...

YES! Whatsapp, line, Kik messenger, Nimbuz and WeChat, all support file transfer. The remaining are; Skype and Internet Explorer (uploading file on HTML form)!! Here is a small list: - File transfer. - Edited message marker (the one we get in desktop version when someone edits sent message). - Deleted message marker. - Ability to select part of text (for copying). - Screen sharing.

I'm curious as well, I've never used Skype on an iPhone or Android, just the WP7, WP8 and the desktop version. All I know is that Skype on WP8 is a huge improvement over Skype on WP7. Edit: Okay, now I see.

If you have an opportunity to use Skype from the others platforms. Use it! You'll see how terrible Skype for windows phone is.

Seriously, I manage two Windows Phones for my retired parents, but for myself, I use an Android phone and an iPad as far as mobile devices go, and the WP version is a total cut down version that iOS and Android have. And it's a total joke, given that Microsoft owns them.

Those other versions have been developed more before Microsoft squires Skype...

Skypde division knows that Microsoft cares one iota about the Windows Phone platform. That is why the treat us as 3rd class citizens. You all know that the Nokia X is 2nd class citizens.

+1020 still no voicemail, you need the app open to stand any chance of answering before it goes to vm and then when,you don't you can hear the vm. Dumb so dumb

I NEVER get any Skype notifications! No matter how many times I check and reset the settings. They might wanna try fixing that first. :[

I've found at each update i need to uninstall and then reinstall Skype of notifications just don't work

That was not good. I will have to send my relatives & friends a contact acceptance request again!

Just tie your current skype account to your MS account and then you won't have to add people all over again.

No you don't, you can tie up your Skype account with your MSID and it will work as it is now.

not needed. just migrate ur skype account. u'll have all ur contacts unchanged.

You won't need to, linking your Microsoft Account to your Skype Account it carries over Contacts, Messages and Skype Credit.

No you won't it will automatically ask you if you have a skype account, from there just login using your skype user name and it will link to your MS account login

Ok. Thank you everyone for such overwhelming help.:)

Would you like me to advise you for the 15th time?

Thank you but no. Six is sufficient enough!;)

Hi Rich. I've got quite a few contacts in my Microsoft account that are just acquaintances (i.e. I haven't shared my phone number with them, just email). If I merge my Skype account with my Microsoft account will they all suddenly be able to call me on Skype? Or will Skype only show my contacts from my Skype account and give me the option to add others from my Microsoft account? This is really bad if you can't have that control. Just because I share my email with someone, Microsoft shouldn't assume that I want to give that person access to call me on my phone anytime. Hope that this is not the case and that I'm wrong

The sad thing is that this information is not clear when signing into the app that this is an option. I understand that they took away the ability to sign in with a Skype account, but they should have added the option to link them within the app. Microsoft is terrible at making things easy for non-technologically oriented users.

Actually, Rich Edmonds didn't add this to the article but after you sign in to your Microsoft Account it'll ask you to sign in into your Skype Account and it'll link them together on the phone. They detail it more in the Skype Blog Post.

Thanks for the info. I linked mine prior to the update, so I couldn't see it work, but was concerned for friends/family.

Look, all you gotta do is...

It's a step in the right direction. Too bad it's not quite to the point where it just pulls your user and password from your MS account that's logged into the phone. Would make more sense to me instead of having to log in twice.

If it did this you'd get people wanting the option to sign out like what happened to Windows 8.

Very good point! I know that option annoyed the heck out of me in W8 so I'm still using the desktop version. That and the fact I'm always in desktop mode anyway for most of my stuff.

Yeah I don't want that. What if someone else (my gf in my case) needs to log in to Skype on my phone. Its better this way imo.

This will solve *if* we had multiple user accounts on WP8.1 like we have in Windows 8.1, no?

Not really. Having to log out of EVERYTHING just to log into Skype differently is incredibly backwards.

Because .... you can log in and log out of Hangouts with different usernames and you can have different people sign into Facetime on the same iPhone?

Whether or not you can do it on other platforms or apps is irrelevant. It was nice that Skype could easily be signed out and into irrespective of your OS login. Now that's gone and you options are actually more limited than before. I'm not a fan of this change.

That would be nice. (So long as you still have an option to login with a different account). But even with the Bing apps you also have to enter your credentials if you want to connect them to your Microsoft account.

This will happen in 8.1 finally. (According to the leaks - sign in once = sign in everywhere... you just have to click "Allow" instaed of having to type your login all over again) :-)

Small steps I guess. I can wait.

I'm assuming (dangerously) that the big changes are being held in reserve for the W8.1 release in two months.

People assumed the same for mango..

I don't get your point - what exactly are you saying?

What the hell about WHATSAPP update?

This is about Skype not whatsapp you horrific ignorant close-minded trash that is your life, now sir please leave and have a nice day.

I just updated the app, and upon opening Skype for the first after the update, I didn't have to do anything. No new login or anything required.

You must already be logged in on MS account. Were you?

I guess so. I don't know. Probably.

I think your MS account and Skype account are already linked...

Yeah I had the same experience as munkeyphyst. I know the phone was logged in with the Skype name. Seems like if you had linked them elsewhere the transition was automatic on the phone.

Hopefully this means they're finally ready to completely merge accounts. I've been dealing with duplicate skype/messenger contacts for over a year now. It's time the old Skype usernames finally went away.

+1520 Exactly!!! What's the point of retiring msn messenger if they won't just merge the ID...such a mess...fix this problem already Skype Microsoft even though it's run as an individual segment of the company but still COMMON this is lame.

Hopefully, they have finally figured out the insanity that they made out of account linking and merging. Among other things, making my Microsoft account email address public. I purposely use that email only for managing my account.

I think I will stick with the old version as long as I can. I like being able to change accounts using skype IDs and I have no interest in resending connect requests. Seeing when someone is typing is not worth it to me. I prefer wechat anyway

You link your MS and Skype accounts, there will be no resending of contact requests then.

Nice change. I've been using my Microsoft account to log in to Skype for ages so I am glad I don't have to perform extra 'clicks' to get there. :)

Rich you missed out on another feature that is added - "We've also made the 'Mark as Read' option for new messages easier to find – you can now find the option in the Recents list view."

Thank you for pointing this out... I am so sick and tired of going into individual threads just so they don't appear as unread.

It was a welcome addition for me too! :)

Its good hopefully they can convert the millions of Skype app to have a MS ID and thats pain in the ass to google hhh

Not really, just link up your accounts on the desktop version of skype and it's business as usual. But come skype team, we need parity and some of your app in wp. And where is phone number linkup a la whatsapp and viber? That's the killer. None of this messing with account logins.

Its incredibly amazing how there are only two options in the settings with Auto Answer as an absentee, which exist in all Skype Clients but WP's

Then I will not update! I don't use skype on my surface rt simply because it DOES NOT allow me to log in my Skype ID. All my contacts are built through my old Skype ID, and I have been using that for 7-8 years and Microsoft you are forcing me to abandon it? No way!

You really should go back and read the comments on this article, you can link your accounts to transfer over your contacts.

I did try the link before I posted. But the link just offer plain useless words saying I can merger my Microsoft account with my Skype account. But when I log in with my Microsoft account, under account settings, there is no button for me to press in order to link my Skype account. And when I log in with my Skype account, it only says it's not linked to any Microsoft account and there is only one link there 'more info' which brings me back to the useless help page.

You can link your accounts so you don't have to add people again.

All you have to do is link your accounts as I have done and there is no need to rebuild your contacts list, or send invites/requests.

Does this work for multiple accounts? Does it give you a drop down to select which account?

This is Windows Phone, of course the answer is no.

It's not like MSFT has asked people to link their Skype account with their Microsoft Account several time over the past two years or so. In other words, anyone caught by surprise should really check their PC for updates once in a while..

Byebye, Skype. I just wonder how much without any clue MS developers can possibly get. Making it necessary to completely sign out of an account for not receiving any terribly synchronized messages on a Windows Phone was bad enough. Now, a new 'innovation' - only it won't work for you if you've got more than one Skype account. This is what the 'help' site tells you: If you have several Skype accounts (for example, a private and a business account), you can decide which one you'd like to link to your Microsoft account. Important: You can only link and unlink accounts a limited number of times. You can also create another Microsoft account. This whole scheme is so not-thought-through. Who is responsible for such unspeakable nonsense? You couldn't possibly find a dumber creature in any zoo on this planet.

Snake? /s
You can still log out by clicking your icon on top right and then hitting the three dots on the next screen to see the log out option.

You didn't read it through. What they are saying is Skype account A can be linked to Microsoft account A only certain limited number of times. However if you have Skype account B you can link (should link) to Microsoft Account B. Skype A with MSFT A and then MSFT B would not be allowed ridiculous number of times. So if you have 10 Skype user IDs, you can ideally in future only linke 1 Skype ID per MSFT account. Either let go of other 9 or link them to 9 new MSFT accounts. So my work Skype is linked to work Outlook. Home Skype is linked to Home Outlook.

They still just made it terribly, overly complex, for no good reason, other than to try push you into using Outlook.

I see as them making Skype as personal as Facetime and Hangouts. Only thing is Skype is acquired and has to be made like Facetime. Facetime always existed this way, personal. It works with your iPhone (whatever ID methods there are). Same way each user will have their own Skype. Like text messages or calendar. One calendar for one email, one text message box for one phone, one Skype for one Microsoft account.

So after I link my Skype and MS accounts, if my friends search for my Skype id will it be available or only my MS id will be searchable?

You are still be searchable by Skype ID.

Both. They are L.I.N.K.E.D.

when did Microsoft become SkyNet (Google)?

It always had Microsoft login that's the way I logged in.

Is it already integrated to the native messaging app? I checked the switch option and Skype is listed?

Bullshit. I don't want to link them as Skype account is used by house members to call family overseas. Why on hell they now will use my fkng personal account??

Set up a house members MS account then? Its not that fucking difficult guys.

You got one Skype account for all your house members...do you all share the same phone too? Do you know how easy it is to create a personal Skype account to use with your personal Microsoft account? You did know that Skype was not meant to replace your landline? Skype should not be your house phone!

Yes, but if you have free calls because you bought a surface 2, then you may want to use that account more..

That's because you got free calls, not the family and the neighborhood.

They probably share the same toothbrush too.

Yes! Now i can finally sign in to Skype!

Skype for windows phone??!! What's that?!

And file sharing soon? :-/

Finally. I have had Skype installed for months but have been unable to login with my MS account so I just ignored it till now

What happen if I have Skype username login but have no idea what MS outlook mail account I used?

Go to skype.com and login to your account. You will be able to see there which MS account is linked to, or link it if you haven't done so yet.

I have nothing to say. That is all.

I love Skype's emoticons.

Do you have to go to that site in the article to link accounts, or will the app prompt you to link accounts?


They should implement this for Android and iOS...make them all get Microsoft accounts!

I have a feeling that is MS goal here. Force android and iOS users to have MS account, and slowly get them to use MS services with it.

Bull man it still doesn't support attachments! My father sent a photo to me on Skype yesterday (Moto X) and on my phone it said this version of Skype doesn't support this feature! WTF.. Works just fine on iPhone.. Posted via the WPC App for Android!

Yep... I think we all have to suck it up until the 8.1 update. If Skype features aren't at parity with other OSes by then, then there is a real problem.

Contacts will receive message from my outlook ID or Skype ID? My outlook account is personal and Skype account work related. :|

Then you should create a work related Microsoft account, and link your Skype account that, instead.

Now that's BS, MS. My contacts will get confused. :(

+925 The whole Skype account-Microsoft account integration has been a cluster f since day 1. The Microsoft account is starting to look like Google account, where it becomes needlessly difficult to keep personal and professional lives separate.

Your work should already have an Outlook account, just use that.

I just want Skype chat integrated into the messaging hub in WP 8.1.

Same here. And there haven't been any WP8.1 leaks that show if the feature will be available or if Skype will still be a separate app.

Separate app. Skype Blue will be able to hook into messaging hub the way it can hook into People Hub right now. So when you tap those arrow things at the bottom, you will have options like Text, Skype, Whatsapp (whatsapp blue), Line (line blue), Facebook (Facebook blue), BBM (BBM blue), Kik (Kik Bl.. oh wait who are we kidding?)

You are sure of this? Can you post a link? I pretty much want IMessage capabilities. The ability to chat with someone on my phone (natively to the OS) and continue the conversation on my laptop. Right now, I have that going with Messenger.

I am sure of this but can't post a link because none exists. However, if you consider the removal of Facebook integration and the rumour of arrival of Facebook's official Facebook blue app with Windows Phone 8.1 launch AND the ability for us to choose default SMS client (previous leaks covered on WPC) - you can put it together as ability for apps to be able to hook to messaging clients. Add to that - Skype for Windows Phone 8 just got an update today. That is a month before official launch of Windows Phone 8.1. If Skype was to be "integrated" or baked in - they wouldn't be updating apps any longer especially with something like today's update. This indicates, Skype app is here to stay and it will get a major overhaul with Windows Phone 8.1 launch and use "hooking" to system pages like it does now and more.

So why should I update? This is messed up.

Why is it messed up? Google requires accounts for their services and so does Apple. Just create a MS account and link it to your Skype account and you will be all good.

Of course I have an account, but I don't want them linked. I want to use them separate and keep it that way. They shouldn't remove this feature. Make the MS account the default but allow for other account logins somehow.

Microsoft should do a Kickstarter fundraiser to get the money to hire a second Skype developer.

+1020. Or even funding for a full time instead of part time dev.

I guess they're trying to push consumers into using their other services (better to push ads with, etc.) (shrug) Google and Apple does it. The only concern is that my retired folks use Skype to communicate, and they don't have Microsoft accounts. They use Skype via their iPads with a gmail login; I'm wondering if it's going to prompt them to open yet another third party account with a Microsoft email.

It's not the case *yet* with iPads. I think they will be prompted to create a Microsoft account in future. The way Facetime and Hangouts need an account to use them.

Its only wp that has changed. My Symbian version still asks for username as does win7

Not good at all. Why? I already has linked my MS account with Skype once and I had to unlink it because it caused number of issues with the integrated FB chat. Especially lost messages or messages delayed for days...

And why wouldn't it, apple and google require accounts.

Next Microsoft will advertise, "Get a free skype account when you buy surface pro or a Lumia device!" (When it is free already) lol /s

I still don't have a use for it as a chat client. None of my friends use it anymore.

thanks for your input ;-\

Now please add screen rotation support and kill messenger already (I know, we WP8.1)

Why kill messenger? Some of us like it...

Its already dead. He means Live messenger. Died last year.

So I now need a microsoft account for work just ot use Skype? -.- I have two skype usernames. One is personal and the other for work. My personal is already linked with my Microsoft ID. I do not have a MID for work as I never needed one.

I think its a good move but there should be an option to register an account using other email providers as well. They should also implement the verification feature while registering an account. At the moment anybody can use any email to create an account and use skype services. Its happening with me. It is so annoying. I contacted their support services and requested them to delete all accounts affiliated with my email.

FFS Skype better make me breakfast in wp8.1...enough of this shitty app.

Skype's meant for video chating. Y ppl share files on it. We have other messengers too for that.

Tell that to Skype users on ios and android who have file transfer while Microsofts own OS doesn't.

Still no file transfer.. Looking at 8.1..

This update is not an option for me. I use more then one Skype account (business/personal etc) and need to switch depending on my use. I also wouldn't want to permanently attach a business Skype account with my personal MS account.

so create a business ms account?

I had to uninstall Skype as it used to set mad Messenger (in Message HUB), making me appear offline (as soon as I left the Skype app) and see online people as offline, inability to disable Messenger notifications in Skype... Guys, may I ask you if those issues are still present in today update ? Do you see them ?

Why the trend to merge all your online accounts into one? I like the idea of separation of different groups of contacts and groups of friends. Furthermore why would I want to rely on a single account/service to hold my information. Maybe just me.

I still don't understand why it can't simply use the microsoft account I already have configured on the device ... the login process is sooooo annoying especially when one has a strong password and/or 2 step authentication turned on ... it's always a game of how fast can I switch between the login page and the auth. app to get the pin before it expires ....

*sigh*..Still no 'Away' or 'DND', as with their Desktop and Clients on other platforms. Actually, still no options in the App in general, other than a couple of very basic ones. No wonder people are jumping over to things like Whatsapp and Viber.

I log into 3 different accounts. This sucks. I can't use the metro version on Windows 8.1 for this reason. I have 2 different work accounts and a personal account I use credit on for phone calls. I must be able to log into these accounts separately. Just tried on Metro to see if it had changed. It means I MUST log onto Windows with the other ID tied to w second or third account. THAT stinks big time. I move between those accounts in single sessions sometimes for business reasons. I MUST use my phone for calls to my family and others using my credits, but I often MUST log into Skype to address a business issue from my phone as well. Also, in Windows, at least if I wanted to, I could create these separate accounts in MS to accomplish this (ick). But on the phone??? I think not as everything is tied to one ID and bouncing from MS account to MS account is not only pointless, but destroys the functionality of the handset in one fell swoop. This should be optional. Log in. Log out. Log in. Log out. Simple. Why create a hardship for users where none existed before?

You have a business that runs on Metro? I can't do any business on my tablet. Always have to have a desktop and desktop app lets you switch between accounts.

I don't have a business that runs on Metro. I use Surface RT on the train, at home and my phone to access Skype, which we use globally to communicate. No desktop app on RT and this is mostly about my phone.

Same here. I have two accounts: one personal, one professional. The latter is linked to my MS account, so...what does this mean for the former? I don't even know if you can link two accounts.

Why do they force people to type their Microsoft account details into WP? Skype, Onedrive, Bing apps etc shouldn't need a login or it should be optional if for some reason you want to use different accounts.

Nice job abandoning WP7 but supporting every Service to iOS and Android!

At least I get calls when in mobile data mode. No messages notifications yet, but hey maybe next update.

What about Opus Audio Codec? One year ago they wtore about use this high quality very low latency audio codec...

Nice, however, Microsoft needs SSO, since most of their apps now use the Microsoft account. This is especially true for users who utilize two factor authentication on their Microsoft accounts.


I like how this article is making it sound like a good thing and no big deal. This is exactly what Google is doing.

Here's an idea: let me log in with multiple accounts by allowing me to pin that access to my start screen.

Can we please have pic sharing feature like all other apps.

Good. That's right to become all Microsoft services popular,, then windows phone

One of the updates that now it connects without using wifi, for me it didn't connect before except using wifi

Yeah, still not getting message notification on mobile data

i have 4 phones associated with same microsoft account. How can I use skype in this case the on 4 devices but different account???

Anyone else having issues with wp and win8 versions not syncing contacts and favourites. Also no way to delete contacts either single or multi.

This is bullshit, I like my skype ID as it is.

slightly off topic: On my asus win8.1 tablet...I can only login to skype app with MS hotmail account (from login windows login screen) Ok, good for me..but not good for anyone else using my tablet or computer etc. I had to download the skype for desktop app and pin it to the metro screen. I guess on a phone its more personal and i cant see anyone else using my phone for skype... prob is i have two skype accounts and can only use one on my phone (with no switching)

I don't get this. Even my 3-year old has her own Windows account. That's been around since Windows XP. Every user should have his/her own account, Skype ID, etc.

So IF this does not change, I will not be updating my Skype on Windows Phone. And IF that is the case, then I am locked out of any true "improvements" to the UI or functions. Nasty that. Forget Windows Phone 7. That is a dead end any how. But I have to believe that some Skype inter-operability will be built into Windows Phone 8.1. I already have an 2 Skype accounts I cannot use on my Surface. If they eventually force the Desktop application to do the same, I am screwed. This is big. Anybody have Joe Belifiori's phone number? ;)

Don't know if it has already been said, but apparently they fixed that mess with message notifications across all devices. Right now I'm chatting on outlook.com via Messenger and not getting notifications my phone as it used to do.

ok guys, just forget what I said. I was wrong

Skype is terrible on WP, been sending a flower for 2days now and still see the stupid spinning circle.

I, for one, am not interested in merging my Skype IDs with my Microsoft/Outlook.com/Live.com IDs. I will uninstall the Skype app from my Lumia until this is corrected - which will be NEVER knowing Microsoft's past performance.

It's not working, what is happening?

I like having clean, crisp, independant accounts for different services, so I know exactly what information and access I'm giving to certain people. My computer and I are multi-taskers and can open different services simultaneously as I need them. I appreciate the direction Microsoft is going with this, but people who dont want it should be able to opt out of it.

This is typical Microsoft behavior. Tell me what the benefits are for me? Single login? So what? I now need to tie all my accounts to my Microsoft account, waste of time! The user is not at the center here, they're just placing themselves between users and their service to make their own stats look better. Stop that and make your user's life easier if you want to be successful! I bought a Nokia to give you guys a chance but it's been 8 months of frustration!

Doiesn't work on Windowns Phone 8.1!! Can't login and that Voice assistant doesn't help in ANYTHING! When will this be fixed?!

Need update for Skype...
We can't Sign - in to Skype using W.P 8.1
This is not the problem which only I'm facing...
Lots of WP 8.1 users are facing this problem.,
you can view it in SKYPE - REVIEWS IN M.S STORE...
Pls fix the bug and update the app...

How to Create Skype on phones ???

I am using phone to connect my Skype for office stuff with overseas, after video call or voice call, I found out that my Lumia 1520 is very lagging and need to reboot cuz the screen is freeze until I log out from Skype. I am not sure about whether is it caused by Skype but if I turn off Skype then everything is very smooth. Thanks.

Tell you what, I for one completely disagree with how google/microsoft or whoever, is taking complete control over everything. First I had to merg my Youtube account and now skype? I did not want my real name out there for the world to see on Youtube or Skype. I did not want to merge all these accounts. All this does is put my personal security at risk. A lot of things are being done against our will that puts us at risk and to be quite blunt, it's complete bullshit. Google/microsoft or any other forcefully merging company has had way too much power for a long time now and the bullshit needs to stop.
Windows Central Newsletter
Thank you for signing up to Windows Central. You will receive a verification email shortly.
There was a problem. Please refresh the page and try again.