Skype for Windows Phone updated. Adds high definition video support and more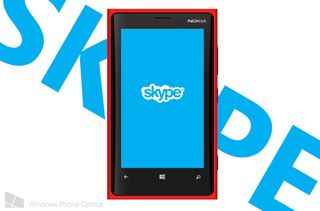 Microsoft bought Skype back in May of 2011, so you'd think we'd have the premier mobile Skype experience on Windows Phone right? Well, it's been somewhat of a rough start. The first app on Windows Phone couldn't run in the background and more recent versions have been missing features found on iOS and Android. Well, Skype just got another update for Windows Phone, let's see what it brings.
The last big update to Skype came back in early January. But if you direct your attention to the Windows Phone Store, you'll see a new Skype sitting there at version 2.4.0.108. What do you get in the latest version? Three nifty features actually.
Face-to-face video calls look better than ever with high definition video support.
Show your smile or just what's around you – with front and rear camera support.
Video calls in portrait or landscape, whichever feels best.
It's nearly midnight here on the West Coast, so I haven't had a chance to test out the new high definition video support. We'll play with it in the morning when people are actually awake and see if we can notice better video quality during video calls. You also get front and rear camera support, a welcome addition for when you want to share what you're seeing with someone (and a feature we've heard in the comments you want). And finally you can now make video calls in either portrait or landscape, again a nice addition.
Update: Found a friend on the West Coast willing to put up with a Skype call at midnight. Everbody send Chris a high five. So we tried out the video calls on our Windows Phone, he has an 8X on Verizon and I was using a Lumia 620 (I know, test out the high definition video support on an entry level handset, good move Sam). That said, I can't comment on video quality just yet. WiFi at the far end of the house and the Lumia 620 probably don't show off the high defintion support of Skype. Play around with it yourself and let us know below if you see any improvements. The two features I can comment on are the new landscape and rear camera support. Rear camera works as you expect, you just hit the video icon during the call and select 'switch camera' from the options. Skype will automatically switch to landscape when you change the orientation of the phone. It looked nice and is a perfect combo when you're using it with the rear camera. Anyways, let us know below what you think of the latest update. Below are some screenshots from the video call. Again I'm going to stress bad WiFi plus low-end front-facing camera equal blurry time. That said, I am jazzed about the landscape support.
Another neat thing, it looks like Skype is back in the People Hub. We saw it disappear in early January as it was reported to cause syncing problems. Looks like they're back in with this update.
But, there are some things still missing. For example, you can't send another user a video message, like you can on iOS. Still, we welcome any updates to Skype and you should probably go ahead and update it right now. What other features do you want to see in future versions of Skype? Sound off in the comments below.
Before we go, Joe Belfiore sent out this cryptic tweet on Twitter tonight saying:
Could the Skype update be the app(s) he's referring to? Or are we in store for some more surprises in a couple hours? Stick around and we'll find out.
Skype is free for Windows Phone 7.x and 8 here in the Windows Phone Store, use the QR below, or swipe to the right in our app. Update: My Windows Phone 7.x device is currently kaput, so I can't test whether or not there's an update for Skype for you guys, but some folks in the comments aren't seeing it on their 7.5 and 7.8 devices. It might just be an update for Windows Phone 8, sorry guys.
Thanks for the tip Dean P. and everybody else!
Get the Windows Central Newsletter
All the latest news, reviews, and guides for Windows and Xbox diehards.