Skype's revamped desktop experience starts rolling out to everyone
By Dan Thorp-Lancaster published
Microsoft is now rolling out its new, revamped Skype for desktop experience to everyone.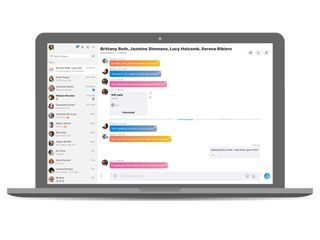 After months of testing, Microsoft is bringing its updated Skype for desktop experience to all. Like the preview before it, this revamp applies to the standard desktop Skype app, and not the Universal Windows Platform (UWP) app found on the Microsoft Store — though Microsoft says it will receive an update with new features soon.
The update carries over the same aesthetic flourishes seen in the Android and iOS Skype updates that rolled out over the summer. That includes plenty of pops of color and customizable themes. A dedicated notification panel can show you recent notifications, @mentions, and reactions. Microsoft also says add-ins are also currently available for Skype Insiders, allowing you to use other services, like Giphy, inside of Skype. A chat-media gallery is also available for perusing media, links, and files you exchanged with friends and colleagues over the course of your conversations.
Here's a look at a bit of what else is new in the revamped Skype for desktop:
Reactions— Easily express how you're feeling by reacting to messages in conversations or during video calls. Simply click the reaction icon so everyone knows how you're feeling.
@mentions— If you'd like to get someone's attention in a group chat, type the @ symbol followed by their name to send them a notification so that they can easily respond to the message.
Status updates are back— Let your colleagues, friends, and family know when you are and aren't available to chat by changing your presence, or set a mood message to share what's going on.
Bots— Scoop, Hipmunk, and many more bots help you make plans and stay informed. Pull ticket pricing and seating options directly into a one-to-one or group chat with the StubHub bot. Planning a weekend getaway with old friends? Chat with the Expedia bot to check flight times and pricing.
All of this is in addition to the backend work Microsoft has done to keep chats synced through the cloud.
Microsoft says that the Skype for desktop update is rolling out now to "Skype for Mac, Windows 10 November Update (2016) and lower, Windows 8, Windows 7, or Linux." If you have automatic updates turned on, you should snag the update automatically "when it's ready," Microsoft says. As for the Windows 10 Store app, Microsoft says "users will receive an update shortly to add the new features," but there's no timeline available.
Dan Thorp-Lancaster is the Editor in Chief for Windows Central. He began working with Windows Central as a news writer in 2014 and is obsessed with tech of all sorts. You can follow Dan on Twitter @DthorpL and Instagram @heyitsdtl. Got a hot tip? Send it to daniel.thorp-lancaster@futurenet.com.
I thought Microsoft said they would get rid of the skype desktop app at some point and keep the UWP version

they actually can't because Windows 7 is still so popular

Doesn't mean the legacy app needs to keep getting updated. Shouldn't the UWP version be the premier experience? More signs that UWP won't be around for too long.

Sounds like a surefire way to kill off what remaining Skype users there are. Even a new app written in Electron (which is more "Universal" than UWP) is more likely than that.

I rather them not. UWP app is not good as the desktop app yet. I dont think UWP will ever be powerful as win32.

I would describe Microsoft's behavior as follows. Previously, they were passionate, eager to innovate, push new technologies, set trends. Now they have become very pragmatic: directions which bring most money have high priority, all passion should be left out. For example: 1. Most popular and dominating mobile platforms are in priority (Android, iOS), own mobile platform is effectively abandoned (though was so great and got so much effort); 2. Even where MS dominates (desktop) priority is given to most popular and compatible OS versions (read: Win7), Win32 apps are much ahead of UWP ones, desktop bridge, while being very nice solution, makes situation even worse in this context: nobody will develop fully-UWP apps (supported only on Win10), when they can create a widely compatible Win32 app and get it to the Store. I won't be surprized if at some point MS decides that its Edge is not popular enough and will switch to contributing to Chrome and making add-ins for it.

As long as they don't screw up SMS Relay idc what it looks like. However, with windows phone dead. I wonder if SMS Relay is dead and ill have to use the Cortana relay a la android. My next phone is either the Note 8 or the "Andromeda device?". I wish sms relay worked with android skype app too.

SMS Relay does not work with this version - only with the Win10 UWP versions

I have problem since a week - SMS are out of nothing showing up in my PC Skype despite it's disabled on both devices. Reinstalled apps many times and still the same. Microsoft is scanning and syncing SMS even when it's disabled?

I'd love it if Microsoft had an Android-based solution for PC SMS, like mysms, Pulse SMS, Pushbullet, MightyText, etc. Let it integrate directly into Skype (UWP) and the currently-useless Messaging app.

When does windows 7 EoS happen?

I believe some time in 2019 since Windows 7 was originally released in July 2009.

Looks like the official date is January 14, 2020. https://support.microsoft.com/en-us/help/13853/windows-lifecycle-fact-sheet

End of Service happened on 13th January 2015. End of "Extended" Service will occur on 14th January 2020.

I'm not sure if Microsoft understands how the whole "Adopt a new standard" thing is supposed to work. You put your best foot foward on the "NEW" standard. Not the old one. Get it together, guys. If YOU don't use UWP, WTH is a third party developer going to?

You don't see the writing on the wall? UWP is dead. It is just a matter of time until Microsoft replaces it with something else they won't properly support. The pattern is ingrained at this point.

Meh. I was hoping they won't bring this junk design to Windows.

I'm not going to update this version. It seems to take up more battery usage on laptop(s). 💻

You won't have a choice. Eventually unsupported versions don't work.

Ultimately MS wants us to switch to MACOS/ LINUX though. On w10/10m skype is not good enough.

Microsoft Guide How to Kill Big Brands: Chapter VII - Skype

Worst thing is... It's not funny, because it's so true :-(

Soon MS will kill off Skype for customers. It will only be for enterprise users on Teams.

On point I would say, Skype has gone so far down the pan that you'd need a deep sea diving suit to retrieve it. That is if you could fit down the pan in first place 😶.

Holy hell no... :-( I don't really like this new design

What a waste. They can't even get Skype to work worth a darn in basic messaging functions, yet they focus on the fluff. Let's see: 1. Deleted conversions reappear almost immediately 2. Often you see TWO different delete options - Delete Conversation or Delete SMS 3. You can't swipe to delete 4. You can't multi-select or select all 5. You can't easily save phone numbers to your Contacts 6. Cortana recognizes NOTHING in texts, unlike Messaging, which recognizes dates/times, phone numbers 7. Group messages come in only showing phone numbers, NOT the names associated with those numbers

The new desktop app experience is nauseating, bugs and bugs galore.

Why is no one praising Microsoft for not bringing this crap to the UWP version? They deserve it. If this is as bad as the Android counterpart (horrible, unintuitive UI, sluggish performance, etc.), I definitely don't want the UWP to get this bad. Sure, current UWP is rather buggy, but at least looks decent, and not as if someone was puking rainbow all over my screen. And yes, I know, I can change the theme, but that means I have to go through the unintuitive UI to get there, lol

It's less and less customizable. Ton of options missing... Long user names are cut off in the user list. You can't expand the user list to see these cut off names. Can't choose the size of emoticons. They are so tiny.... Can't detach the message window from the user list Maximizing the skype window creates useless white space on each side. Even though it's less functional than the classic Skype, it still manages to be bloated, using 400MB of RAM. 9% CPU usage constantly while focused. Gradient background on each massage makes it hard to read.

This is soo good.. it crashed after a few seconds.

Cool, but i am absolutely through with Win32 as much as i can, I simply can no longer take the impact to my system...

Kind of surprised this didn't come to the UWP version first given it already had some design cues from this update. Switching to Discord soon anyway.

Whoa whoa whoa. I uninstalled the UWP version and moved back to the Win32 "classic" Skype desktop app to avoid some of the new horrid design approach and lacking functionality...but now that same style/UI is taking over the Win32 version??
Windows Central Newsletter
Get the best of Windows Central in in your inbox, every day!
Thank you for signing up to Windows Central. You will receive a verification email shortly.
There was a problem. Please refresh the page and try again.