Skype starts testing revamped desktop experience
The new Skype experience is finally now being tested on desktop, but it appears the UWP app is left out.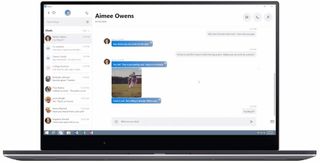 A couple of months following its revamp on Android and iOS, Skype has now announced its redesigned experience is now being tested (opens in new tab) on desktops. The only catch? The new Skype Preview is only available for Mac and "non-Windows 10 PCs" — which, somewhat confusingly, indicates the preview is available for the standard desktop Win32 app but not the UWP app on the Windows Store.
The revamped desktop app carries over much of the same aesthetic seen in the new iOS and Android apps, but "specifically designed with desktop in mind," Microsoft says. That includes a bright theme with plenty of color accents abound. Microsoft also lists a few new features it has started testing alongside the redesign as well. Here's a look:
@mentions, message reactions and a new notification panel—Stay on top of your day with help from the notification panel. Quickly jump back into conversations where you were @mentioned to see how people reacted to what you've said.
New chat media gallery—Finding shared content—such as links, documents, or media—in a chat has never been easier with the chat gallery.
Enhanced group calls—Customize your group call experience with drag and drop ease. Say it with an emoji using our new in-call reactions, too!
It's worth noting that this is the very same sort of revamp that received quite a bit of backlash with its debut on mobile. It will be interesting to see how the design fares on desktop.
Again, this preview is currently only available for Mac and the standard Win32 desktop app for PCs. Microsoft points out that it has already started testing out some of the new features in the UWP version of Skype on the Windows Store, but the design revamp hasn't arrived there yet. In any case, if you want to try out the new Skype Preview, Microsoft says you can get started at Skype Insider (opens in new tab).
Windows Central Newsletter
Get the best of Windows Central in in your inbox, every day!
Dan Thorp-Lancaster is the former Editor-in-Chief of Windows Central. He began working with Windows Central, Android Central, and iMore as a news writer in 2014 and is obsessed with tech of all sorts. You can follow Dan on Twitter @DthorpL and Instagram @heyitsdtl.
No surprise here on UWP being given the least priority.

It looks like this already, if you are a Windows Insider, and there is the dark theme option (by default it matches what you set in Windows 10)

Its the least used Skype client, so why should they give it high priority?

It will remain the least used Skype client unless given priority. And given that it's 100% in Microsoft's control, and they harp the greatness of UWP every chance they can get, they should give high priority.

It should be noted that this version no longer has the Skype API - so all those using recording apps, headset apps, etc. will be confronted with disabled apps.

hi why i cant install skype preview ? on pc only need windows store app why ? any fix ?

Best place to ask is the forums :) not the comments section. You may need to wait until it's available for download in your region or you may simply need to sign into the store app on the PC. So again the best place to ask would be the forums not the comment section.

Install in compatibility mode?

compatibility mode? i dont know how ?

There's a new article on Windows Central right now, explaining this exactly. Right click the installer, and under 👉 compatibility, choose Windows 8.

Telling from the screenshot, it looks like web.whatsapp.

If they don't allow us to install this on Windows 10 PCs, I may downgrade to 8.1 to get it. The UWP app is unusable. It's extremely buggy and extremely unreliable. Either I downgrade to get a usable app, or I simply stop using Skype and rejoin Facebook to use that. I can't wait until I replace that machine with a MacBook. These buggy UWP apps have really turned the platform into a chore of usability.

Ditching Skype seems like more logical solution...

Unusable, how? I use Skype UWP routinely for voice calls, texts, and video calls. I do conference calls with mulitple people and screen sharing. I get all my text messages sent to my phone in Skype. I have multiple mics and cameras and wihle I rarely change which I'm using, it supports all of them with easy drop down to select the desired device. Where other apps, like Slack, often choke on voice calls and require restarts to work, Skype UWP ALWAYS works. It's solid as a rock, fast, and easy to use. It's nearly perfect. The only feature I miss is the ability to share a window, and not my whole 4k screen. And because it's UWP it's always updated, more secure, and has a smaller memory footprint. Skype UWP is a phenomenal example of how great UWP can be.

I'm personally glad - I'd rather have the native app that is fast and works properly, than the bloated colourful squiggle version. If they bring those things to win10 I'll be sending a lot of feedback - while they appear to be totally ignoring the nearly-unanimous backlash on other platforms (look at reviews on the Android app), at least they seem to listen to Windows Feedback Hub messages sometimes.

The UWP version is generally better than the desktop version, except for lack of window sharing -- have to share the whole screen in Skype UWP. I think (not 100% sure) you could share just a single Window in Skype Desktop.UWP is faster, less resource intensive, more stable, and keeps itself up to date automatically in the background when you're not using the PC.

UI wise this is almost as bad as the UWP one
Windows Central Newsletter
Thank you for signing up to Windows Central. You will receive a verification email shortly.
There was a problem. Please refresh the page and try again.