Skype update for Windows 10 brings message reactions, design tweaks, more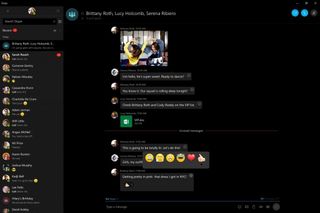 Microsoft has announced a new update for the Skype UWP app on Windows 10 that brings along some notable changes that were previously only available to Windows Insiders. Included are some tweaks to the UI, along with message reactions and sharing tweaks.
From a design standpoint, the most notable change is that Skype has ditched the hamburger menu and some elements have been moved around. Now, you can now access your profile, start new conversations, access the dial pad and more from above your recent conversations. The goal is to make accessing these things faster, but your mileage may vary depending on which design you prefer.
Aside from the UI tweaks, Skype is picking up a couple of other handy features. Now you can share files, videos, photos, and more directly to Skype from the Share charm. You can also now add an emoji reaction to any message, showing your chat partner how you feel about what was said.
If you're on the Insider Release Preview ring, these updates actually started rolling out earlier this week, so you should already have them. Following today's announcement, the update should start making its way out to everyone relatively soon. We have yet to see it on our end (at the time of this writing), but it could take some time to roll out widely.
Dan Thorp-Lancaster is the former Editor-in-Chief of Windows Central. He began working with Windows Central, Android Central, and iMore as a news writer in 2014 and is obsessed with tech of all sorts. You can follow Dan on Twitter @DthorpL and Instagram @heyitsdtl.
Are new not getting the Android and ios design?

I hope not the reviews on that are not so hot. No thanks you have to go search in to Find out if any of your contact are online or not

"Not so hot" is putting it very mildly. Disastrous is more like it. The same changes made it to iOS recently and took a 4.5 star rating down to 1.5 in a matter of a couple days. Users are quite furious over the radical changes, and what appear to be a number of bugs affecting notifications and message delivery. I do hope the Skype team can rememdy the situation. My friends and I have all abandoned Skype over those changes and now use Google Hangouts.

Revert! Losing users is not a good thing.

Revert! Losing users is not a good thing. P.S.: App created double post. Sorry!

I honestly hope that the new "skype experience" they dumped on iOS and Android were just a testing ground for us Windows users. I was initially upset about not getting the update, but now I am very happy we didn't get it. Apparently nobody likes the new skype. It looks like garbage from what I've seen. I am very happy with our current version of Skype. The only thing I want to do is customize the color scheme. I don't know why it is so difficult for MS to add this in. I guess they are prioritizing their dev time elsewhere.

Can we ever delete conversations???

Apparently you are asking too much.

Hopely not. iOS version is dramatically bad and inconvenient. I would wish we could go back to previous UI version.

i have not used this app dis year

Can we add multiple photos in an sms now? I was disappointed that from within a text I can only add one pic at a time. Why?

Also, why are we not able to take a pic using front facing camera from within the app ???

I think we are still stuck in the "no app update" situation in the fast ring

I downloaded to fast ring insider from the apx file last week. Works great.

No, you can't share directly to Skype. Not on the phone, not on the PC. I've been running the Insider builds on both, and I can verify that if you are in, say, the Photos app, and try to share a picture, Skype is NOT one of the options. This is one of the many, many reasons why Skype will continue to fail. Microsoft is focusing on stupid garbage like emoji and not concentrating on BASIC FEATURES that even their own Messaging app excels in.

YES, you can share directly to Skype. On my Lumia 950 and my desktop PC, Skype IS one of the choices when sharing, and it works fine form the Photos app and Edge. No problem.
Perhaps you hadn't updated to the latest version before testing.

Microsoft should delete hamburger menu from every app. It's so bad to use with 1 hand. Also, the profile settings/dialer/+ should be in the bottom on mobile and on top on desktop.

I just want built in GIF sharing for SMS and Skype Messaging.

I don't like these changes. Previous one was better..

the message box is too small. It's impossible to write anything in the box

I wish they would use all the space in the center. Own messages should be left aligned and replies should be on the right.

Which version do you have... it's been like that since last year? At least that's what I see. Even each side has its own different background color.

Text messages still dont work using skype on a android mobile.

Keep it like it is just add some FDL elements and were golden

Skype is a joke. Still can't delete conversations after how many years of begging? Most ridiculous app ever. After the Yo app..

Microsoft has been so utterly slow and complacent (and arrogant) that they now face a completely new situation: Skype is not compatible with Amazon Echo respectively Alexa. This soon will become a major problem for them. Alexa is pretty much "entrenched" in the market place and outnumbers all other competitors by a huge distance. Screw Skype which Microsoft never seems to be able to get into an acceptable form if Alexa just does the job. Cortana can't even relably open an Office 365 app
but instead searches bing for how to open Outlook or what have you. WFT? Microsoft needs to get some basics right. First they burn 10 billion USD on mobile without getting anything right
and then they develop a superb AI (Cortanta) which is unable to invoke a bloody Office program. Maybe Microsoft should not let 10% of their workforce go but 60%.
That would help them to focus on what is important
and not being able to invest their time and energy into Office Politics. Microsoft, make Skype compatible with Alexa, then you still might have a fighting chance. .

In a market this new entrenchment does not mean what it could. We have Cortana and Siri capable devices coming sooon, Bigby later. Dominance of a two horse race as it is does not ensure final success.

Meh, Skype as an SMS app is getting better, but that's not saying much. I've tried to use it as my default SMS app on my Lumia 950 XL, and relay from my PCs and Xbox has been working well for the most part, but it still needs a lot of clean up...

That's correct, for the most part I use it without any issue what's so ever since updates implemented last January. But what I do complain is since a about 3 months ago, my only SMS conversations are not showing on desktop. Meaning, contacts that are not on Skype. That was very useful, since I was able to respond to a text message from my desktop using Skype. I still can do it from Cortana, if I'm in front of my laptop or desktop when arrive. Old text messages, nope.

Why cant we change sms bubble colur to our favourite like blue or green, why cant we place image behind chat window. Why ? Is it too much to do or ask for?

Vote on my thread in the Feedback Hub (y) :) We should make Skype great again :D

This new design is a joke on mobile.

This new design is a joke on mobile.

That's a matter of opinions, I think it looks great.

why don't they just give us the ability to make calls using facebook messenger. Maybe protecting SKYPE? then they turn SKYPE into trash. sad

You can do that already from the app on tablet, laptop or desktop. Not on the phone, neither receive or make calls. Since is available on all the other platforms I'm not so sure Microsoft is to blame. Even with WeChat or WhatsApp you can make calls.

And is this in line with the completely new Skype for Android that appeared recently?

Where is the online status? I don't see it anymore, unlike the picture in the article. Both on PC and Lumia 950.

I just uninstalled the Store app and went back to the x86 app, haha. Couldn't take it, I feel a lot more empowered now (features, functionality, app not crashing randomly, UI, list goes on).

Missing search in message history feature?
Are you really kidding? -- this way it is totally useless...
Windows Central Newsletter
Thank you for signing up to Windows Central. You will receive a verification email shortly.
There was a problem. Please refresh the page and try again.