Sleeve Music for Windows Phone updated with design refresh and improved playback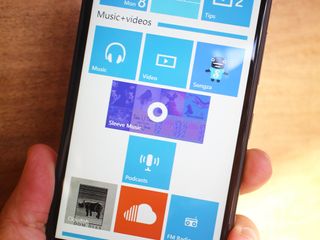 Sleeve Music is one of the best and most unique music apps on Windows Phone. The design of the app is top-notch and refreshed on a regular basis. Speaking of fresh design, there's an update out today for Sleeve Music that introduces another renewed design.
Head into the Windows Phone Store and you'll see Sleeve Music for Windows Phone now at version 3.5. Here's what's new in today's version:
Renewed design
Improved playback
Import flow
We've always been fans of Sleeve Music on Windows Phone. It's a great app for staying up-to-date with your favorite artists and discovering new talent. Select to follow artists in Sleeve Music and you'll be able to see their recent releases on SoundCloud and YouTube, plus get their latest tweets within Sleeve.
Sleeve also has playlists that introduces you to new artists across a variety of genres. For example, check out the Subways beats playlist to hear a selection of groovy, but delicate instrumental beats. You can view the artists within a playlist and swipe over to the song selection from SoundCloud. Hit play and you're on your way to enjoying some new music.
Like an individual artist? You can view their bio, discover what's new from them or open that artist in MixRadio. Winning.
Take the new Sleeve Music out for a spin and let us know what you think!
Windows Central Newsletter
Get the best of Windows Central in in your inbox, every day!
Why not just use Mix Radio?

NM, I sped through the part about tweets.

Some artist, like most EDM artist, put up unique mixes on SoundCloud. This pulls it in for you. Plus gives you good updates on your favorite music makers. Plus it's a pretty app.

Does it have a music timer?

Does the app still crash all the time? I tried it a few times and it was always a crash-laden mess (920, 1020 and 930)

Lol! Why don't you try it..

I wish Spotify would buy these guys' app and make it their own

Why would you want Spotify to buy them?

I can see some material design/ andriod l features in UI

To be fair the guys at Orange Tribes, the devs behind Sleeve, are ahead of the curve when it comes to app design. Check their work out: http://orangetribes.com/

Nice works....and I can say that this is one of the few nicely built app on WP

I use AudioCloud to follow certain artists (Johnny Jewel, mostly :P) so at first I thought this app was redundant, but man, the design is gorgeous, "top-notch" without a doubt!

What is that app with SoundCloud tile?

It's called SoundDrivin :) its alright...but I prefer audiocloud

Actually... it's not SoundDriving ;)

Official SoundCloud app on the horizon? :D

Sam, Whats with the wink?? tell me what app is it?? is it the Official Sound cloud app that you arent telling us about? is it better than AudioCloud?

Sam, Whats with the wink?? tell me what app is it?? is it the Official Sound cloud app that you arent telling us about? is it better than AudioCloud?

I use MixRadio, However, this looks nice.

Can't believe I glossed over this app, got it the other day and I'm impressed. Big fan of the app and the devs now! Loving the latest update too!

Looks and works beautiful. Wish you could access Xbox music.

I recently bought a (used) 925 and with only 16 GB of storage I decided to take the plunge and go all streaming with my music through Xbox music instead of locally storing files - I've had an Xbox Music/Zune pass for years. Still, I'll check this out, I like some of the features it has.

Seems like android lollipop design

Oh look, Material. Goddammit.

Download musicx beta. awesomeness at it's fullest

Link to the app? I can't find it in store..

Is it better than Xbox music?.. Probably the worst Windows app ever

I use this app and I think it has to focus more on features and less on design. Furthermore the design and other things were better in the previous version.

Hi guys,I am a developer at OrangeTribes. Thanks for all the feedback. A lot of users have indicated to us that they found the artist following limit of 20 a bit low. So we decided to increase this to 50. If you guys have any cool ideas or feedback for the app let us know on https://sleevemusic.uservoice.com/
Windows Central Newsletter
Thank you for signing up to Windows Central. You will receive a verification email shortly.
There was a problem. Please refresh the page and try again.