Sleeve Music updated to version 2.0 with new look and track preview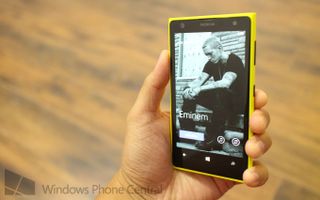 It has been a couple of months since we last mentioned Sleeve Music. This app is currently exclusive to Windows Phone 8 and will be available on Android and iOS later this fall. Version 2.0 is out now, introducing a new look with a light theme. Sleeve Music lets you track and discover your favorite artists by grabbing content from Soundcloud, YouTube, Facebook, Twitter, and more.
Head past the break to watch our walkthrough video.
Sleeve Music isn't another type of Pandora or Spotify service. If you want to start listening to music right away, this isn't the app for you. It's geared towards keeping you up to date with the artists you love. This app is only useful when you have artists in the list. When opening the Sleeve Music for the first time, you can import artists through Facebook, Last.fm, and your media library. It's a lot quicker than adding it one by one.
Many artists today update their Twitter and Facebook pages, so you'll definitely be in the loop. There's a filter button at the bottom of the main page if you want to turn off any of the syndicated services.
What's also new in version 2.0 is track preview in the mix & match section. This section checks your current list of favorite artists and then recommends someone new. Click the track preview to listen to one of the songs from the artist. Nokia Music provides the track.
Another great feature for Sleeve Music is show listings. You can see upcoming shows from your favorite artists with the place and time. There's also an option see a list of shows nearby. Unfortunately, you cannot buy tickets directly from the app.
What's not so great is that music playback controls are missing. Clicking the 'new music' button at the bottom starts playing music, but you need to click the physical volume buttons on your phone first if you want to pause or skip songs.
Sleeve Music is free at the Windows Phone store. Download now to see what's new and let us know what you think!
Windows Central Newsletter
Get the best of Windows Central in in your inbox, every day!
I have to say, the new UI is nice in general - but it doesn't really feel very intuitive, also missing images in search results (maybe they just took forever to come down, but i'm on a good wifi connection so shouldn't do), but they do seem to appear once i've been to the artist profile page. Not convinced on this yet, but will continue to play with it

The UI of this is basically how I'd like to see WP9 one day

Where can i find a wallpaper like that ?! :()

Well, I couldn't possibly consider iOS or Android now, not until they get this app... ;P

Yeah man. IOS and Android don't even have 6tag yet

Just the app I was looking for. Bring on the new music!

I downloaded this and it keeps starting to play even when the app isn't open - anyone who knows what I need to do to stop that and then let me listen when I want to would be great. I can't have it doing this in my office, heck I got a lady who hates my ring tone so this would send her to the boss with a complaint - thanks in advance

This is an excellent app,... #wouldpay

wow.....very high quality and useful

I think I have it fixed and Orange Tribes is looking into it too this and FoundBite just might get Windows Phone a few more users
Windows Central Newsletter
Thank you for signing up to Windows Central. You will receive a verification email shortly.
There was a problem. Please refresh the page and try again.