Smartphones are dead, part IV: The numbers speak for themselves
Smartphones are dead, but not because these pocket-sized tablet computers have become obsolete.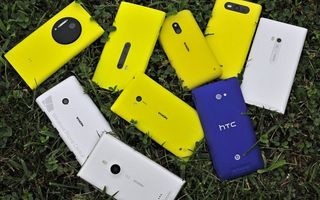 Smartphones are dead because of a combination of technological advancements and the even more substantial impact of how we as users have evolved in our expectations and usage of these devices. We, in practice, have moved smartphones more to the position of a personal computer than a phone. The smartphone is dead because it has evolved into something else: a mini-tablet PC.
The full breadth of the personal computing landscape is shifting. It is moved by the fluid mobility of our digital experiences. These experiences, by virtue what they are, compel and are compelled by our physical mobility. Tech companies like Microsoft, Apple and Google have attempted to remain in lockstep with this evolution by creating ecosystems of cloud-based computing to manage users' digital experiences. PC and smartphone (mobile-first) manufactures have iterated and evolved products, even switched roles, in attempts to keep up with the diverse demands of a personal computing industry that is in a state of flux.
Throughout this series, I have presented an analysis that the industry is evolving away from an iPhone- and Android-supported smartphone model toward an all-in-one ultra-mobile PC model, backed by Microsoft's Universal Windows Platform and Continuum. In addition to our previous analysis of the firm's market positions and personal computing strategies, recent data from IDC and Strategy Analytics seem to support the analysis thus far presented in this series.
Proof positive
Recent data from Strategy Analytics reflect our previous assertion that the smartphone market is now saturated and virtually anyone who wants a smartphone has one. This has led to the first global decline in smartphone sales ever:
After nine years of seeking to accommodate users' and developers' demands for more PC-like personal computing through more powerful phones, the personal computing environment is changing. But not all of the big players have the same plan to adapt. In part two of this series we highlighted in broad terms the iterative strategies of Google and Apple as they position their phones as "phones" in the market.
We contrasted that strategy with Microsoft's evolution of the category as Redmond seeks to merge the phone and PC environments in a sharp departure from the industry's status quo. Microsoft's CEO Satya Nadella said it this way:
PC sales are in decline and the smartphone industry is plateauing.
Furthermore, as I posited in a previous piece, Surface inspired 2-in-1 PCs are setting the stage for the Surface "phone": a possible ultra-mobile PC with telephony. This goal is being accomplished on two fronts.
Surface knowledge
The first way in which 2-in-1s are preparing the way for a Surface "phone" is that PC manufacturers, which have embraced this Surface-inspired category, have openly acknowledged a shift in computing toward context-sensitive (Windows) PCs. As a matter of fact, IDC reports that this category of tablets has seen a triple-digit increase year over year:
Second, users are being introduced and acclimated to (on a large scale) Microsoft's Universal Windows Platform and Continuum through Windows 10. This introduction is helping to shape the perspectives of both OEMs and users around Microsoft's idea of the mobility of experiences and how a modern personal computer conforms to those experiences. Furthermore, the IDC expects that this Microsoft-inspired category will only continue to grow in the future:
The old switch-a-roo
An interesting phenomenon has begun to occur in this dynamic personal computing landscape. Microsoft's form factor-transcending ideology and ecosystem has had a transformative effect on PC and mobile-first manufacturers. Consider this: HP, a traditional PC maker (that previously had a foray in the smartphone space) has revisited that space with the Windows 10 Mobile powered HP Elite X3 smartphone. On the other side of this spectrum, mobile-first company's such as Huawei and Samsung have brought 2-in-1 PCs to market.
This repositioning of traditional PC manufactures on Windows-based smartphones and mobile-first companies on Windows based 2-in-1s foreshadows the capability and likely future role of these manufacturers. The ability of these manufactures to adapt their device portfolios from a "PC to mobile" or "mobile to PC" category indicates a capability of manufacturing a device that represents a confluence of both.
With an expected category-defining Surface phone in 2017, the industry of users and manufacturing partners are being positioned to be receptive to a device that is likely both a pocket-sized computer, through Continuum, while retaining its capabilities as a phone. The aforementioned PC and mobile-first manufacturers, who have thus far been responsive to their shifting roles and to the evolution of personal computing devices, will be well positioned to emulate such a device.
Meeting in the middle
I believe that the foundation for the all-in-one ultra-mobile PC is being fortified as demand for contextually sensitive devices continues to rise, manufacturers grow more comfortable in their roles providing an evolving category of mobile computers and as competition drives innovation and firms capitalize on their industry position and strengths.
IDC's Research Director Jean Bouchard predicts:
The push of traditional smartphone vendors to compete in the detachables PC space while combining their inherent strengths as mobile vendors provides a natural mix of conditions toward the adoption of an ultra-mobile Windows PC once Microsoft introduces an aspirational flagship to emulate.
Jean Bouchard continues:
PC manufacturers such as HP and Acer who have already embraced Microsoft's vision of a Continuum enabled phone are likely committed to the natural evolution of Microsoft's "phone" vision. As such the ideology, form factor and innovations a Surface "phone" demonstrates will likely be fully embraced and competitively exemplified in these, and other PC manufactures possible future ultra-mobile "PCs."
That said, I foresee a personal computing landscape where Microsoft's efforts to bring the phone and PC together ultimately cause mobile-first and PC manufactures to compete in the same space. This level of investment from diverse industries converging on Microsoft's platform can bring innovation as companies compete for dominance with converged devices.
Unlike the smartphone space that is founded on the separation of the phone and PC environments, this space is not bound to a dead end of mere device and software iteration. Microsoft's option is an untapped and boundless frontier. A frontier Redmond is committed to pioneering.
Ummm….Continue
Satya Nadella sees Continuum as the foundational component of this future of personal computing. It is key to his vision of putting the power of the PC in the hands of the dual user. This spans the enterprise as well as the consumer space as he expressed in a recent interview with Business Insider:
Clearly Nadella sees Continuum as an industry-defining ecosystem feature that will shape personal computing in the near future. He states "... I'm not trying to be another phone guy with the other person's rules. What is unique about our phones is this Continuum feature. [Continuum lets you take the screen of your Windows phone and connect it to a monitor, keyboard, and mouse, and use it like a computer.] If anything, we will want to continue to build that capability out."
Nadella's ambition is bold. Where this quest to merge the smartphone and PC will ultimately lead is a question only time can answer. But one thing is certain, Microsoft's answer to mobility is far beyond the smartphone.
Wrap Up
Smartphones are dead. They have evolved into mini-tablets. And the saturated iteration-focused smartphone market has spoken. There is little further that model, which keeps the phone and PC separate, can take smartphones.
Conversely, we are just at the beginning stages of Microsoft's Continuum powered "phones" that make a phone a PC. This is while we also stand at a junction in the personal computing landscape where PC and mobile-first firms are converging upon the same space.
How Microsoft builds out, as Nadella says, the capability of Continuum will determine how the future is shaped for Microsoft as they attempt to capitalize on this industry shift toward the company's strengths.
A great start, of course, would be a Surface "phone" (ultra-mobile PC), which as the Surface did for 2-in-1s, demonstrates the synergy of hardware and software, setting a high bar for OEM partners to emulate. Contrary to popular belief, lightening can in fact strike twice.
Get the Windows Central Newsletter
All the latest news, reviews, and guides for Windows and Xbox diehards.
Jason L Ward is a columnist at Windows Central. He provides unique big picture analysis of the complex world of Microsoft. Jason takes the small clues and gives you an insightful big picture perspective through storytelling that you won't find *anywhere* else. Seriously, this dude thinks outside the box. Follow him on Twitter at @JLTechWord. He's doing the "write" thing!