Sneak peek: Official WPCentral app v2.2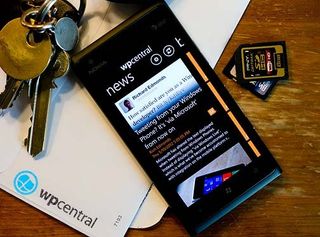 Before you rush to your phone, it's not in the marketplace just yet! However I'm pleased to announce that the official WPCentral app v2.2 has been finalised and was submitted for certification 2 days ago.
So what's new this time around? We've been focusing on three key improvements: user experience, error reporting, and 256mb device compatibility. Most of these changes are a direct result of feedback or suggestions that our amazing community has sent us, so read on to find out exactly what's changed.
User Experience
Always important to our app's development, it's become clear that some features were pretty much hidden to a lot of users if they involved a gesture or a tap-and-hold interaction. So key functionality like replying to comments, or enlarging fonts can now be found clearly marked within the user interface. Improvements to user experience include:
Links in comments can now be followed
New action icons in comments
Option to use larger fonts in articles & comments
Switched to built in social media sharing
Double tap to view in-line images
Automatically scroll to newly added comments
'Download app' functionality now available to free/trial users
Fixed live tile becoming disabled and stuck
Fixed about screen performing the wrong actions
Fixed scrolling stutter in comments by loading comments in as you scroll
Fixed drag jumping bug in image viewer
Other minor cosmetic fixes
Error reporting
We've always collected crash reports and taken feedback from our community, but that's not always enough. I've built a new logging tool, the WPClogger (which I'm affectionately calling 'the clogger') which now handles all reports or requests for help that are sent to us. If you're having an issue which only appears to be affecting you, the app will can be told to gather the information it has stored whilst you use it, then send it back to us along with any actions you performed. Of course the app will never collect this information unless you explicitly specify to, we take your privacy seriously.
Using the new WPClogger for bug reporting and help
Added new help screen for gathering information and submitting help requests
The WPClogger is also open source, any developers who'd like to try using it in their apps, or who want to help improve it are more than welcome to get involved.
256mb Devices
Having discovered that devices like the Lumia 610 couldn't run our app, we've taken a few steps to get things certified for the new lower price ranged devices.
Memory use & performance optimisations
256mb Tango device compatibility
Adjustable image quality
Tweaked user interface to explain to 256mb users where limitations apply
By adding the option to use lower quality images we keep the app's memory usage down whilst speeding up scrolling and reducing your network traffic. Of course you can keep things at full resolution if you're using a 512mb device, but lower spec devices will be restricted to 'medium' or 'low' quality images.
That about wraps up the changes, as you can tell this release is a little light on new functionality and more about refining things since v2 originally went live.
You can download the current version 2.1 at the marketplace here now, with the update due early next week. Or if you just have to see it in motion then you can watch the tour of new features below!
As always we welcome your feedback, opinions and suggestions, so post away in the comments below.
Windows Central Newsletter
Get the best of Windows Central in in your inbox, every day!
Awesome, Thanks! Thumbs up!

Your working too hard for my liking Jay. I sent you feedback from the app and I never got a reply back. I'm gonna cry =( Lol

You did? My apologies a few mails get snagged by my junk filter :( send it again and I'll keep my eyes peeled!

It's ok. The problem I had you fixed with this version. So I'll just wait for the update =)

Yes!.. one of my favorite apps only getting better. The one fix I see that I will really appreciate is the stuck live tile if it fixes the problem I have. For some reason the WPcentral live tile is the first one to get disabled if I reach the live tile limit and it will not re-enable unless you re-pin it, so here's hoping. (Its my only complaint, I promise ;-)

Yep that's the one that should be fixed

Other than this the app has been great, thanks Jay!!

I have found the the live tile can get stuck after battery save kicks in...

I have made the same connection with mine. I go battery saver and it turns wpcentral off in background tasks. I gotta go in the app, turn it off and back on again to get live tiles to work. Looking forward to this update :D

I believe that's what battery saver is supposed to do...

Yeah battery saver is supposed to do that, the problem was then that the app didn't automatically re-enable after battery saver was turned off :) fixed now!

I'm glad the stuttering scrolling will be fixed and more importantly the dead live tile......now if only you guys could fix the disappearing keyboard. Lol

My keyboard has been fixed, go nag your carrier

Fantastic! :) Using the app daily.

Fantastic! Any future plan in bringing access to the forum?

This would be a cool feature

I third this, even a link would drive more to the forums!

Looking forward to this. Any news on the wallpapers yet?

Very cool, addresses all my wants! Keep up the great work!

Do you plan on adding access to forums in the near future by any chance? So as to eliminate the need for Board Express (which I hate).

Looks good. I didnt even know about this app. I always used wpcentral rss with feed reader.

Forums are planned for v3.0 guys so a little while off just yet :) wallpapers I'm hoping will be in our next release

sweet.. keep up the great work.

Don't mean to sound pushy...but when can we expect that? :)

Honestly, there's a lot of work involved to make it happen and my free time is wasting away, so it's a few months off yet

It's ok, Jay, we want you to keep up the great features, but also to still have a life, lol.

Will look forward to seeing this happen. Take your time though, I'm a patient person :)

A bug I have noticed is you flip your phone to the left in comments and its fine but flip it to the right and it cuts off the comment..

There's a partial fix for that one in v2.2, in some cases they can still be cut off but rotating to portrait then back to landscape fixes it. I'll investigate this one further for next release

Also, I comment on the site like this for example, should the site be emailing me replies to my comments? Am I missing something?

It should not yet but our site guys are looking into this suggestion

Or even better... Why can't the love tile show that you have comment replies waiting?

The best tech app out there is about to get even better.

I love the app but I just want to know if the entire MobileNations has an app like this. It would be so awesome if I could read the news of all my favorite websites in one location with an easy to use interface.

One of the best apps on my phone. My go to source for WinPhone news. And quickly took up the slack for overall Microsoft news when WinRumors got absorbed into The Verge (ugh).

Thanks! HATE the stuttering comments bug

The stutter in comments sure is annoying glad it's been fixed, the other problem I have is sometimes, when a thread has many comments the last one stays hidden.

Nice!, looking forward to it!

Worth every penny. I love the app. First thing I look at before I hit Engadget and MyNokiaBlog. Keep up the good work, bro.

Jay, did you fix the landscape view of comments.

This is mentioned above..

Can you guys update the wallpapers?

Thank Jay and the WPcental team...we love it.

Looks fantastic! Excited for another update, but noticed in the video a slight typo in the image options section. "Here you can chose the picture quality..." Missed an 'o' on choose. ;)

Doh! It's amazing how easy it is to miss little things like that...

Keep up the great work, Jay! This is easily one of the best apps available in the Marketplace!!

Top two apps I use in terms of frequency... And its only getting better. Thank you!

Really looking forward to trying out the new app with all these useful updates - should be awesome!!! The fact that you had to pull out the tap and hold features for the wpcentral app, which has a user base that's probably more savvy than the average WP user, makes me wonder about the UX throughout the rest of the OS/other apps. I wonder how many features folks are missing out on BC tapping-and-holding isn't in their muscle memory, so to speak. Perhaps ms will address this in wp8

Just when you thought things couldn't get better, you go and do something like this..your awesomeness amazes me! Keep up the great work! I use your app every single day! :D

Looks great Jay, keep up the good work. Still my favorite app on windows phone... seriously

This is my favorite app on windows phone. Can't wait for update. PS: Waiting for Facebook for Windows phone 2.5 too.....

Quick question.... Is there anyway for my live tile to update every hr instead of every 20 mins(?).. Thanks

Hmm, theoretically I could tell the background task to skip running every other time... Is that something you'd want?

My live tiles foes nuts sometimes. One time it said there were 19+ new stories, or shows nothing while while a new story or two were actually new. Its been inaccurate lately. If I could stream the podcast live through the app, that would be cool. Add a countdown timer till the next podcast. Oh and have it be able to make me a latte.

I've got a really good suggestion. When you press the podcast tile, it starts playing the newest podcast. If you look at the podcast section in the Zune marketplace, it provides a list of all the episodes and won't play one until one is selected. That is an excellent template for your podcast section. A countdown timer til next would rock as well and clear up the time zone questions. Great app. Thanks!

Great work on the updates and especially for open sourcing clogger. That will be a very welcome tool for the dev community.

Awesome. My go to app for windows phone news =)

Oh and suggestions might be better suited to the official release thread but I've got one. I think you should remove the banner image that's used for the news scroll from the actual article when it's open.
for example the SkyDrive article has the blue logo on the news scroll. Looks great but when I click on the article its a little redundant to have two giant images one after the other. Doesn't take away from the great work you guys are doing but it's a little messy that way I think.

Good job jay... I like the unlocked 800 ur using

Awesome, WPCentral is one of the apps I always showcase to my friends... like this is how any blog can look like :)

Not sure about live tile problem as I have had nothing but inconsistent tiles since the beginning of March on my Quantum (which had been ok since Mango update) and now the last week with my Lumia which was ok for first ten days I've had it. We'll see...

How to make a great app better! The small gripes I've had about the WPCentral app is fixed in this release. Result!

Awesome work! This app is one of the best WP apps. Thank you!

Just curious : how many people have purchased this App ?

Are people able to share articles via the Facebook button? I'm stuck at the success notification screen. :'(

One of the biggest reasons I paid for this app was for the marketplace link functionality as it wasn't available to free users, so I'm slightly gutted that it's now being made available at no extra cost to them. At least it'll now now ring it in line with 1800PocketPC in regards to that (not that you have to pay for it at all).

I understand your feeling here but I have competitors to match, hopefully you feel the low price tag is worth it :)

WPCentral does have two advantage over 1800PocketPC: live tile & toast notification. And yes, it is only 0.79p/0.99c, but for a student that is quite a lot as unbelievable as it sounds!

Nice to see links kan be used finally, and great to see you not settling for anything but the best. This is my most used app and thank you for your dedication. (English not native, errors will occur)

The post mentions links in comments, but how about links is main posts? I have to view a post in internet explorer to see what links exist and follow them unless I'm missing something.

Dre, all you need to do is swipe over to more and tap the "view links" option, you can then follow any internal or external links which are mentioned in the article you were reading :)

Understood about the View Links option, but I find this to be clumsy. I can't tell when I read a post if that post has links, but then when I view the links they are taken out of context (particularly external links where I have no idea what it is in reference to). This is my biggest gripe about the app. It's much more user-friendly to see links underlined and be able to click on them directly like the Engadget app does.

Dre, I agree but highlighting as we go is actually really hard to do, especially to keep the article loading instant... Still, your feedback has been heard and I will put this on the list :)

Did you add the news separator option, a one pixel line or something? Looks excellent as always!

This is my most used app by far. Can't wait to check out the enhancements! :)

I'm a bit amiss of the whole clear functions being tweaked...one of the things I felt made Windows Phones appealing to me was the "right-click style tap&hold" goodies inherent in the UI. Now that so many of these things are being taken away and cluttering the screen so people could "find them more easily" kinda makes me sad-faced... #nomoreeastereggs

You know, I agree with that. I'd rather have people learn their phones than 'dumb' it down for the lowest common denominator. Much like society today. (not judging, just commenting)

But isn't the whole selling point of WP allowing you to do task as quickly and efficiently as possible?

You guys are doing great!

I hope live tile will be no issue no more

Why not offer a tile that takes us directly to wpc forums? I have to get there through the "about us "
Windows Central Newsletter
Thank you for signing up to Windows Central. You will receive a verification email shortly.
There was a problem. Please refresh the page and try again.