Snore? Talk in your Sleep? Find out with Sleep Recorder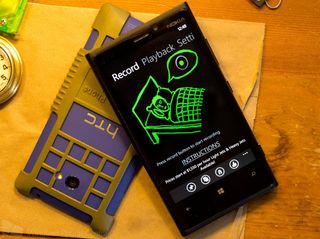 Ever wonder if you snore? If you talk in your sleep? Does your wife/husband swear they don't snore? Sleep Recorder is an interesting Windows Phone app that records audio while you sleep and could help you answer those questions.
As well as recording your sleep cycles, Sleep Recorder also maps out where you've spent the night and uploads recordings to the cloud where they can be shared with others. Sleep Recorder is a unique app for your Windows Phone that can not only solve sleep related curiosities but also help identify sleep issues.
Sleep Recorder is laid out in straight forward fashion. The core of the app include a Record, Playback, Settings and Map pages. There are four control buttons along the bottom of the screen that allow you to pin the app to your Start Screen, copy a link for the recording, share the app, and rate/review the app.
Up under the three-dot menu you have options to access the settings, find your current location on the Map Page, remove ads by upgrading to the Pro version, and the typical contact the developer/view other apps options.
When you get ready to go to bed, just press the button at the top of the Record Page. The recording is delayed, to give you some time to get settled and will record until you awaken and tap the stop button. Recordings are then listed on the Playback Page. If you don't see the recordings, go into the three-dot menu and choose "show all". The Playback Page can be filtered to show only the recordings tagged as favorites.
Recordings can be uploaded to the Cloud (I'm guessing the developer's server) and a link can be generated to share the recordings with friends, family, etc. Setting for Sleep Recorder includes options to adjust the microphone sensitivity, the start recording delay and turning on/off the reminder to record, confirm delete and map location options.
Sleep Recorder will run under the lock screen and to prevent the battery from lasting the night, you'll need to plug your Windows Phone into a power source.
All in all, Sleep Recorder isn't a bad Windows Phone app. The microphone does pick up the slightest of sounds and my only reservation is with the "cloud" uploads. I'de rather have the option to upload and share recordings from my SkyDrive account. Luckily you can turn off the location tags on the records to offer a little privacy.
There is a free version of Sleep Recorder that is ad supported that you can find here (opens in new tab) in the Windows Phone Store. You also have an ad-free version, Sleep Recorder Pro, that is running $.99 which you can find here (opens in new tab) in the Store.
Windows Central Newsletter
Get the best of Windows Central in in your inbox, every day!
George is the Reviews Editor at Windows Central, concentrating on Windows 10 PC and Mobile apps. He's been a supporter of the platform since the days of Windows CE and uses his current Windows 10 Mobile phone daily to keep up with life and enjoy a game during down time.
Last time I did this I found out aliens experimented on me. :/

Which kind? The proby kind or the wakeup in a bathtub without kidneys kind?

Hahaha I just listen to my wife. She lets me know how much and LOUDLY I snore

This is good because my wife actually yells at me in her sleep. Now I can have proof!!

Wouldn't this use a lot of storage?

It only records when it detects sound.

And that is the flaw (for me at least). I run a fan throughout the night that is probably loud enough to trigger the recording. Itd be cool if you could program the app to differentiate sounds and detect ones that are abnormal. For example, I take a 10 second recording of what my room sounds like "dead silent" that way its able to differentiate what is and isn't me. Just my thoughts. The tech behind this would be complicated, but well worth it.

That's a great idea, I think it wouldn't be to hard to implement.. I think it would kind if work like voice recognition except without a library of words. Even easier, a progressive database of a specific range of frequencies would work. Yeah, I understand your idea. You basically want to be able to calibrate it to the ambient sound of your room. You're a genius, and you should contact the developer about this!!

You can change the sensitivity of the mic in the app, but it of course will only work if your sleep talking is louder than the fan.

The app detects the sound and start to record or it record my all 8 hours ?

It only records when it detects sound. You can choose how sensitive it is.

Hell no wake up and find out I have spirits in my house! No thanks, I'm good! Lol!

Lmao good one! Am with you on this

This is cool but you can't set it to turn off at a certain time. So if you have alarms in the morning, it will pick those up.

Why would you want to prevent the battery from lasting the night?

Because normal people charge their phone overnight?

I dont. :p. I charge my phone only when it needs charged and its on a great schedule. I do this with my Nokia lumia 900, I have done this every day since the day I got it. I have found that my battery last longer than any review I have seen and I am happy. I have never "over charged" my phone. I am ocd about people that do. I do the same with my laptop.

So you still charge it every day, but at an arbitrary time you think is healthier?

As I said, when it needs charged. So, basically it is taking its last breaths as I plug it in. I plug in only at low percentages of battery.

That's actually bad for the battery since it is LiPo. Older NiCad batteries like to be discharged completely, but most newer batteries don't. It's best for the battery to be charged when it gets around 20%, even higher if you really want to make the battery last its longest (over time).

Good to know. Works better than I expected for me so fuck the science behind it. Im pumping out close to 2 days on my l900 with heavy usage.

phones dont overcharge anymore - so do notebooks - so fuck the religion behind your theory - its crap

What is the manufacturing company of the case in the image? Do they make cases for the 920? Edited: spelling.

It's a custom 3D printed case. There were a few threads on the forum about 3D printed cases and that design was one of them IIRC.

try here http://www.shapeways.com/shops/gibbage

I've caught myself sleep talking only once so far with it, and it was basically gibberish. Pretty weird, though.

paranormal activity 5....

I tried this and it's disturbing...


Lol. Best responce I've heard. Whatever comes out of my mouth when I'm sleeping is one of those things I don't want to know. I have a hard enough time managing what comes out it when I'm awake :)

Damnnnn my gf woke me up at 3 am and said CHICO YO SNORING TOO MUCHO HAHAHAHA

That's a great app and I'm sure people will use it to greatly amuse themselves! However, it's good to remember that if you are a major snorer then you should try and either get it checked out by a doctor or find something to cure it as snoring can be detrimental to your health in the long run! If you want to try and cure your snoring without the embarrassment of seeing your doctor you could try http://www.SleepPro.com and take a look at their mouth guards. Their cheap and effective and you don't have to go around telling anyone that your snoring is really bad!

It caught me 6:47min snore last night, very interesting app.

This allows you to upload files "to the cloud" but doesn't say where that is so there is no way to save your sound files from this app. Your sound files are either stuck on your phone on uploaded somewhere with no indication of where that somewhere is so you can't get them back.
Windows Central Newsletter
Thank you for signing up to Windows Central. You will receive a verification email shortly.
There was a problem. Please refresh the page and try again.