Snowboarder Roope Tonteri to be sponsored by Nokia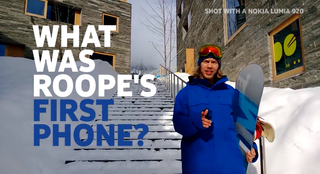 I'm having a hard time recalling any extreme athlete sponsored by a smartphone company, one of you guys can clue me in on anyone below. But Nokia has done just that, they've picked up pro snowboarder Roope Tonteri and will join companies like Burton, Anon, and RedBull as a sponsor for the young Finn.
Don't worry if you don't follow the snowboarder scene too closely, we'll fill you in. Roope is a 20 year old who has been racking up the wins lately. He's currently ranked first in the World Snowboard Tour. The promo video Nokia put up on their YouTube account was shot with a Lumia 920. Nokia is also running a little contest where if you guess Roope's first phone you could win a Lumia 920 yourself. Check the source link below for the video to get the full details on that.
The big purpose of the sponsorship with Roope is for him to highlight and document his life through the Lumia 920 (and future phones).
The partnership between Nokia and the young Burton team rider should give Nokia a nice marketing edge with the action sport crowd. This isn't the first time that Nokia and Burton have been in the same sentence. The two companies have partnered up in the past, recently producing an insulated case for smartphones in cold environments and a contest to win a Lumia 920 and go to Colorado for the Burton US Open.
I wouldn't be too surprised to see Nokia show up in some snowboard films next year.
Nokia is an amazing company. Have they always been like this? How long can they keep it up?

nokia and red bull should team-up. think that would be a killer partnership

HTC used to sponsor a pro cycling team that was rather successful. Not an individual athlete, an organization. Interesting concept on sponsoring an individual athlete.

Nokia needs to put a Lumia in a Marvel movie, or any movie. :)

There's a Lumia 900 in the new movie Olympus is Falling or Fall of Olympus whatever its called.. Coming out this year or it might be out already idk.. I'm no movie buff..lol

In the show Vampire Diaries one of the main girls has had a Lumia 920 in yellow and in blue the past two seasons! :D

I noticed that too! She had a cyan Lumia 900 and now she had a yellow Lumia 920!

I said this a few months ago. I said Nokia should partner with Redbull and not just sponsor, but find the right guy to co-host such an event, with some serious television coverage. Showcase the 920 and even give a few out. The 920 is perfect for such an event (a snowboarding/skiing event), because it is durable, and has that super sensitive touch display that snowboarders will lover (as they can use it while without having to take off their gloves). Good job Nokia! And I'm not marketing expert, it's just obvious common sense to me.

Half my snowsports team have Lumias now, though only three of us have the SST tech. Much better for our needs than the idevices.

Nokia sponsored Tony Hawk's Underground before (Or at least the XBOX version) :-)
Windows Central Newsletter
Get the best of Windows Central in in your inbox, every day!
Thank you for signing up to Windows Central. You will receive a verification email shortly.
There was a problem. Please refresh the page and try again.