The social cricket app, CricHQ arrives on Windows Phone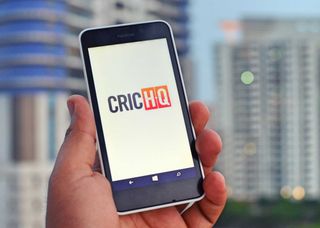 CricHQ (CricHQ.com) is a cricket technology company with headquarters in Wellington, New Zealand and has former Kiwi captain Stephen Fleming on its board.
With a mission of redefining how cricket is administered, shared, analyzed, and followed, the app allows you to 'follow' your favorite players to receive notifications and broadcasts whenever they play cricket or share social updates.
CricHQ is quite different that other cricket portals which focus on news and features. The service works on the premise of following individual players, no matter the level or grade they play at – from international stars to the grassroots. You'd receive broadcasts when players you follow participate in a match and receive social updates from the fans and players you follow.
The app allows you to post text, photo, and video updates with your unique cricketing perspective from your device. It offers live cricket scores from around the world with ball-by-ball updates with in-match commentary as well as advanced statistical insights.
CricHQ aims to redefine the cricketing landscape for the fans as well as the players at all levels of the sport. The app builds social in and allows fans to get up close and personal with their favorite players as well as share their opinions from the comfort of their armchair.
Download the CricHQ app for free for Windows Phone 7.x and Windows Phone 8 devices from the Windows Phone Store. Give it a spin, and let us know how you like it.
Get the Windows Central Newsletter
All the latest news, reviews, and guides for Windows and Xbox diehards.
I don't like cricket. Oh no...

Why not, it is available for 7.8! Enjoy! Lol

Ah, I noticed. Too bad I have no interest in cricket D:

Its a nice sleeping pill. Lol!

Baseball Is boring, and baseball game from Cricket.

Why post on this then? You are strange people.

Am I just older than everybody else on here? http://m.youtube.com/watch?v=BBRAzmaq5x0

Maxwell's showdown in ipl.

He is the only reason why i am watching IPL this season even though i have exams!

Yup!
PS: I'm not a cricket fan though!

Love me some Cricket.....England, West Indies, Pakistan or Australia.
Will definitely give it a go. Just wished a Cricket Game would come to Xbox One. For now just watch it on the ESPN App via XBox One.

Bring FIFA app waiting,,,,,

I am an Indian and I hate watching/following cricket... Still like watching test cricket once a year or so... One day, 20-20, IPL have made cricket a money minting machine. I like playing cricket though...

Was waiting for this app to land on WP. Had it on Android. My favourite cricketer Brendon McCullum has a profile in crichq and I can't stop myself looking at his profile every 5 min.

Guys please vote for an idea I posted to improve windows phone
Link: http://windowsphone.uservoice.com/forums/101801-feature-suggestions/sugg...

Sounds like making Android out of WP.

Would love to have more cricket apps and games on WP. Also espn cricinfo needs an update ASAP.

Cortana cricket integration

Baseball is boring as fuck. Cricket is exciting. Have you ever been to the Caribbean to watch cricket? This shit is on fire!!

It's been there awhile lol late

Hipsters be like...."ewww I hate cricket!!!"