AI news you might have missed this week: Music, ChatGPT, and Bill Gates thinks it'll soon be teaching our kids
Musicians getting behind AI, ChatGPT gets much needed improvements and Microsoft's co-founder weighs in.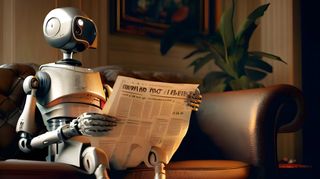 (Image credit: Windows Central / Bing Image Creator)
AI is one of the hottest topics in tech right now and the rate at which the news cycle churns is almost impossible to keep up with. There's a lot happening that isn't just focused on chatbots like ChatGPT and Bing Chat as this burgeoning space continues to grow.
Here are some of the most interesting AI-related news topics you might have missed from this last week.
Grimes allows AI musicians to use her voice
Musician Grimes is one of the first major artists in the world to officially sanction the use of her voice in AI-generated tracks.
The singer is allowing the use of her voice for the same royalty split as would be agreed upon with any other artist.
Grimes claims to be "energised by the idea of open sourcing all art and killing copyright."
She's already working on a program to simulate her voice but would also consider releasing acapella tracks for others to train their own models with.
Why it's important: The music industry is notoriously litigious and was caught by surprise in recent weeks when a viral AI-produced track featuring Drake and The Weeknd. Grimes is setting a precedent that hopefully other musicians will follow. AI is here to stay, it's better surely to get in front of it than go through the lawyers.
UK Government pledges £100 million to investigate building its own AI model
The UK has been in the Microsoft news cycle for all the wrong reasons this week, but things are more promising on the AI front.
Why it's important: There's been a lot of talk, particularly in the EU, about the models behind the recent wave of chatbots like ChatGPT. Especially over privacy. AI has the potential to be extremely useful in public life, but there will always be questions over data handling by private entities. In theory, a state-backed model for public services could quell many of these concerns. But only time will tell.
HuggingChat is the latest ChatGPT alternative
ChatGPT grabs a lot of the headlines but there's yet another alternative making its way out into the world.
HuggingChat is an open-source AI chatbot released to the public by HuggingFace.
Unlike the GPT models powering ChatGPT and Bing Chat, HuggingChat is using an open-source model developed by Open Assistant. The same company is behind the model used in AI image creation tool Stable Diffusion.
HuggingChat is available to try through its web interface and can integrate with other apps and services using the HuggingFace API.
Why it's important: While it's unlikely that HuggingChat will surpass ChatGPT, an open-source alternative is most welcome. GPT-4 is entirely closed meaning that only those within OpenAI know truly what has gone into the model. An open-source model not only makes AI tools more accessible and affordable, Open Assistant is trying to be less hardware intensive and useable on consumer-grade hardware. The road will be long but it's going to be a project worth following.
ChatGPT is getting business-ready
The updates to ChatGPT continue to roll, and in the same week the long-awaited browsing feature started showing up for its Plus subscribers, there's also talk of a forthcoming subscription for businesses.
ChatGPT's business subscription will give companies more control over managing their data and their employees' use of the tool.
User data will not be used by default to train future OpenAI models.
It's expected to become available in "the coming months".
Consumers this week received the ability to turn on an "incognito mode" where chat history won't be stored or used to train the model.
Why it's important: It's pretty obvious by now that OpenAI is using data entered into ChatGPT to further train the GPT model behind it. While this is going to be fine for a lot of the data we're putting in there, it's definitely not for businesses or any other type of official bodies with secretive information. A dedicated business version seems like a no-brainer, but it should also help in parts of the world that have been less receptive to ChatGPT so far, notably in Europe where GDPR and privacy regulations are particularly strict.
Bill Gates thinks AI will be teaching our kids in less than two years
Microsoft co-founder, Bill Gates, has weighed in with some of his thoughts on AI in a recent public appearance, particularly how he thinks it will relate to our kids.
Gates was appearing in a fireside chat at the ASU+GSV Summit in San Diego.
He thinks that AI chatbots will be used to teach literacy skills to children and that it could happen within as little as 18 months.
He said that "AIs will get to that ability, to be as good a tutor as any human ever could."
Why it's important: Much has been made of students using tools like ChatGPT to cheat, but there's been less focus on the potential positive implications of AI in educating youngsters. Children are already made to use computers in much of their education, but as Gates pointed out, they lack any sort of cognitive abilities. AI can certainly improve upon this and turn a computer from just a tool into something that is able to react and respond in a manner that could truly nurture a child's education. It could certainly be a more accessible way to offer dedicated tutoring to all.
AI tools and extensions you should try
As AI continues to grow in popularity the sheer volume of browser extensions, plugins and dedicated tools grows with it. Here's a few that you should definitely check out.
VoiceWave: ChatGPT doesn't have native voice input and output yet. This outstanding, free, open-source extension will let you add it in. Get it from the Chrome Web Store or Microsoft Edge Addons.
Microsoft Designer: This alternative to Canva from Microsoft has just been opened up for all to try without a waitlist. Use AI to generate images or full graphics project ideas with a single text prompt. Try it free now with only your Microsoft Account.
Bing Chat History: Microsoft's chatbot doesn't yet have history, but if you're using it in the browser then this must-have free extension will add it in for you. Grab it from the Chrome Web Store for all Chromium-based browsers.
Get the Windows Central Newsletter
All the latest news, reviews, and guides for Windows and Xbox diehards.
Managing Editor - Tech, Reviews
Richard Devine is a Managing Editor at Windows Central with over a decade of experience. A former Project Manager and long-term tech addict, he joined Mobile Nations in 2011 and has been found on Android Central and iMore as well as Windows Central. Currently, you'll find him steering the site's coverage of all manner of PC hardware and reviews. Find him on Mastodon at mstdn.social/@richdevine