Somewhat spontaneous karaoke on the go with the latest update to musiXmatch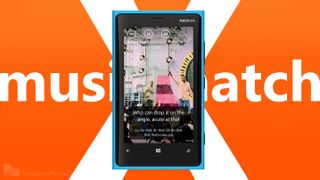 Last week, Shazam received a big update to take advantage of some Windows Phone 8 magic. Not to be outdone, musiXmatch has recently updated and brings a few features with its revamped user interface. Let's check it out after the break.
We last covered musiXmatch back in early September, it was called Lyrics by musiXmatch and recently went to version 3.0. The latest version (3.1.1.0) that came out today includes a new user experience, scrolling lyrics, and some various bug fixes.
Obvisouly you'll most likely appreciate the new UI, but I really was digging the ability to see the lyrics of songs in my library and those that the app identified with its Shazam/Bing Music like discovery. Its wild, you can launch any album or song from your music library and have lyrics. Those lyrics can scroll in sync with the song. Unfortunately for you Wu-Tang fans, some words are edited.
The app is available for both Windows Phone 7.x and 8. You can get it here in the Store, by using the QR code below, or by swiping right in our app.
Thanks for the tip Mark T. and JD! :)
Great addition, keep em coming!

Hey guys, quick question: Can you kick it?

i used to have this on my 5800....that's when i first experienced the wp app typography <3

Musix match is available on symbian ?...

Yes, Available on Symbian. And only app on Symbian having Metro UI :)

Nice one but the timing is off too often and no way to adjust. Should be fixed.

One of the best app ever :)

Already rocking this feature on SoundHound

The lyrics are slow so I went into settings during playback and tapped full lyrics. You get all the lyrics at once. Unfortunately, its not default so you have to do it again if you exit the app

+1000 for the Tribe Call Quest references :)

I already loved this app but adding the scrolling lyrics is the icing on the cake!
Haven't hay any sync/speed issues yet but the again I'm not listening to a blazingly fast rap song, I'll keep testing.

Good ideas, but there are problems which makes them barely useful: lyrics are always behind, like 1-2 seconds; it doesn't play my cloud library; and it doesn't seem to recognize much of the music I have (tried Anarchicks; Mick Harvey...). Good UI though.

That's because that music sucks.
LOL, kidding. I've actually never heard of them.

Mick Harvey is part of Nick Cave's Bad Seeds, it's for the wrong part of the thirties crowd (me), so it's not for the young crowd, but it's not mainstream. Anarchicks yeah, it's my attempt to keep up with times, and they're funny.

I'm also in my thirties, just not into much punk.

Well, most important is that people try to listen to music, any music, it's fundamental for our happiness, imo.

But I tell you what, I always loved music, I used to buy magazines and all sort of stuff to find new bands when I was younger (big fan of Nick Cave; Sonic Youth; Butthole Surfers...) nowadays I have less time, but actually Bing and my Xbox Music subscription helps me to find new and interesting stuff, even when commuting: I listen something on the radio; Bing to identify what is it; Xbox Music to download it immediately. Ta-da! (and who says Xbox Music doesn't have more "obscure"/leftfield music is not informed, its library is pretty amazing).

Awesome app!!!
Where Shazam just lets you tag and identifies the song for you this deadly app does much more
1.Scrolling Lyrics
2.Full Lyrics (in a page with highlighter for each line according to the song)
3.Backgroung Pic of the Band/Artist
4. Song identifier.
5. Most Indian(Bollywood) songs are not supported (waiting for an update).
and the list continues....

My friend just had a look at it and said "That's really cool " and the best part was she asked whether this app was available on android platform...I loved it..hahaha
WindowsPhone 8 rocks!!!

I don't understand what happenned to Soundcloud official app

iTunes for buying ???? Never in my life..

It does NOT show The Doors lyrics! :'(

Oops. The very first song I played on this app is "Slinky Thing - Donald Fagen". A quick swipe and the thing tells me, "Unfortunately we're not authorized to show these lyrics." Lyrics have to be authorized too?
But the app itself is smoother than butter. I think the devs are figuring out this platform and doing one fantastic job.


About time!! I deleted this app awhile ago because of the lack of,support for WP users. Lets hope it gets better from here
Windows Central Newsletter
Get the best of Windows Central in in your inbox, every day!
Thank you for signing up to Windows Central. You will receive a verification email shortly.
There was a problem. Please refresh the page and try again.