Sony is buying Bungie: What this means for Destiny 2 players on Xbox and PC
What you need to know about the impact of Sony's deal with Bungie.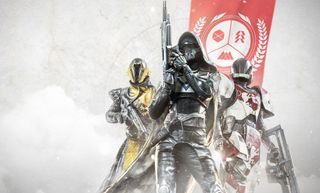 (Image credit: Bungie)
Sony recently announced plans to acquire Bungie for $3.6 billion, and the news understandably has Destiny 2 players on Xbox and PC concerned. Just like Microsoft with its ZeniMax acquisition, many are wondering if Destiny 2 (or Bungie's future games) will end up becoming exclusive to PlayStation, or if PlayStation players will get exclusive access to in-game items and content.
Thankfully, Bungie has detailed how the acquisition will affect Destiny players moving forward, giving fans a clear idea of what to expect once the deal goes through.
Will Destiny 2 become a PlayStation exclusive?
The obvious question on many minds is if Destiny 2 will become exclusive to the PlayStation platform. It's an understandable thing to worry about, especially since Destiny has been available on multiple platforms since the day the original game launched in 2014. Fortunately for players on Xbox and PC, Bungie has confirmed that Destiny 2 and all of its content will remain multiplatform, at least for the foreseeable future. All announced Destiny 2 seasons, packs, events, and expansions (including The Witch Queen, Lightfall, and The Final Shape) will remain available across platforms, and the deal with Sony will have no immediate impact on how players experience Destiny 2. The studio even confirmed that future games created by Bungie will remain multiplatform.
Bungie has also confirmed that The Witch Queen expansion won't include any PlayStation-exclusive content, stating its belief that "every player should have an amazing Destiny experience, no matter where they choose to play." Core cross platform features like cross-save, cross-play, and compatibility with the Destiny 2 Companion App will also be unaffected.
One of the conditions of the deal was that Bungie would remain an independent developer and publisher, and thus will retain its right to publish its releases on the platforms it wants to. Since Bungie wants players to experience what Destiny 2 has to offer regardless of what platform they use, it's incredibly unlikely (though still technically possible) that Bungie will restrict where future Destiny content can be accessed — including what's coming beyond 2024's The Final Shape expansion.
How the deal will benefit all players
Instead of being concerned about Sony's acquisition of Bungie, players should be looking ahead. Bungie has stated that thanks to the resources and support provided by Sony Interactive Entertainment (SIE), it'll be able to accelerate its efforts to hire more talent across its various departments. This means that the teams creating and maintaining content for Destiny 2 will swell, most likely resulting in releases that are not only wider in scope, but also of a higher quality.
In late 2020, Destiny 2 Director Luke Smith said on a livestream that future Destiny 2 expansions would never be as large as 2018's Forsaken because Bungie had gone independent and was no longer supported by Bungie's previous publisher, Activision. With support from SIE, we may once again see Bungie create Forsaken-caliber expansions that fans have been hopeful for.
So, why is Sony buying Bungie?
If Destiny 2, its content, and future Bungie games are all staying multiplatform, what does Sony stand to gain from this acquisition? According to SIE CEO Jim Ryan, Bungie will support PlayStation Studios' future efforts to create multiplatform live-service games — games similar to Destiny 2 — with its expertise.
"I've been on record talking about increasing the size of the PlayStation community, and expanding beyond our historic console heartland. This can take many forms ... one of the main ones is the ability for the wonderful games that we've been making over the past 25 years to be enjoyed in different places and played in different ways," said Ryan in an interview with GamesIndustry.biz.
Destiny 2 is one of the most successful live-service games ever made, so it makes sense for Sony to acquire the studio and learn from its veteran developers as it looks to expand beyond the historically closed-off PlayStation console. These future games will surely come to the PC platform, and some may even be available on Xbox consoles.
Sony has also stated that it's looking to branch out beyond the PlayStation platform in other ways. The brand has cemented itself with high-quality, cinematic, and previously exclusive single-player experiences, but that can no longer be the case. The company has already started successfully branching out, with games like God of War and Days Gone hitting Steam. This is only the first step in the company's multiplatform plans.
"We are starting to go multiplatform ... we have an aggressive roadmap with live services. And the opportunity to work with, and particularly learn from, the brilliant and talented people from Bungie... that is going to considerably accelerate the journey we find ourselves on," Ryan said.
Final thoughts
While it's understandable that Destiny 2 players on Xbox and PC are concerned about Sony's acquisition of Bungie, the studio's independence and drive to bring a satisfying Destiny 2 experience to all players means that fans have little to worry about — at least for now. Sony isn't interested in making Bungie games like Destiny 2 exclusive to PlayStation. Instead, the publisher wants Bungie to support future PlayStation Studios multiplatform live-service titles with its skills and expertise. As of now, it's looking like a beneficial deal for both the companies and the players.
Destiny 2: The Witch Queen is slated to release on Feb. 22, 2022 across Xbox, PlayStation, PC, and Stadia, and it represents the start of a new era of Destiny 2 filled with plenty of content and brand new systems such as weapon crafting. The standard edition of the DLC costs $40, and Destiny 2: The Witch Queen preorders are live now.
Survive the Truth
Destiny 2: The Witch Queen
Take back the Light

The upcoming Witch Queen expansion features the sinister Savathûn and her brood of Light-wielding Hive, which will undoubtedly prove to be the most challenging foes faced by Guardians yet. Players can expect tons of new loot, enemies, locations, and more.
Get the Windows Central Newsletter
All the latest news, reviews, and guides for Windows and Xbox diehards.
Brendan Lowry is a Windows Central writer and Oakland University graduate with a burning passion for video games, of which he's been an avid fan since childhood. You'll find him doing reviews, editorials, and general coverage on everything Xbox and PC. Follow him on Twitter.