Destiny 2: The Witch Queen — Release date, trailer, and everything we know
A new story, new enemies, and new loot awaits.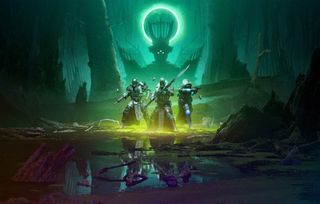 (Image credit: Bungie)
Destiny 2's expansions drive the game forward with tons of new story content, loot to earn, enemies to fight, gameplay systems to engage with, and more. Because of this, Destiny 2 continues to solidify itself as one of the best Xbox shooters available. For example, Destiny 2's latest expansion, Destiny 2: Beyond Light, introduced the icy world of Europa, Darkness-powered Stasis subclasses, the Deep Stone Crypt raid, and plenty of new weapons, armors, and Exotics to chase after.
Based on everything Bungie has shown for the upcoming expansion Destiny 2: The Witch Queen, it sounds like this DLC will be even more impactful and content-rich than Beyond Light. Here's a comprehensive overview of everything we know about The Witch Queen, including when it's releasing, what the story and campaign will be like, what new features will be added, and more.
Survive the Truth
Destiny 2: The Witch Queen
Take back the Light

The upcoming Witch Queen expansion features the sinister Savathûn and her brood of Light-wielding Hive, which will undoubtedly prove to be the most challenging foes faced by Guardians yet. Players can expect tons of new loot, enemies, locations, and more.
Destiny 2: The Witch Queen: Release date
Prior to the official start of Gamescom 2021, Bungie officially announced that Destiny 2: The Witch Queen was slated for release on Feb. 22, 2022, on Xbox Series X, Xbox Series S, Xbox One consoles, PS5, PS4, Google Stadia, and Windows PC.
Destiny 2: The Witch Queen: Price and preorders
There are four different editions of Destiny 2: The Witch Queen available for preorder, with each one featuring different amounts of content at various prices:
Destiny 2: The Witch Queen Standard Edition is $60 and features the main DLC.
Destiny 2: The Witch Queen Deluxe Edition is $80 and includes the main DLC and additional Year 5 content like an Exotic SMG, a Throne World Exotic Sparrow, access to two new endgame dungeons, and Season Passes for each Year 5 season.
Destiny 2: The Witch Queen Deluxe Edition 30th Anniversary Bundle is $100 and includes everything from the previous editions as well as a new exclusive dungeon available in December, the Gjallarhorn Exotic rocket launcher, and new cosmetics inspired by past Bungie franchises like Halo and Marathon.
Destiny 2: The Witch Queen Collector's Edition is $250 and features everything from the other editions as well as physical collectibles like a Hidden psychic investigation kit, Hidden keycard, Hive Ghost replica, lore booklet, and more.
Destiny 2: The Witch Queen: Trailers
Currently, there are three trailers available for Destiny 2: The Witch Queen — a reveal trailer, a gameplay trailer, and a teaser trailer that was shown during The Game Awards 2021. You can watch all of them below:
Destiny 2: The Witch Queen: Story and setting
The core premise of Destiny 2: The Witch Queen has players facing off against Savathûn, the Witch Queen and the sister of Oryx, the Taken King, whom players encountered and defeated in the first Destiny game. Savathûn is known for her ability to trick, deceive, and lie her way to victory through manipulative tactics, and in the expansion, she (along with her Hive followers, the Lucent Brood) will wield the Traveler's Light against Guardians.
This is the first time that anyone other than the Guardians themselves have been able to use the Light in Destiny history, and it raises many questions about how Savathûn and her followers were able to obtain it. Many fans theorize that she somehow stole it from the Traveler, while others believe that the Traveler chose to give it to her for a currently unknown reason. It's likely that the The Witch Queen's campaign will address these questions as we move to stop Savathûn and her forces. There's also a good chance that many important characters from Destiny 2 Year 4 will play a role in the campaign, such as Ikora Rey, Zavala, Osiris, Saint-14, Crow, the House of Light Kell Mithraax, the Cabal Empress Caiatl, and Mara Sov.
The primary setting of the expansion has been confirmed to be Savathûn's Throne World, a plane of existence created by Hive magic where Savathûn and her brood reside. Based on everything Bungie has shown off so far, it looks like the location will mostly consist of marshy swamp-like terrain contrasted by the shining Light-blessed glow of Savathûn's castle. It's unclear how big the location will be or what kinds of secrets and side-stories it will contain, but if Savathûn's Throne World is anything like Europa from Beyond Light or the Dreaming City from Forsaken, there will be plenty of interesting lore, collectibles, and more for players to find.
It also seems like Mars will be included in the expansion as well, as the most recent trailer from The Game Awards featured Guardians landing there to board Savathûn's flagship and presumably enter her Throne World. This marks the first time Mars is returning since it was originally sunset from Destiny 2 as part of the Beyond Light expansion update, and it's likely that the location will be changed significantly due to Savathûn's influence.
Destiny 2: The Witch Queen: Gameplay and campaign
Each Destiny 2 expansion usually challenges players with new enemies to fight, and Destiny 2: The Witch Queen is no different. Throughout the expansion, players will encounter members of the Lucent Brood that have been risen by Hive Ghosts, essentially turning them into Hive Guardians. As seen in the expansion's trailers, these Hive will be significantly more difficult to kill and will use the powers of Solar, Void, and Arc Light against players in combat. It's also possible that they will be resurrected if players don't destroy their Ghosts quickly after defeating the Light-wielding Hive.
In an interview, Bungie's assistant game director for Destiny 2, Joe Blackburn, stated that players should "think of them like Wyverns," which are deadly and durable Vex units introduced in Beyond Light that require teamwork and coordination to kill. The developers want the Hive Guardian enemies to force players to alter their approach and adapt in a similar manner.
The campaign itself sounds like it could be Bungie's best Destiny campaign ever, with the developers claiming that the campaign will rival those found in games like DOOM, Halo, and Titanfall 2. Blackburn commented that the developers want to make The Witch Queen's campaign feel less like a small and underwhelming part of the overall experience and more like a core part of it. There will even be a Legendary version of the campaign that makes the experience more difficult, but also rewards the player with better gear.
"In our last couple of releases, the campaign had some great moments, but it often felt like right when it got started, it was over. So that's one of the things that, pacing wise, we knew we wanted to fix," Blackburn said. "Savathûn is a pretty long-awaited villain. We don't want this to feel like it got cut short. So there's something here about length, but really it's about making those missions start feeling more and more like what's special about Destiny."
Destiny 2: The Witch Queen is also adding a new weapon type to the game's sandbox: glaives. These first-person melee weapons are capable of deadly close-quarters combos and ranged attacks, allowing players to use a hybrid playstyle.
Destiny 2: The Witch Queen: Weapon crafting
One of the new systems being introduced to Destiny 2 in The Witch Queen expansion is weapon crafting, which seems like it will be an evolution of the Umbral Engram focusing system that players have been able to use in Destiny 2 Year 4 to farm for the specific weapons and perk rolls that they want. In the aforementioned PC Gamer interview, Blackburn said that Bungie's goal with the system was to allow players to earn the perk rolls they want by going "on a journey" with each weapon, unlocking different options for them as they engage with the weapon crafting system.
"Crafting is about finally delivering the fantasy that you can make the gun that you've always wanted. And we want you to feel like you went on a journey to get there," Blackburn said. "Because by the time you're able to make the exact god roll, you will have the ability to make all the versions of that gun that you want. So it's really about a long pursuit with a weapon."
Bungie has confirmed that the first of the new glaive weapons will require players to craft it, and that players will also be able to use the weapon crafting system for both old and new weapons moving forward, including raid weapons.
Destiny 2: The Witch Queen: Raid details
Destiny 2: The Witch Queen will have a new raid for six-player fireteams to try to overcome, but as of right now, very few specifics are known about it. However, something we do know is that it will take place within a Darkness Pyramid ship that has sunk into the swamps of Savathûn's Throne World. Many players are speculating that the raid will introduce a brand-new Darkness enemy to the game, while others anticipate that the final battle with Savathûn and her Lucent Brood will occur within the Pyramid's depths. Some also suspect that due to their growing presence in Destiny 2's narrative during the Beyond Light era, the fearsome Scorn may also be a part of the raid. Ultimately, only time will tell.
Destiny 2: The Witch Queen: Light subclass reworks
While it doesn't seem like Destiny 2: The Witch Queen is introducing new Darkness subclasses like Stasis, we do know that throughout The Witch Queen expansion and Destiny 2 Year 5, Bungie is planning to rework each of the Light subclasses so that they're as customizable and nuanced as Stasis is. Each Light subclass will have Aspects and Fragments similar to Stasis Aspects and Fragments, and each Light subclass will also feature a unique set of buffs and debuffs that can be shared with allies or unleashed on enemies.
When The Witch Queen expansion launches, Bungie is planning to begin this overhaul with Void. In a blog post, the developers announced plans to introduce the following positive effects to Void abilities that you can use to buff yourself and your allies:
Void Overshield: A protective barrier of Void Light which reduces damage taken from combatants.
Invisibility: You vanish from sight and do not appear on enemy radar.
Devour: You feast on the energy of your foes. Kills restore you to full health, grant grenade energy, and extend Devour.
Here are the negative effects that you'll be able to apply to enemies:
Suppression: The target is knocked out of any active abilities and can't activate any abilities/movement modes as long as Suppression persists. Afflicted enemy AI combatants can't shoot their weapons.
Weaken: The target takes increased damage and has their movement slowed. Enemy AI combatants fire their weapons with decreased accuracy.
Volatile: The target is afflicted with unstable Void energy and will explode upon taking additional damage or upon death.
Destiny 2: The Witch Queen: What's coming next?
Looking beyond Destiny 2: The Witch Queen's initial release, players can expect a content-rich Destiny 2 Year 5 with four full seasons, two new dungeons, and a new reprised raid from the original Destiny (similar to how the developers brought back the Vault of Glass raid). Bungie has gone on record saying that starting with The Witch Queen, players will never go more than three months without a new raid or dungeon.
In addition to this, Blackburn also recently confirmed on Twitter that Bungie is planning on renewing its focus on Destiny 2's Crucible PvP experience by increasing how often balance changes are made and by adding in several new maps and modes on an annual basis. He also stated that the developers are looking to overhaul Destiny 2's PvEvP mode, Gambit, with new maps and changes to the mode's heavy ammo economy, the strength of invasions, and the Primeval boss fight at the end of each round.
In the long term, the Lightfall expansion is slated to release in 2023, while The Final Shape has a tentative 2024 release date. The Final Shape expansion has been confirmed as the conclusion to the current "Light and Darkness Saga" storyline that has been building up since Destiny's original 2014 release, but the DLC will not be the end of Destiny 2. In the far future, Bungie will likely give us some hints about what's coming after The Final Shape expansion.
Survive the Truth
Destiny 2: The Witch Queen
Take back the Light

The upcoming Witch Queen expansion features the sinister Savathûn and her brood of Light-wielding Hive, which will undoubtedly prove to be the most challenging foes faced by Guardians yet. Players can expect tons of new loot, enemies, locations, and more.
Get the Windows Central Newsletter
All the latest news, reviews, and guides for Windows and Xbox diehards.
Brendan Lowry is a Windows Central writer and Oakland University graduate with a burning passion for video games, of which he's been an avid fan since childhood. You'll find him doing reviews, editorials, and general coverage on everything Xbox and PC. Follow him on Twitter.