Sony warns VAIO Windows PC owners not to update to Windows 10 yet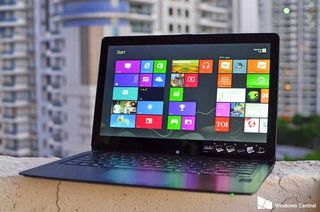 Windows 10 is still rolling out for free to current Windows 7 and 8.1 PCs owners, but Sony is telling owners of its older VAIO PCs that is is not advisable to download and install that upgrade yet for those products.
Sony sold off its VAIO PC unit in 2014 to a Japanese investment firm, but it is still offering owners of its previously-released PCs online support. In a post on Sony's site, it says:
The site also has a schedule of when those drivers will be released. For VAIO PCs with Windows 8.1 installed, Sony says the drivers will be made available in October, while its PCs with Windows 8 will get those drivers in November. At the moment, there's no schedule for when drivers for Sony's PCs with Windows 7 SP1 installed will be released.
Windows Central Newsletter
Get the best of Windows Central in in your inbox, every day!
Too late ;p works perfectly on my VAIO PRO

Not working perfectly on my Vaio Duo 13. But then again, it's not working perfectly on any of the six machines I've installed it on using a combination of upgrades and reinstallation. Basically, W10 is just pretty darned buggy on any computer.

What's not working exactly?

hi i have a vaio duos 13 and my two finger scrolling speed from the touchpad is all over the place...like it is normal for chrome but too slow in folders & too fast in microsoft apps. Also the facebook videos are not playing smoothly both in chrome and edge.

Some of these are specific to my VAIO, but most of them apply to all Windows 10 devices. Start button occasionally "goes dead" for a bit, then starts working again. Launching apps sometimes doesn't. When playing full-screen videoit sometimes looks gummy on the whole right side of the screen. Sharing files between two PCs over bluetooth is erratic. When the machine reboots from hybernation, the screen is often rotated 90 degrees. Problems with Wi-Fi adapter not working after the PC goes to sleep. Occasionally I have returned to a Windows 10 PC and found that it has inexplicably rebooted. Start button + other key launches the Start menu instead of executes command. Inexplicable lags (I think antimalware services is to blame). Scrolling weirdness. Edge crashes constantly and lags horribly (bascially, it's a garbage browser) And other little weirdness.

mine looks all good - but the sound has gone all tinny sounds like crap.

Works fine on all of my computers, including my custom build one with all the random hardware I put in it. Maybe sony should update their shitty software.

Did you keep files and settings or a clean install? After moving what I needed to my external and doing clean, it's working much better than my 8 install ever did. (can't say this will work for VAIO though)

Doesn't matter. Buggy all the same.

agreed. Windows 10 is still buggy and has a little bit of slow performance.

idk works fine on my computer, and I think mine fits into the ANY category.

Ok, I upgraded my non-lte vaio duo 13 and its working perfectly including face recognition using the preloaded fast access software which came bundled with the laptop.

It's working awesomely on my VPCCW15FL, even better than Windows 8.1, for which Sony never released any new drivers and the bluetooth was dead. Now all work perfect! Awesome! Even for a Core2 Duo processor.

Windows 10 works very well on every device I have (with their drivers that is said to work only with windows 8) and they r very different. These include my Lenovo yoga 2 13, Dell inspirion N5110, Linx 8 and Samsung Ativ Tab 3.

It was slow on my HP Envy 15 from 2013 first, but after one day it worked perfectly, even games from steam :)

Let me see... you forced instal, right? Congrats.

Installed it on a surface Pr 2, Toshiba tablet, 2 dell work laptops, a sony vaio laptop, a acer S7 laptop, and a custom build destop that was built over 6 years ago. No issues on any of them. The only problem I had was that I could force the upgrade on a couple device and had to wait for it to start on its own and the toshiba tablet didn't have enough storage space and I needed to add a microsd card. Otherwise, they all installed flawlessly on an in place install. My father in law updated his Hp desktop and laptop as well. So, I don't see where you are getting the buggy on any computer comment. Maybe it's not the update but you that's the problem.

Well their one of many that prefer soldering on components so yeah they have special driver requirements

hi even i have vaio duo 13...are u facing scrolling speed problems? when u double finger scroll from ur touchpad it is slow at some places & fast in microsoft apps

@x I'm tc: Looks like you're outnumbered, and a very unlucky person. Windows 10 has been a delight to use for every device in our home. No bugs whatsoever.

Perform a fresh install on all your devices. I have done 17 installs to date. 6 were my own devices. Only the laptop swere buggy from the first edition, but that has been fixed with the first update.

Too late here too, and it's working perfectly on my old VAIO

What's your VAIO's model? Did you do a clean install or an upgrade? Based on comments like these I'm tempted to do an update this weekend.

My strategy is to do a system refresh before upgrading to Win10. Then, the system is clean and all drivers and softwares are in place.

I first did the update, worked fine, then I did the clean instal on my vpcsb3s9e. Works like a dream. Bought it in 2012, but could be a model from 2011.

Perfect install and useage on my Vaio VPCEB PCG-71211-L

Works fine on my Vaio flip 13, except can't detect continuum switch of modes.
Same issue on my Dell VP8 though.

I have a Vaio Pro too. It works for most of the time but is your touchscreen working normally? At the moment I can't scroll or zoom using touch. And I can't swipe from the side either.

Build 240 (RTM) was working great on my Vaio Pro 13, but the Windows updates that came after the official release date (july 29th) broke many of the gestures on my touchscreen. For example, scrolling by touch screen or swiping in from the right are broken with the lastest updates.

I have a Sony VAIO F Series (VPC-F11Z1) and it works amazingly!

I couldn't wait either. November?! Are you kidding? I had an issue with my wireless network adapter at first, which is critical for a Vaio Pro as it has no ethernet connection. I could not update the driver for some reason. Did a clean install of Windows 8.1, updated the drivers and then upgraded to Windows 10 and everything worked flawlessly. I even think my internet/bluetooth and trackpad have not worked this stable since I first got my laptop. My 7 year old Vaio FW is also rocking Windows 10.

Working smoothly as butter .........best upgrade for my VAIO

Touch pad does not work after windows 10 upgrade. so frustrated that Sony did not post the info or sent notifications to registered useers

Mine too works perfectly.!

Sony..seems to be moving out of every business....

Hopefully the buttery business as after that troubling recall a few years back im sure they lost customers

Windows 10 catch them off guard?

Too busy selling PS4's probably...... :)

Haha, good comment.. Windows 10 has been in the works FOREVER, why still working on drivers now?!

It's more part makers then Sony. Lots of laptops not quite there yet.

still working on drivers now because they are no better than java and all the loop holes they have in their 5 years behind software.

And life insurance. Sony's quickly becoming a one-trick pony.

Well, it's not like they have been spending time adding features to the PS4.

That hasn't stopped them from selling tons of PS4's.

They better be because they are losing money in every other business they are in including TVs and android phones. Insurance is the only other profitable business they have.

They just didn't care enough to be ready

They are always "off guard" look at how many times Their network gets owned and on a regular basis.

Maybe they're intentionally trying to slow down migration to the Xbox One? Hmmm?

Too late :P i upgraded my father's 2008 VAIO and everything is fine . It got rid of the stupid bloatware too which was nice

Bloatware was a reason I went 10 preview last Feb. Crap works better than original. No more Sony purchases in this house.

Had to do a bit of fanagling to get the graphics driver working on an old Win7 AiO, but otherwise working great...

I also have a w7 vaio and also have issues with graphic driver. Video in modern apps not working and edge/ie don't display YouTube or Netflix videos. Do you recognize these issues? How did you fix these/your issues? Thnx! Have a vpceb2z1e

Go to AMD's web page check for the new driver according your model.

Mine had nVidia graphics identified for a proprietary Sony driver in the hardware. I couldn't get the Windows 7 driver on Sony's site working using the compatibility mode trick that worked in 8.1, so I used this site: http://www.laptopvideo2go.com/drivers. I had to disable the requirement for signed drivers, but I got it to work just fine.

Wow... major fail on the part of Sony. What were they thinking?

They were thinking they already sold the machine to the user, and already sold the brand to another company. There's no money to be made and no brand to protect, so why bother.

Yup. That's what I was thinking... :)

Sony reputation down the drain with the viao. Time to plug that hole.

Just upgraded a 2009 VAIO VGN-NS laptop for my father-in-law that originally ran Vista (and has since had 7, 8, and 8.1). No issues at all.

My Tap 20 is handling W10 very well.

Good to hear. I have a Tap20 and wasn't sure if I should upgrade yet.

Did sony even try to upgrade one of them themselves and see? Cause MS did.

One user works fine on my VAIO while the other does not. Both are MS accounts (not just local). Can't get the W10 Store to work properly with the affected user and can't pin/unpin from the Start menu. Wifi was dropping periodically but I went to Atheros' website to grab the most recent driver for my card and I think things are working more smoothly. Also I notice that dpi scaling issues are back and blurriness is everywhere.

I had that same store issue on my Asus fliptop. Googling around, i found instructions to wipe a cache folder somewhere. Works perfectly now.

Lol guess intel isnt any better then other wifi chipset OEMs I have a ultimate n that has had same issues since upgrade to w8.1 from 8.0

That's why I use DELL... since day one all the drivers were available specially for windows 10 Vaio os just an overrated brand with inflated prices

Dell, huh? After upgrading to Win10, my Inspiron 2330 was stuck doing constant restarts about ever five to ten minutes, with a "kernel power failure" message. After investigating online, I discovered I wasn't alone. It seems on certain Dell machines, Win10 keeps installing the wrong AMD video driver. My machine doesn't even have an AMD card. Deleting the AMD device from the device manager clears it up. It will still occasionally reinstall the AMD drivers though. I know this because my machine will crash and restart and when I check the device manager it is back. Uninstalling and deleting the AMD drivers will once again give me a few days reprieve from the restarts until Win10 installs them again.

Have you tried the troubleshooting tool to hide the driver in WU. Personally I feel that tool is a joke, doesn't work on any machine I tried. Doesn't offer to hide buggy Intel or AMD drivers which fail to install properly via WU. If you use the driver wizard or force scan for new hardware they install fine.

My aw still references intel bt even after I had swapped it out with an ultimate n card & has since had a clean install

The easiest way to solve this problem is to disable the driver for the device your PC don't have or don't use in Windows 10. There's one time my DIY PC with a MSI motherboard no longer use the Realtek on-board audio device, the OS keeps installing the device driver through Windows Update after I had deleted the driver files. Here's how: Go to Start, click All apps, scroll down to and click Windows System, click Control Panel, click Device Manager, right click the device your PC don't have and click Disable. That way you don't have to delete the non-existant device and Windows Update will not update the driver files again.

Thanks! But I was never going to update my Sony VAIO. 8.1 looks and works perfectly! Plus there is no way I was giving up my Media Player.

Ooooh, poor boy. Do you need a hug?

Media Player still exists in Windows 10. It's Media Center that is removed, and it was only kept for DVD functionality anyhow, which can be replaced with Windows DVD Player for Windows 10 (free if you upgrade from Windows Media Center Edition, $15 for everyone else).

Media Center is mostly used as a complete DVR system, not because of it's DVD playback. And there's nothing on W10 that can replace Media Center. It's okay that you don't know about how MC is mostly used, just don't pretend that you do.

Touche'! I may have writen Media Player. But I know what I meant. Plus the ability to watch TV, look at all my photos, listen to my music, DVR, etc... is all wrapped up in one neat package.
------------------
The question was asked "Do I need a hug?" Hell NO! I prefer Windows 8.X over Windows 10! I never liked Windows 7 and Windows 10 reminds me of Windows 7. Plus I much prefer the "Start Screen" in Win 8.X! I don't give a rats about a Start Menu! I seldom ever use it in Win7.
-------------------
Sure I'll upgrade my Windows 7 computer because the upgrade is free and I can use the *new but not as good Start Screen as in Win 8.X. I've been looking but I haven't found Windows 8.1 on sale for a good reduced price. Or else I'd update my Win7 machine to Windows 8 and be happy with that.

Sony is one of the worst when it comes to drivers and support. My Windows 7 Vaio would almost always struggle under 8 and I had to do excessive research just to find drivers to make my device play video.. Never buying a Vaio again. Or a Sony product for that matter.

When I upgraded my Vaio laptop from Windows 7 to 8, I started experiencing weird problems with the keyboard/trackpad. Turns out there was a driver patch under 7 for the trackpad; they never released a version for 8/8.1. At the time I called their tech support; the guy I spoke to offered to hack my registry to make the Windows 7 driver work under 8... for the small fee of $125. That was pretty freaking insulting. I declined and vowed never to buy another Vaio. I don't trust Sony to do the right thing by their customers under Windows 10 or any other OS version.

Does this affect the laptops as well, or is it just PCS???

It also affects laptops. The "PC" label is generally for either desktop or laptop computers using Windows.

PC even goes further these days, encapsulating any computing device (other than smartphones) that includes an x86 or x64 intel-based processor (this includes AMD branded processors), such as tablets, convertibles, 2-in-1s, and the classic laptop.

Thanks for the info guys!!!! How was Sony so unprepared for Widows 10 is besides me!!! I hope they aren't becoming like Google and trying to block everything from Microsoft!!! Just because Xbox is improving immensely or for whatever reason!!!

Nice. Assuming Sony just made this announcement, one would wonder why is took almost two weeks after the relase of W10 to make such a proclamation. Also, making the appropriate drivers available in Oct/Nov is really poor customer service.

The page has been out there since day one of W10, but it only got reported now. I even tweeted Daniel about it the past week.

Try hp my vista laptop from them shipped with beta drivers(for chipset/video) & the NVIDIA's reference drivers were a waste of time

I upgraded my older VAIO (originally released with vista a couple months before win7. Intel Core duo) and it works great! All drivers updated fine and have not had any problems.

Dear Sony, don't you think it's a bit too late? BTW, it works gloriously on my VAIO since the first Technical Preview.

Working a treat on my Core i7 VPCF13 with all stock Sony apps, even the light sensor that controls the backlit keyboard and display works a treat.
On the other hand my XPS 702x has it's issues, Dell doesn't care a lot about XPS since windows 8/8.x I've yet to see a proper camera and touchpad driver...

Goodbye vaio. I'm going for a new laptop

Works fine on my FW series. I'm still missing drivers from previously upgrading to W8.1 anyway

same... toooooooo late Sony... other than the Settings App not starting (fixed) all looks ok

Upgraded my VAIO desktop all in one from 2012 (7>8>8.1) to 10 eleven days ago, works just peachy. No issues whatsoever. And that's with a complete clean/wipe/install.

What model is your all in one? Did you force the upgrade? I have SVL241290X.

Windows 10 is a wastoid pos. I say this because of the facts. 1) Cortana is BS. 2) Cannot disable edge in windows features. 3) cannot remove xbox intergration (if you don't know what you're doing). 4) takes 2 and a half minutes to finalize a log in from the manufactures screen , yet in windows 7 it took 28 seconds with exact same hardware and start up entries. 5) they took away the regular solitaire game. With such a slow boot could you imagine how long it would take if the drive was encrypted ? Really disappointed with Windows.

Doesn't take me that long to login on my winbook tablet.

I haven't had any of these problems and I love Xbox integration

Well, lets look at the facts: 1) Cortana is awesome. 2) Why would you disable edge? It's jsut an app. 3) Why would you remove xbox integration? What is it hurting? 4) Doesnt happen on any computer I've isntalled 10 on, and I've installed 10 on a LOT of pcs, maybe you just bought a shitty laptop? 5) And they replaced it with...GASP... a better one!?

I installed it on launch day on my brother's 7 year old Dell 6400 and it runs great.

Sony are a terrible company these days. Terrible. I wouldn't touch their products with a barge pole.

As per sony's website In case if we update it may completely damage hardware due to excessive heating.Any vaio use who updated to win 10withot any error?? mine is sony SVF15213SN

According to Sony In case if we update it may completely damage hardware due to excessive heating.Any vaio use who updated to win 10withot any error?? mine is sony SVF15213SN

I saw Sony Vaio Windows 10 support page only after upgrading Windows 10 to my E - VPCEH3AEN model! All drivers are working without causing any issues (No heating also). Windows 7 to 8 now 10 its always been a smooth ride. As of now Windows 10 is working flawlesly.

Hi bunty happy to see that windows 10 works fine in your vaio,can you tail me the process of upgrading like clean install or other My model is VPCEH35EN.

Hi Vivek where it is written that excessive heating will happen after Win 10 update on vaio. Mine is SVS13A15GNB and i updated to Win 10 seven days back. Everything looks fine but the fan runs continuously almost. One more thing- Cursor from pointing device will freeze after resuming from (S3) Sleep or (S4) Hibernate. As mentioned in SONY support website. http://esupport.sony.com/US/p/support-info.pl?info_id=1596 But i haven't seen that it will cause overheating and can damage hardware. Please confirm and provide me the link.

It works fine on my grandpa VAIO SA (3rd gen). I had to disable the AMD gpu completely in BIOS, but that's because AMD stopped supporting switchable graphics in their drivers. Technically not windows 10's fault. Oh and windows kept thinking I have synaptics touchpad even though I have shitty an Alps one, but that was fixable too. My desktop upgraded without a glitch, and my roommate's yoga 13 pro 2 (or whatever the name is) needed only touchpad driver update. Razer blade 2015 was also seamless.

So far Win 10 is no more buggy on my VAIO Flip 13 then Win 8.1.

Already did it. My Vaio Flip 15 runs pretty good with Win10. Fans definitely run more frequently, and the processor runs more towards max Ghz even on balanced Power Plan but its never come anywhere near to overheating.

Working perfectly on my 5 year old Vaio. However I had to disable the auto update of the AMD graphics driver. The new driver wasn't playing the video.

What driver version do you use? After upgrade Netflix app doesn't work and edge/ie doesn't display video. Have a vpceb2z1e

Typical Sony. Always ahead on hardware. Always behind on software.

Ahead on hardware???? They haven't been ahead in anything since before 2005. They are terrible hardware company these days.

I suppose the ps4s ok. A bit to loud compared to xbox one. But its the software that's the problem. They have abandoned exclusives.

With rock solid support like that who can doubt they had to sell their PC unit

I won a vaio vpcel15en... Amd

I installed it on my nieces VAIO last week and i clean installed after to clear out the crap from Sony and it works much perfect, well she said she feels like she has a new laptop with it feeling a lot faster than the previous 8.1.

I feel lucky that I don't upgrade Windows 10 to my VAIO EA.

Vaio VPCSB1A9E insider here .. no problem whatsoever

Well, my Vaio Z2 upgraded perfectly. Far easier than moving it from 7 to 8 in fact.

I have 8 year Sony Vaio delivered with windows 7! I just added 4GB of RAM(now 8GB) and changed HDD disk with SSD. I made upgrade to windows 8, later 8.1 and now Windows 10. Zero issues every single time!

What they should really say is "Hang out, we didn't update our crapware pusher yet, so don't update!" Upgraded my flip15a, not an issue at all.

Did you not have an issue with overheating? I also have a 15A and for somereason after the upgrade I have issues with my laptop overheating. The fan doesn't speed up or slow down it stays on the slow speed constantly.

Works perfectly on my VAIO Pro 13 Touch. I upgraded on August 3, and have not looked back.

I saw that warning on my Vaio, and shat all over it. Windows 10 FTW... Running ok so far.

I have no trouble using windows 10 on my vaio duo 11

Could you tell me if the touch keyboard works correctly on you Vaio? On my, after update to Windows 10, it covers half of the screen, while the window size should adapt by itself.


I have a VAIO 15" laptop and I just upgraded to Windows 10. Seems to be working fine for me.

Working fine on me core duo VAIO NW laptop that originally came with 7

Sony, one of the worst companies EVER.

Sony's alright, companies like Monsanto are the worst ever.

Monsanto is a scapegoat. There are far worse companies. Keep in mind that Whole Foods is almost as large as Monsanto and something like 30% of the food in Whole Foods is GMO. By the way, there's nothing wrong with GMO. It's also a scapegoat because people like being scared of things that don't exist while ignoring things that really will kill them. Hey, the Romans used lead to sweeten their wine and they KNEW it was bad for them. Humans are a curious bunch. :P

This couldn't have come out last month?

It did, it's been out for a while. I got an alert via their VAIO update program on mine a while ago. I updated anyway.

Works great on my VAIO, no need to wait for them to update their bloatware.

Sony?!? Same company who leak out PlayStation users' information multiple times because their data wasn't encrypted. Sony who's the same company as Sony/BMG music that installed rootkits to PC's without users knowledge (https://en.m.wikipedia.org/wiki/Sony_rootkit). I stopped trusting them since PlayStation 2 days. Never will I buy their products again and it's my obligation to tell everyone about it. Please don't buy their products!!!

I still remember that shit.

Am I missing something or does the article say that there are different Win10 drivers for Windows 7 and different Win10 drivers for Windows 8? Is it like Win7 edition of Win10? :D

No, the article is talking about the timeline for drivers based on the original OS. Computers that came with Windows 8/8.1 have a timeframe. Computers that came with Windows 7 do not.

It makes sense that they warn their customers. What doesn't make sense is not having their drivers ready for such an anticipated launch. So in a nutshell, this is Sony not caring for their customers.

My 4 machines including my gaming rig. Win10 upgrade no issues at all.

my 8 year old vaio upgraded perfectly ... thank you sony ​

That's just laziness on the part of Sony. I know it takes time to do these kind of things but oh, that's right, they've had months worth of time. Too busy dancing around from PS4 sales I guess.

Updated my vaio to windows 10. Deleted all files during installation. Everything except Bluetooth worked. Did not even detect the Bluetooth hardware. Then rolled back to windows 7. Updated again. Kept all the files. Now working fine. A bit jerky though. Needs some polishing.

It's work perfectly on my VAIO. And people who having problems, please, learn before install. Windows 10 is almost perfect.

Can we get a list of actual VIAO machines that have had no issues installing? Maybe state I it was an upgrade or clean install. It would definitely be helpful for me and prolly others with some hard data.

The forums would be a better place for that.

I'm running RTM off a VHD on my VPCEB12FX only needed SODOTH-00205671-0042 and RIDMSC-00210780-0042 to clear Device Manager of caution flags. Clean install VHD.

I upgraded my Sony Vaio VPCF136FM and then did a clean install. My Sony Vaio I got in October 2010 so 4 years and 9 months which is about 5 years. It came with Windows 7 and upgraded my way to Windows 10 Pro. I really like Sony Vaio because it looked good and I liked the performance and the backlit keyboard. I don't understand why all the hate on Sony. They sold the brand and the sold the laptop which I can say they supported for 2 years and I feel it is my responsibility to get things working. I basically installed the some of the Windows 7 Drivers which work in Windows 10. The Intel and Nvidia drivers from the sites and now everything works. Finally my SD card reader works in windows 10 vs 8. I get the warning but since they are not providing support for people in Windows 7, I can ignore it. Kind of sad that Sony stops selling VAIOs but hope the new company can bring it to the United States.

That's the best computer built out there, better built than Surface and I love surface. This is so good Steve Jobs begged Sony to put OX S on it. It's even better built than any MacBook or Mac. By the way has anyone seen any of the touch screen 27" PC Sony viao out there selling still, I would buy one?

I agree with Sony. Windows 10 is not ready. I updated my Dell inspiron 15 to 10 and the hard drive crashed after a few days. It was working perfecly fine on 8.1 for 3 years.

Typical Sony, late to the party.

Heh. Just bought a Vaio Tap 11 for cheap on ebay. Still going to upgrade it anyways. I know enough about setting up PCs and drivers (through extensive tinkering) to know that I can likely get most of my drivers from another OEM or the Microsoft Update Catalog anyhow; most hardware that goes into these machines are not exclusive to the model or OEM but rather are purchased from other manufacturers (Intel processors, Nvidia graphics, Realtek audio, Synaptics pointing devices, etc.), and so you can often find drivers for your machine from another OEM as long as you know which hardware you have and what drivers it takes. Microsoft Update Catalog also has a large number of drivers for newer hardware and even specifies which hardware IDs and operating systems their drivers are for.

The only thing I wish I could get off my vaio is all the vaio stuff. Vaio care especially is a useless resource hog as far as I can tell. I waited patiently for my reserved copy of Windows 10 to download and install to my Sony Vaio E series when Microsoft told me it was ready. Seems to be okay. I haven't had any driver issues and I was running Windows 7.

Man, my older Sony Vaio running Windows 7 got the update over the weekend and is running great! My Lenovo ThinkPad 8 got it a few days prior to that and it's awesome too... YMMV but so far I've thought it has all been fantastic. Now Windows Phone 10 that I can't revert back to Denim is quite a different story....smh

I updated a Vaio VPCEA46FM (2010 model running Windows 7, i3 and 4GB RAM) to Windows 10. I was going to say how well it all worked, except that the PC blue screened on me just as I started to type message. It has actually done that a few times. Almost all of them (5 since 8/1 when I upgraded) were related to the Synaptics touchscreen driver. Hopefully the driver will be updated soon! Other than that, the laptop runs fine. The only other complaint, other than the blue screens, is that the CPU seems to be running a lot, and the fan is nearly constantly running as a result. This PC was my daughter's; she used it all through high school. She replaced it with a new computer for college, and I decided to repurpose it rather than throw it out, because it was still in very good shape, and it does have some nice things going for it even now (like a great Sony screen). It was $1000 4 years ago, and I figure that with a little TLC it could work just at least as well as a $300-400 laptop today. What I did for the upgrade. Blow out the existing install and restore factory original image. Clean up and patch it. Place Win 10 reservation when offered. Replace existing 1TB 7200 RPM HDD (Not original, I replaced it along the way) with a 240GB SanDisk SSD I bought from Amazon when they had it one a Gold Box special. Upgrade to Windows 10 when offered.

Just install it and upgrade the drivers when available. I updated my VAIO touch pad. Windows 10 works fine.

Well... I successfully updated Win10H from Win 7HB sp1 on Sony VAIO VPCEB44EN without any problem. 10 days passed... Didn't find any issues.

Vicky geth, I too have VPCEB44EN vaio.. I am still scared by the news circulated by SONY to don't upgrade to Windiws10. Can you please share your experience of Windows10 on VPCEB44EN. Is it working fine? Are all drivers there in place?

Works fine on my Vaio and the fiancé's Vaio. I did a reset on mine after a successful installation to start as close to scratch as I could. No problems on either machine after a week.

Eh... Works fine. I just picked and chose which sony drivers to install, and more improtantly, left out VAIO Care.

It's buggy on my desktop too, great on my Surface Pro 1. Also, you should use the upgrade tool and not the ISO.

Works fine on My Vaio too. Isn't it too late on Sony's party to update us. 29th was the date and they are informing us on 11th !!

It is wise not to update to the new system right after MS released it. We won't expect a flawless update from MS since the Windows 8 update. However, there are workarounds on these bugs though some are even dangerous to modify registry files. Hope these tips helps to resolve common Windows 10 issues. http://www.drivethelife.com/windows-10

Updated two on Windows 7, had no issues. Posted via the Windows Central App for Android

Works Fine for me Vaio E series !

just works fine in a sony vaio, which with windows 8 worked awfully bad in fact the laptop was abandoned because could not use well, it was plagued of troubles, and lagginess in windows 8 and just upraded to windows 10 and works better than in 8 which was by default.

After the upgrade to w10 my vaio tap 21s video and camera arent working, the video splits in half, one half is normal and the other half is smudged. Happens on any video, youtube, facebook, any video i want to watch, and my camera also splits in half. As per sony tech suppor, they told me to downgrade to 8.1 again or wait...

I also have that issue with the playback half is normal the other is smeared. I haven't found a solution as of yet.

Now i​f you're having issues with Windows 10 installing a generic video controller in lieu of an NVIDIA graphics card on your Sony VAIO desktop or Laptop, use this guide I typed up for everyone: https://windows10insider.wordpress.com/2015/07/27/installationwoes/. I was able to solve my problems and if you are careful enough with typing and checking your hardware id and subsys in device manager for your video card, you can do it too. Then download the following driver from NVIDIA for Windows 10 64bit. It includes everything that was out in July of this year as well as older legacy hardware. http://www.nvidia.com/download/driverResults.aspx/87987/en-us You will have to get familiar with Notepad editing the .inf file nvdispi.inf (for NVIDIA GeForce GT 240M and similar cards), but it's worth it in the end! -Christian Jesperson

Hi all I have updated my VAIO last week on Win 10. Mine is SVS13A15GNB and i updated to Win 10 seven days back. Everything looks fine but the fan runs continuously almost. One more thing- Cursor from pointing device is freezing after resuming from (S3) Sleep or (S4) Hibernate. As mentioned in SONY support website. http://esupport.sony.com/US/p/support-info.pl?info_id=1596 Any possible solution to this problem?

I have upgraded my pc(VPCEB42EG) from 7 to 10 no issues so for,every programe of sony is working fine .

Too late, my Vaio E series freezes up and I'm forced to restart it. I've tried everything, still haven't been able to solve that.

My VAIO TAP21, in windows 10 no work Touch and Pen, Videos, ins the right side is bad and the sound, stay after 5;6 minutes, with scratch. I return do windows 8.1

I have a Sony VAIO VPCEB and Windows 10 works great on it.

I have a Vaio VPCEC3AFX - upgraded about a week after official release and my webcam/camera aren't working. Also have an issue with picking up on a wifi connection - we have two in the house but I can only pick up on one. I upgraded from Windows 7 Home Edition to 10 - had a look on Sony's website and the drivers for windows 7 should be okay (i think?). Clicked on their third-party online chat tech support and a guy in the Philippines wanted $19.99 a month for them to try and resolve the issues - thought I'd try and fix on my own. Contacted Best Buy and they said I should go back to windows 7 (for a fee of $130). Anyone else have a VPCEC3AFX with issues?

I didn't know about this as I was given the Sony VAIO laptop as a gift. It worked fine for a couple of days & now it says windows can't fix or restore because its locked. I've tried the f8 & f10 buttons & it still stalls in the middle of saving data :( Help!!!

I recently updated to Windows 10 on Vaio SVS13126PNB laptop. I have HP too which I upgraded 1 month ago and it is working perfectly ok. Although Sony warned not to upgrade yet, but I couldn't wait. I have no major issue with the upgrade. Only the Trackpad. I always have to restart my Laptop to get the the hardware working. Even if its on hibernate mode/sleep mode, when the laptop wakes up, the trackpad stops working and I have to restart which becomes a hectic job at time. i have searched for driver updates but it does not help. It will be a great help if anybody can suggest some solution to my issue.

I have a Vaio SVS151290X 15.6" i7 with Win 10 64-bit and the anniversary update and there is NO version of the control center that works for the backlight control setting so there isn't one therefore the backlit keys turn off after like 3 seconds or so only to stay dark until you touch one again, this sucks. anyone know of a workaround or utility etc.? There's some older models of control center but they won't work either, even if installed using compatability mode for Win 7,8,8.1. so until it's updated for Win 10 we're screwed for keeping the keyboard backlight on unless we toucha key to re-activate them but it's a pain sometimes especially when hitting wrong key then having to delete it and start typing again. Writes pause a lot so by the time I start again the keyboard is dark and I'm on atnoght mostly and reaslly don't want to buy a usb snake light just to type. Any workarounds that actually work besides going back to 8.1? (Which sucks and won't ever happen on my i7 Vaio that's like brand new. ugh.....TIA Please tell me someone has a fix and a link.
Windows Central Newsletter
Thank you for signing up to Windows Central. You will receive a verification email shortly.
There was a problem. Please refresh the page and try again.