Sony Ericsson Aspen announced, is first official Windows Mobile 6.5.3 device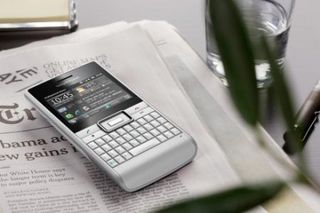 Sony Ericsson this morning announced the Aspen, the front-facing QWERTY keyboard phone we previously saw as the Faith. What's more, this is the first Windows Mobile phone to officially launch with Windows Mobile Professional 6.5.3 (and that solves the mystery of what version number would be next). It's also the first front-facing keyboard phone with a touchscreen that we've seen in a while.
You will be able to pick up the Aspen in either "Iconic Black" or "White Silver," and it will be available in the second quarter in "selected markets." Where those markets are, we don't yet know, nor do we know pricing. Chances are we'll get a better look at this guy soon at Mobile World Congress.
Video, specs and full presser after the break.
Windows Mobile 6.5.3 Professional.
Tri-band HSPA (850/900/1200) and quad-band EDGE (850/900/1800/1900), which means you can rock this guy on AT&T's 3G, if you can get ahold of one.
Size: 117x60x12.45mm
Weight: 130 grams.
2.4-inch touchscreen at 240x320 (QVGA)
3.2MP camera with 4x digital zoom.
Bluetooth with A2DP
3.5mm headphone jack
aGPS
MicroUSB for sync and charge.
WiFi
4GB MicroSD card (supports up to 16GB)
SPB Mobile Shell, Traveler and Weather are all built in.
Talk time rate at up to 10 hours/standby time at 450 hours on EDGE.
----------------------------------------------------------------
Latest addition to GreenHeart™ portfolio now allows consumers and companies to make a green choice on their Windows Phone
Office at your fingertips with the latest version of Windows Phone
Maximised message experience with QWERTY keyboard and finger friendly touch
Have fun with Media Browser and PlayNow™
February 2, London, UK – Today sees the announcement of Sony Ericsson Aspen™, the business mobile phone with green credentials at its core. The newest edition to the successful Sony Ericsson GreenHeart™ portfolio, Sony Ericsson Aspen™, allows easy multi-tasking combining the touch experience and a real QWERTY keyboard. Organise and adapt panels to change during the day and use Slide View for quick access to common features.
With Sony Ericsson Aspen™, view and edit office files easily and comfortably with one touch operation, or just access the internet in one click. The QWERTY keyboard is made for fast and easy typing. Simple email set up allows for a maximized messaging experience on the go. Secure the phone's contents through the Microsoft MyPhone service, which remotely erases phone data when the handset is lost or stolen.
"Sony Ericsson Aspen™ is the business phone with a conscience, perfect for any consumer or company who want to make a green choice in their daily work life." Said Quentin Cordier, Global Marketing Manager, Sony Ericsson. "An affordable GreenHeart™ phone with the latest version of Windows Phone, the Sony Ericsson Aspen™ has a rich user interface and powerful productivity tools. But it's not all about work, stay in touch with the fun parts of life with Media Browser and PlayNow ™, with simple access to social networks and quick and easy access to media files. Find the fun with a-GPS, Google Maps™ and snap pictures with the 3.2megapixel camera."
Sony Ericsson Aspen™
Modern office at your fingertips – latest version of Windows Phone
Easy multi-tasking – Sony Ericsson Slide View and customisable panels
Maximised message experience – QWERTY keyboard and finger friendly touch experience
GreenHeart™ – for a greener choice
Stay in touch with the fun parts of life – access fun applications at PlayNow™ such as games and new music
Media browser – access music, photos and videos
Social network tool (Windows Live™ Messenger, Facebook™)
Human curvature design – fits into the palm of the hand
Sony Ericsson Aspen™ supports HSPA 900/2100 and EDGE 850/900/1800/1900, HSPA 850/900/2100 and EDGE 850/900/1800/1900.
Sony Ericsson Aspen™ will be available in selected markets from Q2 in the colours Iconic Black and White Silver.
Create your own phone booth with optional extra Bluetooth™ Noise Shield Handsfree VH700 and charge your phone the eco-friendly way with the Energy Saving Mini-Charger EP800.
Log on to The Sony Ericsson Product Blog for more information: https://blogs.sonymobile.com/
Sony Ericsson Aspen™
Camera
3.2 megapixel camera
4x digital zoom
Multishot
Self timer
Smart contrast
Music
Album art
Bluetooth™ stereo (A2DP)
Equalizer
Sony Ericsson media player
Music tones (MP3/AAC)
PlayNow™
Stereo speakers
Windows Media® Player Mobile
Web
Bookmarks
Google™ search
Internet Explorer® Mobile
Pan & zoom
Web feeds
Voice
Polyphonic ringtones
Speakerphone
Vibrating alert
Messaging
Email
Microsoft Exchange ActiveSync®
Handwriting recognition
Instant messaging
Picture messaging (MMS)
Predictive text input
Text messaging (SMS)
Design
Auto rotate
Media browser
Picture wallpaper
Full keyboard
Touchscreen
Wallpaper animation
Windows Phone®
Entertainment
3D games
Facebook™
FM radio with RDS
Java™
Skype™
Video streaming
Video viewing
YouTube™
Organiser
Adobe® PDF Reader
Alarm clock
Calculator
Calendar
Flight mode
Microsoft Office® Mobile
Notes
Outlook® Mobile
Phone book
Stopwatch
Tasks
Connectivity
3.5 mm audio jack
A-GPS
Bluetooth™ technology
Google Maps™
Micro USB connector
Modem
Synchronisation
USB mass storage support
USB support
Wi-Fi™
Applications and panels
SPB Mobile Shell 3.0 (Professional)
SPB Mobile Shell 3.0 (Lifestyle)
SEMC Greenheart Panel
Microsoft Today
Facebook™
Panel Manager
SlideView
Google Maps Latitude
Google Mobile Application
Send My Location
Unified Search Application
SPB Traveler and Weather combo
Skype
YouTube™ panel
Communication City/Day
Communication City/Night
CNN
On-The-Road Panel
Windows® Live
Twitter
Gokivo Weather Panel
Eco mate application
GreenHeart™ indentity
GreenHeart™ panel
Power saving mode
Eco mate application
E-manual
Waterborne painting
Recycle materials (Green charger, Green PHF, Green Box.
Screen
65,536 colour TFT
2.4 inches
240 x 320 pixels (QVGA)
Accessories
In-Box:
Sony Ericsson Aspen™
Battery
Green charger
HPM-60J GreenHeart™ Stereo portable handsfree
3.5mm jack
Micro USB cable
E-manual
Optional:
Bluetooth™ Noise Shield Handsfree VH700
Dual connect charger
4GB MicroSD card
Car charger
Facts
Size: 117 x 60 x 12.45 mm
Weight: 130 grams
Memory card support: SanDisk microSD™, up to 16 GB
Operating system: Windows Mobile® 6.5.3
Talk time GSM/GPRS: Up to 10 hours
Standby time: GSM/GPRS: Up to 450hrs
Talk time UMTS: Up to 8 hours
Standby time: UMTS: Up to 600 hrsMusic listening time: Up to 12hrs
Availability and versions
UMTS HSPA 900/2100
GSM GPRS/EDGE 850/900/1800/1900
UMTS HSPA 850/900/2100
GSM GPRS/EDGE 850/900/1800/1900
Available in selected markets in Q2 2010
Colour
Windows Central Newsletter
Get the best of Windows Central in in your inbox, every day!
i like the idea of a front facing QWERTY and a headphone jack, but QVGA is so effin' lame these days. Aside from the obvious visual deficiency is the fact that i'll undoubtedly have apps i'll that require VGA which won't become apparent until i try to install them. It's shocking to see Sony of all companies releasing a device with this res. On a more positive note, assuming this actually launches here in the US in Q2, kudos to Sony for releasing something in a timely matter along with being a seeming first 6.5.3 hardware release. The Xperia X2 is already old, old news, their X10 is far less impressive now that Android and Snapdragon aren't shocking to see in the same sentence, and both devices have yet to launch here.

I like the way it looks, if I wasn't all into total touch phones I would be interested. Always liked Sony Eric style.

VGA is overkill for this form factor, because of the smaller screen. I guess the best res for such a form factor would be BlackBerry's 480x360 but I don't think WinMo supports this mode. That said, SonyEricsson should've gone 320x320 on this phone. By the way, it looks better in black.

My Fuze has the same screen size and resolution. My Nokia E71 and most other Nokia S60 devices are QVGA, so it's not like i can't adapt. i just shouldn't have to, especially when app compatibility becomes an issue. i hate that this form factor is constantly gimped because it's marketed to business users.

Fuze is definitely VGA sir.

I agree, why do all the phones with the form factor sport QVGA. It seems to me that there are several phones on the market right now that would rock with a better resolution, but are hobbled by QVGA.

QVGA? The dark ages called and they want their screen back! Can someone please put WinMo 6.5.3 (and a touch layer) on the Blackberry Bold 9700?

Looks really nice,not sure about the a-gps rather than full gps though.

a-gps is full gps with the option to download satallite info via data. Makes a full gps grab the satallites faster.

Another post about this phone :)
I like this new phone of Sony Ericsson.

6.5.3 is mainly 6.5 with more touch friendliness. The WinMo guys ran out of time and shipped a working 6.5 (and it works really well) but some of the deep down menus were legacy stylus menus. In 6.5.3, MS cleaned up all these menus and made them more touch friendly. i'm sure there are other fixes/changes as well. I guess 6.5.1 and 6.5.2 were internal builds. The problem with touch friendliness is the old apps. Many of the apps were built for the stylus. So, hopefully, even the new phones will still include a stylus just in case.

If these markets are, we do not know yet, we do not know prices. Probably best to see this guy as soon as the Mobile World Congress.
Windows Central Newsletter
Thank you for signing up to Windows Central. You will receive a verification email shortly.
There was a problem. Please refresh the page and try again.