Sony Ericsson XPERIA X7 and X7 mini Rumored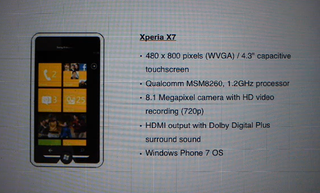 We've been hearing whispers about Sony-Ericsson considering Windows Phone 7 as a platform for quite some time now. Historically, SE has teased us with the X1a running Windows Mobile, but most of their smart-phones have run Symbian and (more lately) Android.
Now the aforementioned rumors are starting to gain volume (and perhaps credibility) as we have some YouTube video with what appears to be a slide presentation containing specifications and some basic renderings of both an X7 and X7 mini handset. The X7 is rumored to boast a 4.3" screen, 1.2GHz processor, and an 8.1 megapixel camera. The X7 mini supposedly sports a 3.5" screen, 1GHz processor, and a whopping 10.1 megapixel camera with a 3x optical zoom and a Xenon flash.
My biggest hurdle to believing these rumors is the simple fact that every Windows Phone 7 devices is an extension of Xbox Live. I would think that Sony would have to be pretty desperate to be in the smart-phone game to bite that particular bullet. Couple that with the rumors over at our frenemy site Android Central about the "PSP Phone" and the waters aren't as clear as we would like.
What do you think? Would Sony-Ericsson actually put out a Windows Phone 7 device? Which of these would you go for? Let us know in the comments. YouTube video after the break.
Source: YouTube; via: PhoneArena
It's not unheard of for these big companies to bite bullets, Microsoft biting them to make software for Mac users and even Apple biting it to make software for PCs despite how much Apple wants a completely closed and controlled environment. Plus, they've already shown that they have no problem using MS's stuff from the original Xperia X1 using WM6.x to their VAIO's continuing to use Windows desktop long after they started competing in the gaming market.

I guess it's just weird to me because they are direct competitors in a market with so few real contestants.

Nice it would have to be x7 all the way. But knowing sony and their horrible US launch of the x10, we might not see this x7 until "holiday 2011". But I hope thats not the case.

I just noticed: why does the mini have a better camera? X-D

I don't know. Maybe somebody has a Napoleon complex.
Windows Central Newsletter
Get the best of Windows Central in in your inbox, every day!
Thank you for signing up to Windows Central. You will receive a verification email shortly.
There was a problem. Please refresh the page and try again.