Sony releases an app for Windows Phone…to get you to switch to Xperia with Android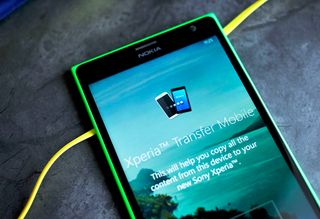 Is Sony making a Windows Phone? The rumor started to get serious way back in December 2013, although, since then, nothing substantive has come about, suggesting either the info was bogus or talks fell through. Indeed, Sony has spun off their PC business recently, suggesting a cooling with Microsoft in general, (and forfeiting any future tie-in).
Now, Sony has an app for Windows Phone but before you get too excited, it appears to be nefarious tool to get you to switch from Windows Phone to Xperia with Android. The app is dubbed Xperia™ Transfer Mobile and it is part of Sony's program to ease those coming from iOS, BlackBerry, and now Windows Phone onto a new Xperia with Android.
The app lets users of a new Xperia device sync their contacts, including selecting individual bits of information, from their current Windows Phone. From the app description:
Indeed, Sony even has a handy YouTube video demonstrating how the app works and they have a website setup for Windows Phone users.
As far as we can tell, there is no evidence to suggest that a Sony Xperia device is in the works for Windows Phone. In fact, throughout the app it explicitly avoids conflating Windows Phone with 'a Xperia device'. Furthermore, since Windows Phone already can transfer everything to a new Windows Phone, this app would be redundant, unless Sony had some proprietary Contacts system, which seems unlikely.
For those thinking this is weird, just remember, Microsoft does not block apps on the Store just because it may work against their interests. Technically, this transfer app does not violate the Store's Terms of Service (ToS), and Microsoft would have little ground to reject it – they are not Apple, after all.
Regardless, if you want to peep the app, or maybe even you are switching from Windows Phone, you can grab the app below with the Store link.
Thanks, Ismail B., for the tip!
Windows Central Newsletter
Get the best of Windows Central in your inbox, every day!
Daniel Rubino is the Editor-in-chief of Windows Central, head reviewer, podcast co-host, and analyst. He has been covering Microsoft since 2007 when this site was called WMExperts (and later Windows Phone Central). His interests include Windows, laptops, next-gen computing, and for some reason, watches. Before all this tech stuff, he worked on a Ph.D. in linguistics, watched people sleep (for medical purposes!), and ran the projectors at movie theaters because it was fun.
Nice try.. But I rather buy a HTC if I want Android

Hahahahah weird Sony trying to grasp we WP users the weird way .
No thnx XD

I will download the app and then give low rating just so it gets unpopular :p

Just did the same. We should shame the app out of existence - or relevance, anyway.

Not very mature though. Giving false rating and misleading actual "switchers" is worse than a company trying to get users in my opinion. Guess you also tried to bias the whole Microsoft Scroogle campaign or does it only work one way with you?

That ratings not false!
If the people are switching from Sony -> Windows
then this App should have NEGATIVE ratings!

Don't do that!! No rating is better than low rating!! Leave the app die on its own!!

Agree, i havent seen more low IQ people here! Download the app, give it 1 star! I mean LOL, you gave them the download, thats all they want :P Stupid idiots

Or maybe they'll get such high download amounts that they'll start making Windows phones and apps :)

This isn't how you should rate an app .

Right!
You should report it "FAKE!"

I would have switched to Android...if Windows Phone didnt exist but thats never gonna happen. Im happy where i am, Windows all the way.

I already have a 1520 for 9 months and I'm planning to purchase a secondary phone, a 720. I sinplg love Windows Phone.

You're a moron or what? 11 yr old Posted via Windows Phone Central App

Ditto. Done. Uninstalled.

I also downloaded the app and gave it a bad score. I would like Sony Windows Phone actually.

What they're hell are toy talking about?Nokia$ aka Microsoft did the same..everybody has done it..as Bart says..don't have mule. Posted via Windows Phone Central App

So, so. Suck my toe, all the way to Mexico.

Xperia are such great water proof phones. Plus being able to play PS4 via wifi on your phone is pretty awesome if you have to share a tv

Erm I would still pass bro...

I was hoping for a playstation app.

That would be possible with just about any phone. It's just Sony like Apple want to lock you into their ecosystem.

"That would be possible with just about any phone. " No doubt... please go tell Microsoft since apparently they aren't aware.

They would be even better with Windows.

The waterproofing works great-until you've had the phone for about six months and the flaps that keep the water out of the phone no longer stay in on their own. Including the almost never used SIM slot flap.

That's true. The flap for the USB port on my xperia z1s isnt closing very well. I have to close at a weird angle. I think when I get the Z3 I will buy the magnetic charger.

If ever go for android, go for xperia..

Sony screens are rubbish. They are so dull when placed next to other phones. Plus, their entertainment side, video, music etc is pure fail.

The Z3 has a beautiful display. It was the Z1 that looked a little washed out.

Sony android UI is pathetic...next only to samsungs touch wiz... best android UI is HTC Sense then ASUS ZEN UI... heck HTC even managed to make Windows Mobile beautiful...

The Z3 has a better brightness than the Z1, I agree, but next to other current models its still dull. Actually, its not as dull as Sony customer support though, who disappear complaints as opposed to resolving them.

Yeah I've heard some bad stories about them.

It's true. My friend has an Xperia Z1 and the screen is just really bad...

No.. Their supports is suck.. Most of last year's Xperias doesn't even get the official KitKat update. Not to mention, they release a new a successor to their flagship lines twice a year.. And makes the predecessor looks old.. I won't be surprise if they released Z4 in coming months.

All of their Z series phones get quick updates.

All of the Z line has received 4.4 KitKat. And yes, they release a new iteration of their flagships every 6 months. The Z4 will be released at MWC in February. There's nothing new about it. Also, their flagships don't render their previous one obsolete in any way. People with the Z2 will have no reason to "upgrade" to the Z3. On the other hand, people with the Z or even Z1 will be able to upgrade to the Z2 for a lower price than they would have to pay if the phones only came yearly. The 6 months cycle has its advantages and disadvantages.

Nope go OnePlus and Cyanogen.

Seriously? Sony is superior and the camera on their latest model I excellent

I had a camera shoot out with some Sony reps and I whooped their behinds...even with the WiFi zoom peripheral! The design is uninspired and the UI is so so. But I do like that it's waterproof and it did come with a better lanyard! And it takes pics much faster too. But the colours were dull and washed out
+1020

You whipped nobodies ass..their reps would demolish you Posted via Windows Phone Central App

lol...I did! The clarity was unmatched!

"afraid to lose information when switching to an xperia?" No, because I won't do it

Too hard to change phones when I mostly use my phone for the camera... Until another phone had a better camera... I'm sticking with my 1020...

Don't really have a problem with Sony. My problem is with the anal probe that is Android and Google who holds it.

Same here. I love my xperia Z1, I just can't stand google. If only I could get the Xperia Z3 with same UI but with Microsoft. Running Bing, cortana, xbox live, and all that other good stuff that android doesn't have.

I love Sony. It has been one of my favourite companies.
But guess which one is my favourite!? NOKIA... NOW MICROSOFT!
I have no problem with Sony. What I hate is google, and android...
If there was a movie to be made on it, ios and windows would be the good guys, with google android being the villain and murderers, and blackberry would have been one of the murdered victims. XD Anyways, I am not gonna use that app. Perhaps never ever in may life. I will never leave windows. Or Microsoft. (coz Microsoft is my new nokia.)

Me three! Get away, Sony.

Fck you Sony and Samsung for ignoring Windows

Actually... There are Samsung Windows Phones

Samicp, where are these phones you speak off.
The only Samsung phone money can buy is sold only on Verizon US.
No good if you live in another continent

Ik, I live in Denmark, so I feel u, but I didn't know that you lived outside the U.S. so... I took a shot to tell u that there are Samsung wps like the Samsung ATIV SE

Make it six,seven & eight :v

Make it 10 because 7 8 9 #BaDumTss

Lmao, I guess this confirms they will never make a WP device.

And apparently the Xperia has no support for the Microsoft Account or OneDrive?

I downloaded it just to leave a review saying "F U SONY". 1 star of course :D

I'm not gonna switch to another platform... the future of Windows (Phone) is quite bright in my eyes

I've been on this ride since I had a Samsung Focus, I wish I had your optimism.

I've been on this ride since the start with HTC HD7, and I'm that optimistic. I've seen so many changes and improvements over the years, and perfection takes time.

Windows Mobile > Windows Phone > Windows 10 > FTW

This is why we need that like button system ASAP.

There is an "up" button on the right side of the posts, it's the same as a like button. I don't think it's visible on the WP app.

I only use the app, so I wouldn't know.. But, yeah.. We need it on the app. And, they said it's in the works. It's just taking a long ass time to get here.

Wait for it.......wait....... Posted via Windows Phone Central App

............wait Posted via Windows Phone Central App

Haha haha...lmao!! Posted via Windows Phone Central App

I wish Sony and Moto had windows phones.. That said, Z3 is an amazing phone, saw it the other day.

Agreed the New Moto X is an amazing phone. I wish Motorola would release a version of it with Windows now that they are owned by Lenovo.

Are they completely owned yet? Just like it took Nokia months to get approved, I thought Motorola was still in the final stages of getting approved.

They're not yet part of Lenovo. They're still in the acquisition process. So far, Motorola is still Google. Posted via the Windows Phone Central App for Android

I wish I could need this app, but it looks like the Z3 won't come to AT&T. Seriously, the hardware trumps. Wish they'd release it in WP though.

Downloaded and gave it a 1* rating

Good for you. Might just do that.

Everyone should report the app for privacy concerns, I'm concerned for the people that will actually end up using this. The privacy policy states that Sony is allowed to use the personal data transferred through this app for marketing and tailoring of your experience. That should NOT be possible when the transfer is through USB.

Microsoft has an app in the Google Play store called "Switch to Windows Phone", and it helps people who are transitioning from Android to Windows Phone easier. So all of you guys claiming that Google would not allow something like this Sony app in their store are wrong. https://play.google.com/store/apps/details?id=com.microsoft.switchtowp8&...

There you go being informative again lol Don't you just love the hypocrisy of some of the folks here... It's getting about as bad as imore....... Posted via Windows Phone Central App

That just bumps it up the new list in marketplace

Microsoft tracks uninstalls too and quick uninstalls might hurt it more than the number of downloads helps it on that new apps list

Thats right, you guys are so smart. Inflate the # of installs just to give 1 star ratings. When you all going to learn that inactivity is worse than bad ratings?

Well done bro!!! Give them some shit from my side as well!!! Idiots...came to wpcentral to convert us. Fck off Sony!!

Yes, +1 App in the Windows Store!

Lol!!!!!!!!!!!!! He's gonna get you❗

Too late though...lol Posted via the Windows Phone Central App for Android

One star reviews, everybody?

GO home SONY you're drunk. Not here.

Sorry Sony, tell em there was no one home when you came calling :-)

I've never been so excited and so disappointed as fast as now! Do you guys remember the Tom Warrem's tweets about 2 Sony WPs by the middle of this year?? Yes, I think he was wrong.

In all honesty, if I one day for some reason hated Microsoft, all Sony would be my next option

I've just got the 930 no way I'd consider switching back to android

Same, after receiving my Lumia 930 - I could never switch to anything else

I upgraded from the 920 was going to wait for a UK release of a HTC WP but after HTC's event for the new Desire and that Camera and they basically ignored their WP devices i decided to get the 930 and its amazing love the device

Yeah!
Same here L930 slick n fast

Upgraded to the 930 from a 925, couldn't be happier with it. Screw HTC and its crappy ultrapixel camera.

Windows phone need to catchup soon satya nadella need h2so4 ice bucket

Where's the PlayStation App, you slackers?

Pull the app... Google and Apple would.

Shouldn't have been posted in the first place, just goes to show how slack MS is.

On what grounds would they pull it? Also keep in mind that Nokia has a switch to Lumia app

I tried using it when I switched from android to my Lumia 1520... It is a joke...i ended up just moving everything by hand it was faster

on the grounds of trolling..lol

https://play.google.com/store/apps/details?id=com.microsoft.switchtowp8&...

Yay! Where is the "Give Gold" button?

A huge BOO!!! to Sony for this one.

the xperia looks like an awesome phone, ever since i caught wind of the compact version i've been hooked on it. no-one seems to be bringing the compact to the US yet (you can buy it and flash it to a US rom that sony has available). i like my icon and now verizon has me pissed off. i'm tempted.

No! Keep ur icon! I can't values l believe ur even considering that! I adore my Lumia 930

Waterproof, vastly better battery life AND super slow mo.
Sorry, but Microsoft needs to up their game with competitors like that around.

Sorry the z1s doesn't even outdo my 925, just got a 1020 and certainly not going to change for the z3.

I have both the Z3 Compact and the 930. The only thing the 930 does slightly better are the photos. Otherwise the Z3C beats the hell out of it. SPECIALLY when it comes to battery life with the Z3 lasting 2 days and the 930 barely lasting 20 hours. Posted via the Windows Phone Central App for Android

Awww....sony, their support is either not available or late. Sony is even in the red thanks to that. If I ever switch to android, Sony wouldn't be in my list. Their cameras r horrible as well. If u r talking about note 4 or sth like that, then ok but Sony beating Lumia ? Pfff oh really. Their design is so outdated, it hasn't been changed since the xperia z, I mean no change at all.

You clearly never used an Xperia Z3. Heck, not even a Z2. Their cameras are the best cameras on Android. They're on par with Nokia Cameras. The Note 4? Don't make me laugh. No support? All the Z line is on 4.4 and scheduled to receive Android L soon after its release. The reason Sony is in the red is because of their low end devices. Which went to the chopping block. Sony will henceforth focus on high end devices which is what they do best. As for the design, that's your taste. I much prefer the design of the Xperia Zx line than I did the latest designs from every other manufacturer. And btw...you speak of Samsung and the Note 4? You realize the Galaxy line has been the same for ages, right? Do yourself a favour...don't speak of realities you know nothing about. As I said, I have a Nokia L930 and a Z3 Compact. I currently only use the L930 to play Xbox Games. Even the photos, I seldom take with it. If I take photos with something other than the Z3C camera, that other is the 1020. And get yourself a pair of glasses ;)

The US version is now available http://www.sonymobile.com/us/products/phones/xperia-z3-compact/specifica...

U should keep ur icon...it's much better than any Sony. Design (even though it's still abit nice but it's getting abit long in the teeth) is outdated. No support. Camera algorithms suck. If u ever want to switch from Lumia, Sony shouldn't be on ur list. No wonder they r in the red. But I really think ur icon is still very relevant thanks to Lumia denim ( hey Cortana + 4k video .....etc).

LOL. Sorry, that's all I have to say.

Windows Phone has no apps? Evn Sony is "supporting" the ecosystem. I downloaded and give a bad review about shitty Sony products. That's all. Bye :P

Riiight, so I'm going to switch from my buttery smooth Windows Phone to a lagdroid. No thanks Sony, I'd rather eat a rotting corpse than go back to Android!!!!

Stop using the word 'lagdroid'. It's embarrassing.

Sorry, I didn't realise that the one and only member of the Word Police was online!!!! How about you let me write whatever I like!!!

let's not use lagdroid. Use bugdroid instead,

Why is It embarrassing?? And to who?? It is what it is... Android lags... Hence the reason they gotta go Octagon core just to hide the fact that the is is laggy...Android L will make no difference... In about 6 months time... It too will be laggy

I have a 1020. I have judder on my home screen. I have judder when swiping to the app menu. I have resuming screens for a number of apps....
The Lagdroid thing is just silly because WP is suffering a little from the same issues.
Plus, it just sounds moronic. (same goes for 'iSheep' and all the other stupid fan boy words).
We all just need to recognize that there are merits to all the OS's. Blind faith just glosses over the fact that Microsoft has plenty of issues of their own to deal with when it comes to WP.

Well I have first hand experience so don't tell me what I can and can't write!!!!

I'm not disputing your experience of Android...I'm just imploring you not to use such stupid words.
Lagdroid....really?!

you should not use the word lagdroid... its android that lags... but even tho it lags lagdroid is moronic. lagdroid doesnt make sense. what kind of word is lagdroid. lagdroid word shouldnt exist. lagdroid is even worse than isheep. atleast isheep is a beutiful to hear than lagdroid... damn the word lagdroid... sorry couldnt resist to irritate you...nothin personal about it..haha

So do I. And my 920, 1020 and even sometimes 930 lag more than my Z3 Compact "lagdroid". Which hasn't lagged once. So there you have it.

yeah let's stop users to comment whatever they want because you feel hurt by a word... you are more embarrasing let a word hurt your feelings, just saying :)

Words like lagdroid and isheep are a real turn off for new users (in my experience at least). It just makes the Windows Phone faithful sound like unreasonable fools who are too hung up on this notion that this OS is THE BEST! Each OS has its merits...

would a phone that high of specs be laggy? more laggy than than the "resuming" of windows phones? i'm honestly asking this question since i have never owned an android. i figured only low end phones would be laggy.

Quantum , android is more laggy than you would ever think ! , and why do you experience. "resuming" issue , have you downloaded the live lock screen beta. ?
The solution. Is easy just turn on kids corner and then turn it off , easy

no, but i'm running the icon on DP

The developer preview is causing it. If Verizon would give your the Cyan firmware, it would be significantly faster. I know my 520 is night and day faster once I got cyan.

few days back i saw an owner of a mobile store in our locality using Note 3.. he was playin some music and he got a call... right in front of me... his fone hung... the touch screen stopped working... he couldnt slide to recieve the call.. and the phone was ringing continousy...he had to hard restart it...me and my friends were looking at each others face...totally zonked... its not entry level android am talking abt...its Samsung Note fuckin 3... thats what android is capable of... my friends LG G2 lagged in candy crush..

Trust me, when lagdroid is running on devices the same spec as WP and they lag consistantly then yes it is the OS not the hardware. I would rather have resuming on screen than have the phone just lag for no reason.

I have Z2 and its laggy . It's sometimes actually . But still stick with my Lumia .

Wow! Z2 is laggy?? Dayum even with such high specs!

My friend's galaxy S4 is laggy too...

Really the z2 is laggy ? , really shocked I mean my friend got one two days ago , I checked its speed and camera , it was good no lag

Bcoz ur friend's z2 is just 2 days old. U will see ur frnd crying after 2-3 months....

Jigar , yeah maybe , android is pure shit ;)

give it like a month or 2 and few applications installed... cache to be accumulated and see what happens...i have used...given support to many androids... its like the best thing happended to man on day 1 and after a few months its a sad story...

My Z3Compact hasn't lagged once. ONCE. My Lumias though, are infested with "resuming" screens. The 930 is the only one where it happens less. Yet, it still happens. Often people complain about Android lagging because they do with their phones stuff they can't do with any other OS. They install a bunch of launchers, a gazzilion applications etc. If they could do with their WP devices what they do with their Android ones, they would lag too. But this is a WP-fansite. You won't find many impartial opinions in a cesspool of fanboys.

Ain't dat the truth. Just goes to show you the true nature of some of the people here. Posted via Windows Phone Central App

Preach DJCBS. If windows had to do what Android does it would crash!

They even used their own font in the app... Lol wow Sony

Oh god lord. I really wish there was some way to just destroy Android from existence. It's a plague that has taken hold and cannot seem to be rooted out. People are too cheap to recognize quality, so it keeps stream rolling everything else in its path. Sigh.

Yeah , laggy , no updates from the company unless its a flagship , dying battery , like my mom bought 3 android phones in a year , s3 , s3 mini , s4 and all of them came preloaded with problem ls that I mentioned above , I'm going to buy her a Lumia device tomorrow ;) and my brother is getting a Lumia tomorrow ;)

I just can't stand the entire way that Android does things. It's way too open, both in security and in standards. It feels very similar to Xbox 230 vs PS3 to me (sorry, I haven't followed this generation of gaming much so my info is a bit out of date)... MS makes systems with libraries so that all devs use the same (like for voice chat or music replacement for example)... Sony makes the devs code or buy their own libraries. So of course the net effect is that Sony's devs had more freedom, but Microsoft's libraries were much better tested, thought out, interoperable, and consistant from game to game. Devs weren't contstantly reinventing the wheel, and MS could put the money into a standardized system that would be optimized for usability and could be counted on to be availbale across all games. I can't stand the inconsistency... voice chat should be bult at the system level so that it works across all games. Unfortunately, I suspect the concept and the benefits of the standadized route are difficult to explain to non-programmers, and that most users would only feel the difference if they had one of each console and could see them in use. Sorry for the tangent...

WP8 API has memory leaks. On most situations WP is indeed smoother than Android, but sometimes you have to do things in a similar fashion to Android, and then WP lags just as much. Not to mention the multitude of small differences between each MS API. Heck, there are 2 HttpClient -classes on the current WinRT -implementation, and neither works perfectly. Let's not pretend MS is doing all that much better job, especially seeing how much slower they are progressing. P.S. Still waiting for that something which will changing everything across anything or something like that.

I would definitely argue that they are not doing all that much better. The OS is MUCH better, not just code and libraries, but from the concept level. However, don't confuse my support of their OS design with suport of their methods or progress. MS seems to barely have a passing interest in making their own platform succeed. Anyone making an OS would assume the very first thing that they should do is get all of their services on that platform with top tier support and the best versions availbale. MS can't even care enough to do that. I understand chasing the bigger market, but if they want this product (WP) to succeed they should devote their own resources to it and give it at least equal footing... otherwise there is little reason for third parties to do the same. This is why I am so frustrated... I'm frustrated with consumers for being so oblivious to the superior useability, I'm frustrated with carriers for outright campaingning against it, and perhaps most importantly I'm frustrated with Microsoft... if they don't belive in the product, I certainly can't recommend that others do... there are currently a lot of tradeoffs to going with WP. WP8.1 negates almost all of those from an OS feature level, but we still have serious issues with even MS's own support of the platform.

Those are samsung android phones. Samsung is overrated and crap in my opinion.

even Snowden alerted ...stay away from dropbox, google, facebook

I once had an Xperia Play... It was pretty fun.

Annoyingly, that app does demonstrate a great benefit of Android. USB OTG.
Microsoft really needs to up the rate of OS development...

It is not a general issue with Microsoft's OS development. Windows supports full fledged USB Host. It is just that Windows Phone lags behind in features compared to Windows/RT by miles.

Let's not bring full Windows into the debate :). As a mobile OS, Microsoft has moved at glacial pace in implementing things that have been available on the other two OS's for years! Symbian and Windows Mobile both also had USB OTG....
There is no real excuse. Microsoft needs to feature match across the board (we are a distant third after all...).
I love my 1020, and I like Windows Phone. But I do need it to move at a faster pace.

ICYMI Windows 10 works across Desktops, Laptops, Tablets and guess what Phones as well!!!

Ah yes....how is Windows 10 working on your Lumia?!
;).
I'll await your analysis (sometime) in 2015!

I didn't say it was available now though, did I? How's Android L on your Xperia Z3?

You should have perhaps said that Windows 10 WILL work across all those devices...
Writing in the manner you did suggests that Windows 10 is actually on a consumer phone somewhere....when it isn't.
As such, until Windows 10 arrives, this OS will still lag the features that have existed for nigh on a decade on Symbian/Windows Mobile.
I know you will defend this OS to the hilt. But if this OS is to succeed, it can't be on the basis of never ending future promises.

Actually you both should have said that it is Supposed to work with all platforms including WP. Posted via Windows Phone Central App

android sure has feature advantages in comparison with wp but WP kills it in overall feel, ease of use, privacy, security... we have to be critical of WP to help it improve but android is the last OS i would use... i loved webOS ...it was way ahead of its time... damn Palm didnt have resources of Microsoft to take losses after losses to wait till the day it will capture the market... and damn square that HP killed it...

We need customized grid menu ,multi home screen, easy screen shot editable, more buttons for notification centre, water proof phones, excellent touch with no lag and more creative ideas

Nice that they feel threatend enough to release an app in the hopes that people switch devices. I'd entertain the idea of a Sony phone if, I repeat if, it has Windows on it.

Fck laggy androids.. Lumia for life ;)

Hoo re.. Dp varna kalla na :P

yep...mi pan... andheri west..

Fuck Sony , I'm not gonna switch never .. Ever !!

Switch to xperia like that? Sony PLEASE!!

No thanks, not a fan of Androids.

2 things about the Xperia Z2 at least.... The displays are not that great and the neither is the camera. The Z3 could be nice but I'm keeping my 1520.

Perhaps should BE Apple, and prevent this mockery.

Oh Sony. If you would pretty please make teh Xperia Z3 with Windows Phone, I would buy one and be forever happy if you supported it too...

If Sony would dare to do that I would be in.

If this happens I will throw my Lumia and go for Sony.

At least they remind us...

Well guys this app is most likely one I'll be using soon. I'm taking a vacation from Windows Phone until the Lumia 1020 successor shows up on T-Mobile. Great battery life, decent camera, ability to pair my PS3 controller and play games on my phone, sleek design are all the reasons why I'm getting the Z3 later this month. And I'll Jump to the Lumia 1030 next year. I'll be back guys.

Good Luck! There's no way you will see a 1020 successor from Tmobile.

Well that is my main problem with Windows Phone as a whole. Most devices are exclusive and always leave potential customers who are on a major carrier with the problem of trying to figure out how to obtain the product. That is the real reason I'm taking a vacation from WP. I'm hoping this changes in 2015 and I don't see why it can't be done if they could do it with the HTC One for Windows. Also good to hear from you again.lol

I'm around everyday reading post, just not posting too much lately. :-P


Also I would gladly take a 925 refresh with updated specs and SD card or 930 with SD card on T-Mobile but something with at least 20mp and on T-Mobile.

Why don't you just get unlock NL1520.3 it has the specs you want. I'll also waiting for high end WP on Tmobile. The rumor said HTC M8 WP and Nokia Lumia 830 will be coming to Tmobile.

Honestly the 1520.3 is perfect except for the size.I don't know why they did that.

You will not be disappointed with the Z3. I've had HTC HD 7, HTC 8x, nokia lumia 925 and then Xperia z1s and it is just awesome. I like Windows eco system, I just prefer the hardware of Sony xperia

I believe you but here are two drawbacks from an otherwise fully flushed out ecosystem from my short research: Lack of superior camera apps(ProShot and Nokia camera are untouchable) and I'm not really sure what the photography community is like on Android.(I'm not sure where to go as AndroidCentral didn't seem to big on photography either) Other than that I have no worries with Android's ecosystem as they have a few apps that I'm looking forward to having on my phone that aren't available on Windows Phone.(WatchESPN being one). I will really miss contributing to the photography scene. Nobody has done it better than Nokia with their Connects page and photo themed contests and hashtags. But the capabilities of the Z3 will suffice. Slow motion video and controlling the phone with a PS3 controller are just a part of the cool factor you get with a phone like that. And the battery life is stellar.

Lol Sony. Got to hand it to em for trying.
Who knows maybe they'll swing a few over to Android.
God knows MS cant think up anything better.

Yes they did! Microsoft has had this for a VERY long time! Check out the windows phone website!

Never gonna switch to Android or sony

Yeah,no! I'll stick with WP. I appreciate the wasted effort on the side of Sony though.

Got Xperia Z3 copper today.. Though I'm gonna keep my 720.
:)

Do a review of the Copper Z3 in the Android section of the forums please.

Like that'll make me switch *facepalm*

Android is laggy and has problems with app closing randomly and random reboots, even on Galaxy S5s . Because Android OS was never optimized for phones! Its a PC os they crammed into a phone. You can blame google for rushing it. Among many other things you can blame then for and nail them on. Side note, if I wanted an Android I'd get a OnePlus One, hands down. All other "androids" are total garbage.

Exactly and that's why they are playing catchup with ART to try and boost the performance.

My bro had the 1+1 and although the hardware was stellar, the Cyanogen OS was a miserable POS. He used it less than a month and sold it.

Cyanogen is still better than Google's non privacy hole of an OS

With regards to privacy, yes, but the stock Android experience is far better. He sold his Nexus 4 to get the OnePlus One and was sorely disappointed.

To hell with Sony. Hope their app gets removed by Microsoft. Such apps that promote switching to Android phones must be sent to the recycle bin.


Screw that, I'd just use Shift+Delete on it to delete it permanently.

Sony, Sony, Sony... stick to headphones and TVs.

yeah because Android is so much better than Windows Phone... oh thank you Sony for giving me the opportunity to use your phone with Android the saviour! Will they release an xbox app to make me switch to Playstation? I hope so! I want it and need it.

...doesn't WP have a similar app to entice Android- and iPhone users to switch to WP? :-D

Not entice, lets you do so, comes built I incase you happened to own an android previously.

Yes= https://play.google.com/store/apps/details?id=com.microsoft.switchtowp8&...

At one point I was deciding between the Z2 and the 1520...but I chose the latter.

Ofc, nothing can beat the 1520, cept may be the 1530/1540 when they come out ;D

What a way to get people to actually buy your phones, by asking those who own WPs to change their device when all they want is the OS updates and newer hardware running WP!!!

Not going to happen but we have exclusive stuff and a bunch of low end excitement

Evidently Dan Rubino likes controversy. He just set the gas and matches next to the wood pile, no harm in that.

Daniel doesn't hide the fact that he doesn't like Android, but when you consider the fued going on between Google and Microsoft, I don't blame him. I give a lot of credit to Paul Thurrott for at least trying to look at the positives of all the tech giants, even though he's a Microsoft purist.

I do like Sony phones if I were to use a Android phone but WP is my daily driver.

Supposed to work via Bluetooth as the "Transfer my data". I will never migrate from Windows Phone for Android!!! ... :D

Funny was just looking at the Z3v. If Verizon continues to ignore WP the Sony may be what I switch to because I can still use my wireless charging plates. This app just makes it easier.

May as well no high end WP devices that I see but hey we can get excited about 8 GB low spec stuff.

I liked the way he says 'nefarious app'

Xperia....no way, I would rather go for a Motorola phones.....and I even own 2 of them....lol

Sony trolling us hard! Bastardy bastards!

The best way to grow share is by aiming at users of the same category using hardware doing better than you in the market. Windows (phone) is neither of those. I have to admit that though, if I ever decided to head over to the mess than Android is and give my life over to the Goog, I think the Z3 is the best replacement for Lumia photographic expertise currently available. .

Everyone should report the app for privacy concerns. The privacy policy states that Sony is allowed to use the personal data transferred through this app for marketing and tailoring of your experience. That should NOT be possible when the transfer is through USB.

You should read the privacy policy of every site you use. Your paranoid self will never touch a piece of technology again ;) Posted via the Windows Phone Central App for Android

Why? It's not that I offer my personal information to a random web site. On the other hand, if you are switching to Android, you can kiss good-bye your privacy anyway.

Your privacy isn't that much securer with Microsoft or Apple, you know? All these tech giants use your info for commercial uses. ALL. The only difference is that Google makes that their main source of revenue. Microsoft doesn't...at least not for now. Also, there are laws that regulate what sort of info tech companies can share and collect. Google is bound by them and when they brake them, people sue. Let us not be conspiracy-lunatics. You only give what you want to give. And if you don't want tech companies - regardless of who they are - to have info on you, then you don't use technology.

No wonder Sony went through a loss recently

Oh come on Sony...seriously?

I wish Microsoft starts making Waterproof phones with cool camera

I think my phone(L520) is waterproof enough for normal use... It even survived 15 mins inside my jeans in the washing machine.

It's funny reading this, because if you take this and the story about about Sony loosing billions on android phones it kinda takes the wind out of the sails of anyone who says Nokia would have ruled the android market. Sony has excellent camera technology and they still have to pull stunts like this..

The Z3 will probably be the first flagship Sony phone that will be available on all carriers. Lets see if they have better luck now that this is happening.

I'll be going back to android as soon as possible . Windows phone is crap

Be careful, the privacy policy states that Sony is allowed to use the personal data transferred through this app for marketing and tailoring of your experience. That should NOT be possible when the transfer is through USB.

Well Microsoft can at least get a look at how many users are switching away through this right? Maybe they can use the information to help them with a strategy or something to prevent the temptation of a switch of others..

Which is probably why they allowed it, so they can see who downloads it and who switches.

They allowed it because they could NOT prohibit it. Nothing in the app violated the Windows store TOS. Though luck.

When I switch back to Android.... Naaaa, just screwing! :) Go f Apple funboys, Sony!

Hahaha Sony.. Just fuck off.

Another one bites the dust

My goodness you all are hypocrites-where was all your angst when Microsoft/Nokia came out with tools to switch to Windows Phones?

Why would we have a feeling of dread about Microsoft releasing a tool to switch TO Windows Phone?

I think the notion of one OS for all devices scares Apple, Google, Sony, Nintendo... All of them have a lot to lose if Microsoft pulls this off. Expect to see them all attempt to pull as many users as possible to their products before 10 gets released. That may be why 9 was skipped... Microsoft was sending a message to all competitors that they were farther along in unifying the OS than previously thought, and it's game over, you lose.

Yeah right, that would be relevant if we had the same apps iOS and Android have. This is all for enterprise folks-enterprise and for people who only can afford low end devices. Those are the markets Microsoft is focusing on right now. Like I have already said, we all look like a bunch of goofballs criticizing this when Microsoft already has an Android to Windows phone app out.

That wasn't made to incite people to switch. That just makes transferring stuff like contacts easier. I wasn't even aware of the app till I started up my WP for the first time

Yeah that why the app is called "Switch to Windows Phone" Yeah- it was just for contacts not to switch.LMFAO http://www.windowsphone.com/en-us/store/app/switch-to-windows-phone/3286...

... and the comments on articles about that app on Android fansites were exactly like the ones on here.

Ummmm ok? The funny thing is, the first Xperia was a beautiful windows mobile device...

I want a Sony windows phone :s Sony better than nokia right now :( waterproof phones and High performance ...

hahaha...just hahaha...sony...what are you upto

I have Lumia 930 and Sony xperia z3 compact. I love both. But if Sony made a wp. I'd be getting it. . But I will also download app and rate it bad. Not a good idea Sony.

I'll throw my money on Sony if they make Xperia Z3 for Windows.

Nice one.. How about we just download it and 1-star this thing to oblivion?

I would but I wouldn't want to tarnish the 1091 apps in my app list with it!!!

Perfect for Z3, planning to switch to android. So disappointed to spotify playlist without filter

Nice try Sony but I'm too excited about the Windows Phone future, it's much more innovative than Android.

Why the fuk does wpcentral adv. this app?

I have android . But its htc m8. Sony phones have most defective display and touch issues are common. Poor quality phones.

Damn it this would have been useful a couple of weeks ago! Still, will give it a spin to see how well it works. Posted via the Windows Phone Central App for Android

I installed it just so I could give it 1-star. Nice try Sony.

Nice. I'm either going Sony or Motorola when I can, and it's nice to see a transfer app for us WP users.

They can get knotted - having just bought a Sony tv capable of Miracast that BLOCKS non-Xperia devices, I won't be buying a Sony product again!!

Without making phone they launched an app.. Hit them ....

Since my Icon is "retired" I might give it a go.

If I were to switch to Android, I would go for Galaxy, not Xperia.

You would deeply regret your decision of going for Samsung, believe me ;) Posted via the Windows Phone Central App for Android

At least he would get better support. No body wants phones that take ages to get updated. The xperia line had been the last to get 4.4 and the same goes for earlier releases of Android.

Not just that, but you get a good value with Milk Music, free books through Amazon, and offline mapping through HERE. Don't get why ol' boy up there didn't switch to Sammy when they're in bed with Nokia.

Because ol' boy up there HAS Nokia's Z Launcher AND HERE maps on its Z3Compact ;) And ol' boy up there doesn't like inferiorly build and bloatware-filled phones. Nor does he like TouchWiz.

I'm pretty sure Sony was the first to bring the KitKat update to users.

Sony brought KitKat to the entire Z line. That's more than you can say of Samsung's Galaxy S line. Stop talking of what you know nothing about.

This comment thread is hiliarous. Fanbois at their best. You all do realize Microsoft has the exact same app in the Play Store? https://play.google.com/store/apps/details?id=com.microsoft.switchtowp8

Thank you , finally one other fan that has some sense. Everyone else please look up the definition of hypocrite ;)

You're not alone. I'm so tired of reading fanboy comments....they really detract from the positive thoughts I have about this OS.

I'm sure all those rating the Sony app a 1 star are also rating the Microsoft app in the Google Play Store a 1 star as well...... hahahaha, yeah right. I'm primarly an Android user, but I have a Lumia 620 that I really like. I will, however, be buying the Z3 compact. I like my L620 and would upgrade to a better WP device (I like the 830), but there are still apps that I need that aren't on WP. I much prefer WP for actual phone/texting/email/contacts though.

Maybe you should look at the comments on articles on Android fansites when Microsoft released the Switch to WP app, they were no different than the comments on here!!!!

Yes they were. You and some of the other fanboys are just childish with this "F Sony this" "rate 1 star that" etc. Android users don't give a f*ck. They don't feel threatned by Microsoft just because they have a Switch to WP app on Google Play. Some Android users - like myself - even use Microsoft services over Google's (Outlook, OneDrive...).

Difference being Microsoft does release other apps for android like Xbox smartglass and office etc but Sony won't release PlayStation app or any other app for Windows Phone not that I personally would buy a PlayStation.

Sony has apps on Windows. And when Windows 10 arrives, they'll probably be made cross-platform. Until then, there's no incentive for Sony to spend their already scarce money on a <4% global marketshare platform. If Microsoft has reached an agreement with them to produce WP devices though, that could have been different.

Lol, I don't think so, sony experia z confirmed my view to switch to wp it felt very cheap and tbh I didn't think it would last 2 yrs, Nokia lumia 820 is a quatlity product. Nice try sony but not likely.

Continue to review their AP with one star people, so they get this crap off the store.

No or it goes on the top downloads app LOL :D

Another toy phone... Not interested.

Perfect! Thanks Sony for making this, and thanks Microsoft for not being an ass about it and blocking the app altogether. I'm switching to a Z3 next year, and this will make things smooth... I was going to switch regardless of easy migration, but this just makes things easier. Love it!

Ugh... Can't believe ur switching :( Horrible mistake

Sad to see so many "1 star rating comments" in this article. I thought people in this community to be more mature. Do you also give 1 star to Nokias switch app? Did you bias the whole Scroogle campaign? Or does this "bullying" only work one way? In my opinion giving false rating and misleading people are way worse than a company trying to survive...

In fact the comments on Android fansites were exactly like on this article when Microsoft released their Switch to WP app as well, so both sides are at fault. I won't download this simply because I have no use for it.

Ok, that makes it alright then... (irony)

If I was going to switch to anything it would be a Blackberry Passport. Been using one off and on for a month. It's a killer business machine and friggin fast and bullet proof. Not switching though but they are way ahead of ALL android and iPhones.

I need a PlayStation Network App for Windows Phone...

nice app from sony 5 STARS haha

iOS, Blackberry and Windows Phones? What about for Android, or is that considered a lost cause for them? :P

If you're already on Android you don't need the app. Just like you don't need when you switch from a WP to another WP. Posted via the Windows Phone Central App for Android

Umm.. No thanks sony. Release the Z3 with WP and I'll give it a second thought. But for now, NO.

The z3 is a very nice device.

It really isn't. Starting with battery life.

i will switch if they have windows phone :-)

I don't see anything wrong with it. If anything, it means we are truly free and open to do as we please. If a person wants to switch, it isn't a hassle. But despite that, I would think Sony still needs to improve their skin of android. It's quite inelegant compared to the phone itself

The z3 beat anything windows phone has to offer. Minus the silly phablet. People are switching as we haven't had a flagship phone for ages. 930 doesn't doesn't count as its just a rebranded lumia icon.

Sony obviously does not think very high of WP or plan to make any apps for the ecosystem. We can't even begin to talk about actual Sony devices running WP. Windows 10 may be the catalyst to get Sony to actual develop apps and devices for WP. In the meantime, I will continue being the minority and stick with WP. I've been with them since the original Focus and with each update, I am pleased with the progress. I'm loving my 1520 and do not plan on upgrading, unless something extremely nice comes out in terms of must have hardware. Right now, I don't see that being the case for me for at least another year.

really creepy - this is like Elop being a mole at nokia, wait - that happened. this is like, w/e - its creepy.

These comments are disgusting, 1 star reviews for an app that does exactly what it's supposed to do? From a consumer standpoint, it's incredibly beneficial for these kind of apps to be available on all platforms. There's a Windows Phone one for Android phones as well.

Blah blah blah if Sony is for the consumer they should release apps for Window Phone what about all those Playstation players with windows phones ? Etc Microsoft has released a similar app for Android yes but then Microsoft also lets android users have access to Xbox Smartglass and Office etc

I agree somewhat although it's to be expected just like with the Switch to WP app on the Play Store. I won't download it as I have no use for it so why download it to rate it 1 star and then remove it.

The way things are today, why would anyone need this for contacts or most information. Whether you use outlook or gmail, if you keep your contacts there, just log in and they are on your new phone. If you back up your photos and docs to OneDrive, again no need to transfer.

The Xperia's hardware is very compelling. I am very happy with my NL 925 but if I was an andriod person, it would be worth getting.

I would like to see them build an app for switching from xperia to windows phone, that would surely help more people then the other way round.

Why would Microsoft let this into the store?

Sony ain't alone:
http://www.windowsphone.com/s?appid=3286dd5d-3f98-435a-b80c-3fccba05a867

Maybe posting the Play Store link would get your point across a little better!!

I think his point is that all t he negative comments here about an app from Sony that does the same thing as a windows phone app. A bully bullying the bully is just a hypocrite.

Lol dream on Sony :P
Somebody make a "how to make a windows phone device" app and install on Sony devices

The last phone would ever use again is SONY, terrible experience with Android and very un balanced colors.

You will regret that in the future, Sony.

The only and most amazing thing about Xperia devices is underwater photography. A stupendous feat I would like to witness in Microsoft's devices. Posted via the Windows Phone Central App for Android

Sony should use those resources to create apps for a Xperia WP... then they could sell phones for their users who wants Androids and for users who wants a WP...

Interesting application , now Sony start to do Windows phones and join to the party

I just gave a bad rating to their app

Since Microsoft is only making low end phones, and seems to have no vision, it is a good time for Apple and Google to make them totally irrelevant in the smartphone industry.

But they have flagships like 923 and 1520

They are practically giving those phones away on contract. Who cares about a phone with the name of a hardware manufacturer that is no longer in existence? Ever heard of the iPhone 6 plus? Or Note 4?

IPhone 6 is a high end phone LOL nice joke

Please don't bother looking at any reviews that would tell you otherwise. We need unenlightened people like you to do the menial tasks of society... Keep practicing your lines... "Do you want fries with that?"

NOPE. EVEN IN A LIGHT YEAR (Buzz Year)
Posted via WPC app

First: Why would I EVER consider a phone manufacturer who doesn't even support my current ecosystem? Second: Sony... I spit on you.

i want them to go for wp. bu they wont.

In the words of a very wise man ... Muthaf*cka™

Nope, app is at least 2 stars worth.

Ouch :( Sony would rather release an app to make Window Phone users switch, than make a Playstation app for Window Phone? MS has their Xbox One app on the other two. What gives? :(( #ApplyIceToTheBurn

This means SONY won't make any Windows phones.

That's what I was thinking. Not that it woud matter to me. But I know there's a few Sony fans up in here, so it would be great for them. Sony would definitely be my second choice if they came onboard though.

I doubt Sony would ever make a windows phone with all the xbox stuff connected with it

Me parece idiota el ultimo párrafo. Esa mania constante que tienen los blogs de tirar basura a Apple o a Microsoft.

windows phone users most arw against android. u cant get us bitches come to windows future ahead is bright

Not moving away from Windows Phones until Microsoft kills them off...I am in it with them till the end

My friend swears by Sony...over priced crap is what I call it

Seriously??? I'd rather use an old phone than get back to xperia and android.... I've had an xperia and it was a living horror. Thankfully in 2 months i got the lumia 800 and found the OS that suits me :)

I agree the original xperias were horrible. The new ones are awesome devices minus the flaw that they run android

Sony's dead. Unfortunately.

Just remember that Windows did this on iOS and Android when WP8 came out for the exact same reasons.

I find it funny that any article that has something to do with Android gets more comments than most in WP Central. Posted via Windows Phone Central App

Cause we're out in full force in defense of our* beloved OS...Duh :P

In defence of a OS by a manufacturer that uses the exact same means to get users? Not much of a defence. Just hypocrisy.

We need the successors to 1020 and 1520!! They will beat the hell outta these Sony devices :)

Best line of the day, "they are not Apple, after all". Made my day :)

Using a cable??? It's 2014, wake up Sony! Cloud ☁ sync anyone? My god, so 2001

The mere fact that you need a specialized Xperia Transfer cable is enough to keep me away from Sony...

I have a Nokia Lumia 625 with wp 8.1 and its a great phone. Also have a Samsung s3 with Android 4.3 and thats also a great phone. No reason to bullshit nada of them.

Now if only windows 10 would have the capability for us to buy any device we want and then install windows on it.... That'd be sweet! But I doubt android loving companies would supply us the drivers to do custom installs

Sony, keep your crappy Z-series
Best camera? Seriously POS. And that screen? Laughable.
And that service? Not one more time, never...

Sony if you want me to consider one of your phones -- make a Windows Phone !!

To be fair, Microsoft/Nokia have the same sorts of apps for Android.

I want a Sony Windows Phone!

I'll never join the dark side!

If I ever got a android it would be Sony.

I will never join the dark side. Sheesh. I posted blindly just to discovrer that another skywalker on WP posted the same phrase...

Rating an app falsely because you hate android? Are you fucking serious? How childish are you? You know your Windows phone isn't so good after all because guess what? 97% of all smartphones users walk away from Windows phone

Hahahahahaha, one would be a complete idiot!

Why would you want a android, or apple for that matter neither one has the best app on the planet. The 3 Stooges app.

I remember when MS released something like this for Android. All the Fandroids rated it a 1 star on Google Play.

OMG, this is one crazy company!

Dear Sony, As a user of several Sony products, I would like to state catagorically that I will never buy any Android device and that there is no feature you can develop which will change that decision. The simple reason is that Android is fundamentallly insecure; the latest failure being the ASOP browser zero day exploit. Before that there was the revelation that Android only deletes the dirctory tree, leaving user data to be retrieved by the next user. While I am confident that Gooogle will patch these flaws in future releases of Android, this does not obviate problems that are not as yet public knowledge, leaves users of legacy devices out in the cold and does nothing to address the threat that Google pose to personal privacy. Given the recently reported loses of your mobile department and your dcision to concentrate on high-end devices, it would seem only logical that you release a Windwos Phone version of your new Xperia Z3 for three reasons: firstly, comparisons of perfromance between versions of the HTC One M8 show Windows Phone to be technically superior to Android. Microsoft's decision to release Windows Phone on a zero dollar license and relaxation of hardware requirements make it relatively economical to develop devices for. Finally, this would give you access to a market of people like me, for whom Android devices are a no go and who are willing to pay a premium for a high-end experience. It has become clear to me that over time, my requirements and your company's strategy have diverged to the point where I no longer consider Sony automatically for any purchase. As I consider replacing my Lumia 920 there is no Sony offering. As I consider replacing my Dell 17" laptop, there is no Sony alternative. Offer me an alternative and I will consider it, but as things stand you aren't even making the starting line and that is really rather sad as failure goes, because you have fallen so far.


LOL saying it's safe because it's made by Sony is hilarious everything Sony I've ever owned except a15 year old VHS player had had major issues

Go to hell stupid sony!!!

The amount of fanboys here is ridiculous. It's like you don't like pizza then get offended when someone else does. Everyone has their own tastes...

Very thick, Sony. After bad experiences I had with you, I am not buying your product until you fix your aftersales reputation.

Next apps I want from Sony:
1. Playstation (obvious missing app is obvious)
2. TV SideView (for connecting to a current model Sony TV - like my KDL55W800B - and using your phone as a remote)

It must be wp app for xperia so that android users can switch to something better

Hope they make a windows phone.
Their build quality is good.

So Google can block Microsoft from making a YouTube app,... Why can't Microsoft block Sony from making this app?

Sony makes shit phones anyways. My ex-wife bought an Xperia Z1 less than a year ago. The waterproof flaps have hung loose for a couple months now, and the phone has stopped taking a charge. I've waxed poetic about buying a Sony WP in the past, but now that I've seen their build quality in real life usage, they will never get a dime from me.

Hahaha nice try Sony if I would want to acquire a piece of hardware from you I would rater kill myself or buy an HTC, for now I'll keep laughing of you from my Windows Phone

So when Sony sells or shuts down the phone division for being so bad and out of money what happens? Do they release their transferred data to the wind? Funny Sony thinking they can affect anyone than the naive console consumer. If I ever went android I wouldn't get an Xperia. Just like no one would get a Sony TV or laptop. TV are next and then mobile for Sony to stop existing. We all know it.

Im thinking of getting z3c

No switching for me. Love my Lumia icon waiting for Tesla windows all the way for me

Now if Sony were to release a WP version of their phone... I think I may use the review facility on this app to try and persuade them.

I wonder how they have access to messages, as "normal" developers do not have...

Don't know if this is the right forum, but according to Verizon rep, Cyan update is being released today and can be download in 10 days from now. Please, don't hold me to it..Just passing along the probable BS from Verizon.

Well that's disheartening and annoying. If Sony pulled an HTC and just took one of their sexy Android phones and put Windows Phone on it, I'd be all over it like a cheap suit.

Sony should absolutely make a Windows phone when Windows 10 launches in 2015! The combination of Sony's awesome waterproof durable hardware, with Microsoft's upcoming all-in-one computer-phone operating system.. It's a sci-fi dream come true! James Bond underwater pocket computer!! And I'm sure business/professional users will be passing to Windows 10 phones massively. Sony has a great "classy" brand image, that would suit them perfectly.