SoundGecko: Reading the Internet to you and coming soon to Windows Phone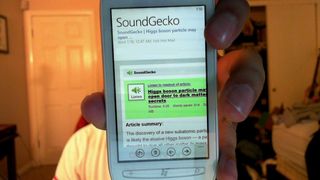 SoundGecko is coming to Windows Phone soon
With today's busy world, sometimes finding time to read you favorite article or keep up with the news can be difficult. Luckily, there may be a solution for some of you on the horizon.
SoundGecko is a new, amazing service where you find any article, email it to them, and they will send you back an MP3 file of that article. The service can connect up with your SkyDrive or DropBox service to automatically deposit audio files of new articles, allowing to you to pull them down on-the-go. The smartphone app is simply a method to flag articles for the service for conversion.
Currently, the app is only available on the iPhone and Chrome browser (via an extension) but fear not, a Windows Phone version is in the works and we'll have some information on that coming soon...
What may be interesting for our readers is who's behind SoundGecko. Founded by 121CAST (Andrew Armstrong, Ed Hooper, and Long Zheng), who are;
Long Zheng should be familiar to many of you as he's been involved with many recent projects like MetroTwit and the Chevron WP7 experiment. The part about them "redefining the radio with personalized information and entertainment" is a great description of what they are doing with this app. The new trend of subscription services to listen to content, e.g. Spotify, iHeartRadio, Pandora to name a few, has really caught on with the public.
I just started to use Reddit to be able to read articles on my phone, but listening to them is so much better. This is a great new way to consume internet news without having to be glued to your phone's screen. I signed up for SoundGecko and started to send myself articles that I wanted to read and since it uses the MP3 format, it works on any device. I love being able to listen to my articles while driving or walking to work.
I asked Long Zheng what inspired him to make SoundGecko?
Fair enough and to the point, it's something that we can all understand with our complicated lives these days. I have about an hour drive to work. I stopped listening to radio years ago and I stream podcasts while driving. To be able to listen to articles that I don't have time to read is quite important for me. SoundGecko gives me the content that I want, when I want, and with no commercials.
We'll have more on SoundGecko in the coming weeks, especially for the upcoming Windows Phone client. In the meantime you can visit their website (www.soundgecko.com) for more information.
Windows Central Newsletter
Get the best of Windows Central in your inbox, every day!
Really looking forward to this one.. Already spared a tile space for when its out...

I tested the service over email but I didn't notice SkyDrive support when I registered.

Couldn't close the closet door or make the bed for a better screen shot? lol..

croceamors: The service currently uses Google Drive and DropBox, but the developer has stated that they are looking into Skydrive, as well.