SpeedChecker for Windows Phone 8 shows pretty speed tests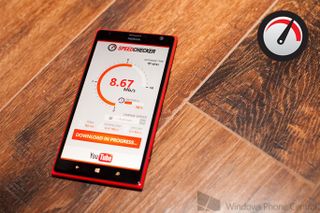 There are times when we absolutely need to know our network or Wi-Fi speeds. Are we really getting the speeds we're paying for? Are we really getting LTE speeds? We can use speed test apps to check. The latest one that we have just come across is SpeedChecker. It's developed by Speedchecker Ltd, the company behind the most popular speed testing websites measuring over 100 million speed tests globally.
According to the store listing, SpeedChecker is trusted by the BBC, Guardian and other media outlets, ISPs and Governments. Let's take a look at their app for Windows Phone 8.
Doing a speed test doesn't really sound exciting, but the SpeedChecker app makes it more appealing. The app design is surprisingly good for such a simple utility. It takes over the whole screen, so the time, Wi-Fi, or battery icons on the status bar disappear. It uses bright colors and bold typography in a simple, yet pleasing way.
The top right corner lets you know the type of network you're on, whether it is Wi-Fi or cellular. The biggest section on the screen is the speedometer, which shows the speed measurement in megabits per second. We don't see any setting that allows us to change it to megabytes, kilobits or kilobytes per second. There's an option to change the server that performs the test, but it requires you to upgrade to the full version.
To get started, just click the bright orange button that says 'start speed test.' There's a progress bar in the middle that you can follow. After clicking the start button, an ad shows up from the bottom. Upgrading to the full version removes the ad.
After the speed test, you can see the results for download, upload, and ping. It also shows the estimated download times for a 4 MB music file and a 10 MB video file.
There's more. SpeedChecker also features:
History of all speed tests saved to your device
Visualization of speed test results on the charts
Statistics about average speed
Easy sharing of results via email and social networks
You have to check out the animations when you swipe through the different sections. Again, it's very attractive for something really simple. The graphs and charts look great along with the statistics.
While we like SpeedChecker, it isn't perfect. There were several tests that we have attempted that did not finish. It didn't matter if it was with Wi-Fi or cellular. We assume the problem lies with their servers. We also feel it isn't as fast at doing the tests compared to Microsoft's own speed test app, Network Speed Test. SpeedChecker is pretty, but it's not very reliable. We hope that improves in upcoming updates.
SpeedChecker is a free download from the Windows Phone Store. For 99 cents, the full version removes ads and lets you choose servers for the speed tests. Try doing some tests with this app and let us know if you run into the same issues.
Thanks for the tip, Amir H.!
Downloading it now. I like the look of it.

Hello, Speedtest.net is the leader in this service. Talking about paid advertisings.

Speedtest.net needs to make more use of WP8 UI. And to add history. And all this testing network speed apps need a button for clearing cache.

Have you even used Speedtest.net? It does keep history... Tap on the Ellipsis and select "results"

Speedtest.net is not accurate either - at least in my experience. On my ATT NL 925 LTE, speedtest.net always gives a download speed of 5-6mbps, the Network Speed App gives me 20-22mbps. The speed at which apps and games download prove that Network Spped app is more accurate.

Speednet for WP sucks. I suppose to see >100mbps for my wifi speed but I'm seeing a much lower speed instead. On the other hand, the Android version is working very well.

Yo do you guys even try all of this app before you try to encourage people download them? Cuss I just downloaded this speed check app and its been 10 minutes and the thing is stuck on "preparation for test" it be very sad if you talked all of this smack and you just taking the credit to introducing the app. So far its horrible, I have not been able to test yet

Cancel it freezes leave the app and try again it there's always a few hiccups and bugs when apps are first tested there's no type of standard to these test or app releases....

Yup, mentioned it in the article. Hope it gets fixed in an update

While we like SpeedChecker, it isn't perfect. There were several tests that we have attempted that did not finish.

May be you should leave a app review with phone model and network your on. sorry you just had to download and open a app.. !!! big deal right ! fucking ppl complain about everything..

Yo do you even read the articles before commenting?

Don't think he does, Sam....

Serious Sam: All Barrels Blazing! Coming to (W)PC January 17, 2014

Well ... Mine are working both on wifi and celular (HSPA) lines. So I guess it's not entirely unusable :)

What do you mean by "It takes over the whole screen [...] icons on the status bar disappear"? We are in a WP8 enviroment, every app does this.

Not really "every app." Facebook and Twitter are a couple of examples.

That's settable in code by the developer from... A developer...

Completed its tests without issue but shows speed 10Mb lower than other tools that were run immediately afterwards.

Starts checking then freezes on my 620... Brilliant!

Works fine on my 8X. I've been using this for a few weeks now.

So, i gave it a go and everything worked fine. My contracted speed is 50 Mb/s (supposedly) but my test shows 39.6 Mb/s. Might be cause I'm using my laptop as a WiFi hotspot?

Wi-Fi is always slower than a wired connection. 40mb sounds about right.

Now that's weird. Using mobile data my download speeds are a ridiculous 1,7 Mb\s. Upload however shows 3,3 Mb/s. I need to move from this god forsaken place where my house is :)

I'm finding that the network speed test results are highly inaccurate. I have yet to hit speeds above 10 Mbps, while on Microsoft's own app I'm getting speeds in the 20-30 Mbps consistently.

Network speed test to me. Free, no adds. Beautiful too.

Doesnt work lol. Speedtest.net is the Better than This But This app looks Better than speedtest.net app

Microsoft's Network Speed Test does the job and it's free.

Bought the app cause it looked good... But its results are way, way off.
But Im a Browns fan, I have no choice but to support an underdog. *buries brow*

+1 for fellow tortured Browns fan.

Although the interface is interesting the test results are inaccurate and at the end of the day that's what is important right? Fromt the same phone sitting on my desk: Speed Checker: 10.26/d - 3.24/u
Speedtest.net: 33.49/d - 12.70/u Your mileage may vary depending on the servers that these services pick out for you but for my money I have noticed that ookla has a much better testing network.

Does anyone have a problem of songs duplicating them selves and does anyone know a solution

SpeedChecker locked up on me each time. I uninstalled, not impressed

I've had this app for a while. I've always liked its look.

Works fine for me, looks good too

I prefer the app Network Speed Test

I am quite surprised reading these comments. I was going to comment on how smooth and great this UI is on this application. I have only used it to test on WiFi so idk if maybe it will hang if I try and test LTE. But for 2 weeks now this became my number 1 speed test app, love the transitions in the UI and only 1MB of memory, very impressive coding. Some work on the backend on the service is needed it seems.

I'm using Nokia Lumina 920 and it doesn't work on EE 4G but works fine on WiFi
Windows Central Newsletter
Get the best of Windows Central in in your inbox, every day!
Thank you for signing up to Windows Central. You will receive a verification email shortly.
There was a problem. Please refresh the page and try again.