Spider-Man Unlimited slings onto Windows Phone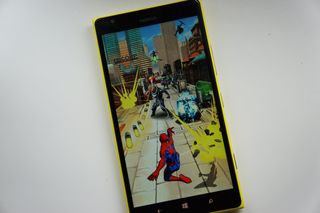 Itching for some Spidey action? Wait no longer, as Spider-Man Unlimited is now available for Windows Phone. The endless runner is based on the comics, so there are plenty of villains for you to combat. This is the first free Spider-Man game from Gameloft, and the studio has indicated that new characters will be released in a timely fashion.
Here's what you're getting in the game:
The first Spider-Man web-runner! Swing, run and fight through chaotic Manhattan in over 5 different Marvel environments!
Go beyond a runner with unique gameplay! Battle dimensional super villains, swing, wall-climb and skydive!
Play story mode with 5 boss battles and 25 missions per Issue! New daily events with spectacular rewards in Event mode! Or climb up the leaderboards in Unlimited mode!
A continuing episodic adventure: The Sinister Six are moving from dimension to dimension – and our world is next! But it ends now… with an army of Spider-Men!
Dive into an extensive Marvel Universe spanning over 50 years of Spider-Man with iconic characters, including multiple variations of each villain, as well as Nick Fury, Mary Jane, and Black Cat!
Written with an experienced Spider-Man comic writer to ensure a faithful recreation of the Spider-Man Comics!
Summon, collect and play with tons of Spider-Man cards from the Marvel Universe, including Spider-Man Noir, Cosmic Spider-Man, and Scarlet Spider!
Collect, fuse, and level up your Spider-Men, each with their own unique in-game benefits, and send them on Spidey Ops missions!
The game itself is free, although there are in-app purchases. Also, if you're on the HTC 8X, you won't be able to install the game. We don't know why this is the case, but we'll let you know once we know more.
Compatibility issues?
As the game has just gone live, some users have not been able to download it yet. Give your phone a few hours or even a day, and hopefully the Store will update to allow the game to be downloaded in your region.
Let us know when you're able to download the game.
Thanks everyone for sending this in!
Damn.. No support for 512 MB

Even the 930 with 2GB of RAM isn't supported either xD

maybe it isn't available in your region

What is it with everybody going 'wtf'??? :P I've come across 20-30 posts like that and all of em look the same...i could write a template for it
"Not supporting my lumia xxx 1 GB?? Wtf???"
Hahaha!

Template this. It-th does-th not-th seemeth to be-ith availableth on-ith my-ith 925-ith!

Not supported on 920
Works on 1520

Ugh... First endless runner that actually looks cool to me, not available on 512 :(

Won't install on Nokia Icon either. Flagship, my balls.

Same here on my 925, my region is set to the U.S.

I have downloaded the game today and i'm now playing... My phone is a Nokia Lumia 925, region set to Brazil.

Wonder why my 925 can't download it too.

Modern combat 5 on my 920 no prob but not even available for 930? What's going on with this shit?

You are not alone. I can't install MC5 on my 930 either. I heard somewhere that Gameloft hasn't supported the Lumia 930 yet. I don't know why.

That's weird I have MC5 on my 930

If you delete it you wont find it in the store again. Some downloaded it early before gameloft did whatever it did. Not big on gaming in a phone so no biggy just weird that not available for a flagship. Thinking maybe cyan or dp update 1 have something to do with it. Bah humbug

If you look for Modern Combat 5 in store now, you'll see that it's no longer available.

Everything looks normal here in my L925. I coud download and play the game normaly.. Screenshots: https://onedrive.live.com/?cid=83D164CC84508D39&id=83D164CC84508D39%2156... https://onedrive.live.com/?cid=83D164CC84508D39&id=83D164CC84508D39%2156...

Sounds like poor optimisation again, nothing wrong with the phone. Gameloft have a history of releasing poorly optimised Spiderman games.

I am manually downloading it on my pc and will attempt an installation. Anyone else try that?

Its not the phone's fault. They didnt optimized it.

I don't know why but I laughed really hard at that. Like wake my wife up loud

I can download it now on my Icon.

So does spider-man end up with Gwenn Stacy or Mary Jane? Or who did he really love the most. Spider-man a player.

Please someone tell lol xD

Comics- green goblin killed Gwen by throwing her off a building. Apparently really loved her. Married Mary years later. No player has ever worn spandex

No shit? Anyone else verify..

Technically doesn't Spider-man kill her? GG threw her off the bridge, Spider-man tried to save her, but the way she snaps back up after SM webs her leg causes her neck to snap.

Peter and Mary Jane's love was undone by the devil. No, really. This happened in the main Marvel Universe comic books.

QR Code is not Working(I think the top box is cropped). Can U put a new one :)

No love for 8X ? no Cortana now no Spider-Man (sad panda)

Also not available to download here in Philippines using Lumia 920

I can't download it it's not available for my Lumia 820 what's wrong!!

I think it's a bug that it's not supporting certain phones unless there's an issue with the developer preview. I'm on a Lumia 920 and it's a no go for me.

This app is not available for your device. - Lumia 930 UK Dev Preview 8.10.14157.200

Not available for 820 in India,US or Philippines

Does't support HTC 8x ??? I have 920s Nokia WTF ?

what no 512 MB supported.... feeling sad now

I am also not able to download it... Region is US... Why is this happening :(

It's not available also on the 925 :/

Doesn't work on 920, mysterious.

I also can't download it on my Lumia 920 (US region) with Cyan firmware and developer preview update 1

I am not allowed to install on l920

Doesn't work on 930 Ireland.

Appears this Spidey game is about as useless as the last Spidey movie...

one more game with no 512 mb support... oh god when the universal apps will become reality? tired of this

Some people are tired of the ppl that chose a budget device with 512mb ram complaining everytime its not supported. You get what you pay for... Just like everything else. Seriously deal with it. Tired.... gmab

Some 512 Mb phones are mid range devices which people paid 300$ like lumia 720.Thats why people complain.not all 512 Mb ram are cheap end phones beaf that in mind.

Lol good one bro. That why I have an icon some good shit

Not available Australia Samsung ativ S dev preview 8.1 update 1

Strange, I'm able to dload from the US Store, install and play on my 1020. Please bear in mind, there will be an additional download within the game at the early stage (just like Despicable Minion Rush), or else you can't proceed after the tutorials etc. So, get to a wifi area to save data.

According to Storage Sense: Total: 560.89 MB Install: 177.07 MB (this hasn't changed) Data: 383.82 MB (this is after the in-game update, which took a long time, even on LTE)

The game is available for my L1020 too. I'm on WP8.1 with Cyan, region set to US.

Do have developer preview ??

I am @WP8.1 Update on 1020 and yes its very smooth too. No joke

Psss 512 Mb not supported All hail 525

Not available on my Lumia 925.

Lumia Icon here. Why can't I download this?

Has anybody been able to successfully run the game?

Yes, I am able to play it. Eventhough I'm from Malaysia, but I set my region to US and everything downloaded and installed perfectly. Screenshot: http://i.imgur.com/8MFeDsl.jpg

WP 8.1.1 DP region US, Lumia 1320 not US. It's amazing.

This time you view the sad 512mb ram not supported...

That awkward moment when you see that "512MB not supported" banner. :p

Haha yeah, well, you say fair enough..! ^^ At least it's not like Android you download one that you're phone can't handle, it lags a lot and you end up deleting it and cursing the Android and the devs.

822 not working either on dev preview

To the 30 people complaining it's not available for their device/region, as always, new apps take some time to be available for everyone, just give it a couple of minutes or hours and it'll be available for you.

Not supported for lumia 525
What the fuck

Watch your language, please.

Not at all fine. A little civility never hurt anyone. You might want to try that going forward.

Crap !! Not for my 520 zz

Where does it work anyway? :D

Can't download..LOL.. L920 + dev preview.

Im on a 930 in the UK and it wont download... Not on Dev preview either. Oops!

Can't download..... Wtf!!!! Lumia 525 windows phone 8.1....... Why??

Not working in my 820 either... May be Gameloft launched it for Lumia XXX phones running on Threshold!!! :P

Glad there is a WP game. Been reading Spider-Man comics for approx 20 years now.. Downloading the game now on my 1020.

It works on Lumia 1020 (Germany, Cyan + Developer Preview).
Nice game, nice runner variation :)

512 mb Ram devices are skipping slowly slowly..WTF

Is the game available for any Lumia??

If it can't be downloaded, then wats the point in releasing the game

It takes some time for a new app to be available worldwide. All the servers need to be updated with the new app. Give it a couple of minutes/hours and it'll get to you. It's always like that with new apps.

Lumia 525, India..can't download! WTH!? >_

Not available for Lumia 820 in India :/

Cannot download either. Lumia 920 user with Lumia Cyan and Update 1

Not supported on my 3310? WTF... That's it I've had enough, wah wah wah :'(

One of Best endless runners loving it on my 1520

I already played this game for more than an hour, all worked well only for the first time. The game says you can play It offline, when I am offline, this game crashes, when I am online, the game is totally unresponsive. Gameloft has embarrassed me once again, for those who are excited, try out this buggy game, all the best. I have 1320 & this game is available in India, not for 820,525. I don't know why!

Can't get it on my Lumia 930 :(

plzz make it available for 512mb ram too..

After going through all the comments, the only one succeeding in download/install/play are those with L1020. What kind of a bug is this? Lol. Anyway, such a battery killer this game. Worse than Despicable Minions Rush.

Nah.. Also available for 1520 and 1320

Won't let me install on my 820 or the gf's 930

Not available for Lumia 920 in India. It says not available.

Its better change that as:
This title doesn't supports 512 MB devices and Lumia 820, 920, 930 (even it has 1GB or plus RAM)

Or better yet.. Editted: Exclusive only for Lumia 1020, 1520, and 1320.

seems only for 1020 and 1520

hey I can't download this game on my Lumia 820 in India

It's decent on my Lumia 1520 but that's it..

I trust that Gameloft will optimise it for 512MB RAM devices, no?

Same here in 525 i will play all the games bt only spidrr man is nt run

Downloading it right now in my 1020. Let´s see if this game is fun to play. Cheers, Tom

I have 1320, still got this buggy game, not exclusively for 1020

Lumia 820 Region US not available for me also.

My L1520 is downloading now! Posted via the WPC App for Android!

You having 1520 and you posted comment from android??? Confusing -_-

I think game is not working for non cyan devices with dp.

You think wrong then. It works on my 1020 without Cyan.

ohh I love my 1520 so much. my 620 can rest in peace now.

Lumia 920 not supported either

I think shit happens only for WP HaHaHaHa........

Not available in store,(India)

Its available in India for my 1320, but this game has lot of bugs

AoE castle siege pls, spider man is the worst franchise ever

No support for 512 mb!!! COOL so em going to miss it :(

Hey guys for playing games we wp users have to have x box console or ps 3 or at least a cheap android device like Moto g.Am having Moto g so no problems.

So keep your mouth shut up

Can't download, not available, on my Ativ Odyssey. Wtf?

Give your phone some rest as it has just launched. Check back after a few hours. You'll be able to download it.

Aw come on...512 mb not supported??!! Why they doing this to us ???? :'(

In Romania , it's don't available

Not available for Lumia 525 in India

Available on 1020 and 1520 and 830

yeaayyyyy .... no 512 ram oops :(:(:(:(

Not available for my 620. But it helped me to understand something new in the Store. Store is showing why it is not available. Earlier, specific reason was not shown. Did anyone notice the NEW dialogue box showing 1GB RAM required ???

Ouch!!! 512mb not supported!

Same here in my 920. I guess its a bug. Hope they fix it soon

It Installed on my AT&T L1520, but not my backup L920

Is there any regional and time zone settings to download it. Please inform guys

can't install on my Lumia 820 , region Serbia. . .

This title does not SUPPORTS? WPC App for Android- Lenovo IdeaTab A3000

I just woke up, unplugged my phone (100% battery) and changed the region to US. After the reset, my battery went down to 34%. Wtf is that?! Btw, still couldn't manage to download it... 925 here.

I am using Lumia 525.. It shows does not support my device....

Not available for 928. Oh well. Life goes on.

Playing on my 1520 but when it asked me my age I think I decided I am probably too old to play this as it it involves a lot of running around, at my age I prefer more sedate action :-) Bob

Un-installed all ready, not my type of game at all. Although I have to admit it did work on my 1520 in the UK. Bob

I really dig endless runners. Hopefully this one will be available soon for me...

I played a couple of levels and i think this one is more slow-paced than the average endless runner (like minion rush or subway surfers). Not laggy, just not as fast

But will they update it to make available for more devices? At least more phones with 1gb ram?

I wonder if no one is able to download This game then who the fuck rated .
its showing two person rated this.

Pls add this game for 512 Mb mobiles

Guys this is ridiculous, I have two WP (620 and 930) and I cannot run it on any. Same situation is with AC:Pirates. Poor Microsoft...

It's not even Microsoft fault

Not compatible with Samsung Ativ S.

I can't download it.. Please somebody help may be it's not available for India.. Can anybody confirm.. I'm using Lumia 525 in India..

Now I have no regretion that it does not support 512 mb device. P.S: Lumia icon failed and hope MS will release a new model only for running this game. MS LOGIC

I already install this on my Lumia 1020 (8.1), and this just okay... not the best..

+1020, I agree, great for my 5 year old though

Guys ? Setting region to us wont change anything . Gameloft is a French developer you know that right ? Just saying

Not available to download to 930 in my region.CZ

Hmm. Don't know I tried 7 or 8 different regions and then it worked somehow ( btw not available in Germany yet )

What region was working? I'll try somehow to switch it.

Which region did it work in?

Can't download on Lumia 525

512 Mb devices unsopprted