Spotify App on Windows Phone 8 missing in action but on its way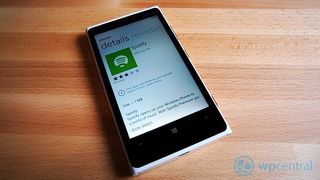 Those of you who have just purchased a new Windows Phone 8 device might have noted that there are some gaps with regards to apps. Previously available apps are not showing in the marketplace and are in need of an update. One such app is the high profile Spotify offering.
The app was a long time coming on Windows Phone 7 and many subscribers rely on it greatly to get their mobile music fix. Even with the advent of Xbox Music and competing services like Rdio, Spotify still offers up a compelling selection, especially for those with specialist music tastes.
We approached Spotify to seek clarification on the future of the Windows Phone app and were pleased to get a response within almost minutes of launching the request. The good news is that they are "working on a Windows Phone 8 Spotify app and to watch this space".
We're obviously really pleased they are continuing to develop for Windows Phone and hope that the new app makes use of the new features of the platform. We hope that there isn't too much of a wait. If you have moved over to Windows Phone 8 recently then we'd suggest checking out Xbox Music or Rdio in the meantime to see if that will fill your needs. The question does remain as to why such a high profile app on the platform is missing in action at the very launch. As soon as we get any more information from Spotify we'll pass it on.
We have also noticed that the web app store is not showing Spotify at the moment but it is still possible to search from a WP7 device and grab the app from there. We're unsure if this is a sign of the app being hidden in lieu of an update or just web store oddities.
You can download both Rdio and Spotify (Windows Phone 7.x) from the Windows Phone Store
Windows Central Newsletter
Get the best of Windows Central in your inbox, every day!
Rotten Apple in every bunch

Any news regarding a windows 8 version of spotify?

Ummmmm.... Did you even read the article?

Windows 8. Not Windows Phone 8. Did you even read his question? ;)

http://www.spotify.com/us/desktop-splash/?utm_source=spotify&utm_medium=web&utm_campaign=start
Install spotify just like you do on windows 7.

They are referring to a metro app.

Very sloppy from Spotify, that this is not available at launch time. WP8 and the SDK have been announced for months, and still they announce in their foruns that this will be ready soon, Q1 2013, which can mean anything from 1 month of wait to 4 months. Lots of people voicing their discontent and cancelling their premium accounts http://community.spotify.com/t5/Mobile-Windows-Phones-Blackberry/Spotify...

SDK wasn't available until the end of October - and I'm not sure that Microsoft would provide early access to Spotify, seeing as they are competitors now.

I switched to Xbox Music from Spotify because of this

I think you'll like Xbox music better than Spotify... I'm much happier..

really? im trying xbox music as an alternative....but cant seem to find a way to make playlists on the fly(which you could in spotify on ios)....unless you dont mind adding one or all songs from an album to a playlist..and no others.
think its poor of spotify not to even provide an ETA for their new win8 mobile app though:(

I have been a premium member with Spotify for over 4 years and have been very pleased with their service, since purchasing Windows 8 I have kept my spotify subscription but also subscribed to Xbox Music as Their catalogue is far bigger.
That said however I have cancelled my subsrcription today for the following reason, continuously Xbox albums fail to download completely resulting in several tracks only playable for about 2 minutes even though they state they are 3 to 4 minutes. Although Spotify has gone dark several times throughout my subscription I have never had an issue with subscribed albums.

I can't find Photosynth on the app sotre either. WTF?


I cancelled my spotify and moved to Xbox Music when I discovered this. Same features Same Price + built into my Xbox. I am happy so far.

How do you create playlists with XBOX Music to be synced with Windows Phone 8? I cannot find a way to do it...if I use Windows Media Player, it will not sync XBOX Music Pass songs...

Quit my spotify because of this bad app for wp7

the spotify app for wp7 has been trash, and its been neglected since its release. i didnt expect anything when wp8 came out. ive been happy with the zune pass for long time now.

I need a decent spotify app--integrates into my sonos as well so I don't want to switch to xbox music.

I ended up just getting Xbox Music. It has been working brilliantly for me :)

Spotify are loosing a lot of customers over this, check out all the rants at the forum http://community.spotify.com/t5/Mobile-Windows-Phones-Blackberry/Spotify-on-Windows-Phone-8-alternatives/td-p/184114/page/6. I would move to xbox music but a) we have Sonus and b) we have a macbook.

And when I say a lot, I mean probably a few!

If you want spotify to wp8, spotify directs you to add kudos on this page. So do it, I have :)

http://community.spotify.com/t5/Spotify-Ideas/Windows-Phone-8/idi-p/195372

I'm going to move my Spotify playlists to deezer and cancel. There's a few applications that let you transfer from Spotify to deezer.

Spotify app now available for WP8 .