Spotify Now will build custom playlists around your day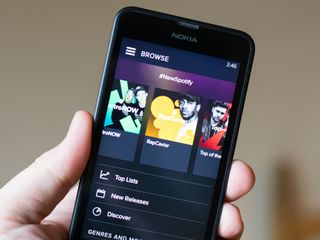 Spotify has introduced a number of new features that help tailor the music your music listening to different parts of your day. The new Now section will serve up playlists tailored to activities and times of the day, like the early morning, for your commute, or when you go to bed.
From Spotify:
Spotify is also introducing Spotify Running, which will match your music to your pace as you run. When you start your run, the app will automatically detect your pace, and play music to match it across multiple genres.
Moving beyond music, Spotify is also expanding into video and podcasts. You'll be able to play video clips in entertainment and news from several outlets, including ABC, ESPN, BBC, and Comedy Central. Spotify will also learn what you like, and make recommendations for new videos or podcasts. They are also teaming with partners to create original music and videos specifically for Spotify.
Spotify Now is currently only rolling out now to iPhone users in the US, UK, Germany, and Sweden, though it will arrive in more countries and on more platforms, including Windows, soon.
Source: Spotify
Windows Central Newsletter
Get the best of Windows Central in in your inbox, every day!
Just make a better WP app

Current one is kinda laggy and takes a good amount of time to load on my 830

Spotify on Windows phone is great! Kudos to Spotify for their great work whit the app!:D

Great? What are you talking about? Laggy, sometimes doesn't even start, doesn't load my playlists, and the UI is the copy of the IOS app. Yeah, great work...

I have never had some trouble whit Spotify. It just works! Always

I mean it works but I know trying to open the app to find songs will take forever and it is laggy when in the app sometimes. Not bad but noticeable and annoying sometimes

Spotify works greatly for me. I have no issues whatsoever with it. I love it!

Sure it does. But as good as the iOS and Android version? No.

The UI looks the same across Windows Phone, iOS and Android..

Its nice, but yeah a notch slow.

Just this morning I wished I got money for every crash. Within 10 minutes it only crashed 7 times and just stopped working... -.-

How about adding Connect eh? I pay for their service, I have the right to get all features. Sick of this half arsed app of them.

I find the app works great, but they are REALLY slow bringing new features to it :-/ Connect being the most wanted.

Yeah right now I think Connect is the only big thing they still need to add. That and a huge amount of performance fixes (It may run great on your device, but it does not on a lot of other ones). If they'd do these things, I would instantly stop complaining about this app and be grateful we actually have it. Right now, I just can't ignore the fact that I get less value for my money

I have no issues with the app...works great on my 1520 and my little 620 too! Laggy? Not in my experience.

You're at the wrong place. iMore is somewere else.

I couldn't tell you about what it is on iphone since I don't use it. But on my Windows Phone, its the best. I like it better than Pandora and I never thought anything could beat it, especially Spotify.

I don't get it. Who on WindowsCentral would care about an iOS app update? Move to iMore please...next time..

Hasn't Songza been doing this since their inception???

Has songza updated their app? I miss it!

Spotify just keeps deleting my offline downloaded playlists... Yes it needs an update :)

Had that too once. I think it has something to do with switching from offline and online. Can't tell for sure though

Spotify absolutely sucks, don't know why people buy into this crap.

Yeah, we should all go back to casette tapes... /s It's the best streaming music service, they just need to update their WP app more often.

If you don't like it for some reason that's fine, but the app is great no matter what.

Can someone explain why the friggin app needs to reload now and then after being minimized for X amount of time? Opening the app returns me to the main screen. Is it something with the OS to make it easier for crappy low-end phones? I'm rocking a Lumia 930 and the Spotify app sucks compared to the iOS and Android version.

Will stick with Deezer till MixRadio comes back.

Still can't use without premium acc in Turkey.

Does anyone have problems with Bluetooth? When I pls Spotify in my car it breaks up over Bluetooth all the time. If I put Spotify in offline mode it works perfectly. Really annoying.

In recent past Adidas Go (iPhone app) excatly did "Spotify Running" job. Adidas Go will get spotify playlist and change tracks on user pace. Now Spotify makes more easy.

I have no issues on my Nokia 1020. Works great!

Sorry to ask why it is not available in India??
Windows Central Newsletter
Thank you for signing up to Windows Central. You will receive a verification email shortly.
There was a problem. Please refresh the page and try again.