Don't go stargazing this summer without Star Walk for Windows Phone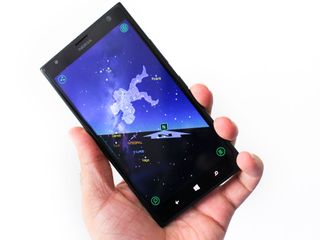 Escape the ordinary and head out into the wilderness, just don't forget your Windows Phone. You're going to want to pick up Star Walk for Windows Phone the next time you plan to do some star gazing. While it's fun just to look at the stars and make a wish here and there, why not elevate your knowledge of all these celestial bodies? Star Walk for Windows Phone is a must have app for star gazing.
Living in southern California I don't get as many opportunities as I'd like to really see the stars. The light pollution here is pretty insane, which means a quick drive to either Yosemite or Joshua Tree is needed to really appreciate the stars. I'll take any excuse to get outside and Star Walk is a pretty good excuse.
Star Walk is an interactive astronomy guide that gives insight into the constellations, planets, stars, nebulas, galaxies and more. It's been a very popular app on Android and iOS, we're glad to see it available to Windows Phone owners.
Here's what you get and can do with Star Walk on Windows Phone:
Get started quickly
Launch the app and point your device at the night sky, you'll see the stars, planets, satellites, and constellations in their proper place for your location. As you move your device, the star map updates in real time. The Moon is the easiest first target.
Tap Augmented Reality icon in the upper right corner to add the image from your camera to your sky view.
Use Night Mode to go easy on your eyes and preserve night vision when exploring the Universe.
Go deeper and beyond
Every star, planet, constellation, or deep space object, such as nebulae and galaxies, has an (i) next to its name. Tap it to access information.
A scale on right is the Time Machine, slide it to explore the map of the night sky of tomorrow or years ago.
Star Walk has data on over 9000 man-made satellites. Track their flight across the sky, be it day or night, catch iridium flares.
Meteor showers are spectacular yearly events. Star Walk can help you plan ahead and locate the meteor shower on the night sky.
Share your experience
Post pictures from your virtual planetarium and let your friends learn about the night sky. Astronomy has never been so engaging!
We've been playing with Star Walk for a few weeks and really like it. It's not a bad app for anyone at all interested in the night sky. With summer around the corner, you'll probably want to pick this app up – especially if you have a phone with the large display, like the Lumia 1520. This app can make family camping trips a little more educational.
You can manually control the viewing angle of the night sky within Star Walk or just point your phone to the sky and learn what you're looking at. You can manually type in the name of a celestial body to use your phone to hunt it down. Truly a stellar app.
Star Walk is available without a trial in the Windows Phone Store. It'll set you back $2.49.
Stargaze often? Sound off in the comments with your favorite spot to catch the stars!
Get the Windows Central Newsletter
All the latest news, reviews, and guides for Windows and Xbox diehards.