Starbucks plans to launch its Windows Phone U.S. app by early May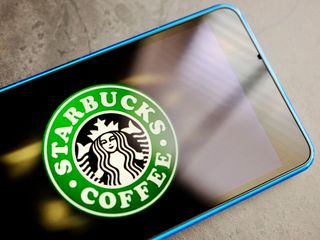 Starbucks has indeed confirmed that it will be launching an app for Windows Phone, and presumably Windows 10 Mobile devices, in the U.S. soon. Its president and chief operating officer Kevin Johnson stated this week that the app should launch "within 30 to 45 days", which puts the app on target for a late April or early May release date.
Geekwire reports:
No other details about the app were revealed, but it's possible we will learn more at Microsoft's Build 2016 developer conference in San Francisco next week. In the past, the Seattle-based Starbucks has been reluctant to release an app for U.S. users and the article even references a Windows Central forum post from June 2015, where a reader was told by a company customer service rep:
However, that attitude may have changed thanks to Johnson, who worked at Microsoft from 1992 to 2008, including some time as the president of its Windows and Online Services division. Johnson was named as president and COO of Starbucks in January 2015 and it's more than possible that his influence finally got the company to work with their Microsoft neighbors in Redmond on an official Windows Phone app.
Haha....MS is very good at sending Trojan horse. :-)

LOL maybe that's how Win 10 wins in the future. Just get someone hired within every company and develop an app. Microsoft actually spends nothing haha

Cue Kamesh in 3...2...1... Come on, say something "witty"!

And discontinue it by late 2016? Now at days I am not surprised by app launches, but I am surprised by long time support.

And around that time they will release the app to the rest of the world as well, just in time to discontinue it!!?!

Makes sense with the timing. They are about to launch a redone app next month. I have it on my iPhone and its a pretty nifty app. Glad to see it coming to WP (officially). I actually like my iPhone, but defitnetly miss WP and hoping to come back to a good amount of official apps and great hardware once I am on the market for a new phone

You and others returning will only help the momentum. I hope for our sake you still use your Windows device from time to time. Load those apps, beta test that software. Be the change you want to see in the world. Oh and follow your heart and other such sayings.

Nice balanced opinion. I like iPhones too, I wouldn't own one personally, but I know a lot of people that swear by them. I'm definitely a WP guy, but I honestly respect people's preference for a different platform if they have checked out what Windows Phone has to offer before making their choice.

Anyone here beta testing this app on a Windows device?

As a Starbucks user, this is great for me. Sent using Windows Central for Windows 10 on my Lumia 1520

Why do these Starbucks app article keep mentioning a US app but nothing for UK and other markets? The quote isn't market specific...

There are Starbucks apps already for Mexico and Russia. Starbucks operates regionally as autonomous companies, so no, it is not clear that this will also be for the UK as well.

except Canadian Starbucks share the same sytem as US one, except card Balnce shown as CAD, but you can also login with Canadian Account to US site or use CAD card in US starbucks or Vice Versa.

If they are smart they would release a mobile, tablets and PC version of this app to broaden their market

"Windows phone" app, are you referring to 8.1 app? Or both 8.1 and 10 and it wont be universal.

When in UK? Posted from Windows Central for Windows 10 Mobile

I recently delivered a large terriyaki order to Starbucks world headquarters after hours. When I learned that the group meeting was the tech group, I mentioned my desire for a WP app. To my surprise, the group manager did confirm that they were working on one. Unfortunately, now that my life sucks and I deliver food for a living, I can't afford to go to Starbucks anymore. Sigh.

Finally, and looking forward to it. I've been pestering them for quite some time now, ever since MyBucks stopped working.

I think it might work for Canadian too, since Canadian Starbucsk use same or slightly modified system as the US ones, and you can login US site with canadian starbucks account. My account actually have USD card and CAD cards, and I can use them all in both sides of the border too.

Sweet! Will download as soon as it's available! Posted from Windows Central for Windows 10
Using the Alcatel OneTouch Fierce XL for Windows 10

I'm not really a big fan of Starbucks but I'm glad to see they are launching an app. Maybe this will give DD a kick in the behind to release a WP app.

If anyone for now is looking for a app that helps you pay for stuff latte locator. It does not count the stars for you or let you load your card. But does let you pay the stuff.

Late April or Early May is almost here...hmmm Posted from Windows Central for Windows 10
Using the Alcatel OneTouch Fierce XL for Windows 10

Any word yet on this app? Posted from Windows Central for Windows 10
Using the Alcatel OneTouch Fierce XL for Windows 10 (Redstone)

So, is this still happening?

Would like to know the same...
Windows Central Newsletter
Get the best of Windows Central in in your inbox, every day!
Thank you for signing up to Windows Central. You will receive a verification email shortly.
There was a problem. Please refresh the page and try again.