Stephen Hawking to headline keynote at Microsoft's Future Decoded event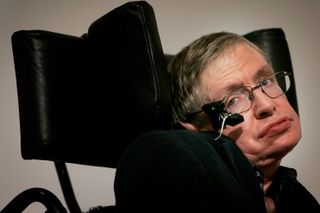 Microsoft has announced (opens in new tab) that professor Stephen Hawking will be present during the company's Future Decoded event at the start of November. What's more is the physicist will be a keynote speaker and deliver the closing speech on day one of Future Decoded. Microsoft's two-day event will be hosted at the ExCeL Center in London on November 1 and 2.
Future Decoded will feature the UK's first developer session of HoloLens, the rather expensive headset that has now gone on sale in six markets, the UK included. As well as world-renowned Stephen Hawking, those who opt to attend at the start of November will hear speeches by:
Martine Wright — a 7/7 survivor and Paralympic athlete
Chris Messina — Developer Experience Lead at Uber
Chris Bishop — Scientist and Lab Director at Microsoft Research
Mike Bugeme — Chief Analytics Officer at JustGiving
Toni Townes-Whitley — Corporate Vice-President for the Worldwide Public Sector at Microsoft
Avi Reichental — Chief Executive of XponentialWorks
You can register for tickets as-of-now and find more details about the event, sessions that will be available, its location and how to get there on the official Future Decoded website (opens in new tab).
Rich Edmonds is Senior Editor of PC hardware at Windows Central, covering everything related to PC components and NAS. He's been involved in technology for more than a decade and knows a thing or two about the magic inside a PC chassis. You can follow him over on Twitter at @RichEdmonds.
Even he can't save Microsoft anymore if they don't bring clarity about mobile.

Ridiculous comment is ridiculous on many levels. Not least because Stephen Hawking >>>>>> Any phone

I wish people would stop bringing mobile into every conversation. Microsoft covers a massive array of software and hardware and this is about new technology, what developers can do with it and most likely what those who have disabilities can do with it. It's beyond rude to constantly bring in these sorts of off-topic comments and complaints.

You lack the same vision as Nadella. I will tell you this, the failing mobile business will resonate across all Microsoft products and services. It might take a while, but in 10-20 years you will see the effects.

I'm pretty sure she never argued against that. Just that the comment was wildly off topic, which it is

This site is built on foundations of mobile, a tech blog's success is measured by its followers, majority of whom are still only mobile fans and are hugely dissapointed with MS and hence these kind of comments. WC has moved on but seems some of its users have not.

Not so sure about majority. Vocal they are though, and up to a point, they have a valid reason. Just that folks, like our friend Adams here, only come here to spout negativity and hyperbolies

I guess you're short sighted cos Microsoft offer lots in products and services, windows and office dominates their sectors and nothing can take that away from them, surface, Xbox, azure are strong competitors in their sectors too. So think before making stupid comments. Even Apple have so many failed or failing products. The only thing unique about them is iPhone, iPad is not unique anymore and their desktop is still 4% or less Market share.

Lol 10-20 years..?? Man, you lack "vision" then if you think that the current era of smartphones will still have an impact then...We are already thinking about shifts in tech within the next couple of years and Microsoft already trying to lead us there...

You should know that most of us are from the windows phone central times. So we have that inclination to bring in mobile when commenting on this site

Look, I've been around since the Windows Phone Central days too and I'm not entirely satisfied with how Microsoft is handling mobile but that doesn't make it alright to bring it into every single article. The state of mobile has now turned into a hammer that people use to bludgeon the authors and other readers with every time there is good news in other parts of Microsoft-land. Unkind is putting it lightly and obnoxious is starting to sound like an understatement for this kind of behavior.

It's going to be a huge blow when this great man goes into the quadrant beyond, but regardless of how we feel about science, this man must be shown great respect not just for his brilliance but also for what he's contributed to science and physics. I wish I could be there to watch him give his keynote

This is both awesome and heart breaking. I'm going to day 2 :(

Same here. Can't get to day 1 without a warp drive or transporter!

Interesting! Looking forward to hearing him!

awesome!!! two treats at once
Windows Central Newsletter
Thank you for signing up to Windows Central. You will receive a verification email shortly.
There was a problem. Please refresh the page and try again.