STIML brings first live tile currency converter to Marketplace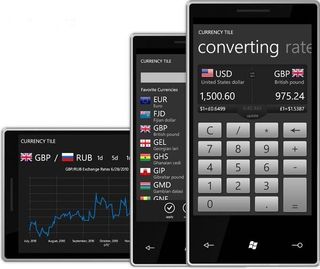 Tired of those embarrassing moments holding your hand out to the Parisian street vendor, eagerly expecting more change back for your Nutella crepe, only to find that the exchange rate on your currency calculator is wrong? Sigh no more. STIML (Smart Technologies In Modern Life) has created the first WP7 currency calculator with live tile updates so you can avoid such an international disaster.
Currency Tile receives live updates of exchange rates for over 150 currencies without having to run the application itself. Aside from the built-in calculator, it also offers graphs of past exchange rates for 1-day, 5-days, 1-month, 3-months, 6-months, 1-year and 5-years. Currency Tile also supports Yahoo data source.
Full features include:
Live Tile currencies rates
Currency Charts with both landscape and portrait orientations
150 currencies from around the world
Easy-to-use interface
Built-in convenient calculator
Favorite currencies
Regional format support
Source: STIML; via: 1800PocketPC
Windows Central Newsletter
Get the best of Windows Central in your inbox, every day!