Subway Surfers bumped for New York City World Tour on Windows Phone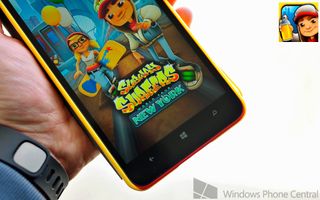 Another month and another update for the popular endless runner Subway Surfers. And no, this one too does not have 512 MB RAM support, so you can stop reading if that is what you want to know.
Instead, users today can head to the Store to update their Subway Surfers game to version 1.2, which includes the new New York City 'World Tour' theme. Previous world tour themes included Seoul, Miami and the Christmas theme (Mumbai was skipped due to timing with the other platforms).
Granted, this is just a re-skinning of the app, resulting in some Shamrocks appearing on walls in anticipation of St. Patrick's day, more power lines, brick buildings and a cop wearing NYC blues. Likewise, you can now collect little Statue of Liberties for weekly contests, in addition to unlocking new boards or characters.
Subway Surfers 'World Tour' thing is a bit of a gimmick, but it's one we like. It keeps the game fresh and even throws you off a bit, due to the altered backgrounds. Plus, the weekly challenges and contests give you something to work towards.
No word still on 512 MB RAM support, as that looks like something that might not be happening after all. Still, never say never. For now though, you'll need 1 GB of RAM or more to play the free Subway Surfers.
Pick up 1.2 of Subway Surfers: New York City, World Tour, here in the Store.
Thanks, Sumit P., for the tip
Windows Central Newsletter
Get the best of Windows Central in in your inbox, every day!
Daniel Rubino is the Editor-in-chief of Windows Central, head reviewer, podcast co-host, and analyst. He has been covering Microsoft since 2007 when this site was called WMExperts (and later Windows Phone Central). His interests include Windows, laptops, next-gen computing, and for some reason, watches. Before all this tech stuff, he worked on a Ph.D. in linguistics, watched people sleep (for medical purposes!), and ran the projectors at movie theaters because it was fun.
Still one of my top games I play everyday.

Seriously? :O The only mobile games I like are gameloft ones, (which aren't really phone games honestly). No 512 RAM support is a little disappointing though.

subway surfer now available on 512 devices

I would've said something like this about an year or so back, when i used to play it on my bro's tab :-P

YES THIS IS ONE IF THE BEST DAYS OF MY LIFE I FREAKING LOVE NEW YORK YEAHHHHH!

IMO, the best endless runner is Space Heads.

I like space heads. The music is catchy.

IT SEEMS LIKE NEWYORK UPDATE WAS EARLIER THERE EVEN ..!!!AND NOW ITS AGAIN BACK. DEVS ARE OUT OF NEW LOCATIONS..!!

Same like me, play it eveyday..
I like subway surfers more than the others because easy to control and I don't like tilt control. :p

@Daniel What type of watch on your wrist

Maybe a Fitbit, but mine says it just above the clasp so maybe not!

ME too Daniel. Me too. :D

WhatsApp beta updated to 2.11.390
it no longer crashes when loading old messages
Edit: app crashes after background change
no other problem
wont crash after sending multiple images

Sick of wp now no hope until 8.1

I love this game. Hopefully things will change with the achievement situation and they get added (and enhance the experience for me).

I'm giving up on Windows Phone games...

Look at it this way: Windows Phone gets updated the same day as iOS and Android for the same game. Parity, in that regard, is welcomed.

Daniel, why does this 30mb game not run on 512 Mb devices? If I remember correctly the limit is 80mb, right? There's nothing in the game that warrants more than 80mb!

Look at this halo spartan a high end game works on 512 mb ram so these games would definitely work... Its the developer and their engine

I get code optimization etc but why won't a game that's just 30mbs to download not run with 80 Mb ram space. Even if engines poor, code base is devoid of practices.. 30mb setup should logically run on 80mb free space. I know setup files are zip compressed but I still have my doubts is uncompressed pack is 80mb

That's the thing blame it to developers then they are not ready to port or lazy to port.... Ex : Halo Spartans... :)

Good luck running the latest games on that.

The X will run this game atrociously, with lag,crashing all the time BUT it will still RUN it. Posted via the WPC App for Android!

Not able to update Lumia 920 india

I'm having trouble updating as well, 925 US

Blame Unity and MS for that. I'm pretty sure that the developer did what he could to optimize this game.

They probably didn't try hard enough. Unity + MS and there's Space Heads, same genre that can run smoothly on 512MB devices.

The problem is with ported games, not with games made from scratch...

Of course. Users of windows phone treat developers like a monkey

Brace yourselves, no 512mb ram comments are coming

I like Kiloo as they keep updating the game unlike Imangi Studios who is still struggling to solve the graphics issue Temple Run 2 has for L1320 and L525. Once again we might hear a hue and cry for no 512 MB support. Guys I don't think its ever gonna come. I would suggest saving up some bucks and getting a 1GB RAM phone if possible.

Well, you asked for it! So sad that there ain't no 512 MB RAM support yet!

As much as I hate to say it but i think alot of the Lumia 512 MB ram owners might switch to dare I say it ..... The x family.i wont want to....

Wouldn't it get more downloads with 512 ram support? I think there are more 512 models out there compared to 1gb.

Yes, but then they have to make the game look worse.

Who would care, as Long as lower spec devices supported that game Or any other

Subway sufers is on my sister's android with 512 ram... Lags n crashes.. So on android its already looking worse.

It's because it's an android phone, we all know requirements for that green trash bin are different

Cracked XAP works on L520, so why not support it from the developer ? D:

Playing happily with no lag on my 720..the loading screen just take a bit long that's it..i don't wanna sideload but have no other choice

I know like i said, it's working fine no lags
but why won't he/they make it available for 512!

Stop breakin our hearts sayin that there's no support for 512 ram phones.. Please developer and ms do something.

Doesn't matter, we 512mb guys have the STIG now!!

Will it ever support 512mb ram?

I honestly don't get the appeal of this game. A friend showed it to me on his Android phone more than a year ago and I just thought it looked eh. Also, as a native of the NYC area, it kinda disturbs me that the premise of this game is to go surfing in the subway tracks. You do NOT want to attempt something like that anywhere, especially in NYC. Back when I was a kid, there was a boy in my class in junior high who crossed the tracks and actually lost his legs after getting hit by a train. :-O

I agree. As somone who works with experimental jetpacks, it horrifies me to see a game where someone might pick up one of our machine gun jetpacks (which I really shouldn't talk about since it is still experimental) and glide through our office killing many of my scientist coworkers. Thank god we have defense rockets and laser beams to stop anyone from doing it.

Need help guys not able to update tried reinstalling it.i lost all my coins shit full of bug.

Oops I was trying to reply you asking to restart your phone to get the update but wpcentral crashed thrice, hope so you haven't lost much of coins and progress.

Not able to update on my 1320 in India.

Restart your phone. It will.

Thanks prateek it worked why the hell it needs reboot.

Call a Waabulance for me, no 512 support for my 521!

Can someone tell me why a 30mb game doesn't run on 512 Mb devices? If I remember correctly the limit is 80mb, right?

The 512mb limit is RAM,not storage lol Posted via the WPC App for Android!

God is giving Lemons to 512 Mb devices !!

Game is running like a champ on my $179 Moto G.Poor 512mb users. Posted via the WPC App for Android!

Running, running games, boring

Prateek thanks man it worked why the hell it needed reboot.

It happens with every subway surfers update. Seems it takes a bit time for the update to actually show up at the store.

@Daniel why do you keep on teasing us?I'd really like to hear SS now supports 512 mb ram devices..

Updated and loving it. +920 India

Daniel, are you still wearing your Fitbit Force in that photo? You're supposed to send that back in for the recall, haha!

still no suport for 512 mb ram... missing both ss and tr2... the people r laughing at us nw.... os without ss tr2 which r nearly 2 years old games.... #feelingverybad

Please give it a update for the 512 RAM plzzzz i beg you ........ It will boost up the game on windows phone too :)

Try minion rush aha! Better, cuter.

London one was great, and I'd like to get that BACK. Miami was ok-ish Korea was dismal. I know its supposed to be same game, but didn't feel that way.

This article is proof that WP app system sucks!
Specially for 512MB devices.

LOL keep whining. enjoying it every bit.

Playing since day one ....

In the current scenario 512mb vs 1gb is like comparing Android gingerbread and kitkat Posted via the WPC App for Android!

I love how on-schedule they update the game for WP. Good for them

I find this baffling. If the game doesn't support devices with 512 MB of RAM their target audience is ridiculously tiny! The developer possibly isn't making any money out of the Windows Phone platform.

What now Rubino? What about u saying that it was coming for 512mb devices in a few weeks when the game was launched... I don't want any answers from wpc or wp fan girls...

That was a quote from Microsoft lead Joe Belfiore. Get your facts straight.

Windows phone are waste...

Ok im getting dissapointes in the launch of the game it said the in a couple of weeks subwayaurfers would be available in 512mb ram where is it waiting 520

Everytime 512mb devices don't get osum games. For Android games come on both 512mb devices and 1gb devices.

Bloody game...still no 512 MB support

LOL at the losers whining about no 512 MB support. LOL get a better phone LOL!

LOL at you, a ridiculous jerk with no intelligence. LOL get a life LOL!

looks like subway surfer is the most sought after game in india..hell lot of comments frm india pouring in!!!

Im addicted to subway surfers!!!;D

520,620,625,720. The Best selling. The Most forgotten. Oh.. 512mb RAM.... * Esspecially 620 which till today, no sign for black coming. * :'((

LOL!! L620 Still not get black update im L520 get black update in same time with L920...
I played subway surfers on my L520 by sideloading. Hahaha. LOL!!

Still no support for 512 ram devices

funny how these low graphics game like subway surfer and temple run 2 doesn't work in 512 MB devices and temple run 1 keeps on crashing after running 4000m in 512 MB devices while better graphics games like Asphalt 8 has no issue in 512 MB devices

I'm Starting to get an ominous feeling that SS may never be released to 512mb ram devices

You fucking ass holes, i had not bought the fucking lumia 520 for this day,why aren't you giving the 512 mb support,those mother fucker android phones are able to play it on 512 mb ram , why don't you fucking idiots....

Cool! I love this game! :)

Really Frustrating, I ve got one of the Best WP ever made. LUMIA 520 - The Most Successful Variant till date yet Subway Surfers didnt set foot on my device. Man, why is that?? Even Low Memory Andro Phones have this game. Why not us??

Subway fuckers why no 512mb support ?

Awesome, no WP7? Im over for this OS.

I use 820 n not able to update since many days i get notification of update but when i click update it vanishes. Plz help . M still on Miami level . I even restarted n tried as someone said here in cmnts but of no help . Plz sme smart brain lt me hw hw cn i update.ashking2@hotmail.com

Hi, I use an 925 and cant syncronize with Facebook. Any sugestions?

Hello, Surfing the web, I found this version of Subway Surfers that is compatible with 512 MB ​​RAM Devices. Link here: http://www.windowsphone.com/es-es/store/app/subway-surfers/5d8106fb-b0c3-4707-b178-994b577cc1b4 I welcome your comments. Best regards.

avaialbe on 512 Mb devices.

it has been deleted from store..not official game from kiloo..made by developer GAMEO now it has been deleted.

I have the actual 512 ram version from kiloo

Not available for 512 ram devices from kiloo
Windows Central Newsletter
Thank you for signing up to Windows Central. You will receive a verification email shortly.
There was a problem. Please refresh the page and try again.