Subway Surfers Paris update is now live with the highly anticipated 512MB RAM support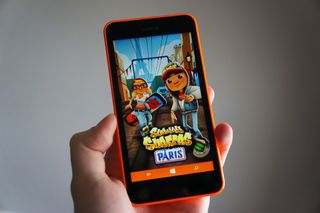 Just as we covered the other day, Subway Surfers has been updated with the Paris content patch. But that's not all as the developer has also implemented the highly anticipated 512MB RAM support for those with low-end Windows Phones.
To remind you all as to what's new in this latest release, here's a quick changelog:
The Subway Surfers World Tour visits France
Take Coco, the lovable mime, for a surf in the stunning metro of Paris
Zap from side to side on the new sci-fi Teleporter board
Add colour and style to your collection with new Outfits for Coco and Prince K
Let us know how much you're enjoying Subway Surfers on your Windows Phone in the comments..
Thanks to everyone who tipped us!
Windows Central Newsletter
Get the best of Windows Central in your inbox, every day!
Rich Edmonds was formerly a Senior Editor of PC hardware at Windows Central, covering everything related to PC components and NAS. He's been involved in technology for more than a decade and knows a thing or two about the magic inside a PC chassis. You can follow him on Twitter at @RichEdmonds.
This game lags too much on my 920, it's ridiculous. The 920 has equal if not better internals than the 4s yet it runs perfect on the 4s but they don't bother optimizing for wp... So annoying...

Maybe you should reset your phone and see if it still happens

A lot has changed in this game in couple of months...

You should be glad that the developers actually wanted to create a 512 MB version.. Oh god the people today..

512MB RAM users rejoice. But imho it came out way too late and bu now a handful of people wouldn't even be bothered or have just lost their anxienty about the game.

Ohh finally the wait ends..

This request was in the Windows Phone Suggestion Box. Glad the developers were able to accommodate it.

Better late than nothing...

Install it But wont play it . :p

It better to late than never. At least I was waiting for it.. Finally it comes..

Very late. Ain't downloading it

I guess they should make 15 for wp now.

Nice devs. Thanx! Now is this game way better than temple run? What's all the hype about?

Y aren't they making more exciting with more hurdles and other stuff. Just fucking changing theme everytime. Kiloo devs are really gone case. I want a game like sunset overdrive on Windows phone

If you want a game like that, maybe become a developer then :P.

Or change to a better mobile OS.

Long waited ss came but still no signs of WP8.1 rollout.july 2nd week is going to end.....

If they won't bring the update today in 5 hours, then this week 'over'

Do your weeks end on Friday and start again on Saturday? Lol. There are 4 / 3 days before it becomes 14 days...

When Subway Surfers was released for WP? 8/9 months ago??

It was originally released for Windows phone devices with 1GB ram in the month of December..i think it was 21st or 22nd of December.

512 Mb support came too late

Come on.... lets play the lagging game!!!

It's not very smooth, I guess

They have fucked the game. They fucked the graphics for 512 MB ram. Such a stupid company u are kiloo

Absolutely right.. Not worthy download.. Its a cap, total cap

I dont care now. Had a lumia 620 now upgraded to lumia 925. So now ram is not an issue for me any more. Still would love to try it on my lumia 620

Not yet in WP store India.

It is available now.. Check it..

Just downloaded it...the graphics seems to have been scaled down...doesn't look as good as it used to. esp on 1520

My son will be super excited for the 512 support

still not good....freezes a lot and graphics look awful....

Open very slow on 520. Hangs a lot, skipping frame many times..not a worthy download.

Thanks microsoft thanks kiloo

Well the 512 MB users will stop complaining ....

wow wow wow. Commentors here are mad rude. The developers didn't HAVE to accommodate the 512RAM devices but now Kiloo is a bad company because they did? They've been giving the windows phone version of this game continual updates keeping us right in line with android/ios counterparts. We rarely have that in the windows phone space. No need to be ingrates. Come on people, we're better than that. And to whomever asked, yes this game is more fun than temple run

I'm with you. I have a 520, and I am so tired of this 'too late' thing.

Gamers being gamers. Most shameful group you could associate with.

Agree with you 100%. People must learn that they are not the centre of the world and not everyone will listen to their BS... They should be glad that Killo did a 512 MB SS..

I download this just for seeing its icon appears on my App List

What shit I cant see the game in stores

Well, then do what I did: Join in your WP browser(Opera for me), look at your PC and just write the letters and numbers you see( Sorry if you did not understand me, english is not my native language)

Wow that's awesome news. My favorite news of the month from Wpcentral.. Victory..

It is such a mediocre game that I have no idea why it become a huge hit. I remember a Zombie Runaway game for Bada platform, it was more of a challenge, with faster acceleration of a hero, with lot more unlockables without micropayments. Guess mobile game making was more fun than it is novadays. Sad.

thanks very much but we need all games to be work in 512

It is very laggy after 3-4 minutes of play

Finally the wait is over..!!

Great Job WP DEVELOPERS.....

Reading through the comments, it looks like people wanted a cake but now they have got the cake (albeit late), which has been thrown out the window in a spoilt brat tantrum lol. Seriously just because you don't care doesn't mean the entire world's population shares the same feelings. First world problems lol. Admittedly it is late but better late than never, also if you expected to have lush graphics and smooth gameplay but use to next to nothing in resources. Than there is nothing more to say as you cant teach common sense. There are those who are picking up they first budget smartphone, who would be able to play this. So be happy!.

+625. Don't know about others but I was waiting desperately.

Absurd!! There is a limit for waiting,, it seems like being a WP user, gotta be a WAIT lover ;-)

It gets stuck and the movement is breaking, hope they look into it!

The game hangs very much.idk why dafuq is that? Releasing so late and still very buggy.

Here comes the subway surfers finally.... Downloading start

Hi wpcentral :) can you tell us when candy crush will come yo wp8 ? on google its mentioned that the game will come at end of Q14. But even the June has gone !

it's late! but I'll still download...

No thanks
I already quit playing game on WP.
Very disappointing

Download for support only!

We sent a lot of email to Kiloo Games for 512 Mb. And finally, We are playing Subway Surfers on our 512 Mb Lumia phones. I want to cry...

However; Kiloo Games, No thanks for you. We waited about a year!

I feel game develooers are doing favor on us who have a 512mb ram phones... First tr2 n now subway... These games are already outdated... I wish to throw my fone in the face of MS people

Meanwhile, I downloaded it and after five minutes I deleted it. I agree @anirban130 these games are already outdated. They are not enjoyable.

And yea, I agree with the fact that these games are outdated now. Endless runners are getting kinda boring now..

Finally.... the craze for this game little bit lags but still one of the best Runner games in the market. :)

Lagging too much on Lumia 620...need to fix it...

Lagging like crazy... They didn't optimise the game at all...just removed the ram restrictions and made it available to all.. TR2 is way better T_T

'Too late, too late'. Guys, if you want it, play it, if you don't, nobody cares about your opinion. I'm so sick of this 'too late' thing.

too late, too late, too laatee :3

too late, too late, too laggyy :3

Thats good but needs to update Jetpack Joyride, frustrated with JetpackJoyride Windows Phone version....

Way tooo late...just like Oscar's goal..

this new 512MB RAM support just fucked the game up... they should release 2 versions or at least enable the option in settings... its like playing on very low settings... just total crap

Now I can play in my Lumia 520

But when I play on Android it was better

This game starts on my gf's Lumia 520, loads and then crashes. Are there others with this issue?

Yes. Everyone who plays on their GF's mobile lol.

I have a L820. I'm ok. She's not.

I also have 520 the first 2 hours of being downloaded it works well but then it crash, it close,it stay in the same image ,also it don't load

Lagging too much..even than cloned version from 3rd party is a way better than this

Played it only shortly but I thought it ran *much* smoother on 512MB than Minion Rush. Admitted, that may very well be the most laggy WP app there is.

Ya u are right...minion rush was having more lags than subway surfers

After the major update, though. Before that it was quite smooth.

Ya I agree with ur point,,,previous version was far better than the updated one.girls are less addicted to games...i haven't seen any girl playing minion rush...u r d first 1...plz keep ur addiction alive .bye

Shouldn't you thank Kiloo instead of Microsoft?

I have thanked Microsoft becoz Microsoft is concentrating on development of gr8 games & apps and they are investing lots of money for dat.

Finally here...better late than never....Thanks devs for your continued support !! But please make it as less laggy as possible & please do consider releasing more games, possibly in sync with the other OS'.

I don't know,I like minion rush more

So they required about 7 months to optimize a game to run on a 512MB phone!!!!!!!!

Try out Space heads http://www.windowsphone.com/en-us/store/app/space-heads/53fa4746-0929-4b77-877e-54d1fb521013 Nice graphics, sound, runs smooth.

finally took them ages to release this game for devices with 512m ram, when will these companies realise phones with 512m ram are more important to them than the high end devices if they want more people to play their games !!

It's too laggy man I doesn't like this on my phone

Not running smoothly on my Lumia 620, freezing several times, and launching slow

Great! It's not like I'm extremely tired of this game by now...

Would rather see a 512mb version of Order and Chaos

Shit it was and shit still it is. Temple run 2 is the best and runs smoothly on my 520.

Hangs on startups sometimes and even crashes while playing . I would recommend Temple Run 2 as it works smoothly on all 512 RAM Devices

I installed Subway Surfers on my L630, but it's quite buggy and hangs a lot. IMO the same game when run on an Android device having 512MB RAM is smoother. However, since this is the first update of Subway Surfers compatible for 512MB WP devices, these problems can be overlooked and hopefully, they are rectified in future updates.

Laggy, Buggy, sleepy on my 720

Really nice game and. pls add candy crush saga for my lumia 720

Nice game it works smooth on my L520, now waiting for the 8.1 & cyan update eagerly, microsoft, nokia &devs thnx a lot,it's getting better&better day by day like a wine!

The new Teleporter surf board with Special Powers does not do anything for you at all. The name Teleporter suggests that you could perhaps switch two lanes sideways even when there is an obstacle in the middle lane. That would have been really cool and would justify the 220.000 coins that you need to collect for purchasing this new surf board. Unfortunately it is just an ordinary board with a high price tag and no special powers at all.

Too laggy, unplayable, programmers messed up with optimization... Uninstall... You have games with much better graphics and which are more complex and demanding workin smooth on 512mb devices...

I wanna developer kiloo please update subway surfers can be save from cloud like asphalt 8 despicable me minion rush; My talking tom