Subway Surfers to finally receive 512MB RAM support in upcoming Paris update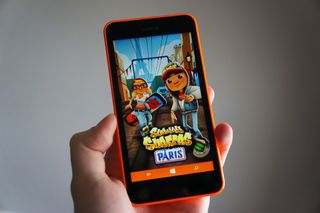 We've got some fantastic news for those who own Windows Phones with only 512MB of RAM and wish to play Subway Surfers. Since the game was released, consumers have cried out for low-end hardware support and the developer has taken note. Joe Belfiore previously confirmed that said support is on the way and today we've learned that Subway Surfers will be compatible with 512MB of RAM in the next update, which will take players through Paris as part of the World Tour.
As touched on above, the streets of Paris is where the crew will be travelling to next. As well as the new area and lower hardware requirements, new colorful outfits for Coco and Prince K will be available, alongside new powerup awards and a sci-fi Teleporter board. It's a neat move by the developer, Kiloo, who has shown strong support for Microsoft's mobile platform with a steady stream of content patches (keeping the title up-to-date with the iOS and Android counterparts).
We'll let you all know once the update goes live for Windows Phone, which should be within the next few days.
Rich Edmonds is Senior Editor of PC hardware at Windows Central, covering everything related to PC components and NAS. He's been involved in technology for more than a decade and knows a thing or two about the magic inside a PC chassis. You can follow him over on Twitter at @RichEdmonds.
Yay this is cool. Hopefully it will run crisp and smooth

Don't know if I should be interested or sarcastic lol

Got bored with the game already... Sorry developers you are too late..

I agree man. This shit is wayyyyy too old.
And after seeing temple run 2 with 512MB ram, I am sure it will hang

Actually TR2 doesn't on my 520. It is flawless.

Temple Run 2 never hangs one my L520..

Yeah... It doesn't lags on 525 too... But subway... It lags like hell.. And lagging is worse in 8.1 developers preview...

Maybe you have it installed on the SD card

@nelsonecm..... Even I thought so... But it's working is same in phone memory also...

Temple Run 2 works very well in 512 MB devices. It never hangs on my L630.


Same. I have got a L630 and TR2 works very well, If SS works just as good, I will be very happy.

Waiting for the next two weeks when users will complain about the game being dumb and boring "all this wait for ... this?".

Why you gotta be so rude?

Don't you know I'm a gamer too?

Don't matter what they say

I dont need it any more i purchased lumia 925 cause for ram issue on my lumia 620. But still happy to see developers are working.

Subway surfer..... People still play this game?

my girlfriend still playing this game :p

I might again for just one day...and thn

yeah, finally, I've been waiting for ages

Yeah.. I grew 20 year old waiting for this game... :P

That's the problem with WP atm, a popular game always comes reeeaaaalllllyyyy late.., even after its hype with iPhones and androids.

I've uninstalled the game months ago. But good to see it coming for low ram devices. :)

Lol wat was d reason for yr comment.....

Nice question... But i guess he has no answer :P

Possibly try to lot same config for 525. Many devs don't realise its low end and just throw in configs meant for 820 and above

But I've already played and uninstalled that game 3 months ago in my lumia 520 with 512 Mbs of RAM because of infinite lags'.

That wasn't the official game, it was a port and was eventually removed for its stability issues.

My 620 didn't showed a single lag... It was better than temple run 2 which was optimised for low Ram devices....

It didn't lag often. But uninstalled it after I got bored.

YES YES A MILLION TIMES YES

It might be too late for people who have been on Windows Phone for a while but it won't be too late for new customers trying out Windows Phone for the first time. So this is actually good news for the platform.

Will download, play and delete it

I lost interest in this shit a long time ago

Umm okay, will install it just to see the lag. Edit: Instead of Skype update we got this one, oh okay.

"We are listening to our costumers" Microsoft said and updated Skype for iPhone users...

I don't understand what's wrong with MS??? Why don't they care for their own customers?

Neither do I. I believe Belfiore (or it was someone else) once said that is a way much easier to develop apps for other platforms than for WP. But that's not reason to abandon your own platform.

Thats a lie and you know it!

They care about the people that generate money. Not their problem when you dont generate enough money for them. Did you ever buy Skype balance for example?

Just if you live at home with your parents and dont know how the world works

I do not think it is a really wise decision to buy Skype credits and use it on WP .. oh dear. I live separate far(very) from my parents and have stable job. Yet i prefer to buy apps and games where 3rd party devs really put their brains.

They indeed listening. Wether they want to execute(with haste) or not is another problem.

Skype for WP was updated a little over a week ago loser.

Do you realize it is not even par with the one on Android and iOS. If you mean loser is that, then yes. The Skype team also not put the update log in the details, on overview. If maybe you missed that.

And did it fix anything? No! It still lags. Loser!

Same here, will check whether there is any lag or not... Not interested in playing this game at all...

Great timing, now the hype for the game is over lol

I don't play this game any more its kind of boring...and more over NO XBOX ...NO KILOO...#SAVEXBOXWP

Hallelujah!! AB Go next?? :P

Joe tweeted this weeks ago and now....
Don't care anymore. Anyway, still happy for the whiners

Good great to see the 512 support...but where the hell is wp8.1 :angry: msindia twitter is fooling us..was announced to rollout this week...2days before date changed to summer...todays tweet update available for Finland others will get in summer... :mad:

They dint mean the Indian summer. Use your brain bro

US summer is towards its ending and fall would start next month

Duh! Finally.. Thank you for listening, Kiloo.

512MB users care? or you mean nobody cares to comment?

Games are joke on mobile operating system. Better buying a console or a playing pc game. Ppl choose android Xbox it has games. So dumb.

Agree with you,
Mobile operating system games are only for time pass when you're travelling or getting bore waiting for someone... So for this purpose low end games are Ok... Like Hill Climb Racing and Reaper etc...

Well at least I don't care about this old game anymore.

How about Fifa 2014 with 512MB RAM support?


Yes, its coming soon.
LOL
:p

They should do this ! U r right !

You give them finger and they snatch your hand

No one cares now!(same goes for BBM)

I waiting for BBM. Yes i know i am sad, thank you.

I'm waiting for BBM too. Posted via Windows Phone Central App

I am very happy that WP app gap is closing with Android and iOS and I think BBM will also release in the next few days as Subway Surfers.......

Subway surfers and bbm ! Voh it's like a surprise !

And now we wait for FIFA14 for 512mb Devices

if Asphalt 8 can run on 512 MB devices so can fifa 2014...


I read the live tile "subway surfer finally......." And i know what the full title is.

"... no longer of any relevance!" Did you mean that?

Still no support for 512MB devices.

FINALLY..
But DEVELOPERS u guys r late.. :S

It will hang and skip frames as temple run 2... I m sure

What's with all the negativity? GTFO Android trolls.

There might be some reduction in quality, else it will lag as I m sure it will.

Well, that's a good news for the platform but I don't know how to feel :P

Hey Rich Edmonds... Are u happy for the people who have a 512 mb RAM that got to have Subway Surfers?

Twitter got updated finally...

Not interest anymore... U r too late developers.

Yeeeeaaaaaah!!! I don't care.... I want GTASA :P

You will never get it on 512 mb RAM. It can't even run on desktop with just 512 mb RAM.

It can be sideloaded from "other" places and it works on L520... (on low graphics setting)

Thank God... Finally its coming...

Glad this is finally happening, but it came quite late. I'll play it, but not as much as I would have, say, a few months ago.

Finally some good news for my friend using a 520

Still no support for 256mb Typed up on a Lumia 420 with WP Mango

This proves that candy crush saga is coming soon before 2018.

That's good news for my 520 device. Even tho I mainly use my 925 all the time. I still got a 520 which will soon be a 635 as my secondary so... I do like subway surfers too.

I already have subway surfers New york on my lumia 720, though its very buggy :P

Kinda lost interest. But will be a boost for new buyers who are looking to move to wp.

I don't really need it I bought L1520 and didn't download it's old now

now i can die in peace :')

NEED I REMIND YOU it's local save only. DOES NOT SUPPORT APP DATA BACKUP!

I believe they lost a lot of players to other endless runners cause of this inexplicable delay! The whole app download is 35Mb and they cant get it to run in 80!!!

Too late, it's not fun to play anymore.

Yes,i too believe it would hang

Commodore 64 programmers were smart. Not wasting system resources. Now days we are using too much. 1gb ram on subway surfers is stupid.

They had to. All the Commodore 64 were same RAM size

I had removed Subway Surfers but re-downloaded a month ago after setting up new 1520. Much improved! I particularly like the weekly ranking system, 3rd in the world for three weeks running! Still somewhat choppy and drops frames on my 1020, seriously affecting game play.

Some comments are really irrelevant ya know, why don't you save your energy and time rather than commenting with "Do people still play this game?" and other comments of that manner? I mean, what do you hope should happen if the game bores you now? Do you expect it to be removed or not be optimized for low ram devices just because it bores you now? I mean c'mon people, the comment section is constantly filled with trash-talkers who don't really raise some valuable points .. And by the way, it's great to see Subway Surfers making its way to Low RAM devices, now a vast majority will get to enjoy the game :)

Lol, the very reason why I posted. My explanation is that for most people,the comments are stream of consciousness, emotional responses. Forum responses appear to be more thoughtful. I don't begrudge the right to post moderator approved comments. But for those "too late don't play" people, think of this: you're the same as the people who said, "Office on the iPad why, no one uses it anymore! Google Apps! Free Office"

At last we would be getting this game. When is the release date??

Good news for Windows phone(512Mb Ram )

Good news. I love this game and I'm looking forward to playing it in my Lumia 630.

And the Paris update's gonna be released in 2 years. Haha :3

Hahaha you are right " itzdannyv" lol

i'm doing a campaign to bring the game DeadTrigger for WP. Please Transfer: "@MADFINGERGames #deadtriggerforwp"

Yes, we need games from Madfinger

Hi try out my new game at http://matchit.azurewebsites.net/

When exactly is it gonna get released?

Plz give me the Paris update urgent

I was just curious does anyone know how to apply cheats on this store version of subway surfers cause I use to play with cheats through windowsphonehub.in tutorial until official 512mb release
Windows Central Newsletter
Get the best of Windows Central in in your inbox, every day!
Thank you for signing up to Windows Central. You will receive a verification email shortly.
There was a problem. Please refresh the page and try again.