Subway Surfers 512MB RAM support well on the way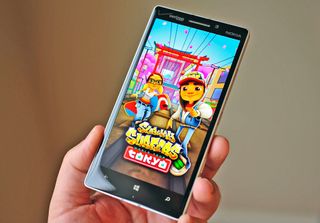 Joe Belfiore took to Twitter this morning to reveal some details about upcoming updates to Windows Phone 8.1 and certain high profile apps, including Subway Surfers. The news for this popular title is the highly anticipated 512MB RAM support for more affordable hardware with less memory than premium counterparts.
Improvements are currently in development and we can expect to see an update released soon that will contain changes to enable 512MB support, according to Belfiore's tweet stating that "512MB SS coming". We can't see what else SS could stand for, other than Subway Surfers, and we know just how badly everyone wants it added.
Subway Surfers was recently refreshed with Tokyo as the latest area to be added in. For the time being, everything in Subway Surfers has to be enjoyed on a Windows Phone with at least 1GB of RAM, but hopefully that'll soon change now that we know support is planned.
Source: Twitter (@JoeBelfiore); thanks, Rushab, for the tip!
Rich Edmonds is Senior Editor of PC hardware at Windows Central, covering everything related to PC components and NAS. He's been involved in technology for more than a decade and knows a thing or two about the magic inside a PC chassis. You can follow him over on Twitter at @RichEdmonds.
Will definitely download, but wont be playing.

Hahaha will download nd play once ...!!! They should nw come up with a successor to the game instead of updating with different skins only
Or multiplayer with something unique function....!!! :)

Cancel that game we don't need that game now. No one is dying for that game now the days of that game is over

U r correct I hate that game

I bet you'll download it as soon as u know its available for 51b devices.

If it's available for 51 byte devices , i will be the first one to download :)

Little b (b) stands for bit, big b (B) stands for byte. :)

Hmm, never heard of 51 byte devices :O :D

Seems slower.... I still prefer Minion Rush. But its a good news as long as those Androdies would give one less reason not to choose Windows Phone and good for the whinners too...

I also prefer minion rush and rail rush. But minion rush has some problems its not getting installed after 94% still im the game

Is it happening while you're trying to update? Coz it happened with me too. Then I completely uninstalled the game, set "phone memory" to install my new apps and games, then downloaded it again. It worked fine after that.

minion rush has got very less fps!!!just play a windows 8 store version of it on your laptop..then you will get to knw the true awesomness of this game!!i donno how it runs on 1 gb devices but i m pretty sure it wud b having the same issue!!

That's right. I works way better in my lappy but its still playable in my phone. The game is actually, thoroughly detailed with detailed background elements and graphics, unlike temple run or subway surfers. So I can consider the performance ;) But yes, I guess it must work better in 1gb ram devices...

But minion rush is very laggy on my 620

Yaa it is laggy on my Lumia 520 too.
And moreover I uninstalled it cause it take around 1gb of my storage.

its the same on every mobile platform..it has got less fps!!

It works fine in my 720. But only if I keep it in internal (phone) memory. The moment I move it to SD card (thinking to save some space), it lags like hell... Loading takes around a minute then the game lags every now and then, it doesn't crashes at all though.

Could it be because you are using a lower class microSD Card? Have you tried it out using a Class 10 microSD card? I would love to hear some feedback on the performance of games installed in a Class 10 microSD

I haven't tried minion rush but Temple Run 2, Temple run Brave, Monsters University, Subway Surfers and The Amazing Spiderman works perfectly on Lumia 620 using a Sandisk Class 10 microSD...

Is temple run brave available for 512 devices?

games performance increases when you move to class 10 sd card! Much better than the phone memory. Using lumia 720 with san disk 16gb ultra

I installed temple run 2 on my UHS-1 memory card in lumia 620.Which is by the way more laggy than minion rush ,but ahh! it moves like jagger.

I have also same problem. I don't know why it is downloading additional files after 51 mb ,file size should be extended and should be install and play system.

Its too late, don't want to play it anyway

Was a time! A simple game like SS requires 1gb? Seriously?! Shame of this dammits devs.

And it doesn't even run properly on L525.... Lags all the time...!!!!!

Already enjoying it on my 720(sideloaded) .. Well..its good that its officially supported..dont know why it took so long .. Guess it's better late than never. . . But those days where every one used to play subway surfers r long gone ..

Side-note: still no candy crush,pet rescue saga,clash of clans and plants vs zombies 2 ?? I wont be needing my s5 if I have these

who needs clash of clans when you have cloud raiders? it's so much better and it's getting regular updates and support! We'll work on surpassing the WPCentral team there soon :D

Actually, every single game has a really nice alternative in WP store, if not better and they're usually from indie developers. But the problem is "masses and marketing". We can't let them down from game enquiries. For example, there are girls in my neighbours who won't get a WP just because it doesn't have Candy Crush. C'mon there are tons of better alternatives but then you know...

send those gals to my place!!

You'll probably play Subway Surfers with them, I am sure you will have alot of fun in the tunnel xD

This is not the site to discuss these things. You can visit windowsphonehub.in to learn...

SS can be screenshot also :D

true lol :D Posted via Windows Phone Central App

Screenshot on 512mb ram .. It's already there ..:p

No screenshots on 512MB RAM sporting hardware? Blasphemy! :-P

Everything comes last for 512MB :D
Actually one of my friend didn't know that he can even take screenshots on his 520, recently I had to tell him.

Could be, but chances are slim as it's nothing to do with 512mb... :)

Please bring Top Eleven be a football Manager..badly needed

Haha! Yeah, that's the dream! :P

Xd will never happen.Even android's 512mb ram phones don't support it.

Actually 512 MB Android phones support all the games, and they run pretty smoothly.
iPhone 4s (which has 512 MB Ram, and 800 MHz Dual-Core processor) runs all the games that WP 512 MB Ram phones don't. Hell even games that don't run smoothly on 1GB Ram phones, runs smoothly and without any lag on iPhone 4s.
Even iPhone 3GS (which have pathetic 256 MB Ram & 600 MHz Single Core processor) run games like TR2 & SS smoothly.
That being said, but Windows Phone 8.1 now gives 404 MB Ram for apps, which is enough to run games like Fifa 14, that is if developers properly optimize it.

iPhones are made by Apple. The company that makes its OS as well. That's, they can very precisely choose how the hardware should tackle with the apps and games. Unlike Nokia / Microsoft till now.
That's right, proper optimization can make almost everything possible.

I don't need this old game.
Rather prefer minion rush,its wastage of data.

Is it always the same person spamming this request over all the unrelated topics? Why does anyone care about this? Don't we have enough message platforms?

may be he lives in canada or may be hez frm crackberry.com!!

As u know bbm is very common on android and ios and windows is far behind in developing this app.

100% sure you don't even use BBM, yet you are just ranting about it. If you just wanna show off, there are plenty of apps that can be shown off to iOS and Android users ;) Take SongArc for example ;)

please give us kazooloo app

Now here comes some good news... :)

Plz say yes, daughter loves that game... +525

Talking about games, Microsoft should seal a deal with KING ( candy crush, etc, etc) personally I don't like those games, but windows phone platform need this type of games.. Maybe after eventually KING come to WP, other developers will follow..

If I was the head of WP, I'd definitely turn down companies who previously refused to make app for WP, that is assuming WP has gotten around 35% market share

SS can be Shit Storm too :3

LOL!!! But I think its definitely Subway Surfers after so much hassle about it everywhere

I will definitely download it, without a doubt

I'm happy with Temple run 2 working flawlessly on my 520, but I won't mind this either.

19 June .its coming to 512 Mb ram

I am using Subway Surf on my Lumia 520 since a long time :D

Unlock your device and install subway surfers xap using app deployer :)

Even 1gb ram phones cannot even play it well with some lags and crashes

We d love some good & free video editing apps and folder locking apps instead of such dumb games!!

Most of the games heats up my 920 so fast, (10 min fr Asphalt 8), but its not the case in android phones(seen on note 2 and moto x). Is it because they got quad core processor?? if so, hows 1520's performance?

It has nothing to do with our phones, it is probably because most of the apps are poorly coded for WP.

Getting some heating issues on this Samsung, but then its a refurb insurance job, the original handled games well without much heating.
I'm guessing there's an issue with whatever heatspreader they applied to it.
Hear that issue quite a bit with various devices. Manufacturing issue.

Another example of an app that will take advantage of WP8.1 improved efficiency and reduced memory requirement. Great news and sign of things to come more broadly.

Me buy 4Gb DDR3 memoly stick to play SS on me fone but me no know how to fit on me phone. People elp me and bbm!!!

I sincerely hope you're not being serious here...

Of course I'm not being serious

My guess is they missed the boat, bigtime.
Responding to age old hype on a game people are over already.
Hardly gonna get kids showing off SS to they're friends who have already played it to death on ios etc.
Guess its a bit of extra income for a dying game though.

Actually always when belfiore tweets like watsapp, files, update coming soon it will be coming next day.. I want this one to happen tomorrow my exam is finished tomorrow so i will pick it tomorrow if it comes to Lumia 620 looking for it

Thanks to WP awesome games , I already stopped playing games on smartphone.
So, No thanks!

I need Dead Trigger, 9 innings, homerun durby, Stick cricket games to windows phone. Will i have to wait or move on with back to android?

Skype is a microsoft service it should be integrated to wp8.1 as facebook was in wp8 without the need of app. Still no update and no integration of skype with dialer. But microsoft is taking care of apple ios. Why???

It's simple. Apple has more market share, which means more users..

Too late but still welcomed

He also stated windows phone 8.1 sw.!! what does that mean?

I hope the support for 512 MB ram will not be laggy like Minion Rush. Damn that game lags on my Lumia 520.

Playing it on Lumia 525 damn addictive!

I love minion rush.... No lags on my Lumia 520 :) :D

If I want a game now is Hayday !!
All android users are enjoying it !!
But we windows users are still stuck on subway surfers !! Shame on you Microsoft. !!

Why Mic try to do something like this, Ram 512mb like Iphone but cannot run anything normal, WP come after but it doesn;t make any better. What are you thinking Micro$oft, we, all WP members want to know, why you don't develop your OS good enough before you release. Now i understand why all WP devices have 3 years up to date. I love Nokia, but i didn't like what you have done. Lumia 720 !

There are more player in 512 ram than 1 Gb

And... What about Gamelofts games like "mass effect", FIFA, etc.. (?).. I will always have the same question.. "How can be possible that 512mb devices run games like "Six Guns" or "Asphalt 8" but not that ones :c

Minion Rush is better than Subway Surfer.... :P

any idea of when subway surfers is coming out for the 512mb windows phone devices its taking forever :(
Windows Central Newsletter
Get the best of Windows Central in in your inbox, every day!
Thank you for signing up to Windows Central. You will receive a verification email shortly.
There was a problem. Please refresh the page and try again.