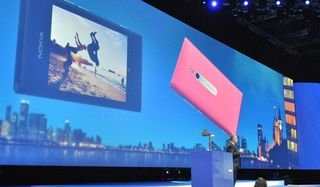 As one could have guessed from our ranting and raving about the Press WiFi (and the UK cellular network), we had little opportunity to cover what was being presented on stage. However, don't be fearful about disappointment as we have summarised the entire morning in easy-to-digest chunks. Should you be confused about what actually happened and what was presented to the audience then head on past the break.
Opening up was Colin Miles, part of the Nokia Sales team, who briefly spoke about how Nokia was looking to the future and what the strategy is for taking the company forward in this difficult times. Quickly handing over the baton to Stephen Elop himself, Elop spoke about an individual he "knew" who was from Beirut. This entrepreneur disliked the unorganised city, but loved it for being exciting, glamorous and sexy.
We took this as a superb metaphor for how Nokia has learned from previous experiences with the mobile market advancing beyond the reach of the manufacturer. The announced handsets today reinstates the brand (opens in new tab) as a force to be reckoned with once again.
Elop continues to explain how he made tough decisions for Nokia to advance onto Windows Phone and leave both Symbian and MeeGo behind (more on the success of the N9 later). A few slides transitioned on-screen:
Connecting the billions
Creating a unique experience
Changing the way we operate
It's a major shift in the company's strategy from actively developing their own OS, to slipping into bed with Microsoft. Users who knew of Nokia back in the lighter days knew the brand stood for usability, stability, connectivity and solid hardware. Something that has been behind in recent times.
Elop talks about Symbian development and the advancement we are going to witness with the Nokia 700, not to mention NFC (Near Field Communication) being used by the numbers. The N9 (opens in new tab) saw some success, especially in Russia. Elop spoke about how their Moscow store sold out in the opening sale and turned out the be the handset with the highest number of pre-orders. Not bad, let's see how the 800 sells.
Windows Phone already provides ample social integration and cloud connectivity with SkyDrive, SharePoint and more. Nokia plans to expand on this technology to ensure consumers are connected to what they want to connect to, and whenever they desire. Facebook, Twitter, Live are just a few examples as to how the OS can help Nokia bring a feature rich experience to consumers who may not have it at present.
We recently covered Nokia's strategy change and how they plan to target a younger audience, specifically the 25 year olds. The savvy mobile users. Elop went onto say that the next billion (referenced a fair bit) is the youth, the 25s. Twelve phones will be produced per-second, one million a day, 365 million a year, and Nokia looks to increase this capacity. when we witness the rollout in early 2012, it should be higher.
The Nokia Asha, running Series 40, was the family of handsets announced alongside Lumia, and consist of the 200, 201, 300 and 303. These devices will be targeting developing countries and the highlight of the morning was - they have Angry Birds pre-installed, nice! Blanca Juti, VP of Mobile Phone Marketing at Nokia, took the reigns from Elop and spoke about how only one in ten families in Mexic has a phone. The manufacturer plans to change this, and bring affordable connectivity to everyone.
It feels pretty darn good, we suspect. Juti continues with asking the audience to imagine life without Amazon, eBay and WPCentral (she didn't actually mention us, but we know we'd be upset if there was no WPCentral) and how this could negatively impact our lives. Youth, back to the 25 year olds, live in high economies and with technology growing at a stable rate. They expect to access Facebook and Twitter from a smartphone, they expect to be able to install apps and customise the experience. So what will it take to give the youth the Internet?
Irresistible
Affordable
Just great!
It's Nokia
Elop jumps back up to the stage, once Juti completed her dancing to Shakira's Afrika, and talks about the Asha some more. Now it's time, with some gasping and excitement in the room at an all time high - the Nokia Lumia 800 (opens in new tab). It's shown in black, cyan and magenta, obviously taking the design of the N9. No problems there as our Daniel Rubino explains in the hands on coverage. The 710 is also unveiled (opens in new tab) with multiple colours available including bright lime.
So soon after jumping back up onto the stage and presenting the Nokia 800, Elop introduces Keven Shields, Senior VP of Program and Product Management. Before we continue, this guy had too much coffee in the morning, to say he was 'psyched' about the products is an understatement. Shields picks up where Elop left of and talks about the 800, with how elegant it looks, it just fits and feels great to hold.
After announcing that it's a Nokia and therefor is destined to have an uber-camera, Shields moves onto talk about what he loves about Windows Phone (lets not forget that there are WP skeptics still around). He demos Nokia Drive, the turn-by-turn navigation app that enables the user to avoid high data usage charges and features full speech directions. Nokia Music is up next, which is a free music service allowing users to listen to and create radio mixes. Offline downloads are available. Let's not forget ESPN Sports hub, exclusive to Nokia, is the sport fans number one stop for the latest news, results and much more.
Shields summarises the introduction of additional software as unique assets that will combine Windows Phone with innovative hardware. speaking of innovation and hardware, the Nokia 710 sports replaceable back covers and the manufacturer will be releasing colours to match the themes of the OS itself. The Lumia family of handsets are the "saviours" of Nokia.
We're back to Elop. Maps and navigation are just mere building blocks to connect the real and virtual worlds together. As well as Nokia Drive and Music, we have a public transportation app, which features the status and departure times for buses, trains and other public transport in a number of countries.
Enough about the hardware and software, let's talk demand and availability. 31 operators and retailers are on the demand list for the Lumia handsets with Nokia planning to engage in more staff training with the stores. More live demos will be ready (and working) on display for potential customers to browse and test.
Stephen Overman, VP Marketing Creation, is last picked to pop up on stage. He talks about the reasoning behind targeting the 25 year olds (opens in new tab).
That's the message and theme from Nokia. That's what will be driven into the minds, hearts and souls through effective promotion and marketing. The OS provides the user with more choice and live tiles creates a unique experience. Overman explains that it's not the same boring and lame grid layout of app icons that do absolutely nothing at all.
As a quick break from the presentation, we are shown a video featuring the 800. A second commercial is ran, which will be loaded in cinemas while the adverts are rolling out. We're now back to Elop, short and sweet. To finish off the presentation, Elop goes into pricing, availability (opens in new tab) and when we can expect to see the handsets launch. If you're desperate to get your paws on the devices, they're available for pre-order as we speak from the Nokia website. The 710 and 800 will be available from launch in France, Germany, Italy, Netherlands, Spain and the UK.
The likes of China, Hong Kong, India, Russia, Singapore and Taiwan will follow suit later in the year and into early 2012. The U.S, unfortunately, has a small wait for the volume roll out, which is expected to occur early 2012 along with mainland China. As for the prices:
Nokia Lumia 800 (SeaRay) - €420
Nokia Lumia 710 (Sabre) - €270
Last from Elop is the thanking to consumers and the audience around the world for both supporting Nokia and believing in blue. Now, times for hands on! check out our videos that will be uploaded today for a look at what's new with the 710 and 800. There you have it folks, we have two super Nokia handsets coming out and things are bound to get exciting, marketing wise.
Rich Edmonds is Senior Editor of PC hardware at Windows Central, covering everything related to PC components and NAS. He's been involved in technology for more than a decade and knows a thing or two about the magic inside a PC chassis. You can follow him over on Twitter at @RichEdmonds.
Do you have any conclusive info on what apps/services will be available to other WP devices? Pulse came up for download today but I thought this was a Nokia exclusive.

So when can I walk into a phone shop and walk out with an 800?And any news on the Ace/Sun/the-bigger-one?

depends on where you live lol

US early 2012 UK pre-order nowLooks like this is a repeat of the Trophy, release to UK and by time it hits US it's outdated for the price tag...Unless Nokia puts out another phone to the US market in early 2012 I probably won't be buying a Nokia phone. If 800 hit US right now I would run out and buy one, but I'm expecting much better phones by 2012.I will stick with WP, because I love it, unless someone buys a produces webOS again.

So the big reveal consisted of the phones we already knew about? Wow.

I believe these are the only phones for 2011. They said there would be a full line-up for US in 2012. Also, I don't think you could emphasize Shields' enthusiasm enough, lol. I'm going to go buy another pair of ear buds today because of his unexpected screaming. :( Lol.

I can't help but be slightly disappointed right now...So Nokia launched 2 phones, but only one will be available in UK. And while Lumia 800 looks nice, it is actually a downgrade on N9 and somewhat disappointing compared to HTC Titan.In the end, small screen and lack of FFC means that I'm not going to bother with 800 (as it hardly a worthwhile upgrade for my Omnia 7).And "first real Windows Phone" - really? I mean, Nokia reused existing designs for both 800 and 710, just like HTC did.

Exactly how I felt when I saw that headline, "First Real Windows Phone". What a joke, they announce two phones that everyone has already known about for some time. Was hopeful, but HTC Titan, here I come!

I'm planning to get a new phone in January (a year after my current one), and that would probably be Titan* too - unless Samsung will birth some new hi-end phones in UK or HTC will release a version of Titan with 4 inch screen.* - I use one at work and it is pretty good!

Thanks for the info on actually using the Titan. Love the big screen and FF camera and from what I have seen it takes pretty good pictures.

It is noticeably faster (compared to HD7 and Omnia 7) on 3D content (like avatar in Games hub or games themselves). The camera is all right - although I did not use it a lot. The main improvement is the screen - much much better than crappy one on HD7.

9 months to do this. Great. Way to go Nokia -not

Design of a new mobile phone typically takes 1.5-2 years - so it is not really surprising.

In the UK.It may have to be the HTC Titan then. I can't be bothered to wait for another Nokia phone... I've waited long enough.I do really like the look of the 800 of course...

So can we now stop over-hyping all of these events? Between this, the iPhone one and the Nexus one, it seems like just about everyone was disappointed (even though no BAD devices came out of those events).

So you dont want cant live with a 3.7 inch screen no NFC no FFC. Great you've said so. I am sure many will find it okay with those specs. Not everyone wants or needs a 4' or plus 4 " screen. What about the software expereience the maps and aother stuff shown on the video clips looks like an improvement over the current phones. Other devices are coming to North America and elsewhere in the next 6 months. Its a start guys its A a start Things will ger better. The lower end devices of the Asha series will get WP to the masses and drive the revenue to allow Nokia to build more higher end devices for all uber geeksd. Give it some time. LTE within 8 months. Look at the positives. Nokia launched before the end of the year just like they promised. That bodes well for the future!

No FFC on either 710 or 800.

Well i do think the U.S versions are going to be alot better but i do think they failed. I am not big on storage, everyone complains about storage on a phone but i believe 16GB is more than enough. You have netflix for movies, why do you possibly need more than 8GB of music on a phone i mean that is alot of songs if you honestly think about it and i know its a hassle but you can always delete songs you're tired of and put a new play list on or just simply use apps like 8 track or youtube to listen to a specific song. I do not care how small the processor is as long as the OS runs fluently which Winmo does. I am upset with this phone not having a FFC and a screen 3.7. People use their phones for entertainment and like me i watch alot of netflix and i will not go to a screen smaller than 4.0 but would like a 4.5-5.0 screen. I hope Nokia is on its "A" game when it releases its phones to the U.S or they will continue to sink and we can not put all the blame on Nokia for hardware, Microsoft regulates that. Just my opinion.

I can deal without the camera, I really don't know what I'm missing out on when it comes to that. But the screen is TOO F**** SMALL! (IMO) I need 4.3 and up! Guess I wait and see what the Nokia Ace is all about.. Still a nice looking phone though.

I thought Nokia was working on several handsets?I don't have anything against these two - though no FF camera is weaksauce, especially with Microsoft working on Skype integration. But it's not the splash I was (unrealistically) hoping for. I guess Nokia has decided that they'll be better off with regular releases than with one big, initial splash. At least I hope they're not done...

Any news on Australian release date?

Great round-up. Thank you!

I'm genuinely amazed by how many people want a 4"+ screen. They're just too big, not properly pocketable. You might get it into a jacket pocket, but not into a trouser pocket, which is where a properly sized phone lives. If the resolution is the same, what's the point in making it huge?
Windows Central Newsletter
Thank you for signing up to Windows Central. You will receive a verification email shortly.
There was a problem. Please refresh the page and try again.