Nokia announces the Lumia 800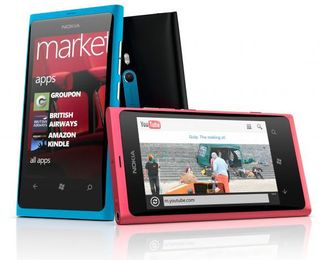 Tell us you every thought you'd see something like this with Windows Phone, and we'll eat your old WinMo device. Nokia today in London at Nokia World (we're all up in that, by the way) announced the Lumia 800. To say it's visually stunning is probably the understatement of the year. Let's flesh it out:
Single-piece body.
3.7-inch AMOLED display at 800x480 resolution, with the glass seamlessly melting into the body
1.4 GHz Qualcomm MSM 8255 processor with hardware acceleration
Windows Phone 7 Mango
1450 mAh battery
16GB internal storage, 512MB programmable memory
Quad-band EDGE (850/900/1800/1900); quad-band 3G (850/900/1900/2100); 14.4Mbps
8MP camera with Carl Zeiss lens and LED flash
720p video capture at 30 fps
Dimensions: 116.5 x 61.2 x 12.1 mm
Weight: 142 grams
Wifi: 802.11 b/g/n
Bluetooth 2.1
aGPS
Plus a bunch of Nokia services thrown in, including Nokia Drive, Nokia Maps, Nokia Music and Mix Radio. Plus all the Xbox support we've come to expect, and Internet Explorer 9. Look for it to for 420 Euros.
Source: Nokia
Phil is the father of two beautiful girls and is the Dad behind Modern Dad. Before that he spent seven years at the helm of Android Central. Before that he spent a decade in a newsroom of a two-time Pulitzer Prize-finalist newspaper. Before that — well, we don't talk much about those days. Subscribe to the Modern Dad newsletter!
Where is ZUNE and ZUNE PASS..I want to get this if it works on Tmobile US but with no music hub whats up with that ? boy I hope im missing something

what do you mean no music hub?

I had the same worry but we've confirmed it still has Zune & the services :-)

Looking good... Just wish they'd have gone with a 4" screen.

No Nokia Sans! GOOD. I want.

bit of a disappointment :(but still looking attractive for me to buy it :D

Thats a bummer. Maybe I will wait for the next Nokia Phone...

I figure they are waiting for still the next generation of windows phones before they make front facing cameras a requirement. You can bet that Microsoft is hard at work to try and integrate Skype into the messaging app, just like they did with facebook and windows live chat. Honestly that facebook integration into the messaging app is one of my favorite features, and having Skype as a part of that will make things even better. It's coming, just not quite yet.

That phone looks like the N9, same build. Except with a camera button

I can't believe they didn't add a front facing camera or NFC. They downgraded from the N9. That's not cool at all. Nokia is suppose to be all about NFC; what the **** happened? And with Microsoft buying Skype? COME ON! I really hope they come out with a better phone for the US market. So disappointed.

They have to wait microsoft implement NFC to the OS first.

NFC isn't really a part of windows phone 7, at least not yet. I'm sure they are working on that. Same with the front facing camera. Skype integration will come soon enough, and I believe it will be spot on in terms of the execution. This is just the first step.

There is support for the front-facing camera in the APIs. There will be video chat apps that are coming out for Mango (I believe Tango is coming next week, Skype coming soon). Leaving out the front camera is a huge mistake, IMO.I believe the Nokia phones are the only "Mango" phones announced so far that have no front cameras.Edit: There is one other Mango phone with no front camera: the budget ZTE Tania for the Chinese market.

The Ace is probably the phone for ATT 4 " screen hopefully have 32GB storage option FFC and NFC Elop said US Q1 2012 and LTE in first 1/2 of 2012.

The way the screen tapers off works very nicely with metro titles tapering off the screen. Great design

uuuuummm........ really nokia?...... Focus S here I come.

was thinking that the second i seen this spec sheet.. add to that making parts of the world wait.. and where is this "ace" .. where are the boat loads of phones?

Really disappointed so far. No Large Screens and no Front Facing cameras. Good phones for low to mid range devices. Sticking witht he HD7 for now, possibly moving on to the Titan in the future.

Might be ok if it drops to 200 euro or so. Doesn't seem like a phone that will last you through the next couple of years ... doesn't have the raw power and lacks many features that you might want later on.

This is a nice entry for Nokia and their European markets. However, when they enter the U.S. with this device, this device needs to prime - they need to include the ffc, more storage options, NFC, FM Transmitter, and more colors (the N9 now has this design in White).So, OK for the EU launch; but for the U.S., I will definitely be expecting more.

Hopefully they are hard at work for a US version. And hopefully there will be a 4"+ version.

@Tansen...Yes, hopefully!A Nokia WP device will be my first WP device, but I am willing to wait for their best effort, which will hopefully be in 2012. Until then, I will keep chuggin' along with my N8.

The Lumia 800 looks good, but the lack of a +4" screen and Front Facing camera is a major turn off for me and will most definitely at this time getting a Focus S when it is released.

I knew not to expect much from Nokia so I'm not disappointed at all. I've haven't liked Nokia's designs and internals since the days of the candybar. I really don't know why all of you guys have been hyping yourselves up for a dream Nokia phone. It just wasn't going to happen.

I was just hopeful that they would bring a powerhouse of a phone. I wasnt expecting much either, but was expecting more than low to mid range devices.

what did you guys expext? nokia said they were targeting the low-end market. great design btw!

If only these stupid thumbs up worked, I would have +1 you. And yes, these are nice looking phones!!

If this thing had a 4-4.3" screen I would sell my Focus, and my other worldly possessions to get my hands on this thing. 3.7" is just too damn small!

Ease off the ledge, people... it is only day one, and this is what we kinda expected. The 900 has not been introduced yet, and that was the high end Windows Phone that Nokia is prepping. This is in London, and Nokia is hitting the Europe and Asia markets hard. They need to get their market share back in their strongholds. These are the type of phones that sell there. With AT&T saying to expect the ACE in Q1 2012, and the confirmation that both CDMA and LTE devices are coming from Nokia, there is nothing but excitement from me. I am very hopeful for a great 2012 from WP, and I really think Nokia spurs this on. I am very partial to HTC and their WP line, but I am PUMPED to have Nokia onboard!!

I can't go back to a small screen. I hope they have a 4" or bigger screen with FFC to announce for early next year in the U.S. Otherwise it looks like it will be a Focus S or Titan for me. Very dissapointed with the new Nokia phones.

I can't believe that they forgot to put a front facing camera..!Has nokia totally lost it..with deep skype integration in the future,how can they not put a front camera on it..even the n9 has one..

The wait for a CDMA Nokia device is killing me. Hopefully the mention of LTE and CDMA support will bring second gen Nokia Wp7.5 devices. By 2nd gen I mean Front facing camera, 32 gig storage, and I'm good with a 3.7-4 inch Amoled screen. Just hope Sprint adds it to the lineup.

According to Nokia's site: http://europe.nokia.com/find-products/devices/nokia-lumia-800/specificat... This device supports both GSM and WCDMA, so why isn't it being launched in the US during the holiday season???

I have an HD7s. Although this phone is beautiful, there are not enough improvements to make me upgrade. Sorry nokia, you've been working on your phones for how long? Like I said several artcles ago, this would have been an amazing launch phone, or a superb NoDo handset. But the fact that skype, and other mango apps will be arriving and this phone won't be able to access all the functionality...means that I'll be passing.I'll hold off on upgrading for a phone that will be able to cover all the capabilities of the OS.

Just what I expected. I'll wait a couple of years, cause I see this as just the beginning.

Love it, makes my HD7 look boring :(, kinda wish the screen was little bigger though
Windows Central Newsletter
Thank you for signing up to Windows Central. You will receive a verification email shortly.
There was a problem. Please refresh the page and try again.