Race your way over hill and dale with Sunset Bike Racer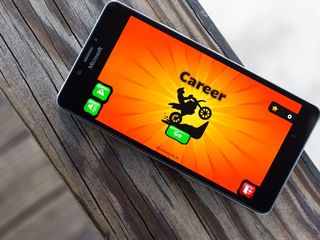 If you are in the mood for a simple, enjoyable arcade style racing game, take a look at Sunset Bike Racer. This Windows 10 game places you behind the handlebars of a motocross bike where you face 48 off-road courses to master.
Sunset Bike Racer has simple controls, challenging courses and graphics that offer a nice blend of minimalist detail and vibrant backgrounds. As you complete courses, gaming cash is awarded that in turn can be used to unlock new racing bikes.
Sunset Bike Racer is a free game, available for Windows 10 PC and Mobile. It is a fun game to pass the time with and addictive enough to keep you coming back for more off-road racing action.
The primary menu for Sunset Bike Racer is not very complicated, with options to mute the sound and music, as well as jumping into gameplay. You can also find options to visit the bike store, view your cash balance and your energy levels. Sunset Bike Racer provides you with seven fuel units; it'll cost you one per level attempt. If you complete the level you'll earn the fuel unit back, fail or crash and that fuel's gone forever. You can replenish fuel by using your cash or wait while the units are replenished automatically over time.
Gameplay involves 48 levels that are progressively unlocked and gradually become more difficult. The first few levels are more tutorial in nature, allowing you to get used to the controls and rules of the game.
On-screen controls line the bottom of the screen and include an accelerator, brake and forward/backward tilt controls. You can collect nitro boosts while out on the courses. A nitro button will appear on the screen when you have a boost ready, tapping it gives your motorcycle a boost in speed.
The goal of each level is to safely race your motocross bike across each level and reach the finish line as fast as possible. Each level includes a variety of hills, jumps, caves and other barriers to cross. Some levels require you to stop on a platform to be raised or lowered to another section of the course and others test your skills at timing by dropping ramps along the course that are needed to deal with obstacles.
As you complete each level, cash is earned based on your score. That cash can be used to replenish the fuel units or unlock new and improved racing bikes. Sunset Bike Racer include four additional bikes to unlock and if you don't feel like spending your hard earned game cash, the bikes can also be unlocked through achievements. For example, you can buy the Spikor racing bike for $2,750 in game cash or by collecting 100 scoring stars and playing the game for ten days.
You can earn bonus points in Sunset Bike Racer with stunts like mid-air flips and wheelies. If you do crash (all of the customary means are here: losing your balance, riding into a wall, smacking your head on a cave ceiling, etc.), you can use a fuel unit to retry the level from the last checkpoint for that particular level. This is a nice touch and eliminates the frustration of having to start a level from the beginning when you crash yards away from the finish line.
Sunset Bike Racer may not be the flashiest of racing games, but it does have a neat feature to help re-playing a level a bit more challenging: you can race against a ghost racer who represents your previous course time. The ghost rider mirrors not only your time but your maneuvers to give you an idea how you've improved your skills and stunts since last time.
Overall, Sunset Bike Racer is a fun game to pass the time with. Graphics are minimal, the controls are simple and intuitive, and the game levels are challenging enough to keep you on your toes. I do think this free game is better suited for a Windows 10 tablet or phone due to the touch controls, but using the keyboard controls on a PC isn't terrible.
Overall, I found Sunset Bike Racer to be an enjoyable Windows 10 game and if you give the game a try, let me know what you think in the comments.
Download Sunset Bike Racer from the Windows Store (opens in new tab)
Windows Central Newsletter
Get the best of Windows Central in your inbox, every day!
George is the Reviews Editor at Windows Central, concentrating on Windows 10 PC and Mobile apps. He's been a supporter of the platform since the days of Windows CE and uses his current Windows 10 Mobile phone daily to keep up with life and enjoy a game during down time.
I reached... All 30 levels....

Isn't this hill climb racer at dusk??

Hill climb racer and Shadow fight combined.

Thank you for reviewing my game :-)
"climb racer and Shadow fight combined" - hah, I like that :D I have recently updated the graphics (much nicer background and special effects now plus a ton of new tracks.
If any of your fine readers has some ideas for new levels I am always happy to receive feedback (added a "Support Form" in the game for your convenience ;-) To show my gartitude for your review here are three voucher codes (worth 500 coins each).
May the first three who read this redeem one of them (instructions below): u8n.y9.ftv
nqn.vv.jtc
lyz.ky.gs7 Here is how the codes work: 1) Please make sure you have version 10 or higher installed.
2) Please check your internet connection (you need to be online for this to work).
3) Hit the "Version" number in the bottom center of the main menu (a popup should be shown).
4) Type in the code and hit the button.
5) You code will be redeemed immediately. Anyhow, thanks again for reviewing and best regards,
your Sunset Bike Racer developer