Super Why! - A collection of educational games for Windows Phone (Hidden Gems)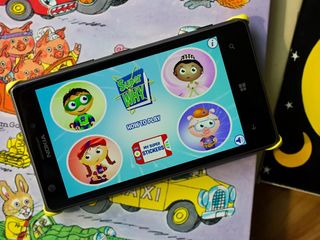 While this may not apply to every Windows Phone user, the platform is a great medium for children's educational gaming. These Windows Phone titles mix learning the ABC's or basic math with visual aids that are presented in game format.
Super Why! is one such title that is designed to help you child improve their reading and spelling skills through four interactive literacy games featuring the four main characters from the PBS television series, Super Why!. These games are fashioned to teach your children the alphabet, rhyming, spelling writing and reading.
Let's take a closer look at Super Why! and remember, if you leave a comment below you will be entered into our daily Hidden Gems contest to win a new tablet or Windows Phone.
Teaching made fun
Super Why! is a collection of four games that features the television shows main characters: Alpha Pig, Princess Presto, Wonder Red and Super Why. The user interface is not very complicated and well suited for a child to navigate around.
The game is narrated throughout to add audio cues and lessons to support the visual aids that are generated. The main menu has the four characters pictures, when tapped will send you to their respective game. In addition to launching the four games, the main menu also has a Stickers Game where you children can take a break from learning. The Stickers Game is a free-form doodle pad full of stickers of characters from the Super Why! show that are earned during game play.
The only "grown-up" portion on the main menu is the 'How to Play' section that spells out each game. The game's themselves will walk your children through game play with audio and visual directions but if you need to help your children with game play, Super Why!'s 'How to Play' section covers all the bases.
Four Games Under One Roof
The four games for Super Why! will help your children learn and support their learning of the alphabet, spelling and reading skills. The four games break down as follows.
As letters are identified, Alpha Pig flies down the path to the next letter grouping and when the word is spelled correctly, you earn a new sticker to use in the Sticker's Game.
Alpha Pig's Lickety Letter Hunt
Alpha Pig is trying to spell words that will help him down the alphabet path. Alpha Pig will call out the word he's trying to spell and you will need to choose the correct letters to spell it out.
Princess Presto's Wands-up Writing
Princess Presto is needing help spelling words. She will call out the word and you will need to help her find the letters to fill in the blanks and spell the word correctly.
As you choose the correct letter, Princess Presto will outline the letter with her wand and you will have to mimic the writing movement. When you do, the letter will have a glittery glow and disappear. Successfully spell a word and you will earn a sticker for the Stickers Game.
Wonder Red's Rhyming Time
Wonder Red will present you with a word, with two possible rhyming words. When you choose the correct match, you will then have to find a rhyming word for that word.
All totaled, Wonder Red's game has you finding rhymes for two words. When successful (you guessed it) you will earn a sticker for the Sticker Game.
Super Why's Story Saver
Super Why's game deals with reading skills where you are presented with a sentence that is missing a key word and an illustration for the sentence. Super Why will read the sentence then give you three words to choose from to complete the sentence.
When you choose a word, right or wrong, Super Why will read out the sentence and if the wrong word is chosen, the picture will change showing that the word doesn't match what is pictured. Choose the correct word and you'll get another sticker to add to your inventory.
Overall Impression
While Super Why! may not be something all of our readers will be racing to download from the Windows Phone Store, if you have young children who are in the midst of learning their ABC's, it's an app worth considering.
The four games deceptively teach your children lessons on spelling, rhyming and reading. The graphics represent the television show spot on and the user interface is very child friendly. It is a game that you can hand over to your child and through the audio and visual cues, will pick up on game play in no time.
Super Why! does a good job of rewarding children for correct answers with the stickers (over fifty can be collected). When an incorrect answer is given, the game also helps guide them in the right direction not only to find the right answer but to explain why some answers are incorrect.
The only thing I would like to see added to Super Why! is a way for a parent to review their child's performance. However, as is, Super Why! is a solid learning game for Windows Phone and a Hidden Gem worth trying for our younger Windows Phone users.
Super Why! - Windows Phone 8 - Trial / $2.99 - Store Link
Super Why! - Windows 8 - Trial / $2.99 - Store Link

(opens in new tab)
George is the Reviews Editor at Windows Central, concentrating on Windows 10 PC and Mobile apps. He's been a supporter of the platform since the days of Windows CE and uses his current Windows 10 Mobile phone daily to keep up with life and enjoy a game during down time.
Trying now...
Looks like kids exclusive (not my type) but since it's hidden gems...Perfect for trying on my sis I guess, not me. I'll review it as a reply to this comment later.

What is 'Hidden Gems' a games company..?

Nope, its a contest introduced by WPCentral (partnered with Microsoft). They show apps and games which has potential to be considered as much a demanding one but were not discovered by people much in the store. They'll give phones / tablets to the winners at the end of the month based on the reviews. Yeah, they want a "contructive" and honest review for your chance to win, that's all. Check out the full coverage here: http://www.wpcentral.com/hidden-gems

Okay so it's a competition, I get it, & we leave comments on those 'hidden gem' posts & you can win stuff... Thanks I do recall an article now, thanks for sensible reply..

Yeah, that's right. No problem!

This page explains it:
http://www.wpcentral.com/hidden-gems

Thank you! I recall now, we write a review of the app etc...

Okay, I tried the app thoroughly (at least I think so) and my little sister (7 yrs. old) helped me out unintentionally :P She loved the app although the characters were new to her as this show isn't hosted over here. I used Lumia 520 (WP8.1) and Windows 8.1 PC to test it. My initial thoughts about the app follow below. FIRST IMPRESSION (9/10) Price It's $2.99, not too cheap and not too costly either, considering an educational app. But in all honesty, when I saw the price I thought it ought to be a "Universal App" but later came to know it isn't when I didn't see the universal sign in the store. It could be a deal breaker for some I guess, please make it universal. Size Size of the app is 30mb; good, considering the amount of audio files has been used. USER INTERFACE (8/10) Starting of the game and going to the main menu takes a while. Should be faster or at least an option should be given to skip the splashing logos. Clean and children-friendly. I loved the animation and the characters as well. I would suggest a tour for the app especially for "Sticker Book" section. A first timer may get confused how to select a sticker and where to put it (though it's given in "How to Play" but still); I'm saying this because the kid ought to be from 3 to 6 years as the apps suggest it and it has some bugs that I've discussed later. The text that appear under "How To Play" are considerably small, it could be a little bigger and would go easy on eyes. Its fine for tablet and PC I guess but not for phone (not my phone at least). WORKING (7/10) The game modes work just fine, as they're designed. But nothing is perfect and it does have some flaws (includes suggestions as well). I've listed them below according to the game modes. Princess Presto's Wands Up Writing: The alphabets that appear on the screen are not big enough, at least not in a 4" screen (I guess it works pretty good in a tablet or a PC though). Making those a little bigger would be perfect. In addition, the wand of the prince could be made a little better – color it bright. The background is pink and so is the wand, my sis didn't recognize it immediately to follow where it goes. I also noticed when my sister moved over the letter, it took her several tries while she was doing it correctly, not sure why (I guess there's a little bug there). Next, unlike the three other characters, Presto never smiles. She should, when considering the game is for children ;) Another thing is, the alphabet must be *highlighted* if the kid gives no response for some time, I found it missing. The head animates, but not rest of the body of the character. Alpha Pig's Lickety Letter Hunt: The word to be filled that goes like D _ _ M isn't bright, change it to yellow or something (just a suggestion!). I observed some lagging when moving after completion of one word to another (like, it takes around three screens, should be done in one single screen). I also noticed that Alpha pig sometimes speaks faster as compared to the other three (children of 4 or so may have a hard time recognizing the voice). Alpha pig says a word to find and quits. What if the kid wants to hear it one more time? On tapping over Alpha pig, it should repeat the question. Example: "Okay, we need all of the letter in the word Drum... Do you see the letter D?"… On tapping, it should say "Do you see the letter D?" again. Super Why's Story Save It may ask whether to go for the next round or not or at least say "Wow! You finished this level!". It never does. I also faced some image / sentence overlapping issue with this character (I'm not sure if it's due to my phone's resolution size, 480x800 or not) Please see the screenshots: Image1, Image2, Image3. Wonder Red's Rhyming Time I didn't find any bug in this level, so I guess this one is perfect. Apart from the levels, the performance of the game on the phone isn't perfect. I mean it did crash two times. First, when coming back to main menu from a game and second, when I tried maximizing the window from the minimized status. SUGGESTION + IMPROVEMENT Sticker Book When she tapped few stickers on a picture, let's say 1, 2, 3, 4, 5… 10. Now she wanted to move the 2nd one without moving the 10th one. It's not possible currently. Add an option to remove any sticker from the picture other than "Only 1" and "All". Characters I noticed all the characters animate their mouth while saying / explaining mostly. Would love to see more animation throughout the body. Confirmation Suppose a kid is in between completing a game and wants to pause, there's no such option to do that. Pressing the back key, exits to the main menu without confirmation. Yes, the confirmation, again, can be children-friendly like "Do you want to go home?" The game in its current status, won't ask you to exit the game as well. Pressing the back key directly exits the game. Non-Uniqueness I found the game kinda repeating all the time. There could be something new in each try (that's not practically possible but many alternative paths can be created). Music: Although I loved the background music the game plays but would definitely recommend you to put different music in different levels. At least the music in those 4 game modes shouldn't be identical. Interaction This is definitely one thing that I'll highly recommend. You can take advantage of the phone's mic for voice input and interact with the player directly. I mean in this way, they can easily learn alphabets, numbers etc. Example: The app says "What letter is it?" and the player replies "E" and based on that, you can perform several other functions. Mini Games: I understand why it has just 4 games, its definitely due to the number of characters but it being an "Educational" app, I'll suggest to add a few more. Like, recognizing colour games, Number counting games, Odd one outs etc. Cortana Integration: The app would be more fun if I could open the mini games by commanding Cortana. I wish the app suports this soon as well. ______________CONCLUSION______________ AVERAGE RATING: 8 / 10 ________________________________________ In the end, I would say it's definitely a must-have app for children of around 7 or so. The price is justified for the brilliancy of learn-with-fun environment that the app provides. P.S: I might have gone a bit too technical than required but I wanted to give a complete review. REQUEST TO THE DEVELOPER (JUST A SUGGESTION!): Please make the app free instead of $2.99 with 2 – 3 levels, never put ads (it already doesn't have). Make more levels and an option to buy more levels with further purchases (that can sum upto $2.99). Free apps have more visibility in the store than paid / trial ones, since even the trial ones fall under the category of paid apps. It'll not only make the app more discoverable to the people but also much more people would actually try it out and gradually, buy it. Thanks to the developer for this amazing app! I'll edit the review in case I find more bugs.

Wow! That was a detailed and well-written review! You should work at WPCentral as an app reviewer.

Thanks, I appreciate that !
LOL! No that would be too much of an expectation for me and read my horrible English?

Hmmmm.......ok so price is justified and u want it to be free too??? i think i miss something there

Justified with current status of the game.
I didn't suggest to make it free completely. Yeah you probably missed something there ;)

Annnd the winner for this contest is here...

Excellent review! Both of my boys loved Super Why but are beyond this now, otherwise it probably would have made it's way to the phone.

Thanks, I've to agree as I felt my 7 yr old sister was also smart enough to play these games ... Would love to see Super Why adding more challenging games

Congrats man for the great review makes the rest of us look massively rubbish

Thanks, I appreciate that! ......... That wasn't my intention dude, everyone's review is counted and helps the developer too ;)

Nice review ! I think it covers everything ! Great job !

Nice to see you liked it!! Yeah I tried to cover as much as I could in an hour :P

My little brother loves this show much fun will be had. Super clean layout in this one.

Looks like something my little sister would enjoy. Definitely bookmarking this for later. Posted via Windows Phone Central App

Check this out-
http://www.wpcentral.com/introducing-hidden-gems-our-new-app-series-wind...

Read this about the Hidden gems http://www.wpcentral.com/hidden-gems

Until I have kids of my own, this will be perfect for my nieces. Thanks!

Finally ! Downloading now and will edit

Super me think it's good game for kids, i've no idea what to like or to hate
hmm, maybe nice colors i don't know what i'm doing in my life....

Well yeah
Nice UI and smooth
Nice cartoonish feel
Multitasking isn't great (some lag and sometimes it just exit the app)
It's available on both W8 and WP8 why not universal ?
My suggestion will be make it universal and some bug fixes

At least my little brother can be entertained in a more beneficial way now

Looks slick and well layed out.

Forwarding this to my brother in law (another wp8 fan)
With two young kids.

Yeah its so awesome... My neighbours seems to like it

I'll be a dad in about a week and I am already keeping my eyes open for apps for children.

Ha ha you wont have time for that my friend, in a few years the only app you will want it one that plays music very loud trust me

not a universal app, why?

Because they make movies lol

My daughter will love this..definitely downloading.

My 11 month old enjoys the show. I'll download it just to have something to occupy her attention with

This looks pretty great for kids! Fun and educational seems to always be a difficult feat to achieve.

---------------
First Thought:
---------------
A really nice game game for kids to play. Price isn't too bad considering that it is clean, simple & fun app for kids.
-------------
What I Like:
-------------
This is an example of a well coded beautiful game.
• I like the UI (User Interface), it's simple, beautiful and easy to use (My little brother had no problems navigating through the app).
• I like how the game itself walk kids through the game (My little brother got the hang of the game real quick).
• Gameplay is quite fun, my little brother is already addicted to it (Gonna put it in Kids Corner now).
• I like that there are 4 games in one app, so it doesn't get boring.
• Beautiful Animations & Graphics.
-------------------
What I Don't Like:
-------------------
• Well I don't know if it is just me, but it literally drinks my battery.
• It's not an Universal App.
• App sometimes crashes after opening from multitasking menu.
---------------
Suggestions:
---------------
• Make it an Universal App.
• Add a 'Record' or something mode where we can see how is the progress of our kid, and where did he/she made the mistake.
• Maybe you can add a few stories (that the app will narrate) that will be unlock when a kid accomplish certain task.
• Improve Multitasking.
• Add Instant resume.
----------------------------
Overall Impression (8/10):
----------------------------
Super Why! Is a really fun & helpful games for kids. It helps kids to learn stuff ALOT. All in all Super Why! is a nice addition to Windows Phone, price isn't bad either.

I read the title & immediately had an urge to read it in Woody Harrilson voice lol
Do you know Wwwwwhhhhhyyyy? Lol
The mask makes Super Why's had look funny lol.

It is not a universal app, have to buy separately for Phone and PC. Please look into this issue.

My sister would be interested in that

Not my type but I'll definitely try it on both WP8.1 and Windows 8.1 and leave my review as a reply to this comment later :)

Ok,used it for a while now on both WP8.1 and Windows 8.1 laptop.(Not technically me,but by my 8 year old brother :D ) What I like:- -The first look,my brother was quite excited as the game began. -The UI was simple and neat.No problems there. -The artwork is neat but the mouth movement could be a bit better.(That's my opinion,I don't think my brother noticed :p ) -Different types of games so my 8 year brother played it for almost an hour before he got bored.That's pretty good for him considering he's not into educational games/apps.He wants to play games like six-guns/PES/Fifa :p -The soundtrack used was quite good for kids. -The way the characters in the game interacted with my brother was quite good."Super You" and stuff like that.Teased my brother about that for quite a while xD -Multitasking was smooth and fluid on my laptop at least.Didn't test it on my phone though. What I don't like:- -Improve the animations a bit.Make characters have a sharper outline(My opinion,not my brother's) -It's not a universal app!The app is almost identical on both WP and Windows,why is it not universal.I don't think many people would buy it on both PC and WP.That's the biggest drawback. -A minor thing I noticed was that while the "how to play" section looked fine on my 15.6" laptop but on a 3.8" WP,the instructions font was quite small,even I had to strain my eyes a bit(Just so the developer knows,I own a 620) -The companies' names(splashscreens) were almost 3 as far as I recall.Quite much for logos which only cover a small part of the screen.Both me and my brother thought that the menu would appear after the first splash-screen but we were trolled every time :p -This last thing I don't like is probably because we are Asians.My brother found the English a bit hard for his level xD. He understood what he had to do but couldn't understand some words when the characters were praising him xD Things I would like to see improve:- -Make it a universal app ASAP.This needs to be done. -Improve the characters' looks a bit.(My suggestion) -Increase the "How to Play" section's font on the phone.Looks fine on a laptop though. -Make one splash screen with all the companies' names.Minor suggestion.Ignorable. -Add 1 or 2 more things on the menu screen.It's quite simple right now which has it's pros and cons.Maybe adds maps/achivements/additional content. -Make the English a bit easier for Asian kids a bit please xD Minor suggestion again.Ignorable. -Add a roadmap or something as well.Could be extremely useful for the child's caretakers. Overall Rating:-8/10 A decent educational app overall,fun and neat for kids but with it's pros and cons like I mentioned above.I don't think it needs much social integration(Facebook,Twitter etc) as it's obviously intended for a younger audience.Yup,that's all,I guess.A nice app for children below 8. (y)

Its supposed to teach me ABC....But super why!

Super excited about this one! My two year old LOVES Super Why!

It's for a child, not for me

Don't tell us that you have grown up? Us adults should never grow up lol

Downloading - Love good quality apps for young kids.. Thanks WP for not forgetting about the little critters. These apps are life saver for those long trips.

Probably a great app for my future children! Love those little animals! But its a bit slow on my 8X, no idea why.

I'll get my cousins to try it :)
Cloud raiders has me tied up for now :D

This will be great for my nephew who always want to touch my phone, and switch it to Kids Corner. Thanks for this suggestion, WPCentral!

Its a great educational app that really helps my younger sister. The graphics is designed beautifully

This should be a good one for my nieces and nephews and the price isn't too hard to swallow. Hopefully the keep expanding it.

My son loves this cartoon. His first birthday theme was super why! For some reason he likes the dumb little pig

They are really nice for kids.....to teach them using technology is good

Always glad to see games like thi