Surface Duo video: take a closer look at Microsoft's Android phone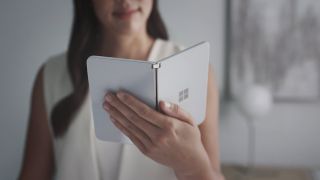 (Image credit: Microsoft)
What you need to know
Microsoft announced the Surface Duo, a foldable Android phone, today.
A video debuting alongside the Surface Duo gives us a much closer look at how it will work.
Surface Duo is expected to launch in the holiday 2020 timefram.
Microsoft had quite the shocker for anyone watching its Surface 2019 event today: Surface Duo. The device is a foldable phone that is the little brother to the new Surface Neo, marking Microsoft's entry back into the phone market.
Surface Duo will have access to the Google Play Store and runs Microsoft Launcher. Microsoft is placing a large emphasis on productivity with the Duo, thanks to its dual screens and ability to multitask.
We won't be able to get our hands on the Surface Duo until holiday 2020, but you can get a much closer look at the device in the preview video above.
Here's everything Microsoft announced at its Surface 2019 event
Dan Thorp-Lancaster is the Editor in Chief for Windows Central. He began working with Windows Central as a news writer in 2014 and is obsessed with tech of all sorts. You can follow Dan on Twitter @DthorpL and Instagram @heyitsdtl. Got a hot tip? Send it to daniel.thorp-lancaster@futurenet.com.
So is the Duo running Windows 10 X (that allows play store apps), or Android as an OS? It would be a shame if they're spending all this time creating an OS to cater to duel screens, only throw a lousy Android OS on the little guy.

It's running Windows 10X with Android Apps.

No, it's running Android, as it says in the article. Microsoft Launcher, but it's clear from the UI in the video that it's running Android.

Panos explicitly said it's running Android and that they are partnering with Google to bring the best of Android.

this is not true. stop spreading misinformation.

It runs android. PURE ANDROID BY GOOGLE with the MS launcher on top.

In that case this does NOTHING NOTHING NOTHING NOTHING to entice mobile developers back to the universal platform and the MS Store. We're no farther ahead today than we were yesterday.

Indeed. This move makes absolutely no sense to me. They're essentially launching a new form factor (Surface Neo) with a new OS--Windows 10X--in which they're giving developers a year to get on board, and then they simultaneously announced they're going to be helping Google compete with Windows 10X by launching an Android version of the new form factor. No one's going to develop for Windows 10X now. They're just going to develop for Android. This doesn't help Microsoft; it hurts them by hurting Windows 10X and by alienating their hardcore fans who've wanted a Windows-based Surface Phone for a half a decade now. I'm baffled.

They don't care. Thet will get ms services, office, azure pushed on the masses even more.

I'm really disappointed in that GUI, I hope it can run square2home or windows 10 launcher lol. This would have been the perfect opportunity for MS to make a nice tiled launcher for android that we could start running on our phones now.

Tile is dead. The UI is still in development. Microsoft is embracing rounded corners and the ones in the demo are not, so it's definitely going to change.

I'm not saying they need to go to the tiles of 2014, but I was hoping for a new take on tiles or something entirely new with this device. This UI looks like android/ios running on a tablet from the past decade- which is not flattering for such forward thinking hardware.

I agree. Keep it on android but at least bring something new in ui/ux department. Microsoft launcher is bland.

I am totally with you, as long as it can run Square2Home of Launcher 10, then it is good. I wouldn't be surprised if the developers would need to tweak both programs to get them to run on a dual screen device like this.

Android???? - What event were you watching????

it was confirmed android.

You are probably confusing the Neo with this product. Watch in the beginning of the video that she sets down the New on the table with the keyboard on top (to distinguish between this and the Duo) and took out the Duo to make a call. Afterwards is she playing games, texting, etc..

I'm excited to set Microsoft Photos on the homescreen. Will be nice to finally have my photos on my phone synced up like with my Lumia 950 XL. Well...I have a year to start saving upwards of $2000.

It's running Android so no Microsoft photos

I have predicted that Microsoft will go with Android a long time ago. It makes sense because Android or Windows are no longer the ecosystems. To the customers, the ecosystem is the apps and services. To developers, the ecosystem is the SDK. DotNet 5 will be what's powering the devs no matter what "platform" they choose to build on. Something to look out for, although it's still early stage.
This is not marketed as a phone, but it will be compared to one. So camera quality will be one of the biggest focus. Due to the ability to fold backwards, there cannot be a camera bump on the back. I do wish they include a good camera because it's about the only thing the consumer market care these days. Another thing is the biometric authentication system. It seems like it's going to use Windows Hello (Android Hello? lol) with face unlock. How fast is it going to be? Is it possible to have the fingerprint + pop open feature from the patten?

.net5, which is just .netcore vnext, is not about making native android apps. It is the same thing it has always been: a server side platform for linux and windows services. The introduction of support for wpf and winforms apps (windows only) doesn't really mean much as these cannot be put on linux or android. So quite simply .net5 does not inf act power devs no matter the platform. It just empowers devs in the same things .netcore always did: linux and windows services. if you want to go cross platform look at react or react native and forget about the .net platform. Electron would also be a good choice.

Your post is incorrect on many levels. dotnet doesn't powered up Linux services. Dotnet support didn't come until a few years ago (don't remember the year but I think it has as 2017 and I don't care to look) and you can program nowadays using dotnet using Xamarin on Windows and Macbooks nowadays. That platform is just better than React Native in speed to be honest and if you want to program using JavaScript NativeScript is just better.

You don't know what you're talking about. "Today, we're announcing that the next release after .NET Core 3.0 will be .NET 5. This will be the next big release in the .NET family. There will be just one .NET going forward, and you will be able to use it to target Windows, Linux, macOS, iOS, Android, tvOS, watchOS and WebAssembly and more. We will introduce new .NET APIs, runtime capabilities and language features as part of .NET 5." https://devblogs.microsoft.com/dotnet/introducing-net-5/

Imagine getting a call on that thing and having to unfold it just to answer it. It's such a weird device. Way too wide to fit even big pockets (or hands). It will also be quite the dinosaur in 2020 when the other manufacturers have fixed their foldable screens and Microsoft is starting to do folds with two screens. And those bezels. Like have they seen any phone in the last two years? 80 % screen is not good enough anymore.

I don't think the bezels are that bad but I do see your point if you compare it to other devices. My main peeve is that hinge in the middle. I didn't buy the Axon M because of that and I don't think I plan to buy this device for the same reason.

Remember the Duo will not be released for over 13+ months. What you saw today are very early prototypes. My guess is the final device will be quite different. Probably (hopefully much thinner). Maybe an external interface to answer calls without opening the device. Final device will hopefully have much smaller bezels. Device has a lot of promise and a great opportunity to get MS Services better integrated into Android.

Nope, those are the final hardware designs. If those were early prototypes that were going to evolve, Microsoft would have made that perfectly clear. The fact they did not means that's the design they are sticking with, at least for Gen 1. I do agree that it appears Samsung will have a leg up on MS when it comes to foldable hardware design. They will probably have Gen 2 of the Fold out by Holiday 2020, likely with an improved seamless screen and upgraded external display. Both of these features are highly desirable for phone use cases.

I don't think you can assume either way

That's why you have the new gesture controlled surface ear buds of course!

I was smiling from ear to ear during the reveal, until I read several reports that "confirmed" that the Duo will run Android. :(
As previously mentioned, it really sux to be building Win 10X for the Neo and not be able to use it on the Duo. So much for a consistent experience.

Actually, now that I think about it, since Windows is doing away with Live Tiles, who cares?!? smh.

Oh my goodness I think I will be coming back to Android, this looks amazing and so much more innovative than anything Apple has and that will take some doing on Apple's part to get me to stick around. I left Android because I was missing the Apple watch but the iPhones still are the same old thing

I am interested in a small form factor device running Windows Core OS with cellular capability. That would be my Surface Phone.

What a terrible idea to show this off now and have u wait another year to be available for purchase....what sense does that make

Developers, developers, developers.

They wouldnt get a surprise reveal if they waited

Since its still a year away i'm thinking the OS will Change to Windows 10X with the ability to run Android Apps

But wow when that phone rang and she reaches into her pocketbook and pulls this out.... and we're all thinking SURFACE PHONE! Well played Microsoft.
Windows Central Newsletter
Get the best of Windows Central in in your inbox, every day!
Thank you for signing up to Windows Central. You will receive a verification email shortly.
There was a problem. Please refresh the page and try again.