Microsoft Surface fall 2019 event: Everything announced
Enough new Surface and Windows news to make your head spin.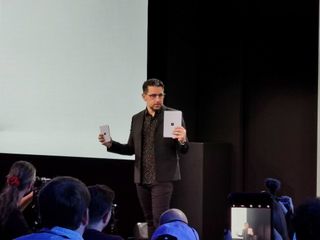 (Image credit: Windows Central)
Going into this year's Surface event, we expected it to be one of the biggest in years, and Microsoft delivered. Surface chief Panos Panay and team took to the stage to take the wraps off of not only yearly refreshes for the Surface Pro and Surface Laptop, also the new ARM-powered Surface Pro X and a peek at Surface Neo.
But, of course, there was much more than new Surfaces to gawk at.
If you weren't able to catch the stream, or just want to quickly recap what Microsoft announced, here's a look at everything debuted at the fall 2019 Surface event.
Surface Neo
The biggest star of the show today was the thing Microsoft saved for last: Surface Neo. Previously only known under the codename Centaurus, Surface Neo is Microsoft's upcoming foldable, dual-screen device. We only got a teaser on stage, but Microsoft is using Surface Neo to set the stage for what it sees as the next big innovation in PCs.
With each edge measuring in at 5.6mm thin, Microsoft says the screen packs the thinnest LCD seen on a computing device so far. There's a 360-degree hinge that uses micro-gears to rotate the two 9-inch screens around each other. The new Surface Slim Pen magnetically attaches to the back and charges at the same time.
For those worried about typing, a detachable keyboard magnetically seals to the back of the device and can be flipped on top of the bottom display at any time. The Surface Neo also includes an Intel Lakefield processor with a custom graphics engine. The chip allowed Microsoft to keep the Neo thing and light due to its size.
Surface Neo very much adheres to the aesthetic foundation the Microsoft has laid with the rest of the Surface lineup. However, from what we've seen so far, the device makes great use of its two displays, working much like a journal of sorts that's also a PC.
The Surface Neo will run a special version of Windows 10 called Windows 10X. The OS is built specifically for foldable PCs, which Microsoft is expecting to start hitting the market in the holiday 2020 timeframe from manufacturers like Dell, HP, and Lenovo.
Surface Duo
It finally happened: Microsoft is getting back in the phone game. The Surface Duo is a smaller version of the Surface Neo running Android. The design features the same sort of 360-degree hinge as the Surface Neo, but with smaller, 5.6-inch displays.
Microsoft is focusing firmly on productivity with the Surface Duo, with an emphasis on multitasking and blurring the line between your PC and phone. The phone runs Microsoft Launcher, and, of course, supports all of the apps available on Google Play.
Surface Duo is expected to release in the holiday 2020 timeframe.
Windows 10X
While we got a tease for the folding Surface Neo, Microsoft went into a bit more depth on Windows 10X. This special OS has been designed from the ground up for foldable devices, featuring a new UX, Start Menu, Taskbar, Action Center, and more. The design is also more consistent across the board with all of these elements.
Because it will be running on foldable devices, Windows 10X is highly adaptable and modular. The shell can adjust on the fly, which will be particularly important if you're moving from one orientation to another. Crucially, this isn't a separate OS, however. It's built on the same universal Windows Core OS foundation that powers things like Surface Hub 2X, and HoloLens 2.
Because of that shared foundation, you'll be able to run all of the same apps that you can on Windows 10, but Windows 10X handles things a little differently. Universal Windows Platform (UWP) from the Microsoft Store will work as you'd expect, but Windows 10X can also run Win32 apps. However, Microsoft has docoupled the components needed to run Win32 apps from the core system, which allows Windows 10X to tap into them only when needed and put them to sleep when not in use. This means you should see more consistent performance as the OS makes smarter use of what it needs whenit needs it.
Microsoft expects Windows 10X to launch alongside foldable PCs in the holiday 2020 timeframe. The company doesn't currently plan to offer the OS to devices that are already running Windows 10, so you'll have to purchase a new PC running it once it's available.
For more of an in-depth look at Windows 10X, check out our full dive into the OS.
Surface Pro X
The Surface Pro X is the first Surface to run Windows 10 on ARM. More importantly, it's the first drastic overhaul of the Surface Pro design that we've seen in some time.
The Surface Pro X features a slim, light design that's bolstered by a 13-inch screen that features slim bezels more akin to those on the latest iPad Pro. While the 2-in-1 tablet keeps some of the mainstay features of the Surface Pro 7, including the kickstand and detachable keyboard, its overall design is much sleeker than its beefier sibling.
More impressively, the Surface Pro X runs a custom Microsoft SQ1 mobile chipset, which is built on Qualcomm tech. Microsoft claimes this chip is three times more powerful per watt than the Surface Pro 6, and the company has integrated some impressive AI processing with the platform.
The detachable keyboard and Surface Pen have also seen significant changes. The new Surface Pen can be wirelessly charged, and there's now a dedicated cradle at the top of the keyboard that will hold the stylus on the go. Once you slot the Surface Pen into the cradle, you can fold the keyboard up against the display and keep it charged as you travel.
The device is also forward-thinking in terms of ports, with two USB-C ports tagging along. For charging, Microsoft has kept the Surface Connect port around, however.
The Surface Pro X may represent Microsoft's vision for the future of the Surface lineup, acting as a testbed for major design changes. More importantly, this is Microsoft throwing its weight behind Windows 10 on ARM, which may have an effect on the tepid response we've seen from PC manufacturers thus far if it garners a positive response.
The Surface Pro X is up for preorder today and is set to launch on November 5 and is available to preorder now starting at $999.
Windows 10 on ARM
The lightest and thinnest Pro available

Available in a few different configurations, the thinnest and lightest Surface Pro to date is now available for preorder. Itis expected to be released November 5, 2019.
Surface Laptop 3
The Surface Laptop 3 is more of a gradual evolution of the Surface Laptop 2, but there's are some big new additions here as well. Most notably, you can now get the Surface Laptop 3 in two size: 13 inches or 15 inches.
The new, larger model is available without the Surface Laptop's signature Alcantara fabric covering, meaning you can now pick up the laptop in a a full-metal chassis. This has the effect of making it look more like other premium laptops on the market, but it's a solid change for those who may be worried about the wear and tear on the fabric over time. For the first time, Microsoft has tapped AMD to provide the CPUs in the 15-inch model as well.
The 13-inch Surface Laptop 3 still resembles the Surface Laptop 2, but with an upgrade to Intel's 10th Gen Core CPUs. Both the 13-inch and 15-inch variants now include replaceable storage drives, so you can swap the SSD out for more storage in the future. You'll now get a single USB-C port on Surface Laptop 3, in addition to a USB-A port.
Finally, there are now some new colors to get your hands on, including "Sandstone Yellow," "Poppy Red," and "Glacier Blue."
Surface Laptop 3 is up for preorder now and is expected to launch on October 22 starting at $999.
Compact form
Microsoft Surface Laptop 3 (13-inch)
Small size, big value

Though it isn't as powerful as it's larger cousin can be, the 13-inch version of the Microsoft Surface Laptop 3 will make it an excellent travel laptop.
Go big or go home
Microsoft Surface Laptop 3 (15-inch)
Perfect for home use

With a bigger screen and some slightly better hardware, the 15-inch version of the Microsoft Surface Laptop 3 is an excellent laptop to choose for home or office use.
Surface Pro 7
The new Surface Pro 7 represents a much more modest refresh this year. There's no design overhaul, as seen with the Surface Pro X. Rather, the Surface Pro 7 carries forward the same design seen in the Surface Pro 6.
What is new is that Microsoft has swapped out a USB-A port for USB-C. Now you'll have one USB-C and one USB-A port to use. USB-C was something Surface fans have been clamoring for for some time, but it appears Microsoft isn't quite ready to go all-in on the port for its flagship Surface just yet.
The Surface Pro 7 now comes with Intel's 10th Gen Core CPUs, ranging from a Core i3 up to a Core i7. You'll also now get LPDDR4x RAM, which should make for a a noticeable improvement in performance over the LPDDR3 RAM in the Surface Pro 6.
Surface Pro 7 is up for preorder now and is expected to launch on October 22 starting at $750.
Powerful 2-in-1 Surface
Now with USB-C and 10th Gen Intel Core CPUs

The Surface Pro 7 has been refreshed with 10th Gen Intel Core i3, i5, and i7 "Ice Lake" CPU options for improved performance, and it offers a USB-C port for added connectivity.
New Surface Slim Pen
The new Surface Slim Pen debuted alongside the Surface Pro X. The stylus now includes wireless charging, which is a change from the replaceable batteries on previous versions of the Surface Pen.
When paired with the Surface Pro X, you can stash the pen in a dedicated cradle at the top of the device's detachable keyboard. The new design allows you to stow the Surface Pen in the cradle and fold the keyboard up against the display. This allows the Pen to charge while you're on the go and will be the pen of choice with Surface Neo next year.
Microsoft says that the Surface Slim Pen is "compatible with a wide variety of Surface devices," but there's no concrete list available just yet.
Slim down
The Surface Slim Pen is totally redesigned, offering a slimmer profile and wireless charging to complement the Surface Pro X and a "wide variety" of other Surface devices.
Surface Earbuds
Last year, we got Surface Headphones. This year, Microsoft is tackling the earbud market.
The Surface Buds look a little odd, with a circular, white design the definitely stands out. However, inside, they're packing some of the same smarts that powered the Surface Headphones. You'll be able to communicate with Cortana with voice commands at any time, and that large circular exterior serves as a touch surface for issuing command like skipping songs or interacting with calls.
The Surface Earbuds feature 24-hour battery life, charge in a dedicated case, and work on all platforms. The touch features can also work hand-in-hand with Spotify, allowing you to start playing with a couple of taps. Amazingly, even Office is integrated, allowing you to do things like create captions in real-time during PowerPoint presentations.
Surface Buds are expected to launch "later this year" starting at $250.
Get the Windows Central Newsletter
All the latest news, reviews, and guides for Windows and Xbox diehards.
Dan Thorp-Lancaster is the former Editor-in-Chief of Windows Central. He began working with Windows Central, Android Central, and iMore as a news writer in 2014 and is obsessed with tech of all sorts. You can follow Dan on Twitter @DthorpL and Instagram @heyitsdtl.