Surface Pro X is thin, stylish, and runs a custom Microsoft SQ1 mobile chip
The Surface Pro X may just represent the future of the Surface Pro lineup.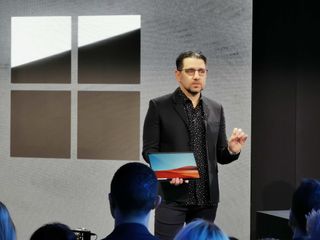 (Image credit: Windows Central)
What you need to know
Microsoft announced the Surface Pro X at its October Surface event.
It's the first Surface to run Windows 10 on ARM, and it represents modern overhaul in design.
Surface Pro X is set to launch on November 5 and is available to preorder now starting at $999

(opens in new tab)

.
In addition to updates to the refreshed Surface Pro 7 and Surface Laptop 3, Microsoft introduced a new entry to its Surface lineup: Surface Pro X. Whereas the Surface Pro 7 kept things safe with a familiar design, the Surface X represents a major overhaul with a forward-looking design and features.
In a glimpse at what the future may hold for the rest of the Surface Pro line, the Surface Pro X is an impressively thin and light 2-in-1 tablet that carries forward the basics of previous Surface Pros, including the kickstand, but with substantial improvements. Most notably, the bezels on the Surface X have been drastically thinned out compared to the Surface Pro 7. The front of the device looks more akin to Apple's latest iPad Pro, which sports similarly thin bezels.
Aside from the design overhaul, the Surface Pro X is also the first Surface to run Windows 10 on ARM. The device is powered by a custom Microsoft SQ1 mobile chipset based on Qualcomm technology, which is the company's first chip to be geared specifically towards PCs. We've previously heard that the chip should approach Intel Core i5 levels of performance, and it's likely Microsoft has done some work to make sure performance is up to snuff.
We've seen previous Windows 10 on ARM devices claim up to 22 hours of battery life, but Microsoft is claiming around 13.5 hours in average use for the Surface Pro X. Microsoft also claims Surface Pro X has three-times more power-per-watt than the Surface Pro 6.
As for raw specs, the Surface Pro X comes with a 13-inch Pixelsense display at a 2880x1920 resolution (267 PPI). Microsoft has kept the same 3:2 aspect ratio here as well. RAM options come in at 8GB or 16GB of LPDDR4x RAM, and storage can be configured from 128GB up to 512GB.
There's LTE on board here, so you'll be able to stay connected on the go. There are also two USB-C 3.2 Gen 2 ports (no USB-A here), a Surface Connect port for charging, a 5MP front-facing camera (1080p) and 11MP rear camera (1080p). The whole package weighs in at just over 1.5 pounds.
Perhaps just as interesting as the Surface Pro X itself is its keyboard. The detachable keyboard slots into a port on the bottom of the display, and it includes a dedicated slot for the new Surface Pen just about the number keys. The Surface Pen has been redesigned for the Surface Pro X and can be wirelessly charged while it's in the keyboard cradle.
While this new design is only present on the SurfacePro X for now, this could be an early look at what Microsoft has planned for the future of the Surface lineup in the future. Further, the launch of a Surface device running an ARM processor signals that Microsoft is throwing its full weight behind Windows 10 on ARM.
Here's everything Microsoft announced at its Surface 2019 event
Surface devices have always been intended to represent an example of Microsoft's vision for PCs, serving as a sort of guide for other manufacturers to follow. Windows 10 on ARM has seen a somewhat tepid response from PC manufacturers thus far, so it'll be interesting to see if Surface Pro X spawns more devices of its ilk from the like of HP, Dell, Lenovo, and others.
Windows 10 on ARM
(opens in new tab)
The lightest and thinnest Pro available

Available in a few different configurations, the thinnest and lightest Surface Pro to date is now available for preorder. Itis expected to be released November 5, 2019.
Windows Central Newsletter
Get the best of Windows Central in in your inbox, every day!
Dan Thorp-Lancaster is the former Editor-in-Chief of Windows Central. He began working with Windows Central, Android Central, and iMore as a news writer in 2014 and is obsessed with tech of all sorts. You can follow Dan on Twitter @DthorpL and Instagram @heyitsdtl.
Does $999 include the KB and Pen?

I think it doesn't. Also looking at the pricing, it's a bit crazy. So to go from base model and just go from 128GB to 256GB of storage is a $300 bump in price. That is simply ridiculous to charge that much for an extra 128GB of storage. I was thinking about buying this, but certainly not with that kind of rip off pricing for storage.

Well, you could always upgrade the storage at a later time if you need more storage, since you can replace it.

There are phones on the market costs way more than that, and trust me, you can do everything on such expensive device as the cheap ones, exclude the camera.

Just got off the chat with a MS rep, and if info correct the KB comes bundled with SP X for $999... although only black (standard case) available currently. No Alcantera. No colours. And the Surface Slim Pen can be pre-ordered for an extra $144.99.

If the keyboard is included than the price is fair I guess. The pen is on the expensive side though.

I agree with you; with a keyboard, this price is ok, but 150,- for the pen is 50,- too much...

If you look on the M$ site for the Pro X it clearly states "Type Cover sold separately" I think the M$ rep told a fib ;)

Nice, skipping the 8cX and offering a bespoke version is a great differentiator from say the Galaxy Book 2. For a productivity, creative, and enterprise crowd this will be awesome. I am amazed how much little things like instant on and a real battery life that can go a couple of days when need be makes up for the one program I had to go find an older version of (since the new one was 64-bit only on X86). The SD850 does really well when it has to emulate Win-32, this thing will probably make it a nonissue for most people... plus thank god the base is 8GB, it makes a huge difference here.

They have hardware nailed. If only they were so great with design as well. These bezels are awful. That's not how a 2019 device should look like. At least make the bezels symmetrical on all sides if you need to have them. They look especially bad with the much rounder edges of the devices.

How is the bezels "awful when its thinner on the sides than an iPad Pro and about the same thickness on the top and bottom???

You mean the Surface Pro 7? Because this Pro X has very small bezels.

I think my SP3 is getting replaced with the X... as long as the price is right.

Until developers start porting over their software en-masse, I'm not touching a Windows on ARM device. I want native performance for x86 software. You're potentially throwing away a lot of investment in software moving to that - especially if you use higher priced professional software (and not the cheaper "Apps" that are FAD, these days).

Didn't MS, during the keynote, say it's running full Windows 10?

It is, the applications run under simulation, but it is full Windows 10.

You're not throwing away anything. x86 apps might run slower, but they'll run on Windows on ARM. And according to Qualcomm they will run about as well as on a 7th or 8th gen U-series i5. With twice the battery life! What is there to complain about?

It won't wrong x86-64 apps though. Only 32 bit software which means all l 64 bit Windows software won't run anymore which in this day and age is a lot of software.

You can't just generalize and say that ALL x86 software will run poorly on this. Yes, don't expect to run Call of Duty, Wolfenstein, heavy-duty photo-editing apps or anything overly demanding on this at enjoyable speeds, but for someone like me who uses x86 productivity apps that are not really that CPU intensive (MemoQ, Trados, Across for translation), this is a very attractive proposition, provided that it works bug-free.

"priced professional software", the Surface Pro's are not workstations, you need to get a thinkpad p, precision or zbook or such for those workflows. I think the X will be great for artists (seeing Adobe at the event) and Office users etc.

Have you actually used an ARM W10 machine? I have an SD850 version (Yoga C630) and honestly I haven't had a problem with the emulation performance. I run Office (native), Edge Canary, Chrome (X86), ToDo (native), ChemDoodle (a chemical structure editor running X86 with a Java backbone), Python 3.7 (X86), Visual Code (X86), and a few games (Grim Dawn, Torchlight 2, Endless Space) and not had any performnce issues. Not only that but I have an honest 18-20 hours of battery life, instant on (can't live without it now), and LTE, all for around $525 when I bought it (right before the 8cX launches). The perceived "performance issue" in emulation is already a mostly nonissue for productivity work, and even performance apps will probably be nonissues on this bespoke chip.

$999 for the base model, so already $250 more than the Surface Pro 7. However beware, it doesn't come with a pen or keyboard. Getting both well set you back several hundred dollars on top of that base price. And if you need the headphone jack, that's another separate dongle now. And finally, it's an ARM CPU so it's going to be a lot weaker than the Intel Core CPU's in the Surface Pros.

Since the base model has LTE built in it is already an unfair price comparison with a SP7 which hasn't had LTE built in since the 2015 SP.

Any idea on cost? And when we say compares to i5 are we talking first gen i5 or 10th gen? Lol huge difference.

Surface Pro X starts at $999. It isn't running on Intel processor but custom MS / Qualcomm ARM processor.

They're being typically sloppy and ignoring their own reporting, but by i5 they mean 7th or 8th gen U-series i5. The comparisons mentioned in WC coverage of the Qualcomm 8cx mentioned both 7th and 8th gen, if memory serves. That's pretty good.

Well, I like this a lot. This is pretty much exactly what I wanted. I just hope the pen feels good in the hand, the battery life is at least as good as advertised, and (emulated) x86 apps run smoothly and as fast as on my SP(2017). If the answer is "no" for two of these, I'll probably just stick with the regular Intel version (which is still awesome).

What did Daniel mean by "removable drive"? What was that device?

IF A PERSON really wants a always on light Surface device the Surface ProX is the way to go if
it runs the Win32/x86 emulation software fast and smoothly. that's the Key for the Surface ProX
to be a success

I want this. I have no use for it, but I want it. This was the best thing announced today.

Waiting for the 10" Go version! Any word on whether we can expect ARM Go next spring?

They are probably waiting for Qualcomm to announce the 7cX and 6cX equivalent chipsets. The phone versions exist but Qualcomm has not officially said that these budget lines will jump to the WoA group.

Too expensive for ARM only and includes no headphone jack.

This is definitely a great device for artists, not my cup of tea but it's a nice evolution of the Surface Pro.

No mention of Micro SD port? That would kill the deal for me. No headphone jack. Pen not included, type cover not included. Very pricey, and I thought one of the selling point of ARM was a lower price point....

Why would you think "one of the selling point of ARM was a lower price point"? We have $1,000+ phones. They run on ARM. 13" screen tablets are going to be more than $1,000.

Because that was the original purpose of ARM, to be a cheap low power alternative to Intel. Have you not seen the market being flooded with dirt cheap $35 or less Android tablets the past few years? They're all running ARM SoC's because it's cheaper than Intel or AMD. The pricing of the Surface X is absurd, especially because it doesn't come with a keyboard or pen while the Surface Pro 7 is $250 cheaper and does come with some accessories, not to mention the Core i3 CPU will no doubt be more powerful and be capable of running more windows programs thanks to its 64 bit support.

They are not running top of the line bespoke Qualcomm SOC in a $99 android tablet. This is the equivalent of a top of the line phone processor and all custom build, you get what you pay for.

Umm... should we be worried that the spec sheet didn't mention a 3.5mm headset jack?

It is too thin for USB-A, it probably doesn't have a headphone jack. Do you really want wires anyways? It is almost 2020...

For a productivity device of course I'd want it to be able to connect all my wired devices and accessories, including headphones. And for a device that costs $999 and doesn't come with the pen or keyboard, it's even more ridiculous we have to also buy a dongle on top of all those other accessories.

I said headphones. Wired headphones are dead. If you insist on running wires to the device, there is a USB-C port.

Not at all. It probably doesn't have one, it doesn't need one.

As Dan covered in his podcast, pushing the space inside for a headphone jack requires a sacrifice of something else, most likely battery.

Jesus, look at people STILL worried about a headphone jack. We are 20 years into the 21st century. Get some new headphones already.

There hasn't really been anything newer or better. Bluetooth is almost 20 years old now and still has the same issues and annoyances as it did back in the 1990's. That being said, a USB-C headphone could be reasonable, would be a lot better than that ancient bluetooth stuff. And since this uses a surface charger, a USB c headphone wouldn't take up the charging port, solving the issue with removing the headphone jack in smartphones.

I have used nothing but Bluetooth headphones for several years now. The specific model I use no longer have the annoyances they originally have. They are almost perfect. Pairing is the only issue I have. It could be easier, especially on Windows.

So, Daniel Rubino. Where is the "6.5 inch tablet that unfolds to a 13 inch tablet"? Do you now understand how screens are measured?

I hope next year there will be a 10 inch version to replace my Surface Go. I love pro X but I don't like its size. I'm typing this comment from my Surface Go. This is the best size for me.

So the base model costs $250 more than the base Surface Pro 7 at launch, yet it will have weaker performance, doesn't come with a keyboard or pen, and removed the headphone for a separate dongle you have to buy.... Are they crazy!? Who in their right mind would buy this? It's weaker and does less than a Surface Pro, which actually comes with accessories and built in ports. Pretty sure there are Surfacr Pro models with LTE connectivity too. So who's this Surface X actually for?

The SP7 doesn't come with a keyboard or pen, has only one USB-c port, weaker battery performance, and lacks LTE... your point?
Windows Central Newsletter
Thank you for signing up to Windows Central. You will receive a verification email shortly.
There was a problem. Please refresh the page and try again.