Swarm will make you mayor of your friends, offer stickers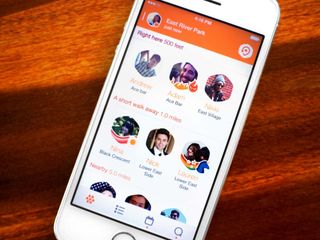 Last week Foursquare announced Swarm, its new app for checking in. That's right. Foursquare is pulling out the check-in component and building a standalone app around that experience. That app will be called Swarm and will focus on connecting you with your friends. While the Foursquare app that remains will serve to help explorers find new spots. Today Foursquare has shared more details about Swarm, which launches next week.
The game mechanics we all love in Foursquare are changing with Swarm. Things like Mayorships and Badges worked when only 50,000 people used Foursquare, but have broken down a bit now that over 50 million people use the app. Everything is getting revamped with Swarm. Insights will remain in Swarm. Insights are the little pieces of information like "Your 4th week in a row at your gym". Those aren't changing and will remain inside Swarm.
Stickers have been added to Swarm and can be used with check-ins. Those Stickers in Swarm will all be free and are built to help you express how you feel or what you're doing. Everyone will get access to the same number of Stickers at first, but more will be unlocked as you explore the world and check-in to more places.
Mayorships are getting a big revamp with Swarm. Mayors 2.0 will work quite a bit differently than when Foursquare started out. Mayorships will now be earned against friends. The person in a group of friends who has the most check-ins for a location will earn a crown sticker. This way you're not competing against a stranger who is at spot every single day. A single location can now have multiple mayors.
Starting today, current Mayorships will 'freeze'. There will be no more outings of Mayors and the current Foursquare app will continue to show the current Mayor of a location. This move will help make way for Mayors 2.0 in Swarm. Badges seem to be out, at least for Swarm. The new Foursquare app coming this summer will feature the spiritual successor to badges. Foursquare hasn't shared any details on what exactly that means, but we'll find out soon enough.
Swarm will be available on Android and iOS next week. A Windows Phone version of the app is due out shortly thereafter. Let us know what you think about the upcoming changes to Swarm and Foursquare.
Source: Foursquare
Fuck this app! Its a stolen app that was created by my best friend Sean Taylor. Read the story on medium.com

The guy sat on an "idea" for several years and sold off the domain. I doubt he was ever going to really make the app. And it's not like it's some super original idea. It's just a pivot off of what FourSquare already does. It could have been thought up by thousands of people in that time. Ideas are a dime a dozen. Execution is what matters. I do feel a little bad for the guy. But this isn't some big travesty. I mainly just feel bad for him because he probably realizes that he should have put more time and effort making his idea into reality years ago.

Like that one commercial with all the husbands telling their wives they have a big idea but don't put it online. Sky waitress.

So what happens to the main foursquare app then?

Glad to see Microsoft investing some money into Foursquare means that we can have an app that launches at the same time as on competing platforms. Errr, wait.......

That's what I was hoping, too...

i think that they will wait for the Cortana integration on July. IMO

Should be out on Windows Phone before Christmas hopefully

Ps...Sean is still moving forward with his app. I will wait for his and not download this ripped off version of it.

I'm not sure if anyone cares to be honest with you.

I'm trying to give a damn but nothing happens.

I hope that the app comes soon to windows phone!

Of course we get it after everyone else...smh!

Sadly that's how it works when you're on a platform with only 4% market share. Developers go where the most money is.

"The money" is here since Microsoft pumped them up with some cash.

They must have spent the money on child support payments because I can't see where the money went. Not yet anyway. It has always been mad slow on WP and too inaccurate to be believed.

"shortly thereafter" means 6 - 9 months later. Or after everyone has already become a mayor.

"shortly thereafter" Sure, that's what they makes us think. I say a month at least.

Lame. I prefer the old system, part of the fun was competing against strangers.

Yeah I've had some fun duels. :)

Fully agree. It made it more "challenging" to compete with strangers. Most my friends don't even use foursquare so this practically just killed the experience for me. Hopefully they keep the Nokia Drive integration, as that feature has actually been very useful to reach locations I've never been to especially in countries that dont have addresses.

Foursquare doesn't need assistance getting slower than it already is. I can't imagine how this improves on the existing WP app. Foursquare works great on IOS but on WP, not so much. Even Sam agrees with me. Got that Iphone 5 in the article. I wonder if this works with 4th and Mayor.

4th and Mayor hasn't been updated in like over a year. So I think we can safely say no.

It was updated twice less than a month ago with improvements and support for HD screens

4th's last update was 2 weeks ago. It also added Social Extension.

Good that the freeze is today. That way I'll be forever mayor of the Microsoft Office here on Costa Rica

I have 2 friends that use foursquare. I dig it. But now ill be mayor of everything coz my two friends don't even live on the same continent as me. Great. Stupid

Wait... so it's stupid because you personally don't fit into a situation where this app is useful to you? Did you forget that there are millions of other people out there; many of which do have a lot of their friends on FourSquare?

Nah I didn't forget. I do actually wish people I know would use foursquare more I think its cool. Good point though, guess it is a bit selfish to say its stupid coz it doesn't work for me. But yeah guess I'm just bummed coz it wont. Oh well.

Hmmm... I wonder if you could find a bunch of people on the forums that will friend you on FourSquare. It could be a neat way to kind of meet new people... even though you're not really meeting them. But still....

I have very few friends on Foursquare (I'm an old fart), but I enjoy keeping track of my history, get badges and mayorships. It doesn't sound like Swarm will be of much use to me or those like me (I will be mayor of every place I go to!) Other than that, sounds like fun, if I was 25 years younger.

I think the new foursquare app will be more geared towards that end. This app is a completely separate entity that has grown out of the foursquare.

I think you should have fun with what you like despite your age :)

Oh, I'm having fun with it. I just don't think Swarm will be useful at all to me. I imagine a LOT of people use Foursquare like I do, so I don't see how niching the service further will be able to broaden its userbase. That makes no sense to me. But as I always say, I laughed at Twitter when it came out.

I agree... Niching the service will hurt their business model in the long run. They need a large population as possible to generate up to date information about locations. Making this population smaller will lead to nothing

did the fix the ability to auto leave the establishment? i dont go checking in every places i visit so it should auto-ask me if im still the place or do it for me via GPS. ive been at olive garden for 8 months.

So will there be anything for us WP users to do with Foursquare until, what a year from now (aka "a few months" in developer speak), when our Swarm finally comes out (with way less functionality and a non-Modern UI, of course - we still can't check friends in, or check in to events)?

Woohoo frozen mayorship is brill, been in a long running battle at work and just stole it this morning.

The story of an operating system that always gets things later and, probably, in lower quality. That's so sad.

It will probably launch by Christmas and then have less features than iOS or android, then never be updated whilst its competitors constantly get updates!
Ahh the life of a Windows Phone owner! ;)

Why didn't they just add this crap to the current foursquare

Worst idea ever, mayors 2.0, if in my group im the only person that visits a place wheres the challenge? i mean the place its popular but in my group im the only that goes there, i use to go to a store near my house i compite with the rest of the comunity but not with my group cuz nobody goes there an a lot of examples like that, what about the badges the best part of foursquare its over too at least in swarm. Im goin to try the new app but i think that the party its over, Microsoft kill the app
Windows Central Newsletter
Get the best of Windows Central in in your inbox, every day!
Thank you for signing up to Windows Central. You will receive a verification email shortly.
There was a problem. Please refresh the page and try again.