T-Mobile announces JUMP! On Demand, allowing customers to upgrade at any time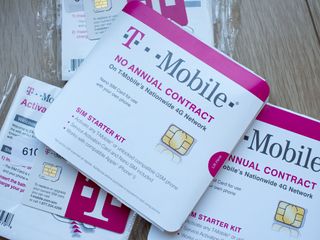 The first move from T-Mobile under its Un-carrier Amped campaign is JUMP! On Demand, an addition to its existing upgrade policy. Previously, customers had to pay a $10 fee each month to upgrade whenever they wanted, but T-Mobile has removed that fee in JUMP! On Demand. The monthly phone payment now covers that cost, meaning it is no extra to you. Customers will now be able to get three upgrades in a single year, giving you complete freedom to have the device you want in your pocket.
With this, there is no upgrade fee, no additional monthly fee, and no taxes, so you walk out the door paying no extra money. JUMP! On Demand kicks off on June 28, and be sure to stay tuned for the rest of the Un-carrier Amped announcements.
Press release:
T-Mobile Unveils All-New 'JUMP! On Demand' − a Whole New Way to Get a Phone Whenever You Want
T-Mobile kicks off 'Un-carrier Amped' -- cranking up the volume on its revolutionary Un-carrier moves – by unveiling new 'JUMP! On Demand' phone payment plan
Un-carrier introduces the industry's lowest monthly cost for iPhone 6 – at just $15 a month with trade-in
Bellevue, Washington — June 25, 2015 —Two years ago, T-Mobile [NYSE: TMUS] promised to take on a wireless industry that'd grown too fat to give a damn about its customers. Since then, the Un-carrier™ has eliminated the worst of the carrier abuses with an aggressive drumbeat of industry-rocking moves—and Americans have responded by making T-Mobile America's fastest growing wireless company. But the company isn't stopping there. T-Mobile is rolling out a series of epic updates to some of its wildly popular Un-carrier moves this summer and calling it 'Un-carrier Amped!' So today, the company kicked things off in a big way by amping up Un-carrier 2.0, its groundbreaking JUMP!® program, and introducing the industry's lowest monthly cost to get an iPhone 6 when you trade-in your smartphone.
With T-Mobile's new JUMP! On Demand™, one low monthly phone payment covers the cost of a new smartphone and gives you the freedom to swap it for a new one absolutely anytime you like … at no extra cost. Which means you don't pay a penny to walk out the door with your new smartphone today–not even sales tax, with qualifying credit. No fees to upgrade whenever you want, no waiting and no worries about paying off your old phone when you upgrade.
"While the carriers are breaking every promise they've ever made with their knock-off upgrade programs, we're racing full speed ahead, making one of our most popular moves even better," said John Legere, president and CEO of T-Mobile. "JUMP! On Demand is the best way to get a new smartphone whenever you want. Zero out the door. Zero at upgrade. Zero fees. Zero wait. Zero BS."
Hear more about JUMP! On Demand from Legere in his latest video blog.
Get a New Smartphone When You Want Nearly half of Americans say they wish their carrier would let them upgrade their smartphone more often. So they're counting the days until they can get that next new smartphone. With Jump! On Demand, you can get a new smartphone whenever you want at no extra cost.
Here's how JUMP! On Demand works: Get a new smartphone for zero out of pocket with qualifying credit, and zero sales tax due today, followed by one low monthly payment that includes the cost of that new smartphone and, for free, the ultimate freedom to upgrade whenever you want. When you want a new smartphone, just swap your old phone for a new one. That's it.
Customers with JUMP! On Demand can upgrade anytime − tomorrow, next week or next month − up to three times a year. Simply bring in the last phone you got with JUMP! On Demand for a quick three-point check-up to ensure it's in good working order and swap it out for a new smartphone. Which means you could get six brand new phones during the time it'd take to get one upgrade at Verizon.
When you get a smartphone with JUMP! On Demand, your monthly payment is about the same as it would be with regular financing, and there's no extra $10 monthly program fee. T-Mobile's most popular smartphones are available with JUMP! On Demand. See the full list of available smartphones at www.t-mobile.com/jumpondemand in the FAQs.
Existing JUMP! customers can get a new smartphone with JUMP! On Demand the next time they upgrade, and won't have to pay that extra $10 per month because the ability to upgrade whenever you want is now included in your monthly phone payment. And, if you still want device insurance (Premium Handset Protection), it only costs $8 per month.
Making It Easier, Not Harder, to Get the Phone You Want … When You Want It Nearly two years ago, T-Mobile rocked the wireless industry with JUMP! so Americans could upgrade when they want, not when they're told. JUMP! busted down the barriers to upgrading, and it was a huge hit. Over 10 million people signed on and made the most of JUMP!, upgrading their phones 30% faster than everyone else—every 14 months compared to the industry-average of nearly 20 months.
JUMP! was so disruptive, the carriers were forced to roll out their own knock-off "early upgrade" programs. But they've been changing their fine print ever since. Today, carrier customers are forced to wait even longer and pay more to get the phone they want. Verizon Edge customers originally had to pay off 50% of their phone before they could upgrade. Then Verizon upped the payout to 75%. Now, they make you pay off 100% of your phone before you can upgrade—which can take 24 months.
"Verizon's quietly turned their 'early upgrade' program back into a two-year contract – as if nobody'll notice. And AT&T isn't much better. These guys just don't get it," added Legere. "Customers want more flexibility and freedom not less. So, while they make you wait longer and pay more, we're changing the game again with JUMP! On Demand."
Lowest Monthly Cost for iPhone 6 Now, for a limited time, you can get the incredibly popular iPhone 6 with 16 GB at the industry's lowest monthly cost of $15 a month with JUMP! On Demand when you trade-in your current smartphone. That's an unbeatable price the competition just can't touch. And with JUMP! On Demand, you can easily upgrade to the latest iPhone at any time.
With Jump! On Demand, you make payments on your phone for 18 months. After 18 months, you can simply turn in your phone with nothing more to pay, or upgrade to your next new phone and start a new plan, or make a final payment and keep your phone. If you keep your phone and make the final payment, the total of your payments will equal the retail price of the phone. In addition, customers can pay off their JUMP! On Demand plan at any time by paying the remaining payments in advance, and keep their phone without penalty.
JUMP! On Demand is available in participating T-Mobile stores nationwide starting June 28th. For more information, visit www.t-mobile.com/jumpondemand. And follow T-Mobile CEO John Legere on Twitter (www.twitter.com/JohnLegere) to see how he's planning to surprise his followers and celebrate the launch of JUMP! On Demand with them.
$0 down at signing + $15/mo for 18 mo. lease O.A.C. If you cancel wireless service, remaining lease payments become due. Device must be returned in good condition or purchase option exercised ($164 for iPhone 6 offer) at cancellation or after 18 mos. Qual'g service, eligible device trade-in & upgrade req'd. No device security deposit. Monthly taxes additional.
Windows Central Newsletter
Get the best of Windows Central in your inbox, every day!
Jared started off writing about mobile phones back when BlackBerry ruled the market, and Windows Mobile was kinda cool. Now, with a family, mortgage and other responsibilities he has no choice but to look for the best deals, and he's here to share them with you.
Too bad they dont get many wndows phones. IF they get the new top of the line windows 10 phone coming out second half of the year then I will switch. If not I will be stuck with att.

Ditto. I really want to switch from cricket. And I want wifi calling.

You want to pay more for worse coverage?!

Coverage is based on locations, tmo has a $40 option like cricket, I hate att.

What about AT&T don't you like? I'm asking because I'm considering going to AT&T. I'm a long time Verizon customer, but have tired of their disdain of Windows Phones. Verizon's support of WP is terrible. Anyway, I want to know what about AT&T makes you want to jump ship.

Depends on where you are at, currently in my city tmo covers everywhere except the deepest dark holes, and wifi calling fixes that anyway.

What is the problem with Cricket?

Agree tmobile is the numero uno if they want to sell windows phones imo anyway but especially in the usa

It is mainly for the high cost devices. All the devices on the current list are 500+ phones. Since you are leasing the phone and tmobile owns it through the lease, why would you pay 15/month or 20/month on a lease option for a 130 buck phone that last 18months for the lease?

Hoping that unpleasant fact changes soon. I'm switching from Sprint when all this starts next week and picking up the Lumia 640. If Windows 10 flagship devices never arrive on T-Mobile, at least they don't lock you into a 2 year contract. Could always hop right back off to AT&T.

sounds to good to be true
so all this cost you 15 bucks a month and you have to trade in your old phone
but you can get up to 3 new phones every year. this is great for tech freaks who always wan't the newest shit


And those with buyers remorse.

I can't imagine this will be a sustainable business model. It just doesn't make sense. People could potentially eat all or close to all revenue in devices. Unless I am missing something.

They probably make a good bit of money off of selling used or refurbished models. Same way a used car gets the seller a lot more money than a new car.

Legere's gimmicks aren't bringing in enough profit. He's a great guy and has lots of pro-sumer ideas, but they aren't fiscally sustainable. He will eventually go on to a different company and TMobile will be left holding a bag of hurt. Time will tell. Posted via the Windows Central App for Android

This is my thought as well. Either making the company attractive for another buyout attempt (not sure who can or would) or making himself attractive to another company.

It's a lease program very much like car leasing. If the returned device is in bad shape then there's a penalty.

You are just leasing instead of buying, they wouldn't be do anything at a loss.

T-Mobile US then... Not hard really.

If only they worked in my house

Get a wifi calling phone. It's incredible

They should make WiFi calling available for HTC One M8, then...

WiFi calling will take care of that.

Where do you live? T-mobile is working on deploying the 700mhz band but you needa phone capable of band 12. also working on the 2g to lte refarm.

I like this CEO. He gets it. Too many companies forget that everything they do should be people oriented. Keep people in mind first and watch the profits come later.

He does everything he can to support the Android / iOS duopoly while bemoaning the much lessor ATT / Verizon duopoly. He is a showman and a hypocrite.

I know we're Windows fans on here, but if you were running a carrier wouldn't you do the same? I don't think a carrier stocking nothing but Blackberry's and Windows Phones would be doing pretty well right now. It's an unfortunate reality, but reality none-the-less

At least cricket gives WP equal billing on their site and in stores. I guess it's to much to ask T-Mobile to do the same (and get better sales reps while they're at it). No. They support duopolies when it suits then. They go whining to the FCC for protection when it doesn't.

Agree there. ATT and Cricket pretty much support every platform.

Now they just need to get better service and they win. They're the fastest, but their 4g and lte is not always available. I'd say for me, 60-70% of the time. Its still nice to get 13 mbps on a 4g (which is essentially 3g+) phone, but they just need more coverage.

I think he's the only mobile carrier CEO that speaks freely without any bullshit

Im very happy with what tmobile is doing, because of them the mobile industry got cheaper and cheaper to the point that metro,virgin and all the small mobile operators can't even compete, att is my prefered net workd, I have been with them for 5 years, I liked what I see with them, I like the fact that att adapts to tmobile, they try very hard to copy what tmo does, I know they hated it, but they have to do it, because people wants the NEW PHONE all the time... I still have my 1520,I got no plans of switching or getting a new phone that is not better than my 1520, now if tmo has something better than my 1520 I will probably JUMP ON IT, other than that I will not JUMP on the iphone6 WHY? I own a iPad mini, its almost the same thing...

Damn. I'm the type of person who would just like to "rent" a phone and be able to get an upgrade whenever something new comes out. Too bad Verizon's idea of what the "customer wants" is to make you pay 100% of your phone off. I was on TMobile for about two years when I lived in Cleveland and it worked great...in the city. Get anywhere outside the burbs and service was spotty to non-existent.

Hmmmm, I might use this to get a Sony Z3 and whenever a flagship Lumia comes I'll switch to that.

I got a z3 lat last year, and this will be my plan once a sweet WP launches.

I cry every time I read about these Uncarrier announcements, cause I can't get TMo coverage in my area. New phone every 4 months? Ballin' Posted via the Windows Central App for Android

If only they had something to JUMP to.

All the flagships available? Just wait, we'll get our flagship when Windows 10 comes.

...only if T-Mo supports that flagship, it won't be a problem to us.

I assume you still have the $20 a month for the phone, right? Also, does this still cover cracked screens?

Insurance is now separate at your own cost

I thought Jump included the insurance. Like, it was the insurance+upgrades

The original jump plan is still better if you have it. Under the original Tmobile pays the remaining phone balance for you, no money out of your pocket. Only you are limited to 2 a year instead of 3.

Unless I read it wrong, you don't have to pay off the remaining balance here either. You just walk in with your phone, they make sure it looks nice and works and hand you a new one.

It includes insurance too.

You can still get the insurance for $8 (saving $2 a month), and then upgrade with zero-payoff required three times a year now. Think the new plan is better than the original.

I really wish T-Mobile was an option for me. But with their service in my area, I wouldn't even be able to use my fancy new phone.

I bet this is only for phones with high resale value like iPhone 6 and Samsung Galaxy S6. You'll never see a Windows Phone get this.

New Lumia 640s and Pre-Owned 521, 530, and 635s are in the deal. Sadly no HTC One M8 for Windows.

I want to keep my phone, I dont want to lease it

Which they still let you do. After 18 months of payments it's yours. The way I see it you can either view Jump as a rental program and get three phones in a year. Or a payment plan if you want to keep your current phone and not pay full retail up front - which is basically what Verizon has turned Edge into.

You can still do that by paying the full price at purchase or making the payments/paying it off before upgrading.

Pretty baller setup. Hope AT&T follows suit.

I almost switched to T-Mobile as my Verizon contract was coming up, but ultimately it would have cost me MORE to move to T-Mobile. Verizon's $15 Month2Month line access is too good of a deal. Purchased a $150 Ativ SE off ebay and the two year cost of my line (including base charge, line fee and phone cost) is $894. T-Mobile wanted $499 for an equivilent M8 (purchased directly from HTC, no other flagship level devices offered at T-Mobile) with Windows + $45/month for a two year total of $1579.

15 month to month line access but how much is your data plan? Because VZ charges line access along with the data plan.

Great. Now just offer a phone I'd consider using (other than as a backup), Not everyone wants a starter or mid-range phone. A 640 is a good phone and I've bought 8 T-mobile phones as gifts over the years (3 521s, 1 635 and 4 640s) for people who only needed low or mid-range. But where was their 1520 (or 1320) and where is there 640XL? They don't even sell the 640 in their stores! The un-carrier concept is great but please up your priority to get more and better Windows phones!

If they had better windows phones, and better service here in my area. I'd switch so hard.

Key word at the end of the article.....15 a month for the LEASE O.A.C. I like to sell my previous phone to subsidize my next phone .......

The $15 a month is for the iPhone. Others will be different priced.

I wish att adopted the free music streaming and 6 month roll over data like tmobile has.....t mobile just doesn't work where I live and work

Just wait. Tmo is probably merging with dish network and dish just bought a bunch of cell towers.

To save a lot more money this would be the better choice. My wife's and son's phones can just be switched straight across(sg6 & m9) but for poor ol' me, I gotta get a mid range ir run out and buy a 1520( Icon is my phone now) to have something close to my phone that's a over a year old now. No mountain coverage blows, my aunt is the only one with wifi out of my family up there. I dunno, I just dunno.

T-Mo hates WP, So, forget your JUMP anything. I tried it once getting the Lumia 925 thicking this is the beginning of an awesome relationship. That was the end end of my JUMP nothing higher ever came after L-925, then the sales person said you can try our latest Galaxy or iPhone, because you are not resricted to WP only, and I looked him right in the eye and said WP is all I am interested in right now.

I love T-Mobile, but I just moved to Cricket Wireless. I couldn't deal with the spotty coverage. Cricket has been outstanding. Plus, I pay $35 a month. WiFi is everywhere here in NYC and North NJ, so the 2.5GB doesn't hamper me all that much.

hmm interesting, what coverage does cricket follow? Im here in Miami, FL and the tmobile signal has been really bad the last month (more than usual) im wondering if cricket is a good option here

My old Lumia 521 still works like a charm. I don't need to get the latest phone every year. My plan is to buy the newest Lumia 640 for Christmas, that's it. Perhaps by then, it'll cost less.


Just got two Lumia 640s to replace broken 635s in my family. They work like a charm, if you can, you might want to upgrade around when Windows 10 Mobile is released. Only $5.40 a month.

about to go to tmobile and buy my mom the 640, she thinks her 521 isn't cool anymore lol she wants flash and a front camera like her friends, wait till she sees the 640 and wait till I tell her its only gonna cost 130$ and lower our contract by 5$ cuz that's what they're charging her for the 521 monthly -_- win, win, win lol

t-mobile just want to push android and ios , WINDOWS is not an option for jump on demand. Just another story that has nothing to do with WINDOWS.

YESSS. 20$ off my July bill woohooo.

Does a CEO really need to use language like half-assed and bull****? Seems kind of tacky. That aside, I love the attitude & changes they're making. Now to get some better Windows phones...