T-Mobile teases Un-Carrier Amped, more details coming June 25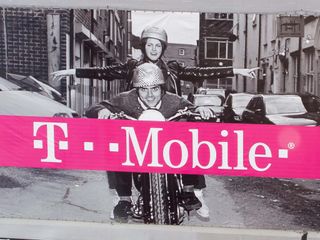 T-Mobile is getting ready to make some more announcements on June 25, as the company teases Un-Carrier Amped in a new video. The next series of announcements to come from T-Mobile will carry the Un-Carrier Amped branding. With this, the company will be beefing up some of its already popular Un-carrier moves, making them even bigger. The first announcement will be on Thursday, June 25, with several others following in the weeks to come.
Be sure to stay tuned for what T-Mobile has coming up next as part of its Un-Carrier Amped announcements.
Source: T-Mobile (opens in new tab)
Windows Central Newsletter
Get the best of Windows Central in your inbox, every day!
Jared started off writing about mobile phones back when BlackBerry ruled the market, and Windows Mobile was kinda cool. Now, with a family, mortgage and other responsibilities he has no choice but to look for the best deals, and he's here to share them with you.
Hopefully this will involve a WP flagship

Idk why you expect to hear anything about a flagship when it was noted win10 won't be available till like October.

I didn't mention anything about immediate availability.

showing any support for Windows Phone? that WOULD be an "un" carrier!

The hell does un-carrier mean?

Being the opposite of what carriers are. I.e the anti Verizon, sprint, and att

Haha kind of silly isn't it?

You must not be a T-mobile user. Its heaven already compared to the others. Many of the "improvements" the others have made only happened so they looked a little less rediculous in comparison. Eventually, even brain-dead, auto-pilot customers will notice if there is enough buzz, so the other carriers can only lag a mile or so behind.

As an outsider looking in (I'm Canadian), Cricket and MetroPCS are more appealing now. T-Mobile gives you "free" Uncarrier goodies... but then charges more than their MetroPCS subsidiary. So T-Mobile is essentially charging for Music Freedom, and all the other Uncarrier moves. And Cricket is even cheaper still and offers AT&T coverage. Given all that, why would I go with T-Mobile? I guess if I was that one in one thousand person who wants T-Mobile speeds but needs one of T-Mobile's domestic roaming agreements? And T-Mobile's vaunted speeds disappear with domestic roaming anyway, and T-Mobile's push into band 12 LTE is also going to torpedo their speed test averages. Cricket offers the best coverage for the dollar, and MetroPCS offers the best speed for the dollar. T-Mobile offers the best...? I can't come up with an answer.

Family plans on T-Mobile are cheaper than any of the options you just listed. I pay $100 a month for 4 people.

It frees them from the obligations of a carrier Obligations like providing coverage and having a reliable network, things T-Mobile as an "un-carrier" seems to feel they don't have to provide.

T-Mobile has been a heck of a lot cheaper and more reliable than sprint ever was. Sprint constantly dropped my calls and roamed even in the middle of the city.

I must disagree. Sprint has been great for me and is getting better every day, while T-Mo still has no reception at my 1-story house :/
Plus....$50 SERO plan is impossible to beat. And the new $60 Unlmtd is hard to beat. And even the Unlimited My Way contract plan is hard to beat.

This guy is the Elam musk of wireless. He has me ready to consider his product. Posted via the Windows Central App for Android

I have a TMo line paying 107.99/month unlimted everything...cancelling costs me $650.
And I have a Sprint line. $70/ month. Unlimited everything...cancelling cost $350...
I feel pretty Carried xD

Sounds like you left off an important detail like maybe you owe money on a phone.

Umm.. I just said I owe $650 on the TMo line. And $350 on the same phone but on Sprint...thanks to the power of contracts. :D

Did you just get the new iPhone 6 or something for 0 down and paying monthly on it? And then get the new iPhone on Sprint for like $300 down and a payoff contract of $350? Im not sure of your details but the numbers dont seem right :). But if they are, enjoy! :)

Well, let me explain: I manage multiple personal accounts from all four postpaid carriers. My personal line is Sprint's SERO plan: $50 unlmtd LTE subsidized plan, and I pair it with a Surface 2 LTE on AT&T's Data Share plan 10gb, at $58 with discounts. Unequaled, really. Next, I manage a T-Mo account with a tablet 5gb promo and phone unlmtd...totals $184 with jump on both.
How can my Sprint phone and AT&T tablet combined be almost half the price of T-Mo's plans?? And with more data and overall better reception?

you are clearly making monthly payments on your devices with tmobile and as you stated your phone is unlimited data so it has no cap so thats why your bill is that much pay off your devices and then see what your monthly bill is

That seems stupidly high for T-Mobile and I think you need to go into the store and get a better plan. I pay $150 for two lines of unlimited everything, two Lumia 925s being paid off monthly, and jump. I don't understand how 1 line + 1 tablet is more than that.

I like how Tmobile is making Vzw and ATT look like freshmens in the wireless industry.

Haha TMo is the smallest jock in the party who thinks he's harder than everyone else...and people actually believe it.

Except they're not. I have Verizon and T-Mobile offers pretty much the same price to me that I pay now with Verizon. The pluses are "unlimited data" (though it pushes you down to EDGE while VZW just charges me $10 for an extra GB) and no data used for streaming music. Now I would LOVE to have the unlimited streaming music feature, but I don't need it and my VZW coverage is fantastic. TMO isn't bad, but mine if better. Loved it when I was last in the heart of Smoky Mountain National Park surrounded by AT&T, TMO, and Sprint customers all wondering how I could be posting the pictures I was taking online while they couldn't. Only the Verizon people got signals in there until you got to the outskirts of the park. That's why I'm unlikely to leave, despite a lot of negatives about handsets and WP support.

I think it depends on customer. I use like 15GB monthly on my TMo line so I love the unlimitted data. Also Yes signal sucks and I hate that but having free data roaming when abroad is awesome! I went abroad and I had access to spotify, google maps, instagram, snapchat, my email, youtube and it wasn't even slow. as long as I was in a covered area like a city it was good. It also even work on several roads across mountains so definitely no complains! :)

Verizon by far has the best coverage. I use my Lumia 925 on straight talk which means I was forced to use a GSM network, so either att or T-Mobile. There was a noticeable difference in coverage than when I was using a proprietary phone with cdma on Verizon's network.

T-Mobile & John Legere are so awesome My Family &I have been customers for Sixteen years my guess would be unlimited everything for those that want it for $60.00 per month

They need to amp up their coverage.

Right on their service is useless to me because of lack of coverage.

+810 may it rest in peace.

Precisely .Just ditched Tmobile a week ago. I'm getting better service on AT&T gophone plan .Hardly could get a signal at my job. I work in a warehouse setting so I thought it was the structure of the building. I was wrong. My 4G service now is even better than Tmobile's "LTE ". Even though my phone doesn't have all the LTE bands I still have LTE a majority of the time everywhere I go. Even with Tmobile's so called LTE, my phone can hardly load my email.

Same here! I just switched to AT&T's no annual contract and I immediately noticed a difference. Cell penetration is much better thanks to their lower MHZ spectrum. I'm just waiting for T-Mobile to implement their low mhz spectrum in my area and I'll gladely bring my Nexus 5 back to their network! :)

Need new T-Mobile image...that one is tired.

Let's look at the hints. They are going back to improve a previous move. They keep making music jokes like turning it up to 11 and the teaser has him walking in like a rockstar. Amped up is often used with music. They are going to improve the music freedom but how? It's already unlimited streaming.

They will add Apple's service, most likely.

Well since they made a video abou t this I suspect the announcement is Video related. Like a Netflix partnership or unlimted streaming of Youtube videos etc.

Turning it up to 11 could be a reference to the movie This is Spinal Tap

It is, and it is music related.

Except for on the basic plan. I forget what it's called. I started with 500 Mb of limited data and then they had a deal so now I pay $5 more and get 2 GB a month, but it's limited and no free streaming.

What it should involve is bringing over phones from other carriers without having to scarifies Data or features... This is the issue with having to bring over cell phones you own from the original carrier over to another carrier. You lose something. It's something that needs to be resolved.. I want to be able to bring my Verizon Nokia Lumia Icon over to T-Mo with out having to lose LTE or visual voice mail. The fact that each phone is made for just that one carrier and the lack of universal connection is what makes it hard to bring phones over to other carriers even though the Feds said you can.. I don't think the Feds understand the reality of the Cell phone industry.

ALTE is a network and I brought over my 1020 from AT&T and kept Visual Voice Mail..

Its a hit or a miss. I even tried Cricket Wireless or Metro PCS.. The Nokia Icon does not work well with those carriers.. it works, but not well.. In a perfect world, the connection would be universal for all cell phones, but yet again, not the perfect world in the country of greed..

You just described how it works in Europe.

Canadian wireless companies should learn from t-mobile.

I have a T-Mo line paying 107.99/month unlimted everything...cancelling costs me $650.
And I have a Sprint line. $70/ month. Unlimited everything...cancelling cost $350...
I feel pretty Carried xD

You already posted this. :-)

Damn I love this company. Switched back with Un-Carrier 1.0 to get 5 lines of 500MB for roughly $25 per line. Ever since then, my data has gone up to 2.5GB per line, my cost has gone down to roughly $19 per line by adding more members, I never use up my data now that I stream music for free, and I have a free $200 wireless AC router. Seriously, say what you will about T-Mobile, but they changed the game. Before them, with AT&T, my costs kept going up while my services kept getting worse!

That's nice. What about us single folk who don't wanna have to depend on having a bunch of lines for people who might not really pay on time?

Maybe he'll tell us how to get the Lumia 640?

T-Mo, Verizon, At&t or Sprint Actually promoting a Windows Phone LIke they promote the Galaxy brand or iPhone.. HA! HA! HA!. do not hold your breath.

I ordered it online through the TMO website. It wasn't that difficult.

I am seriously considering Cricket. Better coverage, more data, but less speed at $35 a month AND they have the Lumia 640 in stores vs Tmo, which I am on and like, but have to set up wifi calling and stuff for 40+ hours a week at my work. I hope this announcement is good! :)

T-Mobile is suppose to have dramatic LTE coverage improvement by the end of 2015. http://www.tmonews.com/2015/02/t-mobiles-lte-coverage-map-will-look-like-this-by-the-end-of-2015/

They said the same thing in 2014. and in 2013. and in 2012. It's like the year of Linux with those guys.

Honestly not sure what you are talking about but they are reframing their network. First they did they cities and now they are focusing on the more rural areas they let rot while courting AT&T.

I'm talking about the fact that the message is "It will get better" and year after year my experience on T-Mobile is worse than the year before.

Reframing their network right now like I said. They are swapping out 2G towers with LTE and able to still leave some bandwidth for 2g devices. It will probably be done or very close by the end of 2015. If you watch their coverage map it's going more in ad more LTE and they tag areas as newly LTE. Eastern Shore Maryland use to be such a black hole when it came to LTE but now there is only like one annoying stretch of 2G on 301 and it is getting smaller.

Tmo is a pretty good company. If you are lucky enough to live where they actually have service.

and plan to restrict your travel to within 30 miles of that area.

Amped means they will give every customer a micro cell to amplify their sucky signal. ---> in chicago 1 maybe 2 bars, sometimes 2G. if not for the walmart $30 special plan, I would have gone elsewhere a long time ago.

Most of that is because of the lack of having access to lower spectrum that is better at getting through buildings. AT&T and Verizon together got most of it for free and control like 74% of it. Remember that when you hear about the bidding on the upcoming specturm that is low and all the other carriers want AT&T and Verizon limited to locked out.

13+ years with T-Mo. I love em, dont even remember the name before tmo it's been soo long. And I kinda love my M8 wish there was a better flagship on the network

T-Mobiles cellular service is so spotty in san diego.