T-Mobile Lumia 810 now getting Portico Windows Phone update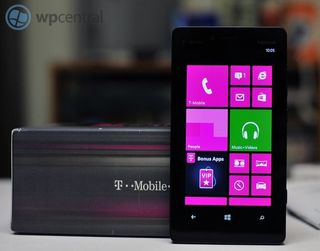 Good news for those of you on T-Mobile US with their exclusive Lumia 810 Windows Phone 8 device, starting today at 10AM PST/1PM EST, users can begin to get OS and firmware updates for their phones. This follows a few weeks after T-Mobile rolled out a similar update for their HTC 8X lineup.
The update will bump the OS to version 10211 aka 'Portico' and the firmware to 1249.
The OS update from Microsoft includes new features such as persistent Wi-Fi, Wi-Fi hotspot detection, SMS call reject, some Internet Explorer enhancements and other general OS improvements. The firmware from Nokia should include some tweaks to device performance, including auto brightness adjustments, sensitivity and other system settings.
Nokia commented to us on the update with the following:
Of course users can manually check for the update by heading into Settings –> Phone Update –> Check for Updates to get the over-the-air (OTA) system upgrade. The device will then download the OS with firmware and install both over a 15-20 minute period (your experience may vary, of course).
Sound off in comments or in our forums with your experience and thoughts on the update!
Daniel Rubino is the Editor-in-chief of Windows Central, head reviewer, podcast co-host, and analyst. He has been here covering Microsoft since 2007 when this site was called WMExperts (and later Windows Phone Central). His interests include Windows, Microsoft Surface, laptops, next-gen computing, and for some reason, watches. Before all this tech stuff, he worked on a Ph.D. in linguistics and ran the projectors at movie theaters, which has done absolutely nothing for his career.
Yeah, I have my upgrade on my 920 and those little things really make a big difference!

Yeah! Going to check for updates right now.

downloading right now as well.


Just completed installation, seems the brightness bug exists...

Awesome. Thanks MS and magenta!

Coming from an 810 to a 920 to an 8x, I am a bit annoyed that Verizon has yet to do anything with their phones. But my brother has my old 810 so I can check out portico on his phone.

Verizon will get this update in 2113.

Getting an error saying can't check for updates. I'll check later

I'll take whatever update is provided. But I have had zero issues with my L810.

well the only gripe is the size, but I've learned to love the big girl, and the big girls def need lovin too

Funny! Lol! But I replaced my HD2 with the L810 so it was that big of an adjustment.

now just waiting for those Polo, Bungalow, and Yolo updates... (there gonna start running out of good "-lo" names eventually) go nokia/microsoft

It's only 'o', not 'lo' :) No-Do, Mango, Tango, Apollo, Portico. Nice how many of them have meanings too -- Mango: sweeter than Apple, Tango: it takes two to tango (referring to the two memory variants), Apollo (lift-off). Portico -- maybe 'an addition'? (Source: my own deductions)

yea my bad, got caught up in my own lil fun of it... and thats some good deductions.... just have to deduce no-do and portico... no-do is obvious... portico as an addition makes sense, and you could look at it as extra support on a already strong elegant structure... (it's ok let the genius soak in haha)

Hey Daniel could you guys fix the edit. I can't edit my post, please.

Yes, there's some problem with the edit botton. But what I do is first refresh the page then hit edit - it works for me.

I see we're now at Mid-March for a complete roll out and no further info about which countries will get it next. I love my phone but looks like I'll have to enjoy it crashing for another two months!

Uninstall Skype, may help at least it did for me

Downloading mine now! Been waiting for this for a minute!

Portico AND snes8x on the same day? Why, thank you!

Rad! Will this work on my ATT LG Quantum? How do I get it? Do I first have to upgrade to Windows 8? (joking)

My update is stuck at preparing to install at 100%. Its not installing. Should I reboot?

Same here!

Update: mine is done it's rebooting.

Yeah after that it will go through some steps and reboot again

no. wait it oit... mine took a really long time at 100% too. it eventually moved on.

How big is this file? I just wanted to know if I can use my cellular data (I have unlimited) or connect to Wifi (not accessible right now).

Mine looks like it is making me wait for a wifi.

About damn time. Thought mobile forgot about us. Finally.

Does anybody know if the Nokia firmware update for 810 includes a camera fix like the 920 and 820 updates reportedly had?

I like this.. I hope this will address Xbox music issues.. The music part is big deal for me.. I would like to be able to transfer my music when I switch to xmusic from Zune..7.8 next??

So....what's with 7.8? Can't afford wp8 and tired of waiting.

I'm in the same boat as you are with my HTC Radar, and so is my friend. Just be patient they will give us 7.8,

I thought WP8 update would bypass carriers.

I'll upddate my girlfriend's 810 tonight

Don't know if it's just me, but it seems like right when I was about to update my 810, the WPCentral live tile started disappearing and reappearing. After my phone rebooted itself to complete the update, it continued the same problem. Anyone else seeing this as well?? Even the ones that don't have an 810??

That's exclusive to T-Mobile Lumia 810 *-*

After it reboot it will do the installation.

What about the 822? My sister has that phone and still hasn't gotten the portico update.

You have to wait for Verizon to do the updates.

So, where the hell is the update for the unlocked 920? It should have been the first to get released.Screw you Nokia!

Downloading now. Hope this update improve signal strength. The 810 frequently drop to 2G, pretty annoying when using Skype, whereas 3G/4G for my Dell Venue Pro and HTC Radar.

Update 01/17/2013: signal strength is much improved with Portico, pretty much locked at 3-5 bars. Didn't experience drop calls or weak signal with Skype. I'm one happy camper now.

I don't believe they even have an icon for 3g I have never seen it

Sorry I didn't make it clear. DVP only supports 3G and 2G.

Still waiting for friggin Portico for my Lumia 920 in the UK. Why is it taking so long to rollout?!

This update is still not avalable in Thailand, I know many new lunia 920 owners that are unhappy with the cameras daytime photos. Nokia, Microsoft why do you like to shoot yourself in the foot, Pull your finger out and give these people a reason to recomend the phone to there friends.

"The update was downloaded, but couldn't be opened. (801882e8)"
I tried twice and got the error both times after hanging for a while at 99% of "Preparing to install" step fallowing succesfull download.
What gives?


Did you get the low memory notification during the upgrade? You might need to delete some stuff before you upgrade your phone. I got the same error message.

Yes I got the low memory notification during upgrade but so did my son that also has Lumia 810 and his installed fine. I tried one more time after rebooting to no avail. I ended up resetting my phone back to factory and was able to install Partico fine than. As a side benefit I got to see how restore from backup works in WP8.
Here are a few observation from the whole ordeal for a benefit of others:
- 8GB is just not enough internal storage. I only had the phone for a couple of weeks and I was down to about 940MB at the time of the failed update. I only had maybe 40 apps and all my music, photos and videos are stored in SD card. There is a suspicious folder called 'other' that takes 2GB for me. No clue what goes in it but it just keeps growing even if you delete apps. I think something is not getting cleaned up in there
-I had issue recording to my SanDisk Ultra 64GB (SDSDQUA-064G-A11A) microSDXC Class 10 microSDHC prior to update. It would skip frames when recording. After update it seems fine so far. I don't know if it's the update itself or the reset of the phone thou. I saw others reporting issues with the 64GB card on Nokia forum so I'm glad this is fixed, at least it seems for me.
-if you want to restore from backup when setting up your phone from scratch you can't skip login with your Microsoft Account during initial setup. You have to do it there. You will get an option to select backup to restore from. If you add your Microsoft Account later it does not give you that option and I did not see that option in Backup setting either. I ended up restoring twice for the reason.
-not all setting are backed up, you will have to redo your start screen by adding live tiles manually. I though they would appear after downloading corresponding apps (which backup stores) but they did not.
-there are some apps there do not restore and appear in the downloads list without name nor icon and it just says Downloading apps, Attention required, Tap here. I have about 14 of these left to figure out. Tapping and retrying does not work. I figured out some. There are things like lenses, maps etc., things that you download from within apps and only from there you can reinstall these.

I got it...and I've only had it for 6 days!!

Well, I've had my update today since around 5pm, which took about an hour, no problems. The WIFI problem is fixed, the screen looks even sharper than before and it seems to be a bit snappier too! Love my 810! Overall, very pleased with MS, Nokia and Tmob!

Same problem as Dzik above. Low memory like 10 times. I had to uninstall a bunch of apps to get it to install. I have a 16 GB SD card and all my music, videos and pics there. No more apps than the average person I think. What's up with internal storage on this thing????? I've had this error before on my phone prior to the update, plugged into my computer and checked via file explorer with files and folders in hidden and it only shows media folders. Only thing stored on internal memory is ringtones. I think this needs addressing.

My 810 is still randomly rebooting after the update. Anyone else still having this issue?
Windows Central Newsletter
Thank you for signing up to Windows Central. You will receive a verification email shortly.
There was a problem. Please refresh the page and try again.