T-Mobile and MetroPCS announce Lumia 635 with Windows Phone 8.1 for July with pricing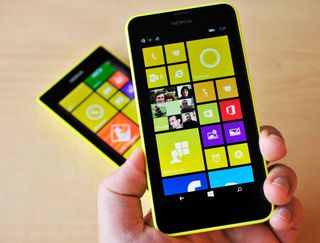 T-Mobile has finally pulled the gun on the Nokia Lumia 635, what they are calling "the successor to one of the best-selling Windows Phone devices ever (Nokia Lumia 521) on T-Mobile and MetroPCS."
The Lumia 635 has a rolling update throughout July, hitting various retail points along the way.
July 5 – for T-Mobile Simple Choice prepaid customers on the Home Shopping Network
July 9 – online at www.t-mobile.com
July 16 – participating T-Mobile stores nationwide
July 18 – select MetroPCS stores and online at www.metropcs.com
HSN will sell the Lumia 635 on its cable network July 5 at 6 am and at 2 pm ET, and again on July 6 at noon and 11 pm ET. People who don't have HSN on their cable or satellite can stream it on HSN.com.
T-Mobile customers can pick up the Nokia Lumia 635 for $0 down + $7 per month for 24 months ($168) with a postpaid Simple Choice plan. MetroPCS gets a flat-rate of $99 for prepaid, making it an affordable phone for many and a nice step up from the Lumia 521.
The Lumia 635 comes with a 4.5-inch display at 854 x 480 resolution. Inside is a Snapdragon 400 quad-core processor running at 1.2 GHz and a 5 MP rear camera. It also packs 8 GB of internal storage, expandable up to 128 GB with a microSD card, though the phone's limit is the 512 MB of RAM. The Lumia 635 is similar to the Lumia 630 although the former comes with 4G LTE radios.
The Lumia 635 for T-Mobile and MetroPCS is officially the first Windows Phone 8.1 device to go sale in the U.S. More information can be found on the Conversations blog.
Anyone here looking to be a new Lumia 635 owner? Hear what others are saying about the Lumia 635 in our dedicated forums!
Daniel Rubino is the Executive Editor of Windows Central, head reviewer, podcast co-host, and analyst. He has been covering Microsoft here since 2007, back when this site was called WMExperts (and later Windows Phone Central). His interests include Windows, Microsoft Surface, laptops, next-gen computing, and arguing with people on the internet.
Yep. Sorry guys. Doesn't look like you people are getting a flagship.

Better to get a Unicorn anyway, carrier phones are the worst idea invented by Man!

T-Mobile carries the Lumia 925 as a flagship. Not the newest phone, but far from terrible. They can't carry most of the best phones due to stupid exclusivity agreements.

I know it's easy to blame T-Mobile's lack of a recent flagship on 'exclusivity agreements' but if they really wanted one, Nokia would do what they have always done for them: Make a Lumia 810. Make a Lumia 521. Those are custom phones, branded with unique designs for T-Mobile and only T-Mobile. There's little chance T-Mobile was like "give us an awesome high end Windows Phone!" and Nokia said 'no'.

Agree 100% The issue I see is they are worried too much about the iPhone and Galaxy. If I open the My Account app or Tmobile email, that's all that's always In Your Face.

Is that why they refused to support the otherwise excellent 810? I guess if you are a WP customer on T-Mobile you aren't a "real" customer as far as they are concerned.

TMobile has done this for dozens of Android devices. Its business, if a device does not sell well, they can't afford to support it forever.

If you don't market it or showcase is in your store, online, or in commercials, how could it be sucessful? Everyone everywhere already knows the all of he carriers are drunk on the iphone, galaxy, and HTC One series of phones. Every major carrier site you visit or call concerning upgrade eligiblity always show the iphone as what you can upgrade to immediately and every representative alway tell you about the iphone immediately.

Although that has been extremely annoying, the 810 works very well with WP8.1 DevPreview. The 8.1 Preview also added the notifications to Glance that were missing.

Agreed..I love 8.1 on my 810... And the 8 mp rear w/ flash, front facing cam, 1gb ram, amoled display... I just can't find a good reason yet to change phones.... Without spending a chink of change anyway... :-)

I used to find it funny when I visited the at&t upgrade page and it would offer me the option to "upgrade" my 920 to an iPhone 4s. *shakes head

I get those. I have a 521 and think of it as more a downgrade, lol.

Daniel in many cases carriers (usually the big ones) demand a time exclusive period, for a specific device in order for them to agree and carry it, such deals also forbids rebranded variants. The manufacturer agrees and they move on into specifics, like co-advertising, store branding etc.

Please tell me where you seen any real advertising of windows phone besides the camera on from Verizon? The online adverts we've seen by nokia on the web here at wpcentral don't count as we already use windows phones.

I have always hated how TMO always seems to have custom phones. It severely limits buying options on accessories. I also think it prevents wider adoption. I was hoping that they were changing with the HD7, but they went back to custom phones with the 810. My 810 has been a great phone, but I am still super pissed they dropped support for it. The fact that the 810 will not officiall get Black, Cyan, and 8.1 is really disapointing. With the next round of phones, I am definitely going to wait and see what gets phased out and what sticks before I buy. No more custom phones for me.

My friend installed Developers Preview 8.1 on his NL 810 and everything is alright. Why don't you do the same.

I have the dev preview of 8.1. I like it a lot! I will never get the official 8.1 release, nor will I get black, cyan, or bluetooth 4. Some already do, but I'm guessing that soon all official Nokia/Microsoft apps will require updated firmware beyond amber.

I have to agree with Daniel... I doubt they even want another high end wp before next year. God forbid they get one and it sells great...no more excuses as to why they don't have many wp offerings. There's so many high end wp to choose from. .. All they have to do is ask.

Well, the McLaren will change that. Simultaneous launch for AT&T, Verizon, T-Mobile, AND it's supposedly a flagship-calibre device. (We can hope.)

I hope the rumors hold up to be true cause I'll definitely be switching to Android if it is a hoax. It's November or nothing for me. And with what T-Mobile is doing, I'm not switching carriers for a phone. I'd rather go unlocked(hey 1520) as the prices would be cheaper by then than join with ATT out Verizon.

Hopefully. I'm hoping for a 805 processor (or maybe a new Tegra K1)

The K1 has already been deemed a tablet chip.

there is very little chance Verizon will agree to carry exactly the same phone at the same time as the other two carreirs (unless it's the iPhone or Galaxy). they like to carry their own exclusives phones for a period of time (ex. the Icon, whose exclusvity ends this month, hence the 930 release). it is more likely that AT&T and Tmobile will play nice and release at the same time, but I'm not holding my breath for Verizon to join as well.

Thats another 4 months of waiting with only low end WP phones being released while android will keep churning out flagships and of course the new iphone will hit during that time as well. McLaren or not, its a poor strategy by Microsoft to basically go 6 months without a competitive handset.

The McClaren is a Nokia device that was already in design phase prior to the microsoft buyout along with the icon, 930, 630, 635, etc. The only items microsof has produced, manufactured, and delivered themselves is the surface line of devices.

Best way around this would be to release phones unbranded which are compatible with the T-Mobile bands; they don't really have to be officially announced for GSM carriers

The 1520.3 is a prime example of that. Unbranded, with US LTE bands for T-Mobile.
US warranty though? Not so much I think...

Windows Phone is not quite there yet. Yes 1520 is available unlocked and unbranded, but eventhouhgt you will get fully combatibility with T-Mobile. you are missing out major services such as Internet Calling and in some cases Tethering.

Unbranded yes but also not feasible for people who buy their phones in their contract. Not everyone has 600+ to fork out on a phone.

In contracts you probably pay more over 2 years anyway, might as well toss it on a credit card and finance it yourself for less... that's like the T-Mobile uncarrier approach; but true, not for everyone

yeah, but not in a lumpsum at time of purchase which makes the device affordable for those who don't have big buck to dish out.

Blu and yezz will be doing that very soon through amazon Hopefully they work with T-Mobile

I mean, is the 1520 an exclusive? Daniel.

Exactly why I got a note 3. I need a 6 inch screen on T-Mobile with the T-Mobile WiFi app. Posted via Windows Phone Central App

Fuuck T-Mobile for not getting something like the 930/icon. I want flagship Windows phone on TMOBILE dawn it

Have a friend who needs this; anyone seen it on display yet

Xbox music has taken a huge dive on t-mobile's streaming site: http://www.t-mobile.com/offer/free-music-streaming.html Something smells fishy...

Oh wow. Far be it from me to trot out conspiracy theories, but this is suspicious. How is it XBox music was leading (or close second to Google) and now it's like third to last?

How is a voting page with no clearly defined date range anything more than a marketing stunt anyway? If T-Mobile were serious about being inclusive they could have just raised their throttled speed to something that would have allowed music streaming and made everyone happy. Instead they would rather this dog and pony show. I guess I can't blame them as it seems to work, people are falling all over themselves falling for it.

Daniel, when you guys make the Universal app for WPCentral, do you think you'll have news article live tile syncing, so that if I read it on the tablet it won't show up as a new article on my phone?

I'd like that too. Will see what we can do.

Better yet, make that a selectable option. For those who have more than one person in a household.

With multiple people, don't you have multiple accounts?

Wow. Guess a LG G3 until McFarlane. );

McLaren. McFarlane is the last name of the creator of Family Guy.

LOL, your both wrong. It's Mclaren. :)

Where do you see that? I just did a quick search on both Bing and Google, and it's spelled with a capital "L" Furthermore, even if you look at articles referenced here in WPCentral, they all have it as 'McLaren', not 'Mclaren'

Hmm. I responded with Mclaren using swipe. Capital L or no its the same. My response was my own fault as I had a blind moment apparently and thought you'd spelled it wrong like the op.

I love how T-Mobile is moving away from branded phones (at least externally) all the latest T-Mobile smartphones including the Galaxy S5, LG G3, Lumia 635 does not include a T-Mobile logo printed on the hardware. Huge thumbs up.

I don't remember Tmobile ever being bad about branding phones. My old Nokia... From 2008 didn't have branding as well. Do agree, love not having dam Carrier logos all over the phones.

My 925 has a big branding on the front. I asked them to unlock it, they said it wasn't a t-mobile phone. I sent them a picture asking if the logo was just for decoration and got unlock code shortly after.

Yeah, my old BB pearl had a big ass t-mo logo on it, it just looked hideous. The less carrier branding, the better

I agree. Verizon ruins the phone with signage, and att does similar stuff, although it seems like att has opted for less signage since the 920. I only want a Nokia or Microsoft Mobile symbol/text on my WP.

Update: T-Mobiles pre-order page for G3 now displays the device with the T-Mobile Logo on the back. Thumbs down.... http://www.t-mobile.com/cell-phones/lg-g3.html

it's more like 4gb usable. forget installing alot of apps...only if u install apps on sd card.

thats actually a nice perk =/ I would gladly give up half of my 925's internal memory for a microsd slot.

No one has courage to say F*you to carriers except Apple. I thought Google by now would have done this but they are cleaver. They have cheapish version of unlocked phone with bands supporting most carriers. Microsoft needs something like that Google has Nexus.. maybe Microsoft Surface Phone would be good?? Lumia still would be their regular line of products thats carrier specific (if they churn out the devices in time). I'm still perplexed that we have no new device rollout (AT&T).

The 920 adopters will have no successor to replace their aging contracts that will expire soon...unless McLaren saves the day

Mediocre phone for a mediocre carrier. It's a good fit.

I'm pretty damn happy with tmobile. I get LTE almost everywhere in the northern VA region and I even get better speeds at work than my Verizon coworkers. And now that music streaming is free, I'll pretty much never reach my 1GB throttle limit. If I really want a high end phone, ill use the money I save on service to buy an unlocked 1520. And guess what, ill still have savings left over.

Yeah that's cool if you never leave your area. But I like to travel a lot and like to have good service where ever I go. T Mobile was non existent in the area of Lovingston/Shipman VA. It was great where I live at in Jersey.

T-Mobile is definitely not a mediocre company. We may have a mediocre WP selection but we have ever other high end phone available and T-Mobile is changing the way mobile is done. Try asking your carrier to allow you to listen to music on a variety of services without it counting against your data.

After more than 7 years as a T-Mobile customer I have plenty of first hand experience at just how mediocre a company T-Mobile can be. And I would actually rather not support abandoning net neutrality tenants even if it might benefit me in the short term. and who is this "we" when you refer to "them"? Do you work for them or are some T-Mobile customers just developing a special kind of Stockholm syndrome?

Funny you mention Stockholm syndrome, because that is exactly what YOU and many other AT&T users suffer from. Go away, troll. Why do you have this compelling need to constantly come into T-Mobile related articles and threads and shit all over them, even when they're about something positive. A life - get one and you'll be so much happier!

You must not know what it is. Else why would you claim others have it while at the same time exhibiting the symptoms so wonderfully in your post? You're just too funny.

Hey Ordeith thank you for your wonderful comments and have a nice day.

the 520/521 was one of the biggest reasons why wp8 got some traction in the states

If I buy it off of MetroPCS will I be able to use the phone on TMO with no issues?

I second this question. If true, then ill get one right away to replace my wife's 521.

Yes, you can. You will just need to have it unlocked from Metro's network.

Nope locked to Metro. Can't use with T-mobile sim unless unlocked. Expect sales by christmas though for better prices.

T-Mobile please pick up a high end Windows Phone. This phone is great and all and a heck of a price but some of us want something a little better.

1520.3 is unlocked and will work fine on T-Mobile. You can buy it from Newegg.

True that...but some of us can't work with a phone that big.

And for only $600 plus dollars I'm assuming. That's not cheap.

You want a flagship that is cheap. Nice joke :) Unlocked phones usually carry a price increase cause they can be used anywhere even if they are stripped of features like LTE (Samsung does this all the time).

Wait till November, they're suppose to release a flagship on t-mobile, Verizon and att simultaneously

I guess that is what I will be doing. Not really in a rush to pick one up yet. Just wanting to compare options.

Tweet John Legere @JohnLegere

This should have 1gb ram if only to make Xbox music run a little better

$168 is pretty steep. Will the Metro version run on T-mobile's system?

That's the monthly cost if you do the monthly installments, I believe. The outright cost is $129. (Or, that's how much it was on the MS store listing. I haven't read the source link.)

That's still too close to the price for the Moto G. Either the 635 needs better specs or a significantly lower price.

Wow. Gonna take heat for this but WP selection sucks and all these announcement and nothing yet transpired. This should had been an important year for MS to get shit accelerated better. It's July and three phones are trickling too slow. Commitment from oem and feet dragged through the mud. Posted via Windows Phone Central App

I think the absorbing of Nokia has constipated the phone production of Microsoft Mobile. It should return to normal by 2015.

Soooooo typical MS speed? Posted via Windows Phone Central App

Maybe Microsoft who now acquired Nokia is trying to get rid of carrier exclusives but I assume that would take time and would put a delay on things... I assume the delay is due to the slow and tedious absorption of Nokia.

Why not sell 638 which is have 1GB of ram. Only in China. :-(

I'm waiting on my test iPhone to try out T-mobile's network and if I'm satisfied, I may switch to them.

Will this be available on Amazon and if so, for how much and when?

T-Mobile get's the ugleist & most boring Windows Phone devices. I prefer the "true" Lumia devices in bright colors. Not the watered down carrier variants. I know I have the otpion to go get an unlocked 1020, 1520 or whatever else --- but when it's not branded as T-Mobile, we're usually stuck with HSPA+ speeds or no support for T-Mobile Wi-Fi calling. And I'm not looking to give up LTE and Wi Fi calling.

I love how this is slated to be sold on T-Mobile's website in 8 days, yet when I venture on up there, there's no Lumia 635 to be seen... Oh, and I also noticed that they're now only offering the refurbished version of the 925. Sad.

Agree, T-Mobile is pretty damn sad.

Maybe they ran out of stock? All the sites that were selling for $199 earlier this year don't have them either. Hopefully that means a new phone with Band 12 to get better building penetration with T-mobiles new 700 MHz A block spectrum

For some reason I'm not extremely excited... All of this hype should've been taken care of long ago... It's kinda old news now.. I hope MS works faster in the future.

Coming first to the Home Shopping Network? Come on.....

Well, think of it this way - it'll probably be cheaper on HSN. I know the 521 was when my friend bought it from them about a year ago.

All the 925s were too for quite a while this year.

I bought a 521 last year on HSN. It was a good deal because they threw in a case, screen protector, etc. plus you could spread the payments over several months using Flex-pay. I use it with the T-MO sim I bought at Wal-Mart and use the Wal-Mart $30.00 a month plan. It was the least expensive way to get a taste of the Windows phone experience.

This thing got a front facing camera?

Specs say NO. This is absolutely ridiculous. Everyone including grandma uses Skype or viber these days...

This is cool but I wish they'd put out another high end phone. My 925 is starting to conk out and I don't want to switch from T-Mobile nor do I want another 925. Might have to try out the iPhone 6

Still rocking the tried and tested 810!!!

+810! I've been switching my SIM back and forth between my 925 and 810. The 810 definitely has some huge advantages, especially with the SD card support. I recently got a 64GB version to replace the 32GB one I always used. :)

For phone contracts sometime you have to plop some money down when you start up the contract. Typically $100-200. Since this phone is cheap, nothing.

Wow! That's REALLY cheap. Here in the UK, we would have to pay around £20 a month ($34) for a decent contract. (or around £10 ($17) a month with a £50 ($85) upfront cost. Might pick one up on holiday.

If only you could add calendar entries without it crashing! Let's hope they fix this bug before July 5.

The T-Mobile version is 168$, while the metro pcs version is 99$, that's a 69$ difference, this seems really really stupid.

With front facing camera and 1gram could have doubled sales compared to 521

Does it have WiFi calling?

U can call your WI-FE yes

Hay dios Mio. Still no 930 so pathetic

I have the 521 on T-Mobile. What's the advantage to upgrading to this? The only one I see is a faster processor.

No front camera so the goverment will have a harder time spying on you.

The 521 doesn't have a front facing camera either. Since I don't wear a tinfoil hat, I'll put that down in the disadvantage column.

ok.. Also bigger screen, better battery. This may help http://www.phonearena.com/phones/compare/Nokia-Lumia-635,Nokia-Lumia-520...

Interesting, though they have a few things wrong on both the 520 and 635. Makes me wonder how reliable the rest of their data is.

LTE speeds if applicable in your area.

I think the bigger story here is how they are marketing and branding the 635. Simply Lumia 635. Check the windows team blog and conversations sites. For that matter check Nokia conversations. No Nokia in site only quotation marks and Microsoft mobile mentioned in a cookie footnote!

Guys... This is apart from topic... But i really wanna know that will my L520 never get Equalizer???
I really need this option! Cz no headphones are working properly in my L520.... Plz rply...

Nope. They didn't include that feature in the 520/521.

No front camera (no skype video calls) and 512 MB RAM (app eco system limited) could be only limitations, Meanwhile some say proximity sensor is missing ( for sure ambient light sensor is missing per ars review as well) ,any idea?

The L635 has no front camera, no flash, no proximity sensor, no ambient light sensor, no camera button, no capacitive Windows keys, 512MB RAM, and 8GB storage. That's a lot missing for a >$100 phone.

Understand your frustrations ..Yes launching such a phone in 2014 by none other than MS that's from distant 3rd trying to catch up with its competitors is one of the bloodiest foolish ideas. Who could have authorised this spec at all?

Sreen turns off when whole screen covered during call...and you can have battery saver brightness on in place of ambient light...these two are no problem...but don't have flash..

does this mean the 630 will not come to the U.S.?

Are you seriously kidding me? The 935? I have a 521 on MetroPCS and the 635 ain't enough for me. There are things I want of a phone but the number one thing and only thing I'd like to ask for is for a phone with 1gb for Jeez Crysis 3. I'm so disappointed and sort of pissed..... Well, i guess it's Cricket now... 1320 here I come!

No kidding. Cricket gets the 1320 which is an all around pretty decent phone, and T-Mobile gets.. this. It's almost insulting.

While the 1320 is a pretty nice phone. And had two things that are a must-have for a phone I need/want and that's 1GB and SD card support. But, dat camera doe... I mean 5 Megapixels? It should of at least been 8.... That would have just made it perfect! But.... Yeah, I guess it should be fine till I can get a 1520 or 1020 (those unlocked big boys are pretty expensive).

Great to see new phone coming to T-Mobile. But I think I will hold off until a 1gig ram device shows up before I purchase a new one. My 521 is still rocking like it was new and does everything that I need it to do and then some.

Why would anyone get this besides the Lumia 925? T-Mobile said the 925 will get the 8.1 update. I got the 925 for $200 at HSN no contract.

Why would you put a quad core on a low end phone instead give dual core but include features people care more about at that price point
1. Front facing camera
2. Flash
3. Sensors
4. 1g ram

I left t mobile for Verizon. I got the Nokia Icon. Love it. I had enough of T-Mobile not having a flagship phone. Also, the specs of the 635. Can I ask why they can't put an LED flash.. Really, how much more would that have cost.. Really. My best friend has the 520 leaving a cheap a Android phone. The part he misses is the flash. Budget Android phone have flash.. Very disappointing.

I'm getting one: ) Posted via Windows Phone Central App

I went to the Microsoft store here in Miami and the saleswomen told me, They will begin selling the 635 on the 7th.

The moment this hits 99 off-contract = sold.

I own a Lumia 630 for some weeks (no 4G/LTE) im happy with it. Good size, build quality is fine to. But the best are that its pre-loaded with Windows Phone 8.1 of course. So a 635 is not a bad choice.

Still Nokia/Microsoft had a chance to really show the way with a 635 with a few more extras and even if they took a small loss on it so what. They have got to get more market share and most feel this is not the way. With the big delay in the full release of 8.1/cyan and the problems with upgrades they need somethng to calm the natives (us). Come next month I have a bad feeling market share might be even lower than it is now. Talk about new stuff does not sell phones, delivery does. I get the same feeling about this "Big thing comming to Windows Phone", with all the hype nothing can live up to it. Starting to sound like Apple. (Got nothing against apple)

Oh yes. This is the one (the 630, actually, but same design) that the iPhone 5c copied

All problem starts when people start comparing things. Nobody thought at the time (almost a year back) that 520/521 would be purchased by masses. Atleast in US, 520 was initially sold for $99 for ATT and Tmobile between ($120-$130). It never had FF camera, 1Gb RAM, etc. They are suppose to launch the 635 for the very similar prices. These phones are for people first time coming to WP or as a back up phone. The idea is to have people opportunity to use these phone and eventually make them buy a more premium WP. So that you get all those missing things from 520/635 in a higher prices phones. If you think something like MOTO e is more value for the money than 635 then just buy it. Moving from 520 to 635 is not an upgrade. It is just replacing 520. Come holiday season and 635 will drop to $70 and I can easily see many people buying this. Although I do agree that there is a room for lumia 7xx which has 1Gb and ff camera and atleast 720p.

Nokia Lumia 635/630 are having a problem detecting a Micro SD Card, Try 3 different cards in 3 different class and sizes but nothing so anyone's best bet is to NOT get the NOKIA LUMIA 635/630 cause it's not worth the Money.
Windows Central Newsletter
Get the best of Windows Central in in your inbox, every day!
Thank you for signing up to Windows Central. You will receive a verification email shortly.
There was a problem. Please refresh the page and try again.