T-Mobile Replacing Overheat-able Batteries for Wing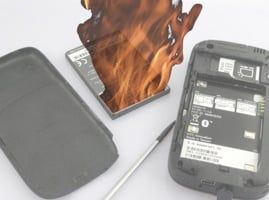 Golly, whilst away at CTIA, we received a package we weren't expecting. Inside, a brand new battery manufactured by "Celxpert" to replace our stock "Dynapack" battery. Also inside, an explanation:
It's supposedly very rare and all that, but likely enough that T-Mobile and HTC figured that replacing every single Wing battery out there (at least every single Dynapack Wing battery) would be cheaper than dealing with the inevitable burning-pants lawsuits.
Windows Central Newsletter
Get the best of Windows Central in your inbox, every day!
Yes, the battery heats up like hell, but I also think that this causes a processor speed problem also, as the handset experiences frequent slowdowns too. I have had the handset since July 07,' and I have experienced increasing slowdown speeds, due in most part to the battery overheating. :confused:

My phone suddenly died without any chance for recovery, while being charged. I am wondering if this could have had anything to do with overheating. I can not figure out any other reason for it's sudden death.

Yes, My original battery heated up ike fire and did so for about 30 min utes. I got it replaced and then about a month ago I got the same package as described above. Just today the Celxpert battery decide not to charge up! So I called T-mobile to get it replaced and they originally said they did not send out the battery. I called HTC and they said they did not send out either???? So now I'm stuck with a dead battery and I'm on the phone with T-mobile again telling them to look online and do a search for the battery replacement issues... stating that their are plenty of searches describing the replacement of all wing batteries and that it should still be under warranty and that they should pay for the replacement battery. But they are telling me that it is my responsibility because my warranty is up on the phone ??? Yet I just got the new battery 6 weeks ago? Shouldn't their be a warranty on the new battery if it was just sent out?