T-Mobile U.S. makes HD2 official!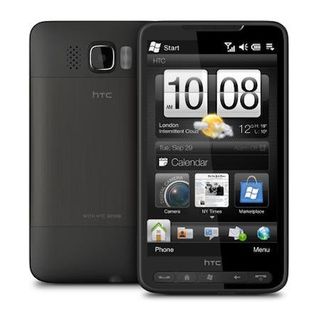 Well, we've known for a few weeks already, but nothing like an official announcement (via Twitter) that T-Mobile U.S.is indeed getting the HD2:
They even give a link for sign-ups for more information (found here (opens in new tab)) and we imagine a pre-order.
"Exclusive" , eh? Guess that may put a kabosh for the rest of us not on T-Mobile.
Read the official press release here for more details.
Windows Central Newsletter
Get the best of Windows Central in your inbox, every day!
Daniel Rubino is the Editor-in-chief of Windows Central, head reviewer, podcast co-host, and analyst. He has been covering Microsoft since 2007 when this site was called WMExperts (and later Windows Phone Central). His interests include Windows, laptops, next-gen computing, and for some reason, watches. Before all this tech stuff, he worked on a Ph.D. in linguistics, watched people sleep (for medical purposes!), and ran the projectors at movie theaters because it was fun.
just when i think wow sprint making waves with great phones like the hero and touch po2 they disappoint me by not bringing the hd2 or the nexus. now i do have a touch pro2 so i am under contract for the next 20 months, but i would had like to see or had an option for this phone come to sprint. seeing how sprint htc partnership over the years. very disappointing!
so no nexus, no hd2, what phones that are coming to sprint that are capable of running windows phone7? btw very stupid of sprint for letting this iphone killer slip passed them, VERY STUPID!

i'd really love to know how T-Mobile's getting phones like the HD2, Nexus One and possibly the N900. From reading employee's comments on forums, i know they're making a big push to get hot new phones, but they're snatching up the phones the phones i'd buy if they were on AT&T. The LG Expo looks cool, but overall they're really slumping on the high end smartphones. What sucks isn't the likely $500+ price tag this'll carry unsubsidized. It's that combined with the fact that i'll be on AT&T EDGE when it's finally unlocked. And no, i'm not interested in switching carriers. i transferred almost 16GB of data (a personal record) and AT&T didn't bat an eye. i also get a 20% discount for being a UPS employee. And AT&T's coverage is better than T-Mobile, which really becomes an issue when you roam and use a lot of data.

i'm pretty sure that with a unlocker or sim unlocker you could port this over to at&t as for the rest of us cdma the touch pro2 will have to hold us out until sprint get off it's asses and hook us up.

Yes, you can port it over to AT&T, but it won't have 3G. Uranidiot.

@ Rico Well, you're mostly right about everything. If however, you happen to live in a city where TMo has 3G coverage, then it definitely makes sensse. I do, and in my city TMo's coverage is way better than AT&T and their 3G speeds are way better than AT&T. I travel, but not an insane amount, so good 3G coverage in my city is my 90% scenario. HTC HD2. I'm gonna preorder this, stand in line, draw blood to sign my contract, whatever it takes! :) (just kidding -- I would never stand in line :P)

Man I totally agree. I can't believe AT&T is NOT bringing good high end phones to the market. I would have gone with the Tilt 2 but hate that there is no 3.5mm jack. If the HD2 was available for the 3g on AT&T I would pay retail price for it. I think it's the best out there at this point. Everyone disses the AT&T network but I can't. I was with Verizon for 7 years and although I liked them, the benefits outweighed negatives. I even paid $1,300 to finish my last payment to them so I could move our family plan to AT&T. Been with them a couple years now and I have zero complaints about the network service or customer service. Hopefully they will get some decent phones but I am seriously considering getting the HD2 and tolerating the edge connection and keeping a 3g (Epix) as a secondary phone or try the HD2 on the T-mobile service.

Man, that really stinks. I was really hoping that at&t would get this.

Damn it Sprint.. get off your asses and get some awesome phones alrady!!!!

OMFG! Exclusive ?! HTH does HTC permit something as awesome as the HD2 to be exclusive to the #3 US carrier ?! Must be lack of manufacturing capacity. But worse is that I'm now faced with the ugly decision to either get the less capable TouchPro2 on Sprint or toss 11-yrs of history with them to get the must-have HD2 on splotchy-coverage T-Mobile. I hate that we're being made to choose like this, hate, hate, hate it!

As much as I want the HD2...and I'm on T-Mobile...there's still nothing wrong with the TP2. It's still a very slick, capable phone!

@The post above me: Look at the big picture. T-Mobile is the 7th largest telecommunications company in the world. Verizon is 15th, AT&T is 27th. I'll assume you can at least figure it out from here. T-Mobile has never pushed for cutting edge phones, now they are, because the market demands it. You're going to start seeing them throw their weight around a little bit when it comes to getting the best, hot new phones.

Just what I was waiting for... T-Mobile, HTC, and Microsoft just Perfect! The best smart phone ever in a very good carrier with number one customer service in USA!

Hehe,
just 2 words : G E T . O N E Even with the Nexus One out,
i am still in love with my HD2 !

Maybe we'll get lucky and HTC will do the unexpected. Offer the HD2 unlocked?

T-Mobile? Exclusive? Are you kidding me? There is no TMO 3G coverage within 150 miles of where I live. Their 3G coverage is worse than AT&T. Seems self-limiting to me... As much as I like the HD2, there will be something better coming along soon.

Well, where do you live? Bumblefuck, Egypt? They're not going to waste money pushing out 3g to areas where there's 12 freakin people, get real. They have 3g in place in all major markets. It's fantastic where I live, which is northern Illinois.

This will be my next phone. I'm already with T-Mobile so it's all good. Too bad we all have to wait till Spring. I want it NOW, dammit!!

You guys need to realize that no one is saying this is a forever exclusive on T-Mobile, just that it's exclusively this Spring on T-Mobile. Spring: that's one season. Come summer, who knows.

Ok, im with att and i dont want Tmobile. So what im reading, there is ADSOLUTELY NO WAY to get the HD2 at full price, unlock it and have 3g on my att service? NO WAY AT ALL? if it was programmed to work on Tmobile, is there no way to program, modify,etc to work on ATT 3g?

AT&T Always tries to fing a way to get the baddest phones!! So it is a shame that they are not getting the HD2. I believe the only reason why AT&T didn't get the HD2 is because of the Iphone. It would be a bad marketing for HTC. AT&T does has the fastest 3g network in the states!!! Patience, If I were a betting man, when they upgrade the att tilt2/Touch pro 2 next year the phone will come with all the Tech found in the HD2 and more. Its only a matter of time.

Brand new mobile phone unloked , laptop , come with complete accessories with one year international warranty. Email address: h.hammod@yahoo.com
h.hammod@live.com HTC HD2 unlocked.............$400usd
Apple iphone 3Gs 32gb........$350usd
Sony Ericsson Xperia X2.....$400usd
Nokia X6 unlocked.............$400usd
Samsung i8910 Omnia HDUnlocked..$400usd AND MANY MORE AT CHEAP RATE.. We make shipment via Ups and Fedex shipping company 2days
deliver worldwide. If you are interested in buying our product contact us via.. and also give us your mobile phone number for easy communication.. Email address: h.hammod@yahoo.com
h.hammod@live.com

Well all I can say is I am glad to be on the awesome fast T-Mobile 3G network ...guess I'll look for a HD2 phone this spring. LOL