Unlocked UK Nokia Lumia 800 Windows Phone Tango update spotted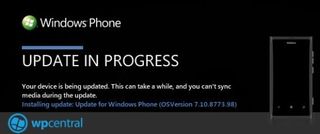 Seems as though we are finally seeing the rollout of the Tango update for Lumia devices. This morning my carrier unlocked Lumia 800 received the notification that an update was available. On plugging in device the update is listed as OSVersion 7.10.8112.7, which has been reported to be the first of three updates for the device (second is Tango 8773, and third is firmware). Whilst Tango has been seen going out elsewhere and onto other devices. Looks like the Lumia 800 is finally get to have a go with Tango.
**Update** 1st Stage updates 8112 - 2nd Stage Shows Update to Version 7.10 8773.98 3rd Stage NOKIA Update for Windows Phone
Results of fully updated phone as follows
OS Version 7.10.8773.98
Firmware 1750.0805.8773.12220
Radio S/W 1.7.50.08
As part of this update the improvements include better MMS support, exporting contacts to a sim card and selectively import contacts from sim cards also. Along with that are a number of 'quality improvements' to the device. Once the update completes, the Lumia devices will then gain access to some of the updated Nokia exclusive apps that are reliant on the Tango flavoured OS.
After the Tango update Nokia Camera Extras are still unavailable on my device, we are reaching out to Nokia to find out more on availability.
If you are seeing the update roll to your device be sure to let us know. .Details of device and carrier would be helpful too.
Waiting for 8779 :) or WP 7.8

Makes no difference on my Titan...

Got my update on orange 2 weeks back

It's 8773 and the Nokia firmware update. They pushed it out at 1am last night just as I was going to bed. That camera extras still doesn't work though.

Camera Extras is only available in the US and in China.
Still wondering why Nokia is holding it for other countries :(

I'm confused, I had the 8773 update a couple of weeks ago. Is that better than 8112. The only new feature I noticed was internet sharing.

8773 is Tango, while 8112 is not. So you're on a later version. 8112 is one of three updates available to the Lumia 800, which has been reported by many. 8112, then 8773, and finally a firmware update.

Robert, what carrier are you on?
I'm on Vodafone, through Carphone Warehouse but no sign of any updates yet, still on 8107 :(

I have a carrier unbranded phone so it's straight from Nokia. I'm on Three but that won't make any difference to getting the update.

Yes, but my phone currently had the 8107, will clarify that later. Camera extras still isn't working or you can't install?

I updated my O2 HD7 yesterday, I'm still waiting for my unlocked Omnia W on Virgin.

I have 8107, if I go to Nokia Update site it says it the new one is available for my country for like two weeks now, but either my beautiful Lumia 800 and my Zune says everything's in its right place as it is. Don't understand...

Maybe Thom Yorke is to blame

My Lumia 900 was delivered with 8779. Unfortunately camera extras is not yet available in Germany. :/ What I would really like to know though is what's about that flip to silence mode which has been reported to be part of Tango (8773)? It's definitely not available on my device. Or I'm just too plain stupid to find it.

You don't have a setting for this one. It just works. Try to turn your device face down when a call is coming in.

OO You're right. Awesome. I didn't even know about that. Having a setting to turn it on or off would be nice though. Anyways, great it's there. Thanks for the hint. :)

ouw didnt knew about that. Cool thanks!

Flip to Silence is not part of Tango. It's a feature of Nokia's recent firmware update, which the 710 and 800 receive after ugrading to Tango. (HTC already had that in 1st gen phones a year ago, bugged Nokia is soooo late to the party).

Received the update last week on Nokia lumia 800 (UK unlocked) by forcing the update.

:)

Had my update 2 days ago in my lumia 710 on voda.

Today in india new update available 7.10.8773.98 i updated for my samsung omnia W :) minor update dis is for windows phone .... M WAITING FOR WP 7.8 :) :-] O.O

I'll be waiting forever. O2 in the UK are cack

Just force update on Zune.did mine 2 weeks ago. 3 updates in all.

Got my update yesterday and I am on o2 in UK - just connected Zune and the update came down

I'm from Australia and got my phone from telechoice which use the optus network and got my update yesterday to tango. Yeah I notice internet sharing. What else was there meant to be?

I got my Tango update from Vodafone this morning. Internet sharing is there, and the new messaging attachment features (voice message, multiple images, ringtones)... Nokia store logo's replaced the MS one... other than that I can't see much to get excited about. Was hoping the new Nokia apps for camera etc would appear magically but they haven't.
More waiting then!

Update notice yesterday, updated today to 8773. Locked Samsung Omnia7 to Three UK ;-) Btw, how do you export contacts to your SIM (can't seem to figure it out)?

my friend at Jakarta-indonesia had tango update today on his lumia 800. I am waiting for next week this update to come

so is it just the 800 or will the 900 also be getting it?

I had the notification of an update on my Lumia 800 yesterday morning, not got around to updating it yet though. Unlocked handset through the Amazing Collective campaign, using Vodafone UK contract.

I got the notification, but it failed to update with the message 'Device update has failed (80180048)'.

I was advised to do a factory reset on my Country Variant Lumia 800 (I originally had an Orange UK branded device but was sent a new CV phone by Nokia Care when the former died), which I duly did, but I am still getting the error message 'Device update has failed (80180048)'

Feel a bit like crying. I've lost all my messages and data for absolutely nothing. Really unhappy with Nokia and Microsoft :(

Sorry to hear you're having issues, have you checked you have enough disk space to do the update for instance? Maybe some readers out there have experienced the same, can help?

There is plenty of room on the phone - I haven't made any OS adjustments since it arrived back from Nokia Care.

I've tried the update on both my Mac and my Windows 7 PC with the same results... tried different USB cables and ports as has been suggested elsewhere. I'm at a loss as to what else I can do now, so any advice or help would be hugely appreciated!

80180048 is a dead end, you won't be able to upgrade. And since you already did reset and loose all your data, you can just grab the newest firmware from Navifirm and refurbish your phone with NCS. It's pretty easy, flashing the phone takes only a couple of minutes, wheras upgrading takes ages. And don't blame Nokia for being enable to back-up and restore your phone's data - It it purely Microsoft's fault that WP 7.x is so lame in this situation).

got it on my omnia w days ago :)
GO SAMSUNG!!!!!


Hi guys, if anyone knows when update will rollout on Canada cuz I m still waiting for update my Radar 4G.. So any idea then plz let me know...???

Wait is there 3 updates? I'm downloading the second one now im confused

What product code are you talking about?
I have 059J3G0 and I haven't got the update so far...

I received 8773 on my Canadian Telus Lumia 800 last Saturday. It happened with three updates. I posted About screen pictures at each update so you can see what updates were done on each step. It's posted in the forums under Lumia 800 section.

Nokia Lumia 800 - Tango Update - Screen Shot - Singapore
http://springpad-user-data.s3.amazonaws.com/c3e8f/c3e8fa6c86ce94b1d20e48e35fc973cc/Lumia800SGUpdate.JPG


Got it on my unlocked Titan this afternoon! :-)

Well that ain't really news, It's been rolling out for various carrier and country variants for three weeks now: http://www.nokia.com/global/support/software-update/lumia/europe/availability/?page=3

Even though it says that the updates are avaialble some phones are not getting them. I have been in long discussion with Nokia on this because if they advertise that the updates are available they must be under the ASA (advertising standards) rules. Nokia have taken my formal complaint and are investigating some issues they have with rolling out the update - I have talked to both second level and third level support on this matter. Hopefully the next lot of updates (7.8) don't have the same issues.
Infinidim (from the UK)

When it´s going to be ready the tango update for my HTC TITAN? I am from mexico and I have this unlocked device. Or please can somebody help me to update it??

Updating right now via cable trick. Didnt pull the cable thou, just deactivatet the network adadapter at the right moment. Seems like you gotta train on it, i gotta do it for each update (3 times)

I got this update for my venue pro this week and I can hardly see any differences, except for attaching pictures and videos to text messaging. Have I missed something?

I´ve tried the cable trick many times but did not work, that stupid update do not appear yet!! sorry I am desperate lol...

I got the update for my Austrian unlocked Lumia 80\ about a week ago. It took some time to install the three update packages but the process was flawless as usual.

I have the Nokia lumia 800 and I can confirm I have this updated version. I received this update over a week ago. I'm in Ireland and my carrier is Vodafone.

unlocked Samsung Omnia 7 in Switzerland just received the update notification.
Still waiting for the update for my nokia lumia 800 =(

Telia, Sweden, Lumia 800. Got all three updates this morning. Only annoying thing is I had to disconnect the phone from the computer every time I had installed one update, otherwise it would not see any new updates. May be a mac thing tough as I run Windows Phone Connector for mac.

From 2012. 07. 19 8773 update also available in baltic states. Greetings from Lithuania :)

I have updated from 8007 to 8112 and finally to 8773.98, but firmware did not update. Greetings from Latvia! ;)

Lumia 800 on Vodafone from Carphone Warehouse in UK now on 8773 as of yesterday evening :)
Windows Central Newsletter
Get the best of Windows Central in in your inbox, every day!
Thank you for signing up to Windows Central. You will receive a verification email shortly.
There was a problem. Please refresh the page and try again.