Orange UK rolling out updates for Lumia 800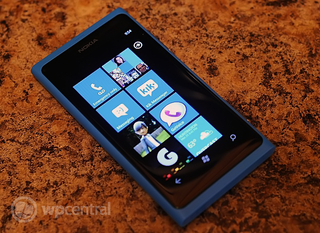 We've been informed by a reader that Orange UK is currently rolling out a number of updates, including 8112, for the Lumia 800 Windows Phone. Included in this update is Internet tethering support, which has been absent from the device since launch late last year.
This follows the 8107 software update, which the UK carrier released back in March. 8112 is also the build that was being shipped with the AT&T Lumia 900. This is number one of three.
We were also informed that Windows Phone Tango build 8773 was then downloaded and installed. Following the Tango upgrade was a 12220 firmware notification.
Let us know if you've received any update notifications in the comments.
Thanks, James, for the heads up!
Rich Edmonds is Senior Editor of PC hardware at Windows Central, covering everything related to PC components and NAS. He's been involved in technology for more than a decade and knows a thing or two about the magic inside a PC chassis. You can follow him over on Twitter at @RichEdmonds.
Got update this afternoon. Sorry can't tell ya much about it as doing other things so just let it update. I did see something about multiple attachments to messages though.

Multiple attachments for MMS I think is actually the main highlight of the update to be honest. Though a few gems have been discovered that have not been publicly documented by Microsoft:
http://www.wpcentral.com/some-new-undocumented-features-windows-phone-tango
For Lumia 800 owners though, the Nokia Firmware update is in additional to Tango as it gives us Internet Tethering, its what I've been waiting for!

Orange UK? I haven't had anything??

I'm on T-Mobile UK (who are owned by Everything Everwhere, as are Orange) and got the notification this morning. It makes sense I guess seeing as they are basically the same company.

Yeah usually both Orange and T-Mobile updates are released at the same time due to Orange & T-Mobile partnership

Strange for the people not getting the update. It's my phone's About page in the article and I received the update notification via Zune when I plugged my phone in this morning for some media syncing. I didn't force or do any funky stuff to get the update.
I don't get why some Lumia 800 owners on Orange UK wouldn't be getting the update. I didn't think updates were rolled out based on region, only country.

Come on Orange where's the 900 update!

I believe you have a slightly higher build of 8779 coming for your 900 which Nokia has recently announced, might be a bit of a longer wait.

If I have an unlocked (sim free / no orange branding) on orange will this receive the update from orange at the same time as orange handsets? Or will Nokia provide the update? Please and Thanks

What about the Omnia7? orange?? I know its getting long in the tooth, but with a disappearing keyboard its bugged, and should be fixed :-(

Here here, how annoying is the keyboard, seems to be getting worse too!!

I did the update by doing the 'phone in flight mode and turning of internet whilst looking for update' thing. I got the 8112 update....but my Nokia lumia 800 hasn't got any of the new features. Help.

By new features are you talking about OS or Firmware related i.e. the MMS change or Tethering?

I think you need to repeat the step that got you 8112 to get 8773 I am not sure where you will be with regards the firmware though.

Update: I tried the same method as you did and for me the 8112 and 8773 updates had to be done seperately using the trick. However the Nokia update came on its own accord after 8773. I now have the tethering and the MMS multiple attachments which would suggest all is well with the world. My phone is a T-Mobile Lumia 800.

Do you get selective divert options.

Does anyone have news regarding any update for HTC 7 Mozart with Orange UK? Im still with7740 :(

Orange are not aware of any updates for any phone apart from the Lumia's...not happy either. It seems like we might get left behind!!

So happy. Did the force update thing last night and got 3 updates (2 MS (Tango) and a Nokia firmware one - bring on the new goodies!). Just awaiting Nokia's new features such as flip to silence and camera extension

I've been trying to force the update for my 800 since yesterday, no luck. One of my colleagues (same phone, same network i.e. Orange) got notification via the phone a couple of days ago. There seems to be no pattern to getting the update.

I have the Orange Lumia 800 059L7C6 and i have also been unable to force this update :( Nokias support site says its still awaiting approval

Strange, I was able to force the update to my Orange UK Lumia 800 (059L7C6) yesterday evening. It took about 5 attempts to find the right delay before cutting my PC's WLAN connection, but was straightforward after that. Agreed, however, that the Nokia status page for 059L7C6 is still showing as 'waiting for approval'.

The Nokia page will always be behind by a couple of days. I doubt they have a feed which automatically updates it, its probably done manually. Its up to carriers when the update goes out so they have to wait.

i kept on trying, and i have now updated my nokia :)

Did you have flight mode turned on? When I do that it just says it can't check for updates.

I just turned off WiFi and mobile data, I didn't use the flight mode.

If you turn off wi-fi and mobile data on the phone, and then also kill the wi-fi on your computer while checking, that pretty much kills off every possible connection... so I get a message saying it can't check right now. Maybe I'm doing something wrong (although I got it to work for Mango).

ok so I just installed all 3 updates on my Lumia 800 on Orange uk after doing the 'phone on airplane mode and disconect network on pc just after zune starts to look for updates' trick.
So I'm now running: 8773.98 and Firmware version.........8773.12220
My issue is the internet sharing doesnt work at all, also the play to app that I have installed simply crashes when I click on any of the media types and the Nokia camera extras is nowhere to be found after being installed a few days ago.
No very impressed.


Aarrghh... I managed to get Zune to say there was an update, and then the phone did too. But the update process seemed to hang Zune, and then the phone said there was no update. Back to square one.

Got it!!! WiFi and 3g off on phone. Click update.....exactly 3 seconds later turn router off. Did it twice for the updates and then it did the Nokia update on its own :)

That's what I did, and it said an update was available... but an hour later nothing has happened.

Got it to recognise an available update again, now Zune is on the black "checking for updates" screen... been there for about 20 minutes... sigh.

I managed to force my update a few days ago for my Lumia 800. Took me a few tries, but here's what I would suggest:
First off all try the update without disconnecting your wifi and get the message to say 'Phone is up to date' as a number of times it didn't seem to be connecting for me even when I tried without disconnecting so that will give you confirmation it works. Then do it disconnecting your wifi after 3 seconds and it should go through.
After you get the update screen you have to reconnect your wifi (which no one seems to be saying) before clicking update in order for it to download the update to your phone.
Do the same again to get the second update and automatically the Nokia firmware.

Wifi tethering works fine for me though. Only question I have is the new Nokia apps, can not seem to find them for the life of me. Does anyone actually have these yet?


Worked exactly as you said, Cheers

No new in windows phone ri8 nw i just hate ri8 nw windows phone...no
new lock pattern, no new apps,, no new updats,, no new screen savers,,
no new unlock clocks,, wat can i do m just bored wid windows phone and
no gamez all gud gamez r paid i have windows ri8 nw:-(:-(:-(:-(:-(

No new in windows phone ri8 nw i just hate ri8 nw windows phone...no
new lock pattern, no new apps,, no new updats,, no new screen savers,,
no new unlock clocks,, wat can i do m just bored wid windows phone and
no gamez all gud gamez r paid i have windows ri8 nw

Nokia site saying the update is available for Voda UK, but Zune is saying my 800 is up to date.
Windows Central Newsletter
Thank you for signing up to Windows Central. You will receive a verification email shortly.
There was a problem. Please refresh the page and try again.